the

Ingredients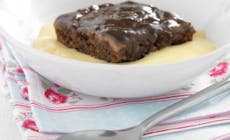 Instructions
Some would say that Sticky Toffee Pudding is the king of puddings, and we certainly think it's the king of barbecue desserts.
Follow this recipe for the perfect end to a barbecue feast.
For the sponge:
Pre-heat the barbecue to 180°C for baking (in-direct method). Lightly butter a small drip tray (approximately 1.5pt capacity)
Place the dates in a saucepan with the water, bring to the boil and gently simmer for 5 minutes or until the dates have gone soft. (Don't allow them to boil dry, you want to have about 2 tbsp liquid remaining in the pan).
Meanwhile in a mixing bowl beat/whisk the butter and sugar together until light and fluffy before beating in 1 egg.
Once the dates have softened add in the 1/2 tsp of bicarbonate of soda and mix well. Add the dates, the flour and vanilla sugar/extract to the creamed mixture and beat well with a balloon whisk.
Pour into the prepared dish and bake for 30 minutes, or until firm to the touch and it has started to shrink away from the edge of the dish. (Check after 20 minutes)
For the sauce:
As the sponge is nearing the end of its cooking time place the double cream, Demerara sugar and black treacle in a saucepan and bring to the boil, while stirring.
Once it's boiled, check the sponge and if done pour the sauce over the top and allow it to soak in for 5 minutes.
Return to the barbecue for 5 minutes more of in-direct cooking, or until the top is bubbling.
All of our recipes are created by our expert chefs at the Weber Grill Academy. View more inspirational recipes or book a course at the Grill Academy now.

More

recipes
You May Also Like
More

recipes
You May Also Like