the

Ingredients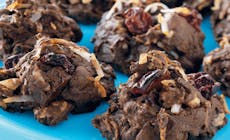 Instructions
These tasty chocolate cookies are like no other: full of flavour and the perfect treats to enjoy this summer.
In the kitchen:
In a small saucepan over very low heat, melt the butter with ½ the packet of chocolate chunks, stirring constantly until smooth. Set aside to cool until lukewarm.
Prepare the barbecue for baking (in-direct method) at a medium heat, around 180°C.
In a large bowl, beat the eggs, brown sugar and vanilla until light and fluffy. Beat in the cooled butter-chocolate mixture.
In a separate bowl, sift the flour, cocoa, baking powder and salt. Gradually stir into the large bowl of batter. Add the walnuts, coconut, raisins and/or cherries, and the remaining chocolate chunks and mix together. The batter will be stiff.
Using a tablespoon, drop 1-inch mounds of the batter onto a Weber Style Grill Pan lined with parchment paper, keeping the mounds about 2 inches apart (the cookies do not spread when baked). Bake, in batches, over an in-direct heat, with the lid closed, for 20 minutes.
Let the cookies cool until they are easy to remove with a spatula and transfer to a cooling rack, allowing to cool completely.
All of our recipes are created by our expert chefs at the Weber Grill Academy. View more inspirational recipes or book a course at the Grill Academy now.

More

recipes
You May Also Like
More

recipes
You May Also Like