How to BBQ the Perfect Tomahawk Steak
With a name like 'tomahawk steak', you expect it to bring something unique to the table.
Tomahawk steaks are often overlooked for more familiar cuts like T-bone, tenderloin, and sirloin. So in this guide, we'll look at what a tomahawk steak is, why it's growing in popularity, how to barbecue your steak, and some great sides to go with it. It really can be a showstopping main that you can cook to impress your guests!
What is a tomahawk steak?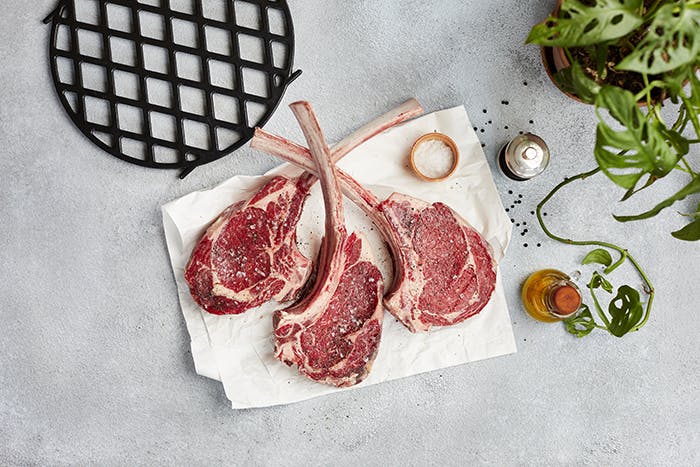 Barbecue your Tomahawk Steaks on a Weber Sear Grate
A tomahawk steak, also known as a tomahawk chop or bone-in ribeye, is a thick ribeye steak but with the long bone attached. The name comes from its resemblance to a Tomahawk axe and its bone "handle" is French-trimmed, meaning any sinew or muscle is removed.

Tomahawk steaks are known for being tender and flavorsome and the meat is usually taken from the loin of the meat, similar to T-bone and Porterhouse steaks.
Why is it growing in popularity?
Tomahawk steaks are becoming increasingly popular as a luxury meat as not all supermarkets and local butchers stock them so they can be hard to get your hands on.
Some might call it a "bandwagon meat" but the truth is tomahawk steaks offer amazing flavour that's worth the cost, even if it means venturing to a steakhouse. It's also great for roasting and BBQing due to its size which a barbecue can accommodate for.
One of the major qualities of a tomahawk steak is how marbled it is, so it packs a lot of flavour in when cooked, due to its long bone and amount of fat.
Best ways to cook your Tomahawk
A premium tomahawk steak with amazing marbling deserves the best and there are many ways to cook one. Here are a few suggestions:
BBQ
Of course, the best way to cook a tomahawk steak is on a barbecue. Grill it until medium rare at an internal temperature of 58ºC. Try a red wine reduction for smoky, acidic flavour to go with the sweetness of the steak's fat.
In terms of smoking, hickory wood chunks are an excellent choice to add a rich, pungent flavour.
Oven cooking
You can also oven roast a tomahawk steak. Bring it to room temperature before cooking and then cook for around 25 minutes in a preheated oven at 180ºC for medium rare.
It's also worth searing your steak which caramelises its natural sugars to form a wonderful crust and you can do this after you have cooked your Tomahawk steak in the oven. If you love savoury dishes, this is a must!
Complementary foods to go with your tomahawk steak
You'll also need some delicious sides to go with your barbecued tomahawk steak. Here are some tried and tested complementary dishes that we would recommend to accompany it:
Sauces
Salsa verde – if you want something tart to go with your tomahawk steak, look no further than salsa verde. Add fresh parsley for some extra aroma.
Flavoured butter sauce – pile on the decadence with a sauce made of melted butter, lemon juice, and your choice of flavour such as cognac and parsley or garlic and herb
Sriracha – sriracha brings some fiery heat to any dish and BBQ steak is no exception.
Sides
BBQ beans – stay on the barbecue and cook up some BBQ beans to go with your tomahawk steak, similar to our jacket potato with smoked BBQ beans recipe (minus the sausages).
Goat's cheese – a simple but wonderful flavour, goat's cheese is a great accompaniment to any steak, as demonstrated in our grilled steak recipe.
Roast potatoes – if you decide to roast your tomahawk steak, you can add some roast potatoes that are a crowd pleaser and make a fantastic addition.
Toasted couscous – add a taste of the Middle East with some herby toasted couscous. With a dash of lemon juice, and herbs of your choice, this contrasts well with the richness of the meat.
Drink
Red wine – we've mentioned using a red wine extraction for the meat but you could have a glass of it with your meal too. Try a Cabernet Sauvignon, Shiraz, or Malbec as a full-bodied complement to this highly-marbled steak.
Cranberry juice – for a non-alcoholic choice, cranberry juice can refresh and cleanse the palate with its tartness that also cuts through the flavour of your tomahawk steak.
Final thoughts
People like to stick to their favourites on the barbecue. But with a different cut of meat, you can expand your food choices and the palates of your guests.
Tomahawk steak is the perfect choice for anyone wanting to try something new on their barbecue and its versatility allows for multiple cooking methods. You also have a variety of sides and sauces to go with it.
Not got a Tomahawk steak in the house but craving a steak after reading this blog? Check out our guide to grilling the perfect steak for tips on how to cook any steak to perfection.