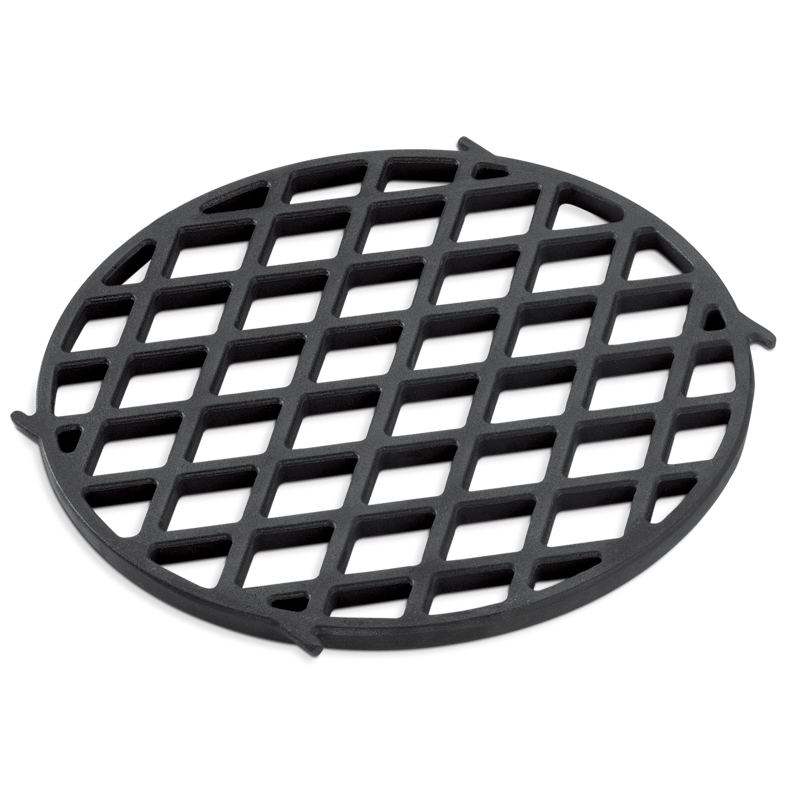 Built for Gourmet BBQ System cooking grates
Become the barbecue master that you've always wanted to be by perfecting the art and science of a flawlessly seared steak. Luckily for you and your guests, becoming that barbecue hero has never been easier with the Gourmet BBQ System Sear Grate. The porcelain-enamelled cast iron grate evenly conducts heat, creating professional-looking sear marks while sealing in the moisture and flavour of your food. Your guests will be impressed from their first glance through to their very last bite.
• Fits Gourmet BBQ System cooking grates for Weber charcoal barbecues, SmokeFire EX4/EX6 wood fired pellet grills, and Genesis/Genesis II, Spirit and Summit gas barbecues.
• Fits WEBER CRAFTED cooking grates and frame kit for SmokeFire EX4/EX6/EPX4/EPX6 wood fired pellet grills, and Genesis 2022, Genesis 2016+ and Spirit 2016+ gas barbecues.
A prime piece of meat deserves nothing less than a legendary sear. Give your steaks, and yourself, the professional barbecuing edge. Crafted with porcelain-enamelled cast iron, the Sear Grate prevents sticking and retains high heat to seal in juices and create photo-worthy diamond char marks on your favourite steaks, chops, and cutlets. The heavy-duty Sear Grate is designed to be used with the Gourmet BBQ System (GBS) cooking grate – just remove the circular grate insert, and pop in the Sear Grate to get a secure fit while you're barbecuing your next prized piece of meat.
Free shipping on orders above €100 otherwise standard shipping for €10

Packages delivery between 7-9 working days. Grills delivery will be arranged via our carrier within 3 days of when the payment is received, approx. 7-9 working days. (More Information)