the

Ingredients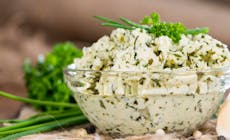 Herb and Shallot butter
Instructions
Who said butter makes it better? I dunno. But I do know that if you're looking for a quick n' easy sauce accompaniment that delivers high on flavour and can take your typical meal to the next level, try whipping up a compound butter! All you need is butter, your imagination and a few other ingredients. Traditionally compound butter is a mixture of fresh or dried herbs, salt and butter but over the years I've seen so many different variations mashed together making for some extraordinary flavours and aromas over grilled delights. Have fun with it. Come up with your very own signature compound butter. Here a few of my favourites!
Let butter come to room temperature or until soft.

Mix the ingredients thoroughly. Spoon the butter mixture onto a sheet of parchment or waxed paper. Fold the paper over and using your fingers to form a log. Then roll into a tube and twist the ends to seal.

Refrigerate for several days or stick in your freezer for a few months.

Serve with fish, vegetables, chicken, beef or simply bread.
Let's Gear Up
Recommended Tools
Let's Gear Up
Recommended Tools
Limited Edition Collectors Apron
More

Veggies Recipes
You May Also Like
More

Veggies Recipes
You May Also Like