By Grill Master Michael P Clive
GRILLING IN THE GREAT OUTDOORS WITH A

WEBER TRAVELER
Growing up my parents would often orchestrate a family camping trip at the end of a school year. Tents, pop ups, motorhomes…we tried them all. We camped, fished and my parents would teach us how to cook food away from the comforts of home. Those memories have inspired me over the years to carve out some new memories of my own. Luckily for me when we go camping I use a Weber Traveler Portable Gas Grill to bring me those exceptional backyard cooks while away from home. The secret to enjoying food while camping is ensuring the prep work happens before you hit the open road. Marinate your meats and keep them chilled down. Chop, dice and bag your vegetables in advance. Make sure you have enough fuel. When you get to your location set up the outdoor kitchen to your liking and preheat the Weber Traveler. With its large grilling surface no one will eat alone.
CHOOSING

THE RIGHT GRILL

FOR YOUR ADVENTURES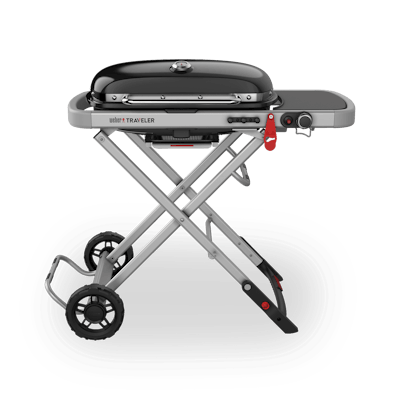 Learn More
Choosing the right grill for your adventure depends on a few factors like:

How many people you'll be feeding.
How much space you have to transport your BBQ.
What style of camping you'll be doing – motorhome, tenting, road trip
Smaller groups and families without a caravan or motorhome, need something portable like our new Weber Traveler Portable Gas Grill, which is compact, easy to transport, has a large grilling and a really practical propane gas barbecue. You dont need access to charcoal or electricity, this ultimate portable gas grill is the perfect choice, no matter where the adventure takes you.
Tasty tip: Add extra smoky or wood flavours using the Weber gas grill smoker box and smoker chips.
Convenient – super-fast to pre-heat, so you're ready to cook in around 10 to 15 minutes. Perfect for quickly satisfying hungry hikers after a trek.
Easy to clean – Clean cooking grates using a grill brush and wipe the outside of your barbecue with a cleaning cloth and specialized cleaner.
Durable – Weber Gas Grills are made to withstand the elements, and have a long lifespan.
Tasty tip: The Weber Traveler Reversible Prep & Serve Board is a handy tool for when you're grilling on the go. And the Cargo Protector protects your grill and your vehicle's interior from grease and grime.

FOR BREAKFAST, LUNCH OR

DINNER
When camping, you want food that's easy to prepare, nutritious and provides lots of energy. These packed-full-of-power recipes are the energetic boost you need for hiking, biking and whatever else the great outdoors offers.

And for those evenings you want to kick it and have fun, check out our amazing recipe for Beer Brats with Sauerkraut, Onions and Jalapenos.
Tasty tip: The key to great barbecuing lies in the prep. Prepare your sauces, marinades and veggies in advance, then store them in a sealable container.
Related Posts