It's one thing to prepare sumptuous steaks, chicken and burgers while you're grilling on the go but have you impressed your friends and family with a sweet dessert hot off the grill? It doesn't have to elaborate or extreme but it is easy to execute and always delicious!
When I'm grilling on the go I often choose a fruit crumble recipe to serve. It can come together in no time using fresh or frozen berries, a little sugar and lemon juice in a skillet with the addition of an oat, butter and brown sugar crumble topping. But maybe you want to make it even easier yet equally impressive? Consider cooking the fruit separately in a skillet until soft and jam like, then slice 1/2" thick slices of pound cake (purchased or made in advance) and then grill each slice for less than a minute aside over medium heat. The sugars in the cake caramelize giving a toastiness to the pound cake along with those dignified grill marks! Serve the fruit with the grilled cake off to the side or crumbled over top. Serve with ice cream or whipped cream. It's sweet, fruity and the grilled cake is always remembered.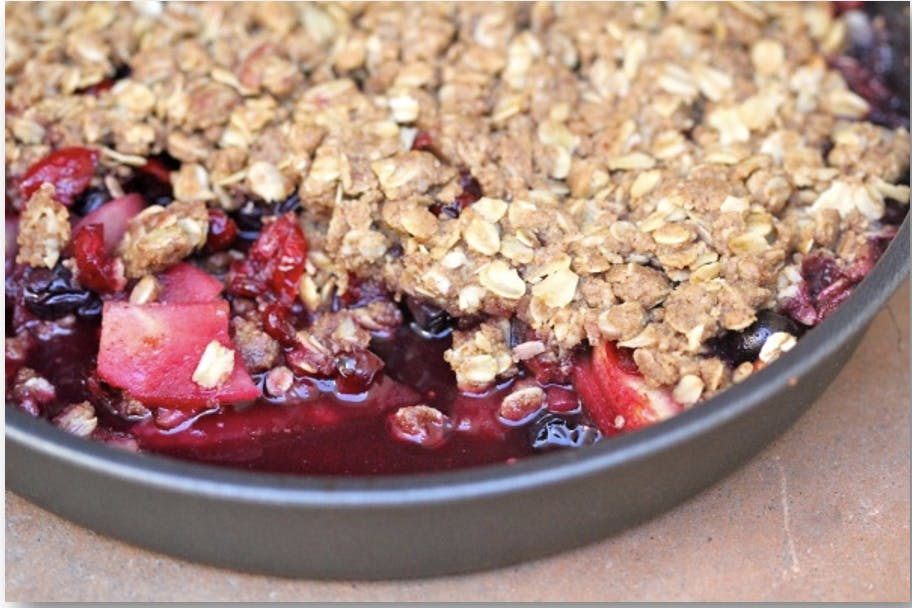 Fruit Crumble Recipe
Serves: 4-6 | Prep time: 15-20 minutes | Grilling time: 20-30 minutes
Ingredients
2 12-ounce packages frozen mixed berries (such as blueberries, blackberries, strawberries and raspberries; about 6 cups), unthawed
¼ cup white sugar
¾ cup all purpose flour
1 tablespoon fresh lemon juice
1 cup old-fashioned oats
2/3 cup (packed) golden brown sugar
1 teaspoon ground cinnamon
¼ teaspoon ground all spice
¼ teaspoon salt
¼ lb of chilled unsalted butter, diced
Instructions
Prepare the grill for indirect cooking over medium-high heat (375° to 400°F). Using the 'MOM' method.
In a large bowl combine the berries, ¼ cup of sugar, ¼ cup of flour and lemon juice; toss to ensure everything is mixed evenly. Once mixed, transfer the berry mixture into a 9-inch diameter cast iron pan / baking dish and flatten out the mixture covering the entire bottom.
In another large bowl combine the 1 cup of oats, 2/3 cup of brown sugar, 1 tsp of cinnamon, ¼ tsp of all spice, ¼ tsp of salt and mix thoroughly. Add the diced butter and rub the butter into the flour/oat mixture until the topping holds together in small clumps.
Sprinkle evenly over the berry mixture.
Bake the crisp until the berry mixture bubbles around the edges and the topping golden brown; approximately 20-30 minutes. Once finished let stand for 15 minutes and serve warm or at room temperature.
Related Posts