For those Adventures with Dad
When I was growing up my family started a tradition that would take us camping around Father's Day. We would only ever travel a few hours from home but it felt like another world when we got to our destination. It would be a time to celebrate Dad, the great outdoors and great grilled food.
As a family we would plan the perfect menu for weeks and how it would all come together at the campsite. These days I have peace of mind that wherever I go I'm going to be able to serve delicious grilled foods, get that same backyard grilling experience and results from my Weber Traveler. With its large grilling surface and wide range of heat I can do all the classics from burgers and sausage to breakfast and desserts. The Traveler is compact, easy to transport and always delivers exceptional results. Show Dad this Father's Day you want to take him away with the Weber Traveler.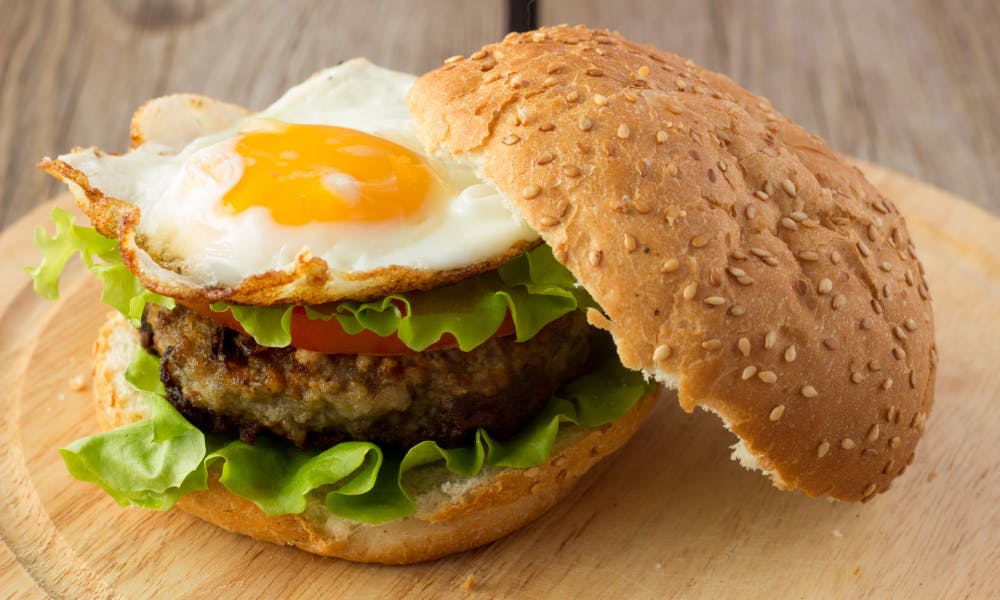 Gaucho Burgers with Fried Eggs and Chimichurri
Recipe from Weber's Big Book of Burgers
Serves: 4 | Prep time: 20 minutes | Grilling time: 14 – 18 minutes
Ingredients
Patties:
1 pound ground chuck (80% lean)
8 ounces bulk hot Italian sausage
2 tablespoons minced shallot
2 garlic cloves, minced or pushed through a press
Kosher salt
Freshly ground black pepper
Chimichurri:
1½ cups firmly packed fresh Italian parsley leaves and tender stems
4 garlic cloves, each quartered
2 tablespoons fresh oregano leaves
½ cup extra-virgin olive oil
¼ teaspoon crushed red pepper flakes
4 slices French or Italian bread, each about ½ inch thick
Extra-virgin olive oil
1 tablespoon unsalted butter
4 large eggs
3 tablespoons white or red wine vinegar
Instructions
Mix the patty ingredients, including ½ teaspoon salt and ¼ teaspoon pepper, and then gently form four patties of equal size, each about 1 inch thick. With your thumb or the back of a spoon, make a shallow indentation about 1 inch wide in the center of the patties to prevent them from forming a dome as they cook. Refrigerate the patties until ready to grill.
In a food processor fitted with a metal blade, finely chop the parsley, garlic, and oregano. Transfer to a bowl and stir in the oil, red pepper flakes, 1 teaspoon salt, and 1 teaspoon black pepper.
Prepare the grill for direct cooking over medium-high heat (400° to 500°F).
Lightly season the patties on both sides with salt and pepper and brush the bread slices on both sides with oil. Grill the patties over direct medium-high heat, with the lid closed, until cooked to medium doneness (160°F), 9 to 11 minutes, turning once. Halfway into grilling time, place a cast-iron skillet on the cooking grates or on a side burner set to medium-high to preheat. Remove the patties from the grill.
Add the butter to the skillet. Fry the eggs sunny-side up, with the lid open, until the whites are crisp and lacy on the edges and the yolks are partially runny, 4 to 6 minutes. Toast the bread on the cooking grates over direct heat, about 1 minute, turning once.
Add the vinegar to the chimichurri. Mix well.
Top each bread slice with a patty, a fried egg, and chimichurri. Serve immediately.
Related Posts