Second Generation Difference
SmokeFire
Hi Weber family!
As we get closer to the launch of the all new SmokeFire, a question on many people's lips is what is different about the models we're getting in Australia and New Zealand? Well for both countries, in a world first, the SmokeFire barbecues available will be the second generation of this product; so cast aside any doubt or reviews you've heard previously!
Well, what's changed exactly? There are three main elements which have been reengineered to deliver a superior product, and the best barbecue on the market. First up is the pellet Hopper. We've increased the angle of the slope in the pellet hopper by 33 degrees to help minimise the occurrence of tunnelling. This increase means that you get a constant fuel supply for your entire cook, giving you consistent performance and worry free barbecuing. With a full hopper, your 9kg of hardwood pellets can last up to 15 hours to easily cater for your short and low and slow cooks!
The next link in the chain is the inclined-drive auger. Some of the initial issues that customers were facing in other markets was around a small seal that was within the auger (also referred to as a grommet). There were cases where this seal was peeling with significant use, which would lead to jams. Weber have re-designed the Auger housing; it is now a singular, welded piece that no longer features that same grommet. All of this helps to prevent the chance of auger jams, back burn into the hopper and barbecue fires from excess saw dust build up – just make sure you still clean your SmokeFire as per the recommended frequencies!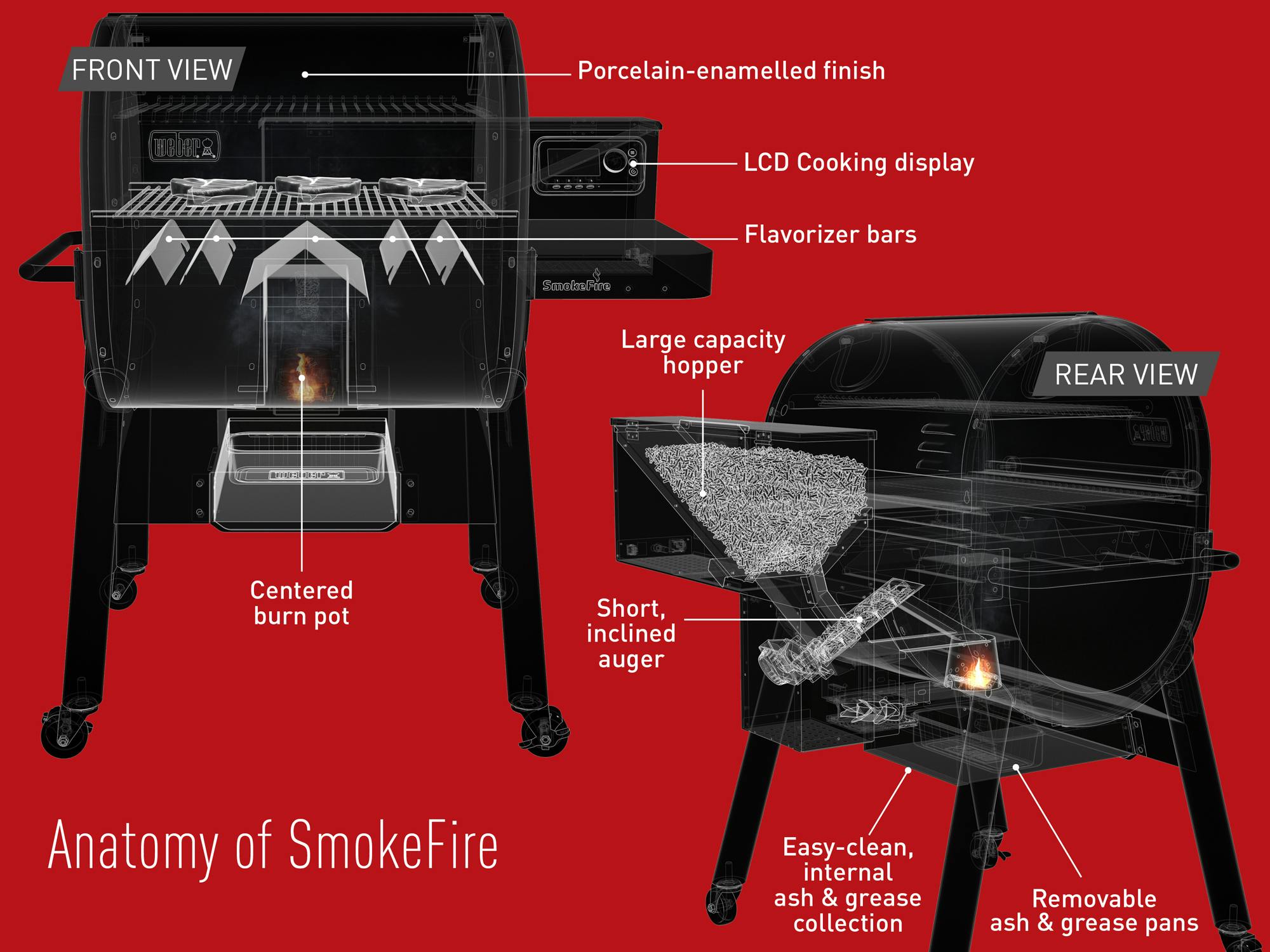 SmokeFire Anatomy
The third primary update has been to the tech elements of the barbecue. These adjustments have been made to the functionality of the glow plug used to ignite the barbecue, as well as the fan crucial to building and distributing heat. Why these components? Because Weber wanted to ensure that your barbecue will absolutely fire up and maintain heat quickly and efficiently, saving fuel and time. Tweaks were also made to the shutdown process to again reduce the potential of sawdust build up through the hopper and auger.
All of these developments have changed the performance of the SmokeFire remarkably, in order to ensure you have the very best cooking experience first time, every time. On top of these updates, the SmokeFire in Australia and New Zealand comes standard with Stainless Steel Gourmet Barbecue System™ cooking grills. How good is that! This means you can use any of the GBS™ accessories and expand your barbecuing potential. Think crispy base pizza, sweet and savoury stir fry's, gourmet breakfasts and so much more, your only limit is your imagination!


If you want to learn more about this barbecue or it's associated recipes, head to the product page on www.weber.com