Over 70 Years of Innovation
Weber is the world's leading manufacturer of charcoal and gas grills, smokers and grilling accessories. Our promise of quality and innovation lives on in everything we do. It's our heritage, our legacy, and our future.
1950's


George Stephen invented the iconic Weber Kettle
Created from a half sphere of metal from the factory where George worked - Weber Brothers Metal Works - the dome shaped grill featured a rounded lid, handle, three legs and holes for circulation. Its performance was a tremendous improvement over the charcoal grills on the market in 1952. "George's Barbecue Kettle" was demonstrated at hardware stores across the US.
Weber Logo
Committed to creating quality grills
George purchased the Weber Brothers Factory and devoted all of his professional time to manufacturing and selling the Weber Kettle.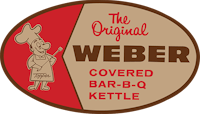 1960's
Weber became a nationally known brand with distribution in retail stores throughout the U.S.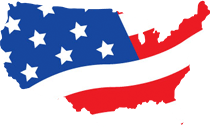 Galley-Que
Specialty kettle designed with a mounting system for use on boats.

Smokey Joe®
Small kettle designed to take camping, picnicking or to the beach. Millions have been sold around the world since first introduced.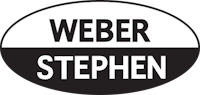 Weber Logo

The Flamenco
Featured a low table to sit around and grill hors d'oeuvres or small cuts of meat while enjoying the company of friends - a new way to entertain before the main meal was served.

The Penthouse
Created for apartment-living, this compact grill attached to balcony railings and took up little space.
The Ranger
This 57cm kettle could be wheeled anywhere - to beach parties, remote picnics, tailgating at sports stadiums or deep into the woods for camping.
The Wishing Well
A novelty grill, designed for grilling enthusiasts who wanted something unusual on their deck or patio.

The Seville
This 57cm kettle featured a sturdy wrought iron cart that paired well with mainstream garden furniture. It featured an expanded work surface that Weber owners identified as an important feature.

The Imperial Sequoia
Designed to match popular redwood garden furniture of the time, this grill featured a large work surface, towel rings and four wheels for easy maneuvering around the deck or patio.
1970's

Gas Barbecue Kettle
After extensive development, Weber introduced a gas-powered version of its famous kettle - WEBER'S FIRST GAS GRILL.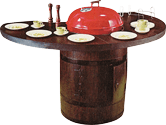 The Barrel Bar-b-q
This novelty grill appealed to the entertainer who wanted to prepare barbecued food and serve it to their guests sitting at a bar-height serving area.
Weber Electric Kettle
The electric kettle offered a new fuel alternative, perfect for balconies, decks, and grilling on the go.

Weber Logo

Ross McDonald/R McDonald Co.
Ross McDonald/R McDonald Co. became the Australian representative for Weber barbecues.
1980's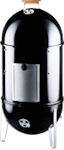 Smokey Mountain Cooker
Unique design provides slow, consistent heat for an optimal smoking experience.

Weber Logo

Genesis®
This flagship gas grill featured a revolutionary, patented cooking system that virtually eliminated flare-ups and provided even heat.
Weber Kettle popularity peaked
After years of demonstrating, the Weber Kettle popularity peaked in 1986 with over 80,000 sales in Australia (higher sales than Weber® Q's in 2009).
First Australian Cookbook Launched
The Complete Australian Barbecue Kettle Cookbook was published - Australia's first cookbook.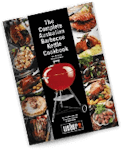 1990's

Performer
This revolutionary charcoal kettle addressed the desires of Weber enthusiasts. With its gas ignition system, charcoal storage container, Tuck-A-Way lid holder, thermometer, and large work surface, the Performer became an immediate success.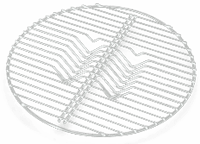 V-grate and Charcoal Baskets
Ross McDonald invented the Rapidfire Charcoal V-grate and Charcoal Baskets.

Spirit
The two and three burner Spirit line of gas grills were designed to meet the needs of apartment dwellers and grillers with smaller backyards.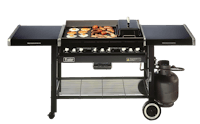 Flat Top Gas Barbecue
The Weber Flat Top Gas Barbecue was released for the Australian market (rrp approx. $1000).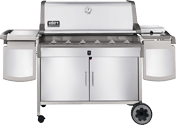 Summit®
The upgraded Summit® gas grill series offered heavy-duty components, stainless steel finishes and the largest grilling area of any gas grill on the market. Side burners, an infrared rotisserie burner, smoker burner, and larger work surfaces appealed to grilling enthusiasts.
2000's
Weber® Q
Weber introduced the Weber® Q, a new line of portable gas grills.
Weber Logo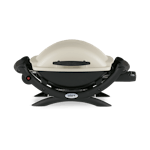 Weber® Baby Q and Weber® Family Q
These best-selling Q models fit on urban balconies or could be taken on the go. Each featured unique burner systems, patented cooking grates and lightweight, yet durable components.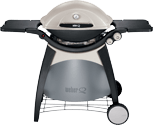 Cookbook Sales Rise
The Complete Australian Barbecue Kettle cookbook hits sales of 250,000 units.
Weber® Q Cookbook Introduced
Australia's Own Cookbook for the Weber® Q was introduced for this new line of grills.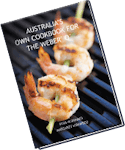 2010's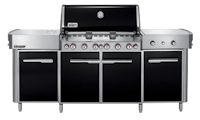 Summit® Grill Center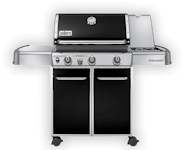 Genesis® E-330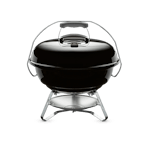 Jumbo Joe
Designed for grilling on the go with a generous 47cm cooking area and convenient carry handle.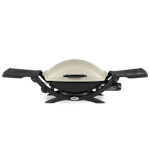 Weber® Q Update
The latest evolution of the Weber® Q model was released.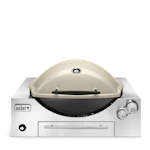 Family Q Built In (Q3600)
With the same loved features and appearance of the Family Q, the Q3600 Built In is the focal point of any outdoor kitchen.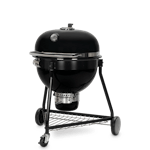 Summit® Charcoal Grill
The innovative stand-alone barbecue and grilling centre is the evolution of the iconic kettle, where charcoal grilling meets low-and-slow smoking. The grills start with the push of a button and maintains a steady heat for hours on end - perfect for smoking, grilling, or even baking.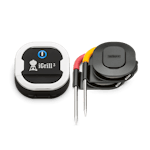 iGrill
iGrill app-connected thermometers monitor food doneness from beginning to end, and notify you on your smart device once it has reached the perfect temperature to serve.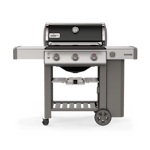 Genesis® II
The upgraded features and stainless steel components of the Genesis® II, bring grilling versatility and a premium look to any backyard.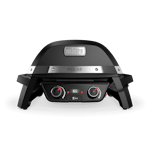 Pulse
Ideal for balconies, this barbecue is powered by electricity - no need to worry about any restrictions on using gas or charcoal.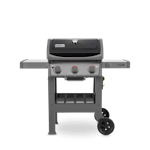 Spirit II
Redesigned models available in compact sizes for smaller balconies and patios,
2020's

Weber Smokefire introduced
Weber's authentic wood pellet powered barbecue, perfect for low and slow to high temperature searing, plus everything in between.

Weber Traveler released
The ultimate lifestyle portable barbecue, it's ready to feed the adventure, where ever the journey takes you.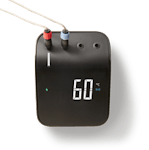 Weber Connect Smart Barbecue Hub introduced
A step-by-step barbecue assistant. It makes sure perfect meals every time are possible, all on your smart phone.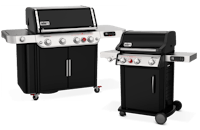 Weber introduces the Smart range of premium gas barbecues
The Genesis and Spirit Smart models feature the Weber Connect built in to the barbecue itself, delivering perfect results every time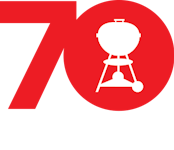 Weber celebrates 70 years of flavour
Memories and outdoor cooking by releasing the 70th Anniversary Weber Kettle collection. These kettles pay tribute to the past, present and future of cooking outs