Step 1:
Remove the turkey from the refrigerator and let it sit at room temperature for 1 hour. Brush the legs, breast, and wings with butter.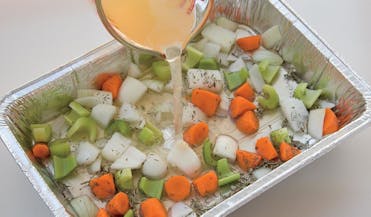 Step 2:
Place one large disposable foil pan inside the other and add vegetables, herbs, and [conversion imperial="2 cups" metric="475 milliliters"} of chicken broth.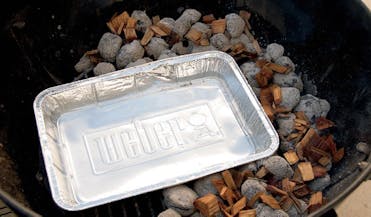 Step 3:
Arrange the charcoal in a half circle on one side of the charcoal grate. A large disposable foil pan filled with warm water will help you maintain the temperature of the fire.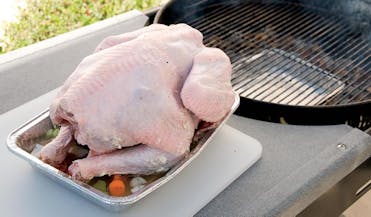 Step 4:
Place the turkey, breast side down, inside the foil pans and over the vegetables.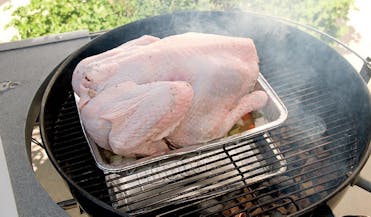 Step 5:
Add damp wood chips to the charcoal and set the pan on the cooking grate over the water pan, with the legs facing the hottest side of the grill.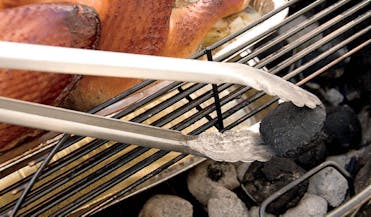 Step 6:
Keep the grill temperature inside the range of [conversion imperial="350° to 400°F" metric="180° to 200°C"], adding charcoal as needed.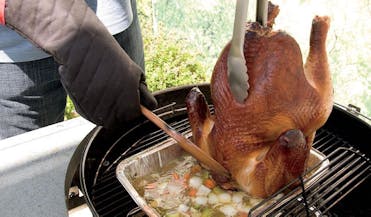 Step 7:
After grilling for 1 hour, flip over the turkey so that the breast side is facing up.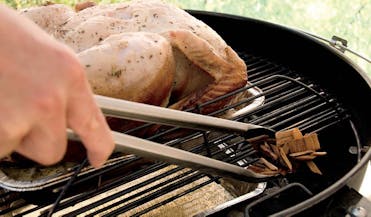 Step 8:
Continue grilling and smoking the turkey, occasionally adding damp wood chips.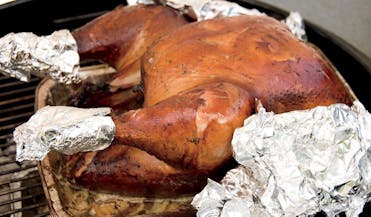 Step 9:
After the turkey has been on the grill for 1½ hours, cover any parts that are getting too dark. The turkey is done when an instant-read thermometer inserted into the thickest part of the thigh (not touching the bone) registers [conversion imperial="170° to 175°F" metric="75º to 80ºC"]. Transfer the turkey to a platter and let it rest for 20 to 30 minutes (the internal temperature will rise a few degrees during this time).