Weber Grill Academy
Grill Academy, Aoyama
One of the luxurious neighborhoods of Tokyo, located in the northwest portion of Minato Ward. The area is well known for its international fashion houses, cafes and restaurants. We are located in a peaceful area just out the main city boulevard. Our store is a 3-stories building painted in white, a simple structure well blended in its peaceful and arrogant neighborhood. Omotesando station (metro) is the closest station where you can walk from, the city also offers various public transportation making it the perfect place for exploring the city and enjoy the more relaxed Aoyama neighborhood.
Book a course now
The Team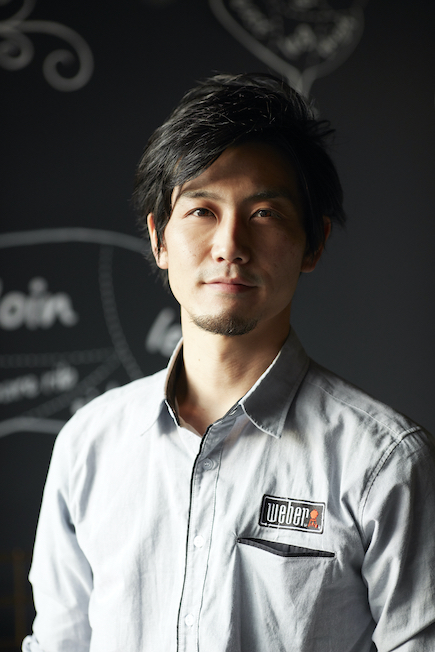 Chef: Kensuke Bookman
What is your role at Weber?
I am a chef at Weber Grill Academy in Japan, responsible for teaching the Weber Way of grilling. Taking customers through the experience of how easy and delicious BBQ is on a Weber is my goal. Recipe creation for Grill Academy and Weber Park Odaiba as well as organizing BBQ events are also part of my role here.


How would you describe your cooking style?
With a background of growing up in the US and having a BBQ grill in my backyard, as well as the many experiences in Japanese Kaiseki cuisine, it has made me realize how important seasonal ingredients are and how it could affect Japanese customers to like what we can do with our grills.

My cooking style is using the best of both worlds – BBQ and Japanese cuisine.

It was almost a daily event to grill growing up. Once a week, more than 20 people would gather at our house for a Grill-a-Thon! In my career after graduating from California Culinary Academy in San Francisco, I have specialized in the field of Japanese Cuisine. Some of my experiences include restaurant management, export sales manager at a food manufacturer, and R&D creating new Japanese dishes. Having both Western and Japanese food cultures in my life and knowing both cuisine styles has shaped my cooking style to what it is today. Ingredients you get in Japan are of the highest qualities in the world - anything you grill here will be extraordinary.


What is your signature dish?
Garam Masala flavored Smoked Salmon on Cedar Plank.
It is a very simple recipe where you put the Garam Masala seasoned Salmon on the Cedar Plank. You get a soft and flavorsome salmon with a hint of smoke.

Size of fillets – small size comes out great and for a more awesome photo-op, I recommend the big size fillets! It will get you the wows and the awes from your family and friends.

I also teach this dish at my Grill Academy classes, so please join me!


Top tips for Barbecuing?
Grill it the Weber Way!

This is the best way of grilling and anyone who cooks on a Weber will be sure to get great outcomes.
Weber Way of grilling has been passed on for over 65 years and we know this is the way for even a first time griller to become a backyard hero. You do not need premium Wagyu beef. You only need the Weber Way.
Please join me in this experience of Weber Way as I teach during my Grill Academy classes, including the 3Ts that we consider important – time, temperature and technique.
Getting there Getting there by car

Please use the nearest coin parking space available.
Getting there Getting there by public transport

Approx. 10 minutes walk from B1 exit at Omotesando station.
Find a perfect course for you