Tips for This Easy and Tasty Appetizer
Grilled Game Day Nachos
Oh, nachos. Let me count the ways I love you. I mean seriously, I've never met a plate of nachos I've not liked. Well, maybe the plastic plate with tortilla chips and melted processed cheese, but technically, those weren't nachos.

Oh no, nachos are tortilla chips piled high with cheese, steak, peppers, beans, avocado, salsa, and yes, more cheese. Most importantly, the best nachos are grilled. I'm not talking about just the steak, but the entire nacho platter. Nachos are good. Grilled nachos are even better.
I believe it's important not to skimp on nacho ingredients. Tortilla chips need to be sturdy to hold the weight of the toppings. The salsa should be fresh, and I always grate my own cheese. When it comes to nachos, it's all about the details.
My grill pan is my grilled nacho tool of choice. Its perforated bottom carries the flavor of the grill right into the chips, and its large size is perfect for serving.
Nachos are a natural use for leftovers, or as a new meal all to itself. Here's Jamie Purviance's perfect grilled nacho take.
Recipe from Weber's Greatest Hits™ by Jamie Purviance
Cheesy Nachos with Steak and Black Beans
People

Serves 12 to 15

Prep Time

30 min.

Grilling Time

9 to 11 min.
the

Ingredients
Paste
extra-virgin olive oil
minced garlic
ancho chile powder
packed light sugar
kosher salt
chipotle chile powder
ground cumin
skirt steak, 12 to 18 milliliters thick, trimmed of excess surface fat, cut crosswise into 2 or 3 pieces
bag (340 grams) tortilla chips
can (430 grams) black beans, drained and rinsed
200 grams shredded sharp cheddar cheese
200 grams shredded Monterey Jack cheese
520 grams your favorite tomato salsa
ripe Hass avocado, diced
Instructions
01

In a small bowl mix together the paste ingredients. Brush the paste on both sides of the steak pieces. Let the steak stand at room temperature for 15 to 30 minutes before grilling.
 

02

Prepare the grill for direct cooking over high heat (230° to 290°C).

03

Brush the cooking grates clean. Grill the steak pieces over direct high heat, with the lid closed, until cooked to your desired doneness, 4 to 6 minutes for medium rare, turning once. Remove from the grill and let rest for 3 to 5 minutes. Cut the steak across the grain into bite-sized pieces.

04

Layer half of the tortilla chips, steak, black beans, cheddar cheese, and Monterey Jack cheese on a large sheet pan. Place the pan over direct high heat, close the lid, and cook until the cheese is melted, about 5 minutes. In a medium bowl combine the salsa and avocado. Remove the nachos from the grill. Serve immediately with the salsa. Repeat with the remaining ingredients on a second large sheet pan.  
This is a carousel of various images or videos. Use Next and Previous buttons to navigate.
1. Grilling Pan
The perfect size pan for an epic portion of grilled nachos!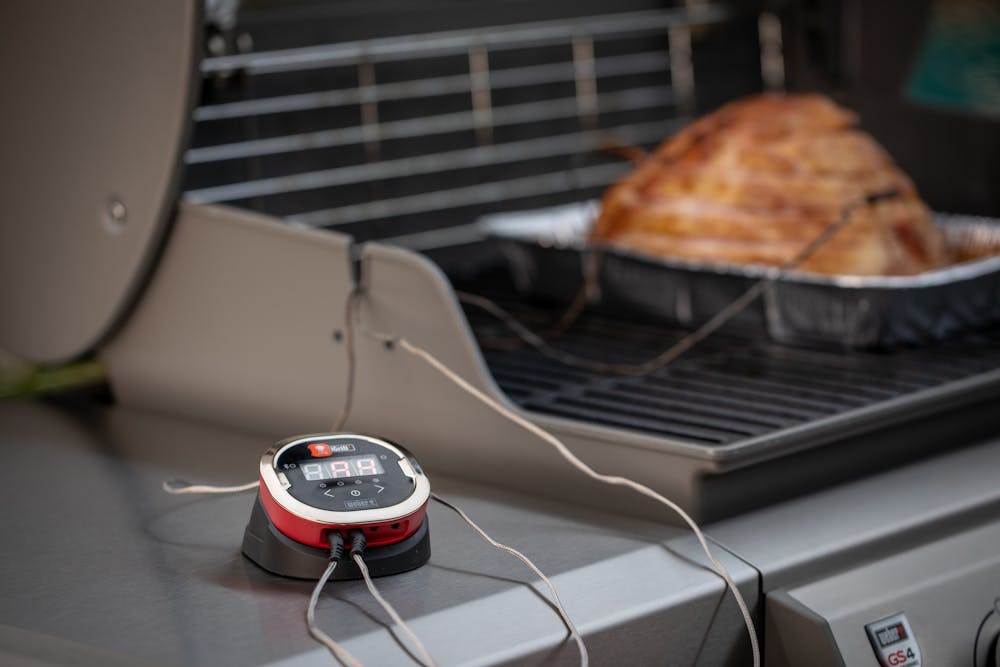 2. Tongs
There's not much an amazing set of tongs can't do. Turn steak, move grill pans, or even rearrange charcoal with the greatest of ease.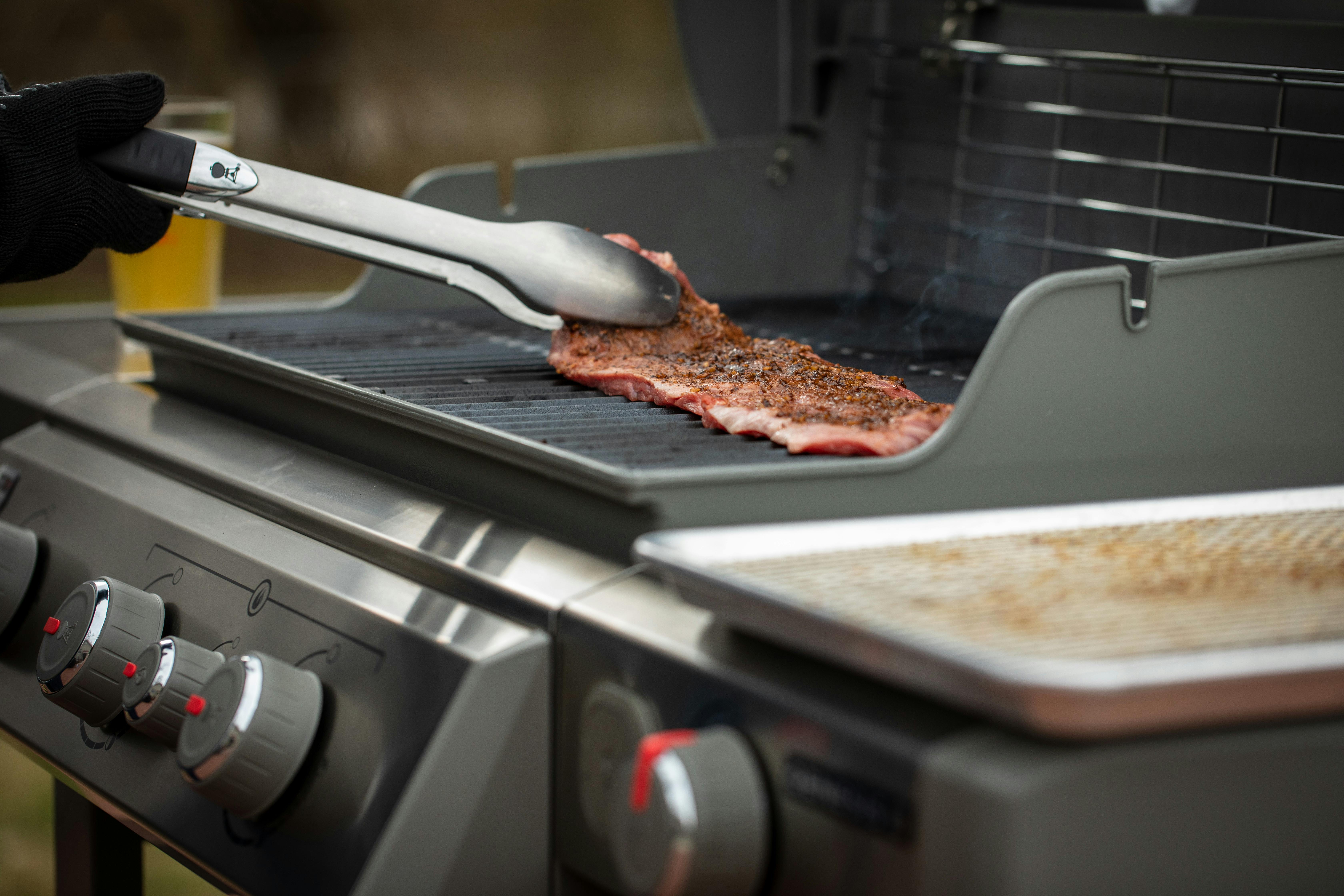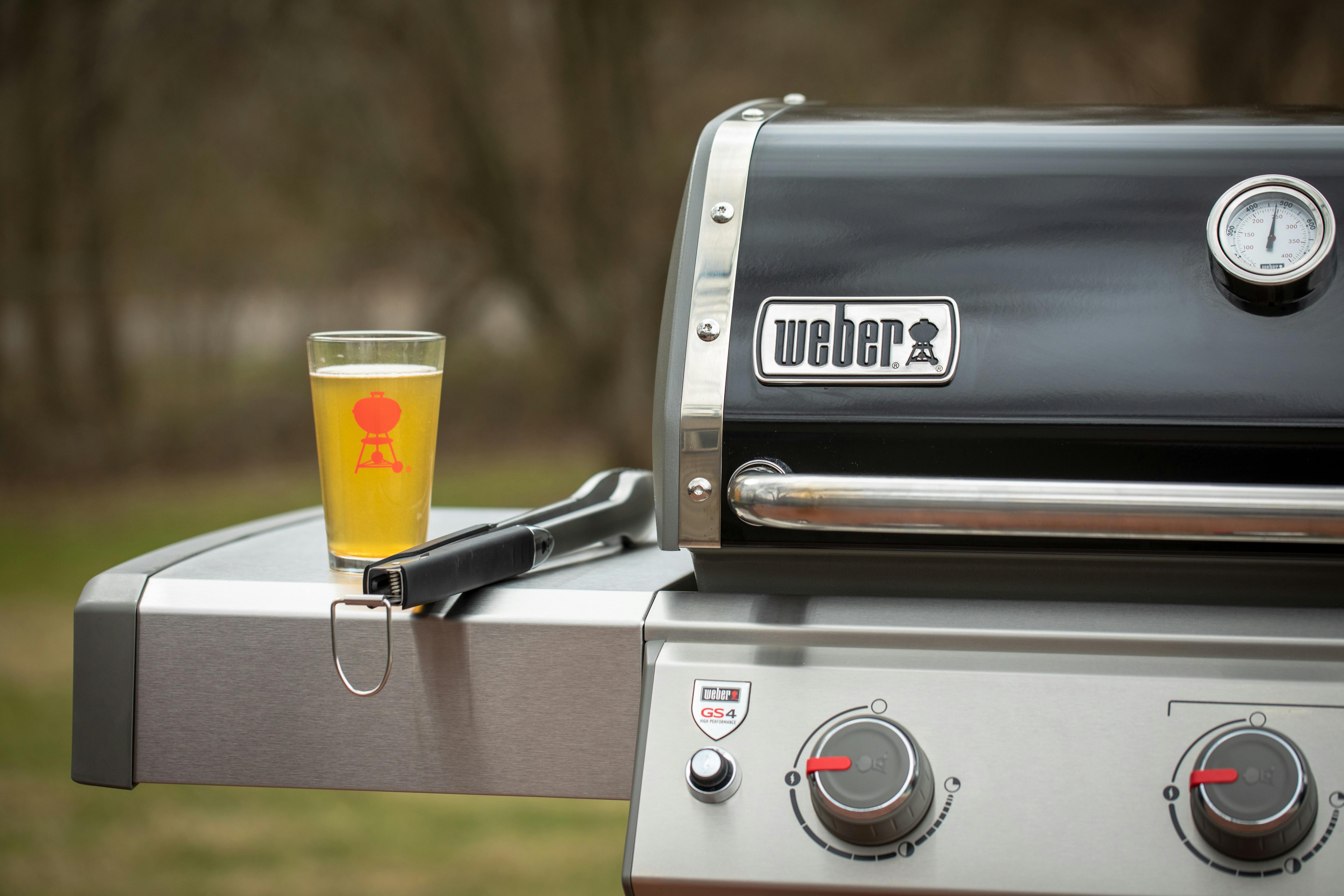 Related Posts