Master-Touch Charcoal Grill 22"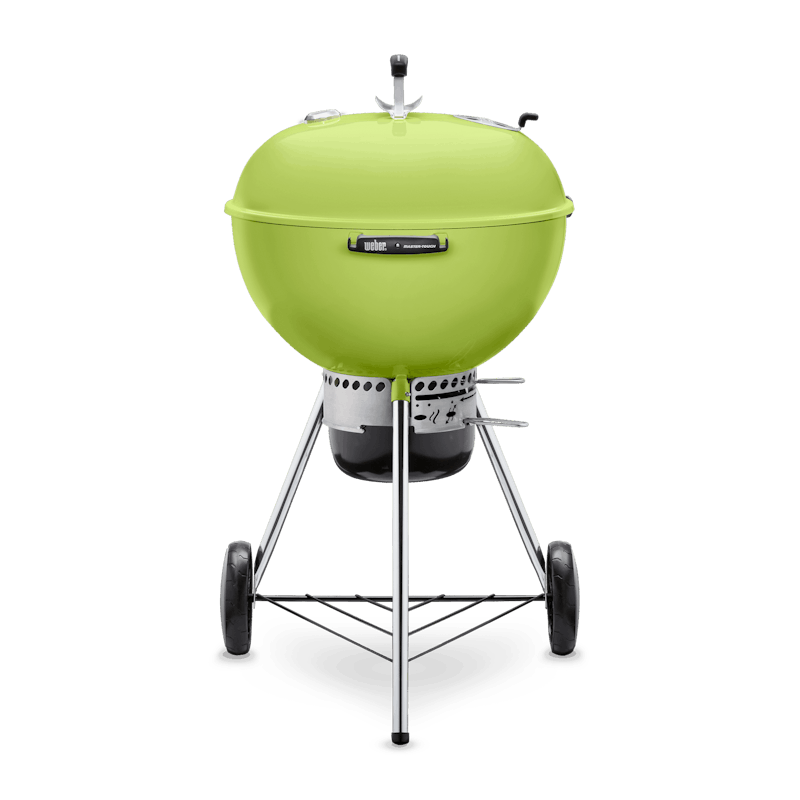 The ritual of charcoal grilling meets the convenient features and the wow factor of the Master-Touch®. Equipped with a hinged Gourmet BBQ System cooking grate, you're also able to purchase additional inserts, like the wok or griddle, to cook smoky chili or breakfast outside on the grill. Equipped with a Tuck-Away lid holder for convenient lid placement, taller legs, and charcoal rails for easily arranging briquettes, all you need to focus on is mastering your dish.
• Holds up to 13 burgers made with a Weber burger press
• Slide the lid into the Tuck-Away lid holder on the side of the grill to avoid placing it on the ground
• Cooking grate is compatible with GBS inserts and is hinged for easily adding charcoal while grilling
• Tool hooks for hanging grilling tools, such as a spatula and tongs
• Built-in lid thermometer displays your grill's internal temperature
• Charcoal rails organize charcoal for direct or indirect grilling
(Colours available at select retailers)
Complete the Set


Rapidfire Chimney Starter





Weber Connect Smart Grilling Hub

Precision Grill Tongs & Spatula Set
Carousel containing list of product recommendations. Please use left and arrows to navigate.
Master-Touch Charcoal Grill 22"
Dimensions - Lid Closed (inches)

42"H x 24"W x 29.5"D

Diameter (centimetres)

22

Primary cooking area (square inches)

363
Warming rack area (square inches)

80

Total cooking area (square inches)

443

Fuel type

Charcoal
View All Specifications
Warranty Information
Frequently Compared

Master-Touch Charcoal Grill 22"

Price:

Dimensions - Lid Closed (inches):

42"H x 24"W x 29.5"D

Diameter (centimetres):

22

Primary cooking area (square inches):

363

Warming rack area (square inches):

80

Original Kettle Premium Charcoal Grill 22"

Price:

Dimensions - Lid Closed (inches):

39.5"H x 22.5"W x 27"D

Diameter (centimetres):

22

Primary cooking area (square inches):

363

Total cooking area (square inches):

363

70th Anniversary Edition Kettle Charcoal Grill 22"

Price:

Dimensions - Lid Open (inches):

46"H x 24"W x 30.9"D

Dimensions - Lid Closed (inches):

42"H x 24"W x 29.5"D

Diameter (centimetres):

22

Total cooking area (square inches):

363