Recipe from Weber Canada's Grill Academy

Filet Mignon

with

Roasted Tomato Salsa
Serves: 5-6 | Prep time: 15 minutes | Grilling time: 25 - 30 minutes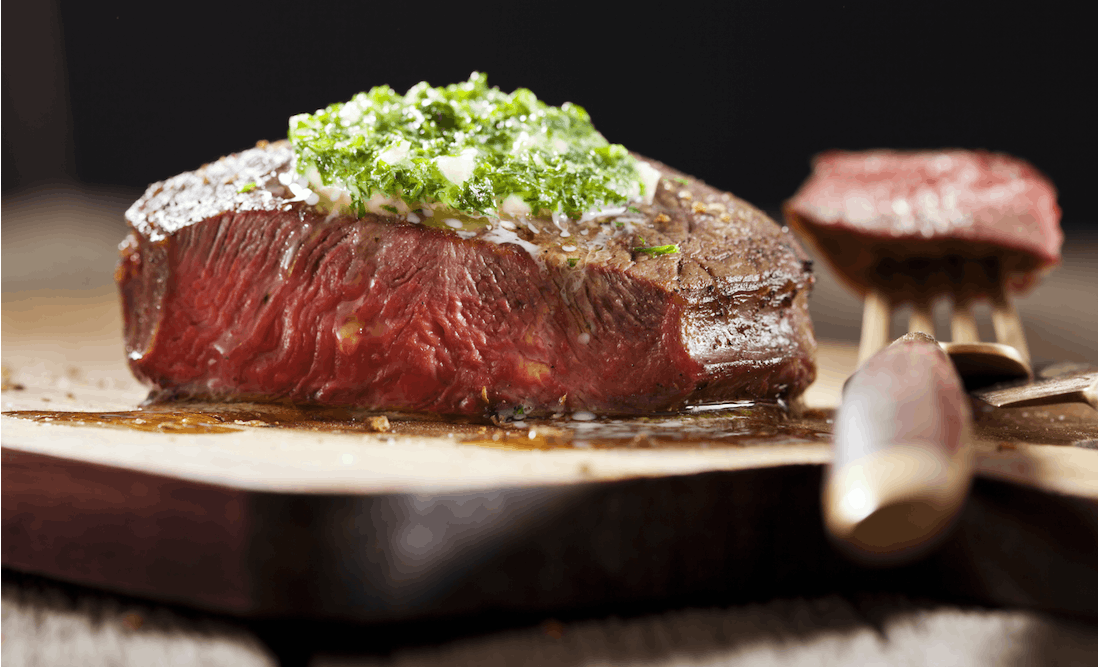 Ingredients
Roasted Tomato Salsa:
1 lb pound tomatillos (or small red tomatoes)
1 large jalapeno
1 large onion, sliced
1⁄4 fresh cilantro
1 lime (fresh juice)
2 garlic cloves
1 whole beef tenderloin (uncleaned or cleaned)
Extra-virgin olive oil
Kosher salt
Freshly ground black pepper
Woodchips – soaked in water for at least 30 minutes
Instructions
1. Grill tomatillos, jalapenos, sliced onions and garlic over direct medium heat until charred all over, about 10 minutes. Stem and seed the jalapeño. In a food processor combine the grilled vegetables and the rest of the ingredients. Pulse to a chunky salsa consistency.
2. Lightly oil the filet of beef on all sides and season evenly with salt and pepper. Don't be shy with the salt and pepper as it's a thick cut of meat. Allow to stand at room temperature for 45-60 minutes before grilling.
3. Prepare a 2 zone grilling area for direct cooking over high heat (450° to 550°F). Allow the grill to preheat for at least 15 minutes.
4. Once preheated, brush the cooking grates clean. Grill the filet over direct high heat, with the lid closed and rotating 90deg every 4 minutes until all sides have been seared.
5. Then move the filet to the indirect side of the grill and finish roasting until the desired internal temperature has been reached. (130F for medium-rare | 150F for medium-well) At this point add a handful of drained woodchips directly on top of the charcoal to add a smokey flavour.
6. Remove the steak from the grill and slather with the compound butter. Once buttered let it rest under tinfoil for at least 5 minutes before slicing. Time with the rest of the meal to serve all at once.
Recipe adpated from Weber Way to Grill™ by Jamie Purviance

Grilled Chili Lime Shrimp

Skewers
Serves: 4 | Prep Time: 20 minutes | Marinating Time: 15 minutes | Grilling Time: 3 to 5 minutes
Special Equipment: Bamboo Skewers soaked for 30 minutes in water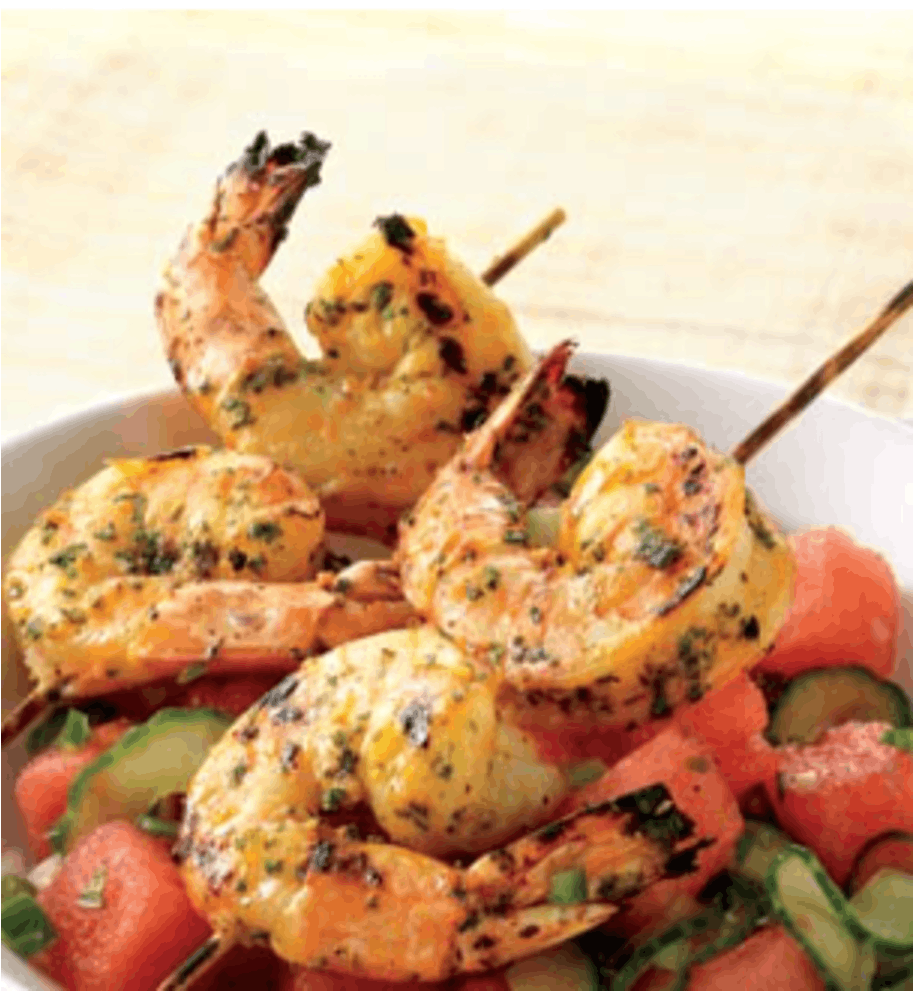 Ingredients
Marinade
3 medium garlic cloves
2 tablespoons fresh ginger chopped
Lime zest (of 1 lime)
Lime juice (of 1 lime)
1 lime
1 teaspoon granulated sugar
2 teaspoons chili powder
1 teaspoon dried chili flakes
½ teaspoon ground cumin
2 tablespoons vegetable oil
1 teaspoons kosher salt
½ teaspoon black pepper
Sweet Thai Chili Sauce
16 Shrimp (21-25 size), peeled and deveined with tails left on
Instructions
Soak the bamboo skewers in water for at least 30 minutes
Preheat the grill for direct cooking over high heat at 400 – 425°F
Transfer all the ingredients with the exception of the chili sauce to a metal bowl and whisk together, add the shrimp and toss to evenly coat. Set the marinating shrimp aside for at least 15-20 minutes.
Remove the shrimp from the marinade and discard the marinade. Thread the shrimp onto the skewers. Brush the cooking grates clean. Place the skewers of shrimp over direct heat on the grill then baste with the thai chili sauce and grill for 3-4 minutes. Flip the skewers over and grill the other side for 3-4 minutes while basting the with more chili sauce.
Remove the shrimp skewers, squeeze fresh lime juice over shrimp and serve immediately
Recipe adapted from Weber's Time to Grill™ by Jamie Purviance

Roasted Pepper & Onion Medley

with

Vinaigrette
Serves: 6-8 | Prep Time: 15 minutes| Grilling Time: 6 to 8 minutes | Special Equipment: Grill Basket or large foil pan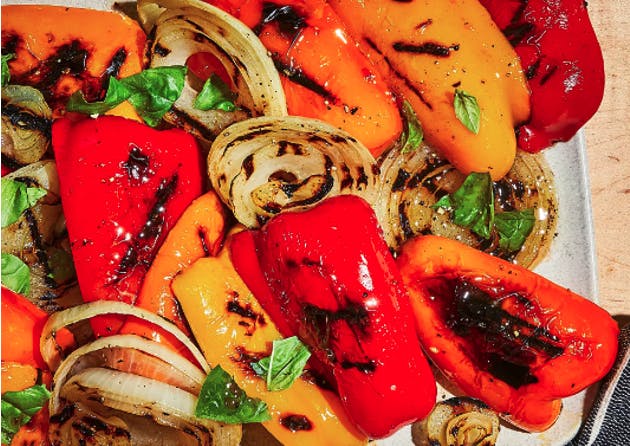 Ingredients
6 Peppers (Red, Yellow, Orange and Green) any will do
1 Large or 2 Small Red or White Onions
10-15 mini potatoes cut in quarters
½ cup of Olive Oil
¼ cup of Balsamic or Sherry Vinegar
2 teaspoons of chopped garlic
1 teaspoon of dry thyme
Instructions
Prepare the grill for direct cooking over high heat (375° to 475°F). Place Grill Basket over direct heat as well to preheat.
Set aside 2 teaspoons of oil, some salt and pepper for seasoning the raw vegetables. In a small bowl whisk together the rest of the ingredients for the dressing, remember to season with salt and pepper. Once completed set aside until later. This can also be done in a mason jar with a tight fitting lid for easy storage and clean up.
Working with one pepper at a time, use a sharp knife to cut off the top and bottom of each pepper to make "lids." Remove and discard the stem. Cut each pepper down the side, and open each up into a large strip. Cut away the ribs and seeds.
Peel onions and cut into rings. Cut the mini potatoes into quarters to ensure a quick cook time.
With all the vegetables cut and in a large bowl, lightly season with olive oil, salt and pepper.
Carefully place the peppers, wheels of onion and mini potatoes in the grill basket then grill with the lid closed, until slight soft. Stir vegetables every few minutes so that they all get good contact with the heat. Once the vegetables and potatoes have softened remove from the grill and place back into the same bowl they were seasoned in.
Once the vegetables are in the bowl drizzle the dressing over top of them and stir to ensure even coating. Then cover the bowl tightly with plastic wrap to allow the steam to continue softening the veg until ready to eat.
Recipe adapted from Weber's New Real Grilling™ by Jamie Purviance

Chocolate Lava Cakes

with

fresh berries
Serves: 8 | Prep time: 10 minutes | Grilling time: 10 minutes | Special Equipment: 12-well muffin pan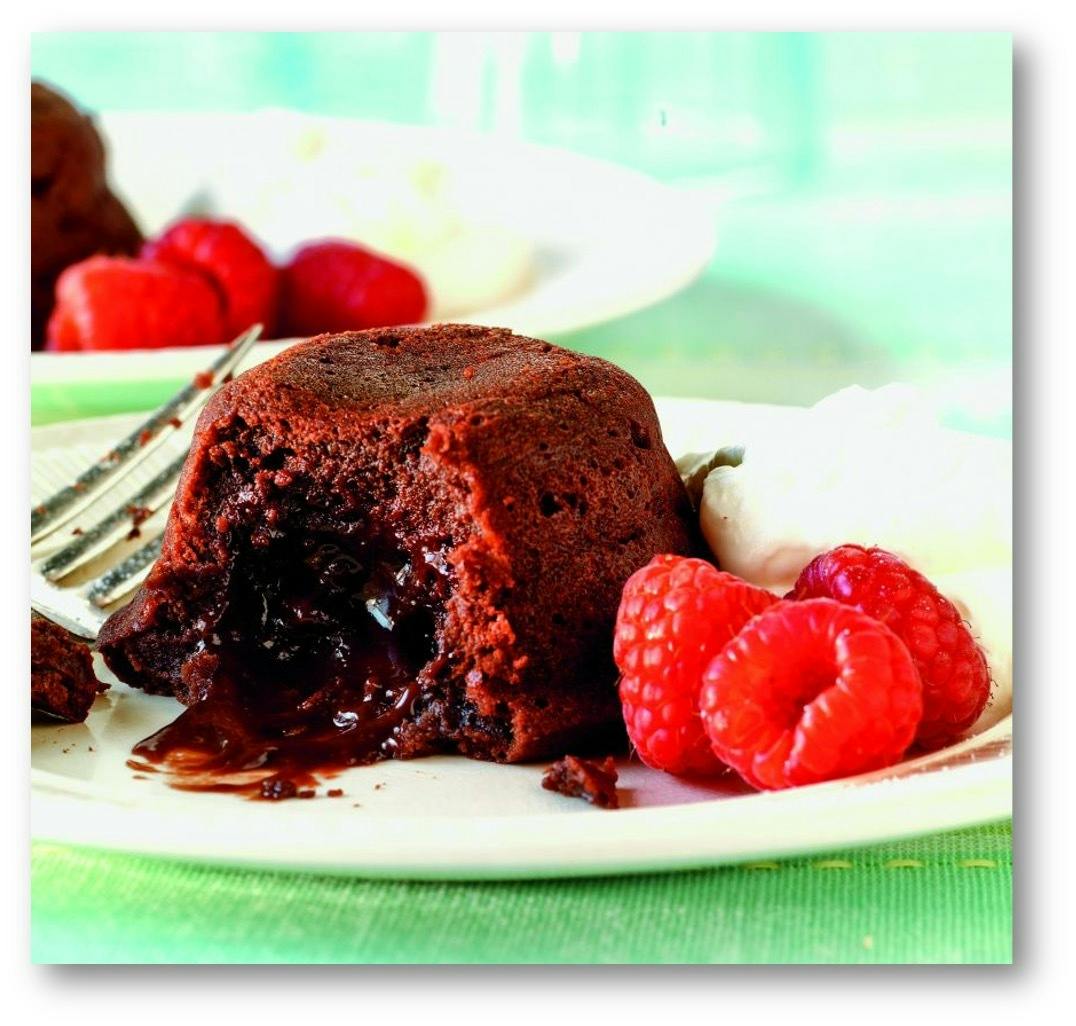 Ingredients
15 tablespoons butter
10 oz bittersweet chocolate
5 eggs
½ cup granulated sugar + 1 tablespoon
2½ tablespoon flour
2 cups fresh berries
Whipped cream (optional)
Instructions
Using 1 tablespoon of the butter, grease the 8 cups down the center of a 12-well muffin pan.
In a bowl, set over a pan of barely simmering water, melt the chocolate and the remaining 14 tablespoons butter, stirring occasionally until smooth. In another bowl, whisk the eggs and the sugar until light and fluffy, about 20 seconds. Add the warm chocolate mixture to the egg mixture and mix until smooth. Then add the flour and mix until you no longer see specks of flour.
Fill the 8 greased cups with the batter (almost to the top rim, but not all the way). If not ready to cook, refrigerate for as long as 3 hours.
Prepare the grill for indirect cooking over medium heat (ideally 400°F).
Place the muffin pan over indirect medium heat and bake, with the lid closed, until the cake tops barely jiggle when you shake the pan, about 10 minutes (or as long as 14 minutes if the batter has been refrigerated).
Once removed from the grill, run a knife around each cake then quickly flip out all the cakes to avoid cakes continuing to cook. Serve immediately and any berries you please.