The Low and Slow Cooking Method
Low and slow cooking is another fantastic way to use your Weber® Kettle. For short low and slow cooks, (2 hours or less), simply use 10-12 lit briquettes in one char-basket™.
For those longer low and slow cooks, we will show you how to use the 'Snake Method'. This guide will show you how to create the low, even cooking temperatures required for low and slow cooking for up to 8 to 12 hours of cooking time. Enough time to cook a brisket or pork shoulder. As a general rule, temperatures in the range of 1100C to 1350C (225 – 2750F) are a good guide for low and slow cooking.
Preparing the Barbecue for Indirect Cooking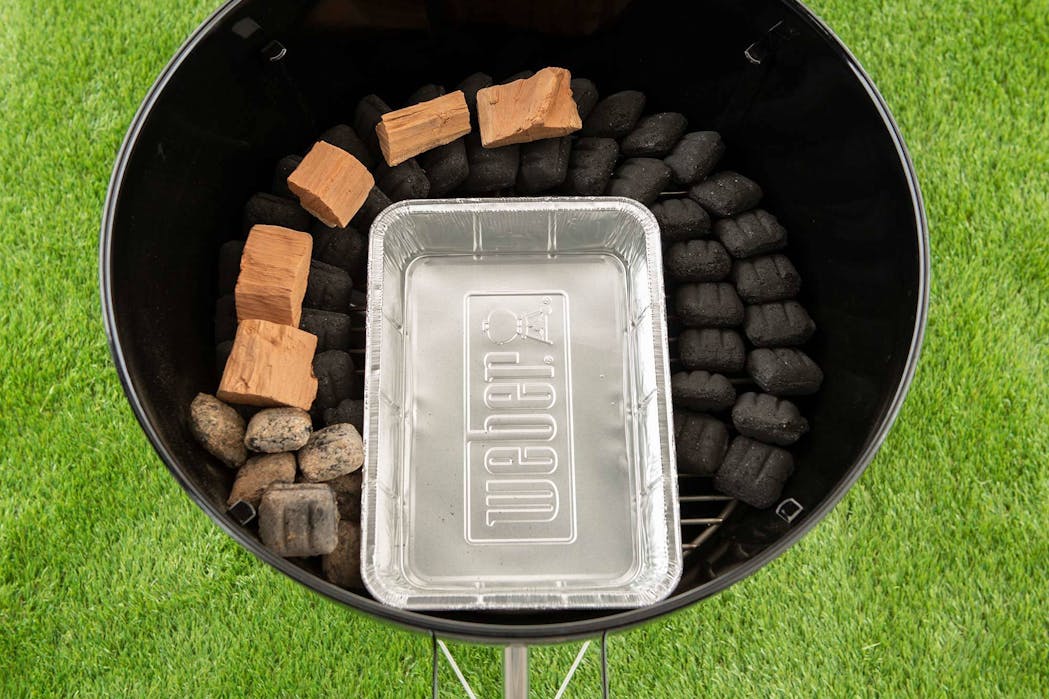 Start by opening the top and bottom vents on the barbecue, and remove the lid.
 Place two rows of Weber Briquettes around the outside of your charcoal grate, taking up half the circumference of your Weber Kettle. Lean the briquettes on a 45 degree angle – this will help keep the 'snake' burning. Place chunks of smoking wood on top of the 'snake' to add smoke flavour, place these to the front of your 'snake'.
Light 8-10 Weber Briquettes in a corner of the charcoal grate, away from the snake. Wait until they are completely ashed over and place them at one end of the snake. Make sure that some of the lit fuel is touching the unlit fuel at the start of the 'snake'.
Place a drip pan into the Weber Kettle, to catch drippings. Fill the pan with warm water to help regulate temperature. You may need to refill the pan with more water after about 3-4 hours. If the pan dries out, the temperature may rise quickly.
Ensure the vents on the kettle are open, and place the cooking grill and lid on. Wait for around 10-15 minutes until your temperature stabilises. Check the internal temperature of your kettle and adjust your top vent for temperature control, if needed.
Note: If using the Kettle's lid thermometer, ensure it is not directly over your briquettes or you may get an incorrect temperature reading. We recommend using a digital thermometer when using the snake method.
Place your meat in the centre of the cooking grill, above the drip pan. If necessary, use aluminium foil to shield the meat if it hangs over the top of the briquettes. This will help avoid overcooking and burning.