the

Ingredients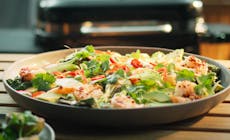 Chili oil
Special Equipment
Lumin reversible steam pan
Instructions
In a small bowl combine the chili oil ingredients and set aside.

In a medium bowl whisk the chimichurri ingredients. Set aside until ready to use.

Lightly brush the cut side of the bok choy with oil.

Prepare the grill for steaming setup. With the grill in the off position [ICON] and cool, replace the right-side grate with the reservoir and fill with water up to the fill line. Place the reversible steam pan onto the water reservoir with the walls of the pan facing down.

Brush the cooking grate clean with a stainless steel bristle grill brush.

Place the bok choy and lime halves, cut side down, on the cooking grate, and place the frozen shrimp side by side on the steam tray. Close the lid and turn the control knob to the high setting [ICON]. Check if the shrimp is defrosted after 3 to 4 minutes, adding more time if necessary. Keep the bok choy and lime haves on the grill until the shrimp is defrosted.

Once the shrimp is defrosted, brush the shrimp with the chili oil. Remove the bok choy and lime halves from the cooking grate and set aside. Move the shrimp to the cooking grate and cook over direct high heat, with the lid closed, for 2 minutes, turning once. Remove from the grill.

Cut the bok choy into bite-sized pieces and put in a large salad bowl. Add the mixed salad greens, edamame, mango, avocados, peanuts, chile pepper, and shrimp, and toss with the chimichurri. Squeeze the limes all over and garnish with cilantro and radishes.
Let's Gear Up
Recommended Tools
Let's Gear Up
Recommended Tools
Recommended Tools carousel, use the previous and next arrows to navigate, or jump to any slide with the slide bullets.
More

Seafood Recipes
You May Also Like
More

Seafood Recipes
You May Also Like