the

Ingredients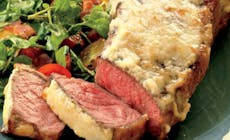 Instructions
Whisk the topping ingredients.

Lightly brush the steaks on both sides with oil and season evenly with 1 teaspoon salt and 1 teaspoon pepper. Allow the steaks to stand at room temperature for 15 to 30 minutes before grilling.

Prepare the grill for direct cooking over high heat (450°F to 550°F).

In a large salad bowl, whisk 3 tablespoons oil, the balsamic vinegar, ½ teaspoon salt, and ¼ teaspoon pepper.

In a medium skillet over medium heat, cook the bacon until crisp, 8 to 10 minutes. Using a slotted spoon, transfer the bacon to paper towels to drain.

Add the watercress and the tomatoes to the salad bowl, but do not toss.

Sear the steaks over direct high heat, with the lid closed, for 2 to 3 minutes. Turn the steaks over and spread the top of each steak with an equal amount of topping. Close the lid and continue grilling until the topping is golden and slightly browned in spots and the steaks are cooked to your desired doneness, 4 to 5 minutes more for medium rare. Remove from the grill and let rest for 3 to 5 minutes.

Toss the salad and top with the bacon. Serve the steak warm with the salad.
Let's Gear Up
Recommended Tools
Let's Gear Up
Recommended Tools
Recommended Tools carousel, use the previous and next arrows to navigate, or jump to any slide with the slide bullets.
Weber Connect Smart Grilling Hub
Genesis II EX-315 Smart Grill
More

Red Meat Recipes
You May Also Like
More

Red Meat Recipes
You May Also Like