Summit® E-660 Built-In Gas Barbecue (Natural Gas)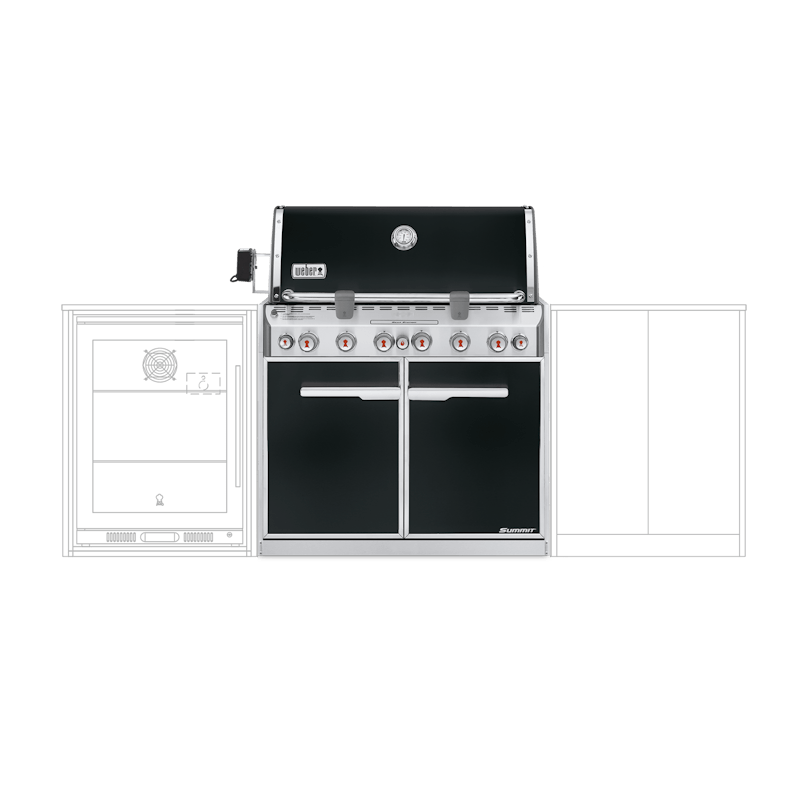 Works with mains gas plumbed to the house and connects via bayonet fitting - Does not work with bottled gas of any type.
Become the envy of the entire neighbourhood and exceed their expectations. From burgers on the grill to crispy chicken on the rotisserie, or even adding a touch of smoke to your favourite dish. The six burner Summit E-660 Built In barbecue will redefine your perception of the classic barbecue.
If you do not have a Natural Gas line, view our LPG model: 7361024
Not available to order online.
For more information, please contact Customer Service at 1300 301 290.
Summit® E-660 Built-In Gas Barbecue (Natural Gas)
Main burners

63.3 MJ (60,000 BTU)

Sear Station burner: kW

11.2 MJ (10,600 BTU)

Stainless steel smoker box and smoker burner: kW

7.2 MJ (6,800 BTU)
Rear-mounted, infrared rotisserie burner: kW

11.2 MJ (10,600 BTU)

Dimensions - Lid Open (centimetres)

147.4cm H x 106.7cm W x 78.8cm D

Dimensions - Lid Closed (centimetres)

128.3cm H x 106.7cm W x 78.8cm D
View All Specifications
Warranty Information
Frequently Compared

Summit® E-660 Built-In Gas Barbecue (Natural Gas)

Price:

Main burners:

63.3 MJ (60,000 BTU)

Sear Station burner: kW:

11.2 MJ (10,600 BTU)

Stainless steel smoker box and smoker burner: kW:

7.2 MJ (6,800 BTU)

Rear-mounted, infrared rotisserie burner: kW:

11.2 MJ (10,600 BTU)

Summit® S-660 Built-In Gas Barbecue (Natural Gas)

Price:

Main burners:

63.3 MJ (60,000 BTU)

Sear Station burner: kW:

11.2 MJ (10,600 BTU)

Stainless steel smoker box and smoker burner: kW:

7.2 MJ (6,800 BTU)

Rear-mounted, infrared rotisserie burner: kW:

11.2 MJ (10,600 BTU)

Summit® E-670 Gas Barbecue (Natural Gas)

Price:

Main burners:

63.3 MJ (60,000 BTU)

Sear Station burner: kW:

11.2 MJ (10,600 BTU)

Stainless steel smoker box and smoker burner: kW:

7.2 MJ (6,800 BTU)

Side burner: kW:

12.7 MJ (12,000 BTU)