Spirit II E-320 Gas Barbecue (Natural Gas)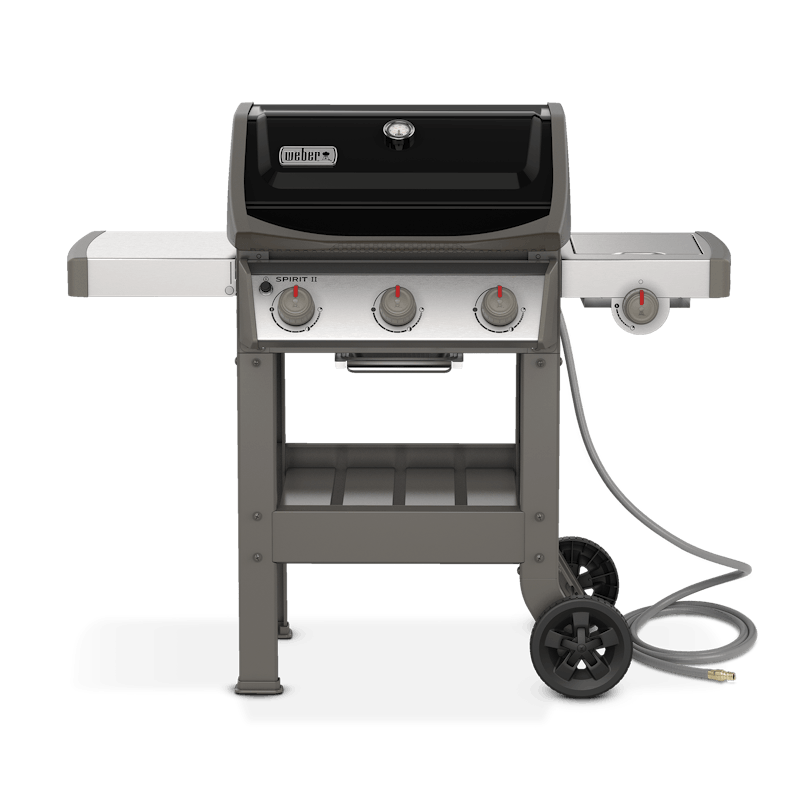 Works with mains gas plumbed to the house and connects via bayonet fitting - Does not work with bottled gas of any type.
Get ready to step up your barbecuing experience. With the spacious cooking area, you can sear steaks on one side while barbecuing an appetiser on the other. Armed with the strong GS4™ grilling system, this gas barbecue is sure to take you and your meals to the next level.
If you do not have a Natural Gas line, view our LPG model: 45012224
Spirit II E-320 Gas Barbecue (Natural Gas)
Main burners

31.6 MJ (30,000 BTU)

Side burner: kW

12.7 MJ (12,000 BTU)

Dimensions - Lid Open (centimetres)

145cm H x 132cm W x 66cm D
Dimensions - Lid Closed (centimetres)

113cm H x 132cm W x 69cm D

Primary cooking area (centimetres)

2760 cm² (60cm X 46cm)

Warming rack area (centimetres)

605 cm² (55.7cm X 11.4cm)
View All Specifications
Warranty Information
Frequently Compared

Spirit II E-320 Gas Barbecue (Natural Gas)

Price:

Main burners:

31.6 MJ (30,000 BTU)

Side burner: kW:

12.7 MJ (12,000 BTU)

Dimensions - Lid Open (centimetres):

145cm H x 132cm W x 66cm D

Dimensions - Lid Closed (centimetres):

113cm H x 132cm W x 69cm D

Spirit II E-310 Gas Barbecue (Natural Gas)

Price:

Main burners:

31.6 MJ (30,000 BTU)

Dimensions - Lid Open (centimetres):

144.78cm H x 132.08cm W x 66.04cm D

Dimensions - Lid Closed (centimetres):

113.03cm H x 132.08cm W x 68.58cm D

Primary cooking area (centimetres):

2700 cm² (60cm X 45cm)

Weber® Family Q Premium (Q3200) Gas Barbecue (Natural Gas)

Price:

Main burners:

22.9 MJ (21,700 BTU)

Dimensions - Lid Open and Tables Out (centimetres):

141cm H x 127.6cm W x 76.2cm D

Dimensions - Lid Closed and Tables Out (centimetres):

110.5cm H x 127.6cm W x 53.4cm D

Primary cooking area (centimetres):

2400 cm² (63cm X 45cm)