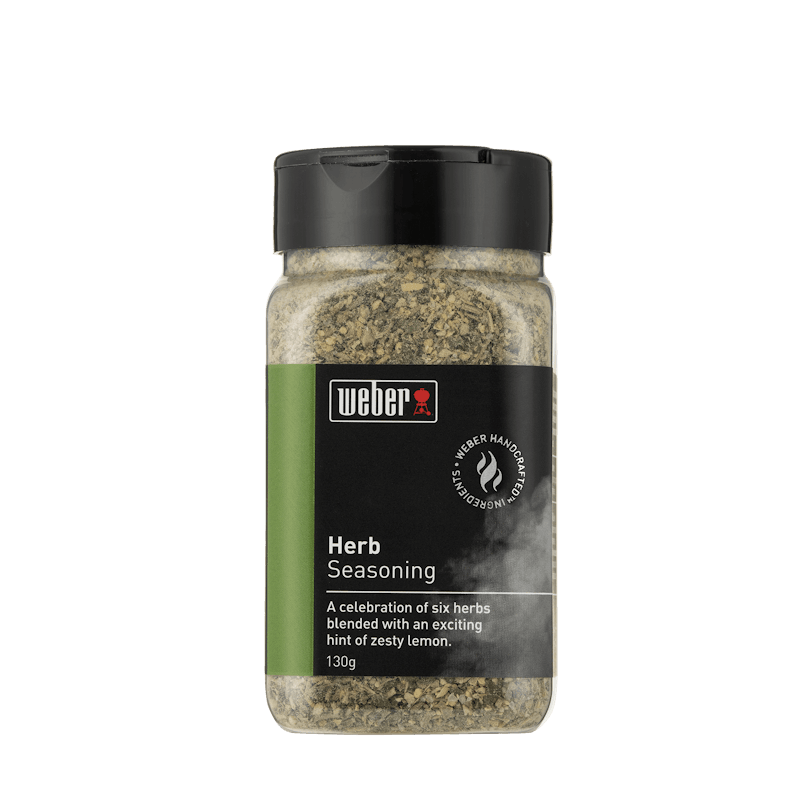 A humble roast chicken often brings families together. Our herb seasoning is the perfect balance of a mix of herbs and salt. You may be surprised by a fresh flavour pop of lemon making this seasoning ideal for chicken, lamb or even seafood.
• A fresh and light seasoning best suited for light flavoured proteins like chicken, fish or even veggies
• 130g bottle to shake and coat at least 7kg of chicken thigh fillets
• All-natural ingredients, gluten free. No artificial colours or flavours, no msg, nuts, soy, egg, dairy, sesame or preservatives.
• Bright lemon and delicate herb ingredients best suited to shorter cooks; grilled, seared or roasted (max 1-2 hours)
• Product designed in-house by Weber Australia & NZ team, with the quality and flavours we know you'll love
• Handy usage instructions and recipe ideas on the bottle, so you'll have the perfect cook, first time
• We've included our Weber Handcrafted Apple Smoked Garlic and Onion smoked on a Weber SmokeFire barbecue, so you'll taste that extra depth of flavour
• Chilli Level: None
Complete the Set


Precision 3-Piece Grill Set


Weber Silicone Grilling Gloves


Carousel containing list of product recommendations. Please use left and arrows to navigate.
A flavour for every season
Complete The Range
with these helpful tools
Become a Flavour Master