How To Grill Baked Planked Sweet Potatoes
When I make sweet potatoes, I have one of those perennial holiday questions. Is it a side or is it dessert? Granted, with mashed potatoes, there isn't a lot of dispute. They quickly fall into the "side" category. However, the mighty sweet potato can go two different directions.
Baked with butter and green chilis, it can be a hearty side. However, adding brown sugar, molasses, and marshmallows takes us to the rich end of the meal. Sweet potatoes are suddenly a truly sweet treat.
As I plan my meal, I prefer to land somewhere in the middle. Yes, there is plenty of added sugar, it IS the holidays after all, but I also add bourbon and my most favorite ingredient, smoke. My holiday sweet potatoes refuse to be categorized because simply, they are the best of everything. A hint of sugar, a bit of bourbon, and it all encompassed by the smoldering wisps of a cedar plank on the grill.
My only problem with this mighty sweet potato dish is making sure I have enough for leftovers the next day.
Recipe
Planked Mashed Sweet Potatoes

Serves: 4
Prep Time: 30 minutes
Grilling Time: 20 minutes
Ingredients
3 medium sized sweet potatoes, peeled and chopped
¼ cup molasses
4 tablespoons butter
2 tablespoons brown sugar
1 ounce bourbon
1 teaspoon kosher salt
½ teaspoon ground black pepper
½ teaspoon ground allspice
½ cup mini-marshmallows
Instructions
Soak the cedar plank in water for an hour.
Place the sweet potatoes in a medium-sized saucepan and cover with water. Bring to a boil and cook until fork tender, approximately 15 minutes.
Drain the water and return the sweet potatoes to the warm pot. Add the molasses, butter, brown sugar, bourbon, kosher salt, black pepper, and allspice. Mash until combined.
Prepare the grill for a two-zone medium heat fire (350° to 450°F).
Grill the empty plank over direct medium heat until the plank begins to smolder. Add the mashed sweet potatoes to the grilled side of the plank.
Grill the loaded plank over direct medium heat for 10 minutes, with the lid closed. Add the marshmallows to the sweet potatoes and continue to grill over indirect medium heat until the marshmallows darken and the sweet potato is heated through.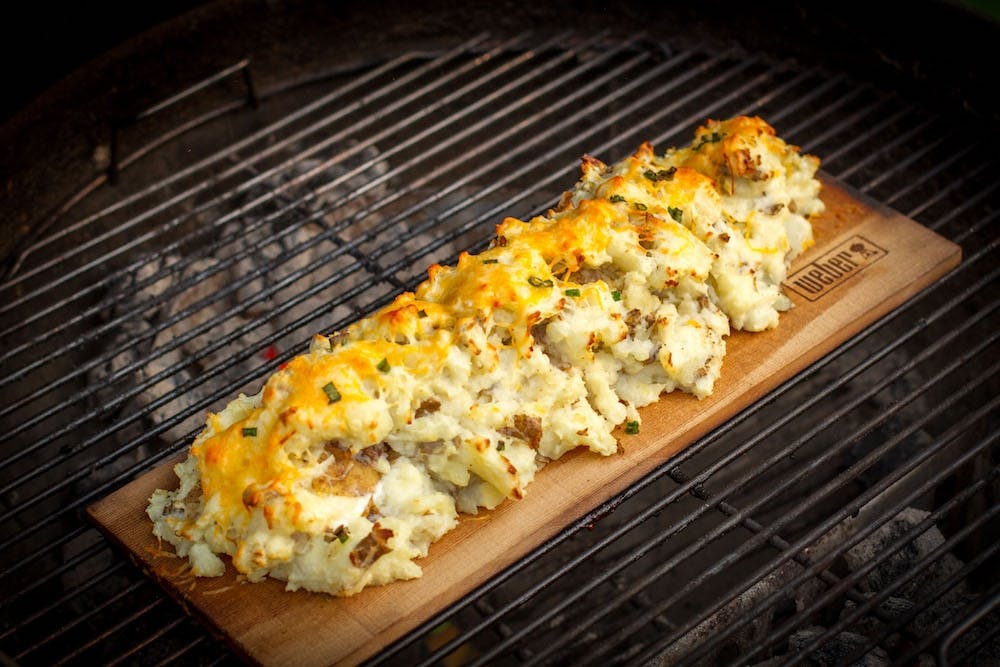 Options are endless when it comes to other planked sides.
Planked Pears
Planked Garlic and Parmesan Potato Chips
Twice Baked Planked Potatoes
Planked Sausage Rolls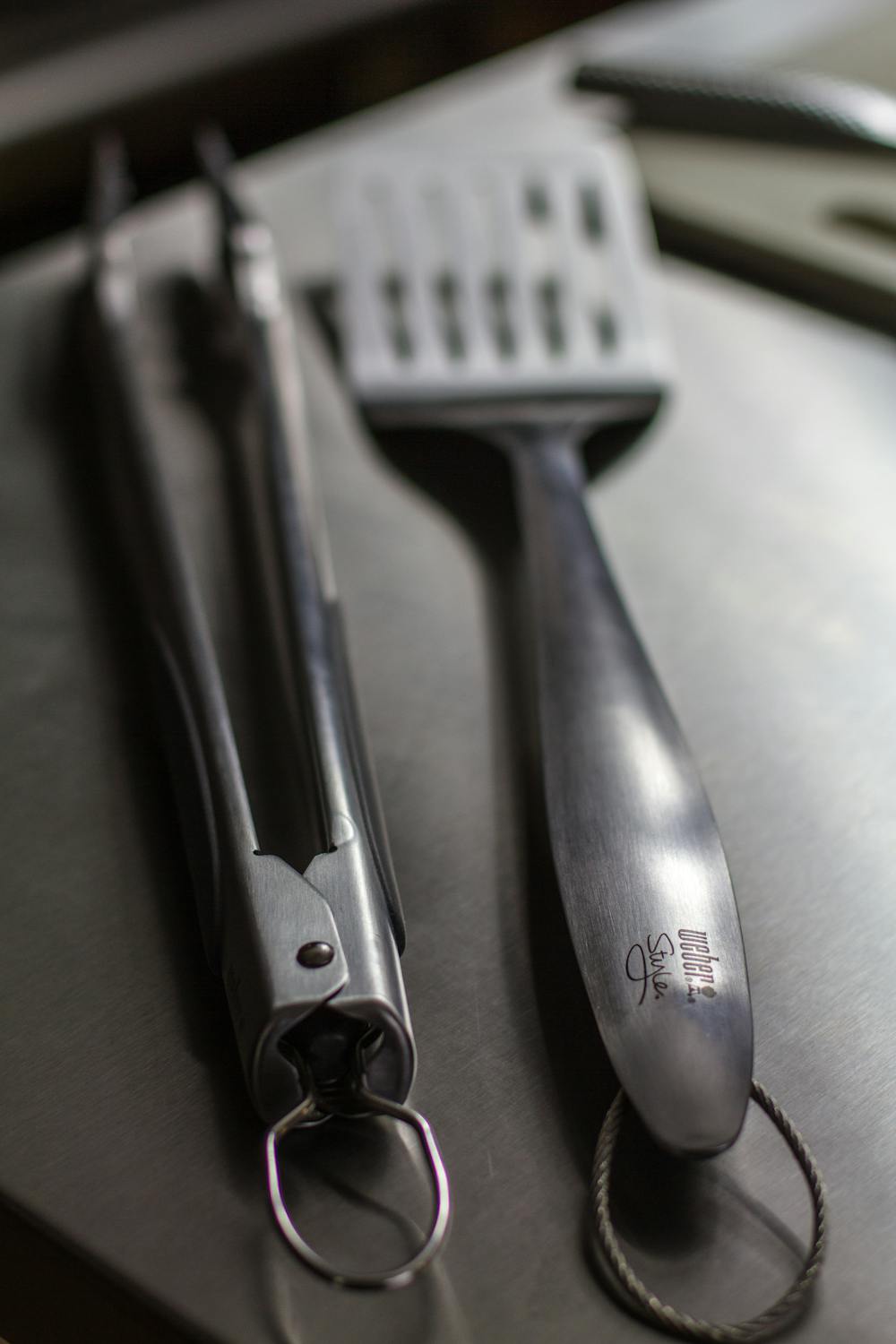 2. Tool Set
A spatula and tongs go together like salt and pepper. Whether flipping asparagus, turning veggies, or transferring food from tray to cooking grates, the spatula and hands-free locking tongs in the Deluxe Tool Set are two of your everyday grilling essentials.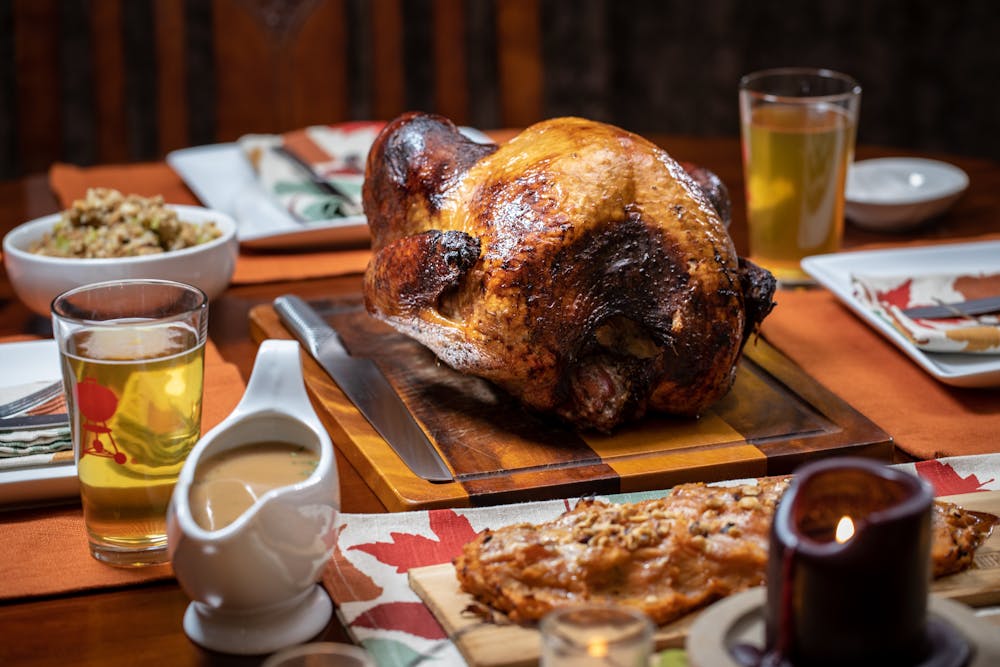 3. Weber Pint Glasses
Set your Thanksgiving table with these pint glasses.
Check out all of our other blogs about turkey! Then share what you grilled with us using #BestTurkeyEver on social!
Related Posts