When does food intertwine with technology? When it's cooked on Weber's reinvented electric barbecue, the Pulse™.
Reset your expectations


Pulse
Ushering in an era of infinite barbecuing possibilities, the pulse fuses everything you want from a gas barbecue, with the convenience of plug in electrical power; all the while delivering an incredible cooking and flavour experience.
The Pulse range is uniquely integrated with Weber's Weber's iGrill® smart technology. Firstly, this provides the ability to accurately measure the cooking grill temperature (or the average thereof, if cooking on a Pulse 2000 and you have two different temperature zones set). What this also provides is the ability to monitor the doneness of your food while it cooks, and show you in real time on your smart device. When connected to a Pulse 1000, you can concurrently monitor up to two different pieces of meat, or on a Pulse 2000, up to four! (Additional iGrill meat probes may be required).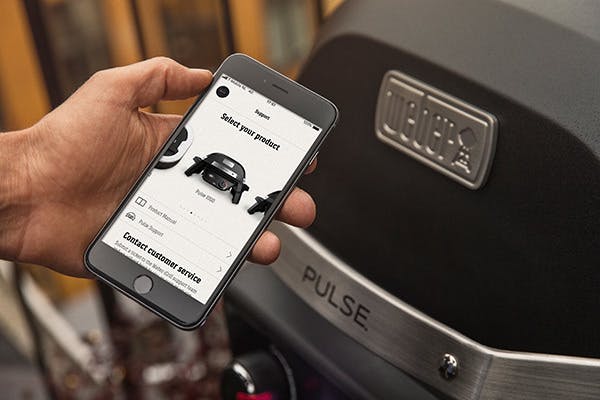 The grill temperature, and how it's controlled, is really what makes the Pulse so special. Rather than switching on and off in large bursts like other electrical cooking appliances - powering on and off using electro mechanical cycling, leading to fluctuating food temperatures that simply ends up stewing your meal - the Pulse never powers off while barbecuing. More than that, it adjusts its power output constantly, with electronic temperature control technology, to maintain your desired cooking temperature; aided by the specially designed heating elements. This is one of the Pulse's best features. For when exposed to the elements, unlike any other type of barbecue, it will automatically adjust its output ensuring your food is cooked at the desired temperature. This gives you a genuine barbecue experience and delivers incredible Weber flavour.
Let's move on to some of the Pulse's other features. Being equipped with an LED temperature display, you can accurately and efficiently preheat the Pulse for optimum barbecuing anywhere up to 3000C; providing endless barbecuing opportunities. Aided through the porcelain enamelled cooking grills which evenly retain heat, the Pulse produces an authentic barbecue taste in your food, as well as being able to deliver those irresistible caramelised sear marks on your favourite cuts of meat.

The built-in grease management system automatically funnels grease and debris away from the heating element(s), allowing for easy clean-up. To deliver further ease of use, the front control panel disconnects for easy access, doubling to provide more efficient storage and protection when your barbecue is not in use.
The Pulse's design features a tall lid, allowing for larger cuts of meat to be grilled or roasted with ease. With dual zone barbecuing and a cooking grill space of 1796cm2 on the Pulse 2000, you can confidently conquer a full roast. Alternatively, split your zones and create those beautiful caramelised sear marks on your favourite steaks on one, while on the other, your side dish cooks over a lower heat.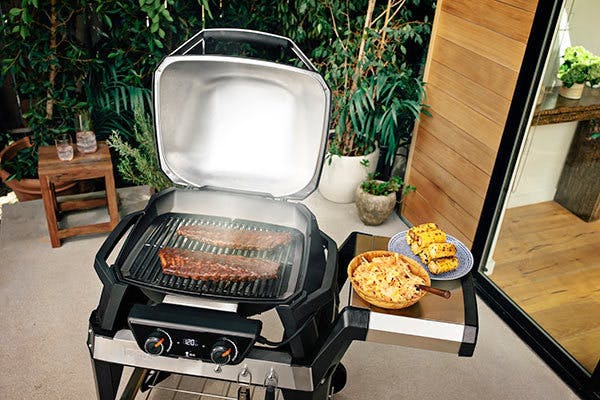 The Pulse delivers an incredible flavour and cooking experience. Grill, roast and bake, all with the convenience of plug in electrical power. This and iGrill smart technology integration, is only available in Weber's revolutionary electric barbecue, the Pulse. Check out the range at your local Weber Store or Weber Specialist Dealer today.