the

Ingredients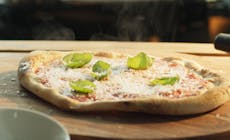 Special Equipment
Pizza peel (optional)
Pizza Stone
Lumin reversible steam pan
Instructions
Divide the dough into four equal pieces. On a lightly floured work surface using a lightly floured rolling pin, roll out the dough pieces, one piece at a time, into 8-inch circles about ⅓ inch thick. Place the dough rounds on a liberally floured pizza peel or a rimless baking sheet (make sure that the dough slides easily). Allow the dough to stand at room temperature for 10 minutes.

Prepare the grill for indirect cooking setup. With the grill in the off position and cool, place the reversible steam pan directly on top of the cooking grates with the walls of the pan facing down. Place the baking stone on top of the steam pan. Preheat the grill with the control knob in the high position for 10 to 15 minutes.

In a small saucepan over medium heat on the stove, simmer the sauce ingredients for 3 to 5 minutes, stirring occasionally. Remove from the heat.

Drain the mozzarella cheese, and then cut or tear it into pieces.

Spread a thin layer of sauce on each pizza dough round, leaving a ½-inch border. Divide the mozzarella between the pizzas.

Sprinkle a little flour on the preheated baking stone. If the flour turns a golden brown, the baking stone is hot and ready to use. Slide one of the pizzas from the pizza peel onto the baking stone and cook over direct high heat, with the lid closed, until the cheese is melted and the bottom of the crust is golden, 6 to 8 minutes. Remove the pizza from the stone and top with Parmesan cheese and basil leaves. Repeat with the other three pizzas. Serve warm.
Let's Gear Up
Recommended Tools
Let's Gear Up
Recommended Tools
Recommended Tools carousel, use the previous and next arrows to navigate, or jump to any slide with the slide bullets.
More

Veggies Recipes
You May Also Like
More

Veggies Recipes
You May Also Like