the

Ingredients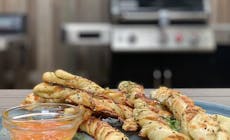 Instructions
Remove the dough from the refrigerator, at least 1 hour before grilling so that the dough is easier to shape and providing less resistance.

Prepare the grill for direct cooking over medium-high heat (400° to 425°F) for at least 15 minutes. Brush the grates clean.

Stretch out your pizza doughs onto a sheet of oiled parchment paper, a rectangle shape is the easiest to work with.

Once stretched spread out your choice of sauce and toppings, carefully place the second stretched out dough on top.

Using a pizza cutter or knife, cut covered pizza into strips. You will get 8-14 strips depending on your size of dough. Carefully twist each strip using two hands so each strip turns into a twist.

Place each twist onto a baking sheet. Using a basting brush, brush on egg wash. Then place the baking sheet on the indirect part of the grill. Grill for approximately 20 -30 minutes, until tops are golden brown.

Once grilled, garnish with any toppings, serve with a side of sauce and serve immediately. We hope this turns into a new family favourite.
Let's Gear Up
Recommended Tools
Let's Gear Up
Recommended Tools
Genesis II EX-315 Smart Grill
More

Starters Recipes
You May Also Like
More

Starters Recipes
You May Also Like