the

Ingredients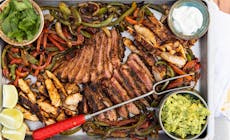 Rub
Special Equipment
Griddle Starter Set
Precision Grill Tongs
Weber Griddle 28" or Weber Griddle 36"
Instructions
Everyone loves the spice and sizzle of fajitas. With the Weber Griddle, you can cook flank steak, chicken thighs, and veggies all at once. So, it's the perfect meal for a busy weeknight dinner.
Preheat the griddle to medium-high heat for 10 minutes, then squeeze about 2 tablespoons oil onto the griddle, spreading it around with a spatula.

Mix the ingredients for the rub together in a small bowl.

Place the flank steak and chicken in separate bowls and season with the rub.

Place the steak and chicken on the left side of the griddle and cook for 5 minutes, undisturbed. Flip the steak and chicken and transfer it to the right side of the griddle and cook until the internal temperature of the chicken is 165°F and the steak is medium rare, 5–7 more minutes.

Once the steak and chicken has been flipped, add the vegetable to the left side of the griddle, where the meat was just seared. Season with the salt and pepper and cook, stirring occasionally, until slightly caramelized and tender, 4–6 minutes. Squeeze half of the lime over the vegetables and stir to combine.

Remove the steak, chicken, and vegetables from the griddle, allowing the meat to rest for 5 minutes before slicing.

Evenly distribute the tortillas across the griddle and cook until warmed through, 2–3 minutes. Wrap in a kitchen towel to keep warm.

Cut the steak in half lengthwise and then thinly slice the steak and chicken. Serve the chicken, steak, and vegetables with the warmed tortillas and additional toppings.
Let's Gear Up
Recommended Tools
Let's Gear Up
Recommended Tools
Recommended Tools carousel, use the previous and next arrows to navigate, or jump to any slide with the slide bullets.
More

Red Meat Recipes
You May Also Like
More

Red Meat Recipes
You May Also Like