the

Ingredients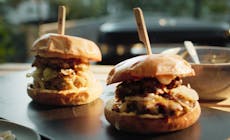 Special Equipment
Griddle – Lumin Electric Grill
Instructions
Gently form four loose meatballs of equal size. Refrigerate the meatballs until ready to grill.

Prepare the grill for griddle setup. With the grill in the off position and cool, replace the right-side grate with the griddle. Preheat the grill with the control knob in the high position for 10 to 15 minutes.

In a small serving bowl mix the chili mayo ingredients and set aside.

Liberally brush the griddle with oil. Brush the cooking grate clean with a stainless steel bristle grill brush.

Place the shallots on the griddle and cook over direct high heat, with the lid closed, until golden, 3 to 4 minutes, turning frequently. Remove the shallots from the griddle and set aside.

Place the meatballs on the griddle and smash with a spatula or burger press then season with salt and pepper. Grill the burgers on the griddle, with the lid closed, for 3 minutes. Flip the patties and top each burger with cheese. Place the buns on the cooking grates and cook, with the lid closed until the cheese is melted and the buns are toasted, 1 to 2 minutes. Remove the patties and the buns from the grill.

Build each burger on a bun with chili mayo, grilled shallots, and two patties with cheese.
Let's Gear Up
Recommended Tools
Let's Gear Up
Recommended Tools
Recommended Tools carousel, use the previous and next arrows to navigate, or jump to any slide with the slide bullets.
More

Red Meat Recipes
You May Also Like
More

Red Meat Recipes
You May Also Like