the

Ingredients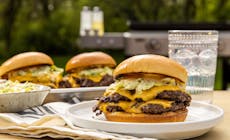 Sauce
Special Equipment
Griddle Smashed Burger Press
Weber Griddle 28" or Weber Griddle 36"
Griddle Starter Set
Instructions
Here's a sweet and spicy take on a classic American smash burger. Sweet chili sauce adds just the right amount of heat for a very special "Special Sauce."
Combine all the sauce ingredients in a small bowl.

Toss the lettuce and ¼ cup of the sauce together in a medium bowl. Set aside the remaining sauce for serving.

Preheat the griddle over high heat for 10 minutes.

Form the ground beef into 8 equally sized balls (4 oz. each).

Toast the buns until lightly browned, 1–2 minutes. Place on a tray and spread some of the remaining sauce on each side of the bun. Keep the prepared buns, cheese, and lettuce close by the griddle.

Place the meatballs onto the griddle, leaving space between each ball for the burger to spread. Use a burger press or the back side of a wide spatula to smash the burger into a thin patty (parchment paper between the press and the burger will help keep the burger from sticking).

Season the burgers with the salt and pepper and cook, undisturbed until the edges of the burger are brown and only slightly red in the centre, 3–4 minutes.

Flip the burgers and top with the cheese. Allow the cheese to melt, about 1 minute.

Place two burger patties on each bun and top with the lettuce to serve.
Let's Gear Up
Recommended Tools
Let's Gear Up
Recommended Tools
Recommended Tools carousel, use the previous and next arrows to navigate, or jump to any slide with the slide bullets.
More

Red Meat Recipes
You May Also Like
More

Red Meat Recipes
You May Also Like