the

Ingredients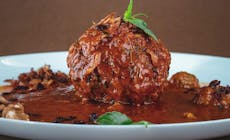 CHICKEN MEATBALLS
Take Your Grilling Anywhere
FIRE
UP

YOUR GRILL
Instructions
In a small saucepan, combine orange juice, honey, cider vinegar, soy sauce and brown sugar. Bring to a boil, reduce heat and let simmer for 35-45 minutes or until sauce has reduced to one cup. Add Sriracha or Sambal chili for heat if desired. Pour ½ the glaze into a small bowl to serve as a dipping sauce.

In a bowl mix together all the meatball ingredients and roll into individual meatballs that are 1 ½ inches in diameter (or the size of a golf ball). Place them all in the fridge covered for at least 30 minutes to allow the meatballs to set.

Preheat the grill for direct cooking at a medium-low temperature of 325° to 350°F.

Grill the meatballs over direct heat rotating them every 4-5 minutes until an internal temperature is reached of 140°F. Then take the remaining glaze and brush lightly over each meatball repeating the glazing process every 4-5 minutes until all the glaze has been used.

Cook the meatballs to an internal temperature of 165°F before removing from the grill. Rest them on a plate and garnish with sesame seeds and sliced green onions and serve with the remaining dipping sauce / glaze.
Let's Gear Up
Recommended Tools
Let's Gear Up
Recommended Tools
More

Poultry Recipes
You May Also Like
More

Poultry Recipes
You May Also Like