the

Ingredients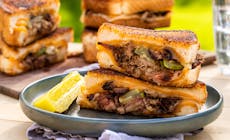 Special Equipment
Griddle Starter Set
Weber Griddle 28" or Weber Griddle 36" or any Griddle
Instructions
It isn't often we find ourselves with leftover pulled pork (it's usually the first to go!). But if we do, a pulled pork grilled cheese is one of our favorite uses for it. Our trick for golden brown and delicious grilled cheese is a combination of mayonnaise and butter. A bit of BBQ rub adds an easy flavour boost. You can use any rub or spice blend you want to your butter spread. Just make sure it's a finer grain rub as larger pieces tend to burn.
Preheat the griddle to medium heat for 10 minutes then squeeze about 2 tbsp of the oil onto the griddle and spread evenly with the back of a spatula.

Add the pulled pork and cook, stirring occasionally, until warmed through, 4–5 minutes; set aside.

Combine the butter, mayonnaise, and BBQ rub in a small mixing bowl, then spread the mixture over one side of each slice of bread.

Add the bread to the griddle, buttered side down. On each slice of bread place 1 slice of cheddar and one slice of Havarti.

Top 4 slices of bread with the pulled pork, and pickle. Cook until the cheese is melted and the bread is golden brown, 4–5 minutes.

Flip the bread without the pork onto the bread with the pork. Use a spatula or grill press to press the top of each sandwich for a few seconds. Remove the sandwich from the heat and let them rest for 2–3 minutes before serving.
Let's Gear Up
Recommended Tools
Let's Gear Up
Recommended Tools
Recommended Tools carousel, use the previous and next arrows to navigate, or jump to any slide with the slide bullets.
More

Pork Recipes
You May Also Like
More

Pork Recipes
You May Also Like