Versatility Expansion Kit – Lumin Electric Grill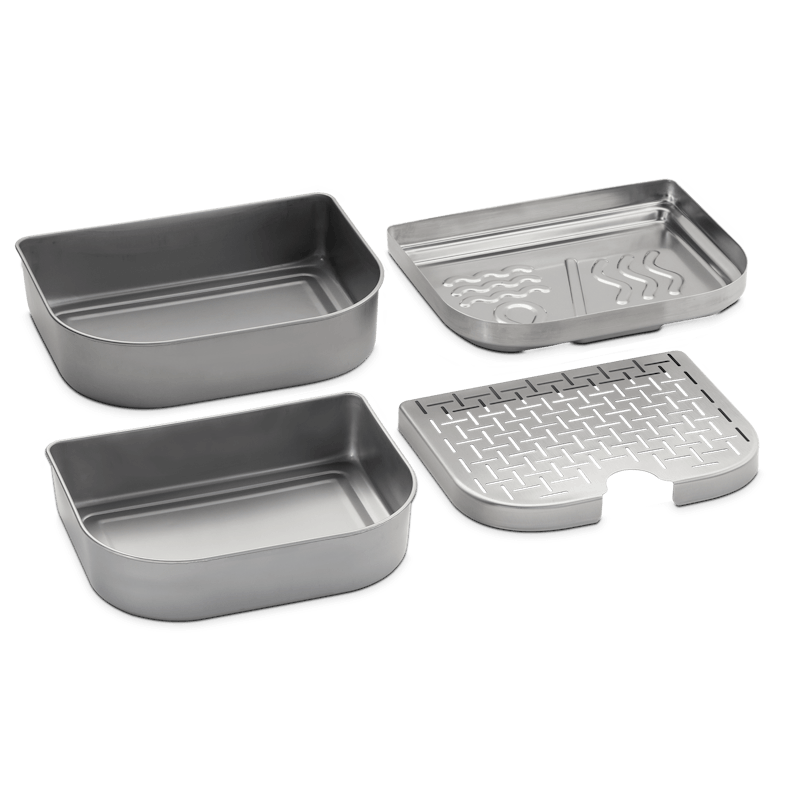 Enhance the capabilities of your Lumin* electric grill with this 4-piece Versatility Expansion Kit. The dual-purpose reservoir expands your grill's steam and smoke functionality across the entire cooking surface. It turns your Lumin grill's smoke infusion function into a full electric smoker. Just add your favorite Weber wood chips for low-and-slow cooked favorites like ribs, pork shoulders and brisket. It also gives you the ability to steam fresh veggies and whole fish or lobster. And when it's time to eat, guests will enjoy buffet-style service thanks to the kit's two warming dishes, keeping all that tasty food at just the right temperature for hours—without scorching or drying out. Includes: Steaming/Smoking Reservoir, Reversible Steam Pan and Warming Dishes (2). *LUMIN is a trademark of Weber-Stephen Products LLC and is the subject of pending registrations or applications in the United States and other countries.
• Convert to an electric smoker to slow-cook ribs and more
• Ready food for buffet-style serving with 2 warming dishes
• Steam seafood and veggies using the entire grilling surface
• Clean your stainless-steel warming dishes in the dishwasher
Complete the Set

Precision 3-Piece Grill Set


Drip Pans - Q, Traveler, Spirit/Spirit II, Genesis/Genesis II 200/300 series
Carousel containing list of product recommendations. Please use left and arrows to navigate.
Versatility Expansion Kit – Lumin Electric Grill
Frequently Asked Questions
You can use a cleaner such as Bar Keepers friend on the pieces to remove carbonized grease and build up. The pieces are also dishwasher safe. ​
You can put the kit in the dishwasher but the carbonized grease burned on won't come off in the dishwasher. ​
This is normal after using the pieces and will not impact performance.
You will set the knob for the smoke setting if using the entire grill as a smoker. ​
You will set the knob for the steam setting if using the entire grill as a steamer. ​