the

Ingredients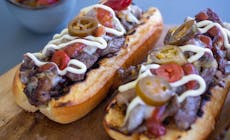 Instructions
There's a reason why Philadelphia's snack has gone global; fast, indulgent and oh so satisfying. Thinly sliced steak, with melted cheese in a soft hotdog bun, made even better on your barbecue!
Using a sharp knife, slice the steaks into 2 to 3mm slices. It is easier to do this if you put the steaks into the freezer for 30 minutes before slicing.

Prepare the barbecue for direct cooking over high heat (250°C-290°C) with a hotplate. Preheat the hotplate for 10 minutes.

Add the brown onion to a small bowl. Add 2 teaspoons of the olive oil.

Once the barbecue has preheated, add the onion to the hotplate and cook over direct high heat, for 2 minutes, or until just caramelised. Using a metal spatula, remove the onion from the barbecue.

Lightly coat the slices of steak with the remaining olive oil, then season with the salt and pepper. Add the steak to the hotplate and cook for 3 minutes, over direct high heat until just browned. Keeping the lid closed as much as possible.

Arrange the steak into 4 piles on the hotplate. Divide the onion between each mound. Add a slice of provolone cheese on top of each one. Close the lid for 1 minute, for the cheese to melt. Meanwhile, toast the buns cut side down on the cooking grill for one minute. Scoop a pile of meat and cheese into the toasted buns. Serve with Kewpie and your choice of additional toppings.
What do you need?
Recommended Tools
What do you need?
Recommended Tools
More Recipes
You May Also Like
More Recipes
You May Also Like