the

Ingredients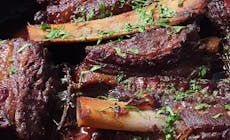 Instructions
Preheat your Weber Grill to 180°C

Smoulder some Mesquite Wood Chips in a smoker box and introduce the beef ribs. Season the ribs with salt and black pepper and smoke for 30 minutes.

Once smoked, remove it from the Grill and let it rest.

Place the GBS Dutch Oven into the Grill and pre-heat to 250°C. Sear the beef ribs on the cooking grates on all sides till golden brown.

Add the beef rips and the rest of the ingredients into the GBS Dutch Oven.

Add red wine to deglaze the GBS Dutch Oven, then add the beef broth and bring to a low boil.

Add your sprigs of Rosemary and Thyme into the GBS Dutch Oven.

Cover with the lid and cook for 3 hours at 190°C.
Let's Gear Up
Recommended Tools
Let's Gear Up
Recommended Tools
More

Red Meat recipes
You May Also Like
More

Red Meat recipes
You May Also Like