You Won't Want To Miss This
NEW GRILLS
NEW POSSIBILITIES
We are welcoming the year 2020 with smokin' hot new upgrades across all our Weber Charcoal, Portable Charcoal and Q Grills!
From aesthetic to functional upgrades, our Weber Grills now come with new features that are bound to make your grilling experience increasingly better.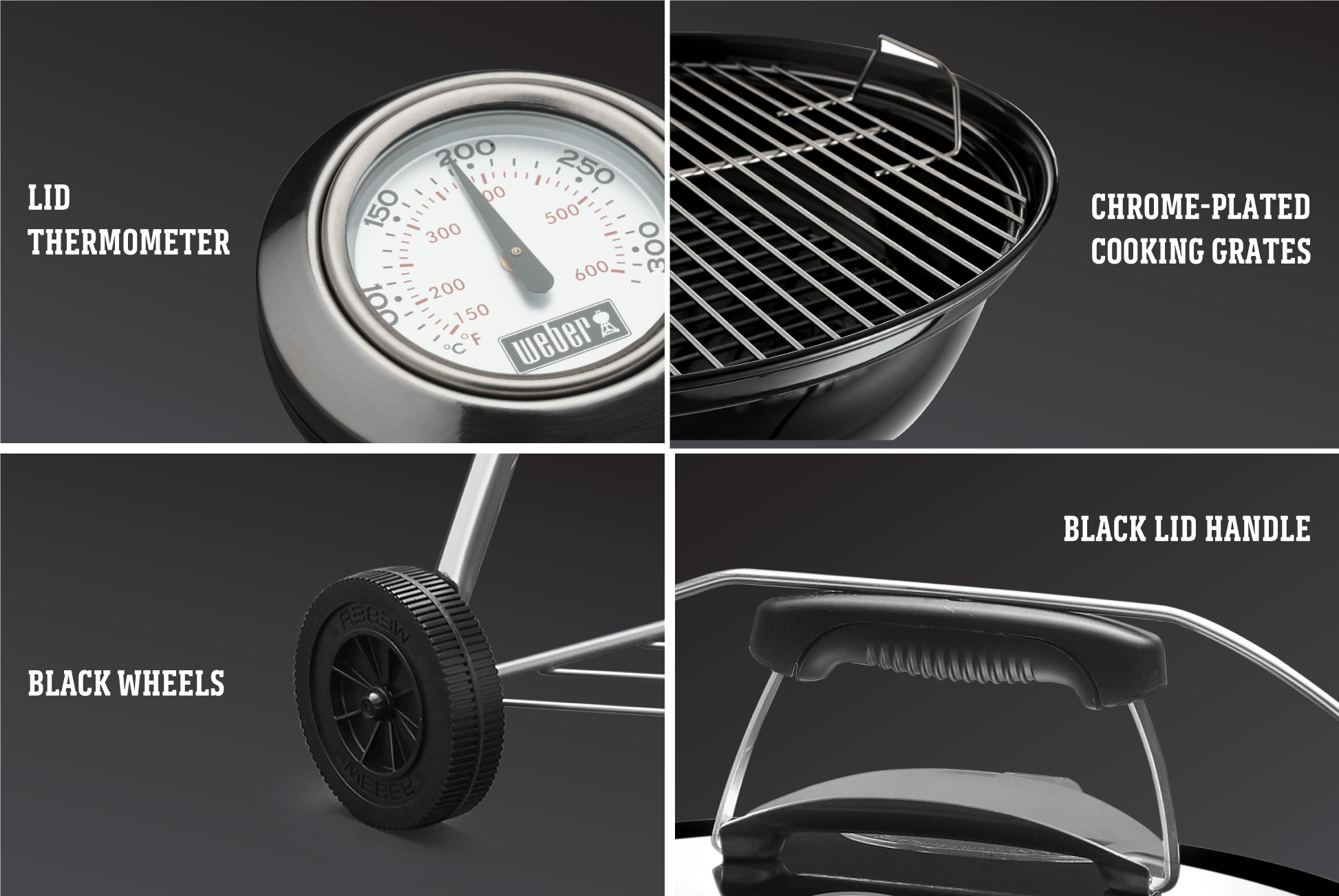 To start, all our beloved charcoal grills (except the Weber Go-Anywhere Charcoal Grill) have been updated with built-in, lid thermometers AND brand-new, high quality, chrome-plated cooking grates!
Why are these important? With a built-in lid thermometer, you are able to accurately monitor the temperature within your grill's cooking chamber, taking the guesswork out of your grilling experience. Enjoy full control, knowing exactly when your food should hit the grates and when to adjust cooking temperatures as you need to. Not sure if you need more Weber Briquettes to roast that leg of lamb? With our new built-in lid thermometer, you'll know for certain.
Partner this with our new cooking grates, which have been chrome-plated to make them stronger than ever, you've got a grilling tag-team that's hard to beat. Our grates have been heat-tested to withstand the high temperatures required for those perfect char-marks on your burger, abrasion-tested to make sure they are scratch-resistant, and bend-tested to prove they won't buckle under the pressure of a massive rump roast.
Finally, our Weber Charcoal Grills have also gotten a face lift! From the new black lid and bowl handles that are available across the range, to the black wheel design for the Weber Original Kettle and Original Kettle Premium series, our grills are looking bolder and sharper than ever.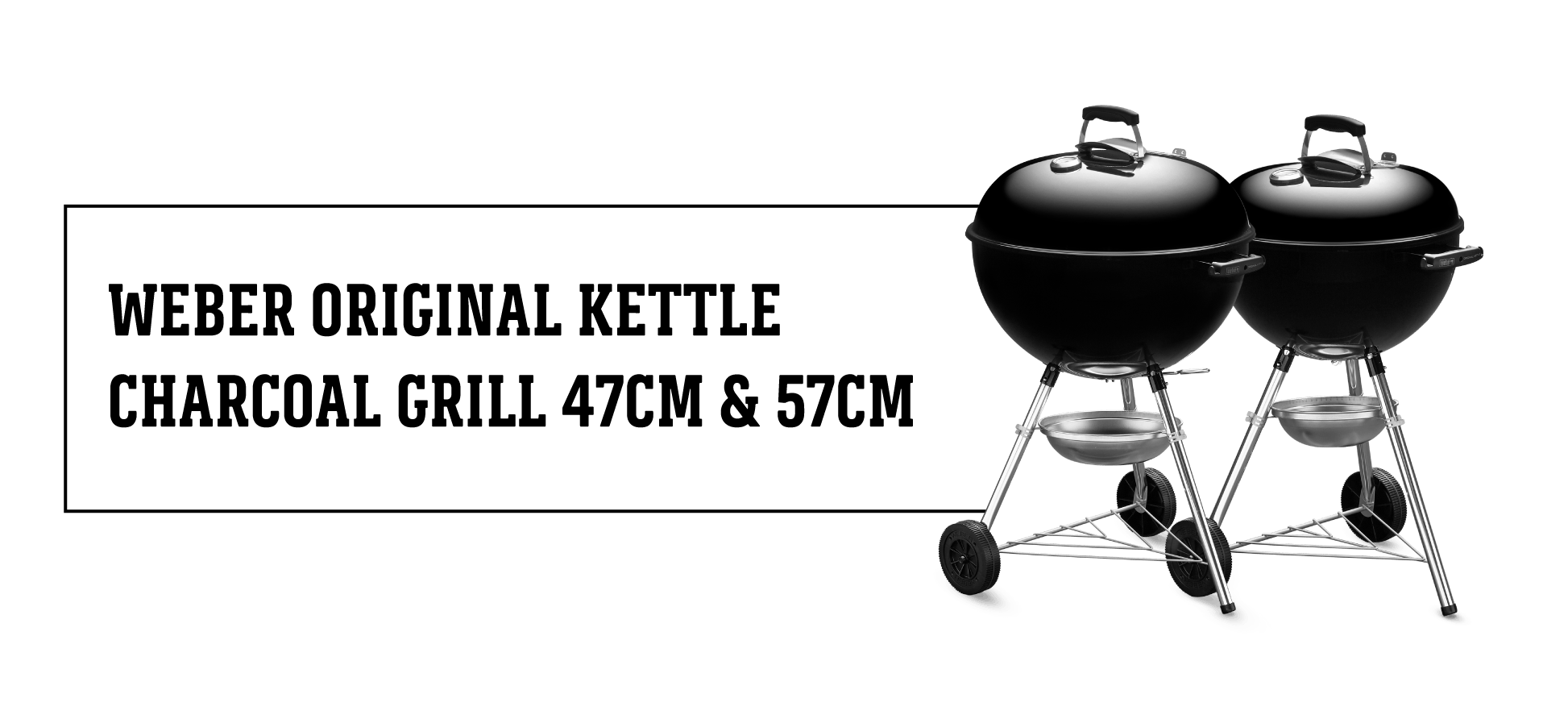 The Weber Original Kettle series comes with a few additional surprises. Across the series, we've introduced hinged cooking grates, for the easy addition of briquettes or wood chips into the grill while cooking. They've also been upgraded with tool hook bowl handles, allowing you to keep your Weber Grilling Tools always within reach.

Our new grills also have deeper ash catchers to enhance your barbecue experience, allowing you to go longer between disposing the ashes collected. What's more, in the event of strong winds, the ashes will stay exactly where they are supposed to be - within the ash catcher. Win-win!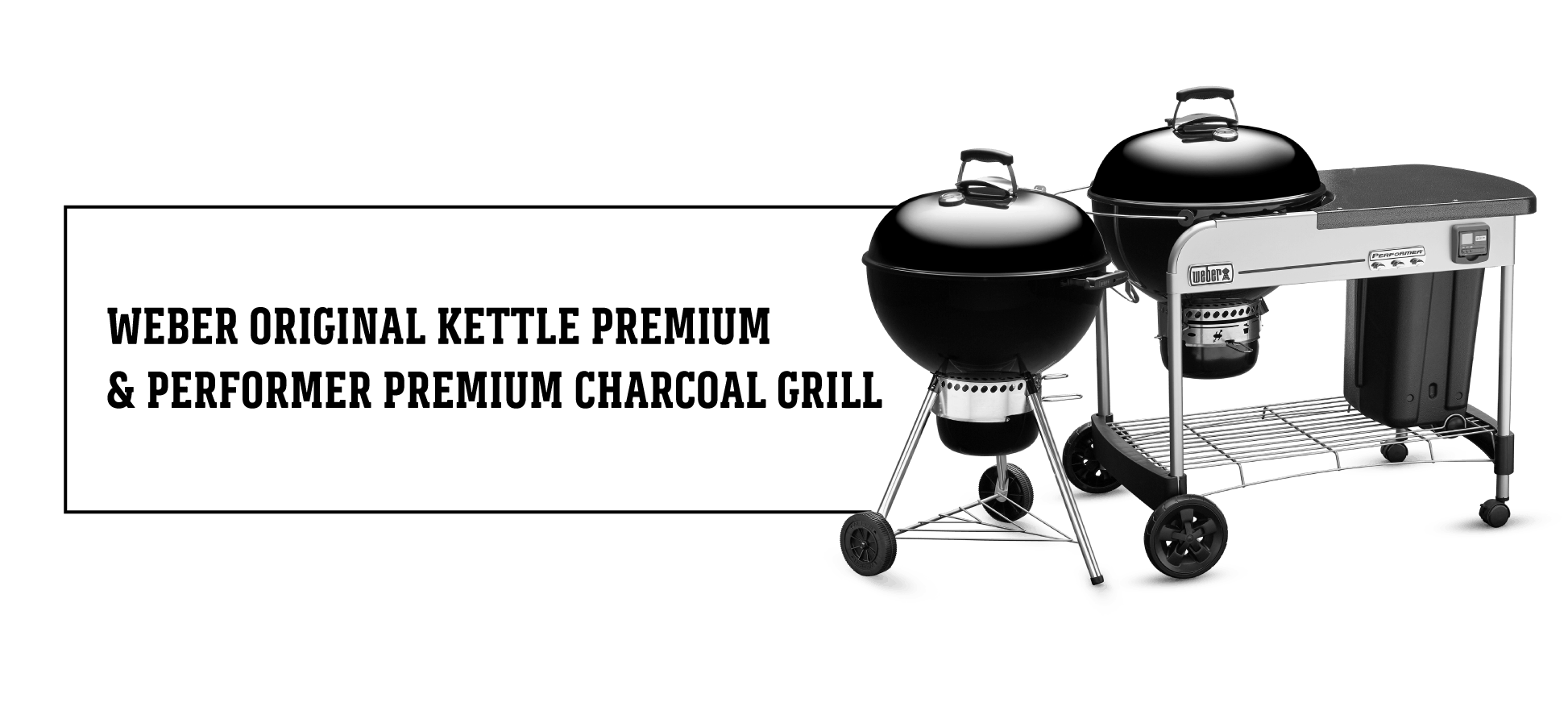 The chrome-plated cooking grates on the Original Kettle Premium and Performer Premium Charcoal Grills now have the added benefit of being Weber Gourmet BBQ System (GBS)-ready, so you can truly discover unlimited cooking possibilities with our array of Weber GBS Accessories.
Feeling adventurous? A GBS accessory to consider for the Premium Charcoal Grills is the Deluxe Poultry Roaster designed especially for the Weber GBS System. Prepare juicy roasted chickens with smoky flavor from breast to wing, as the lovely smoke is contained within the chicken itself. Consistently mouthwatering grilling results? It's possible when you practice deliciousness by design like we do.
Finally, the Original Kettle Premium comes with improved P-shaped bowl vents for faster ash removals, and a new 'smoker' setting that enables a lower temperature for low and slow cooking. Just pull the One-Touch Cleaning System lever to the designated spot, and you'll be 8 hours away from a fall-off-the-bone rack of ribs. Complementing its powerful performance potential, our Premium Charcoal Grills now sports a bold and sleek black ash bowl.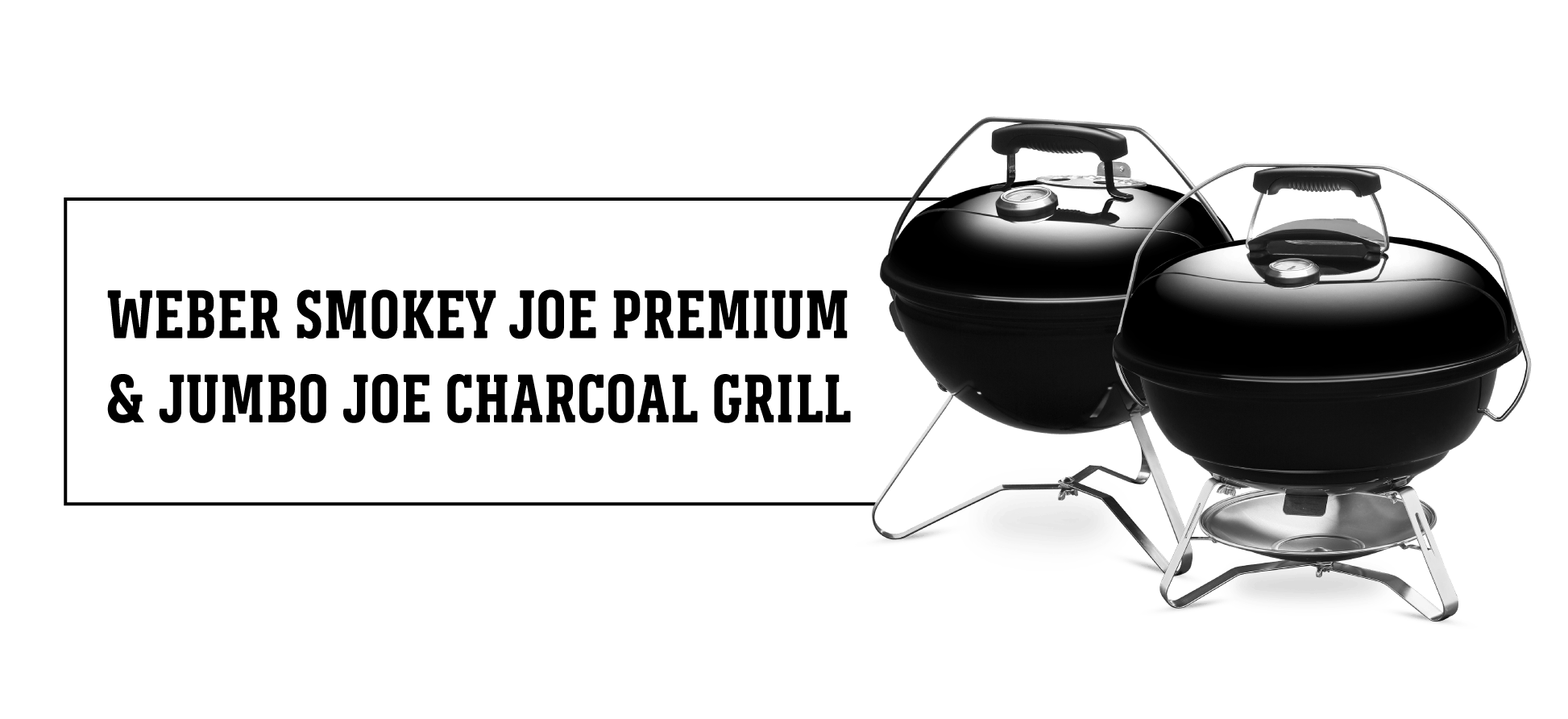 Our Smokey Joe Premium and Jumbo Joe also promise Weber fans great grilling experiences no matter where they go with the new built-in, lid thermometer and chrome-plated cooking grate upgrades. Whether at the beach or at a campsite, trust that whatever food you're dishing up is cooked perfectly each and every time, because you knew exactly when to place it on the grates. Now THAT'S the Weber Way in action.
Go ahead and pair your Smokey Joe Premium with a 12" Grill Brush that will help you keep your grill clean and ready for use for each grill session. On top of that, our sleek pair of Weber Premium Gloves will help ensure that your most important tools (your hands) are secured.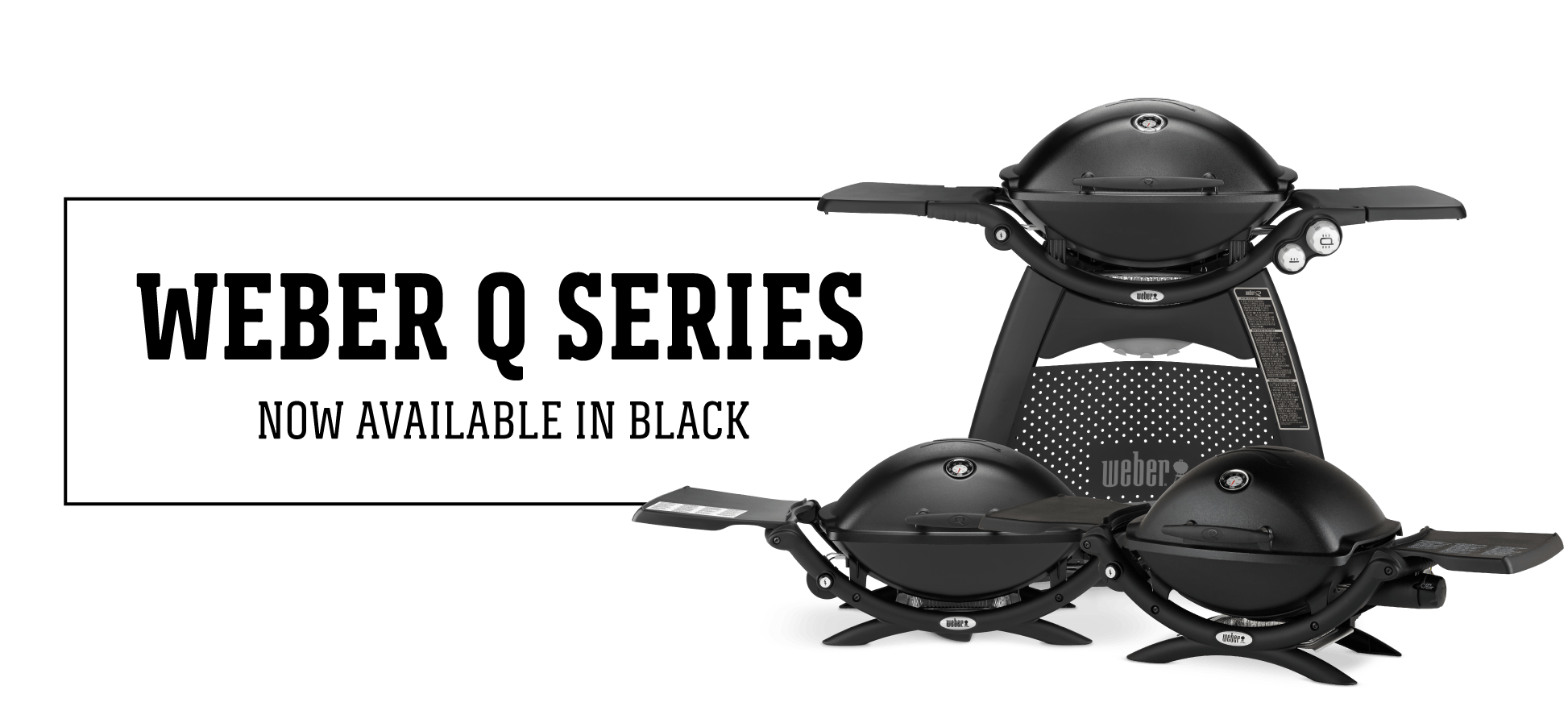 Black never looked as good as it did with our new Black Weber Q Gas Grill series. Whether it's the compact Weber Q 1200, mid-sized Weber Q 2200 or the larger Weber Q 3200, these trendy grills would be the star at any grill out session, that's for sure.
Durability is not a question with our Weber Q Gas Grills, what with features like a cast aluminum lid and body that keeps dust, dirt or any external factors from entering, and the infinite control burner valves which will aid in temperature adjustment. Additionally, folding side tables simplify the cooking process by giving you extra workstation space, but also the liberty to transform the grill into a compact version of itself so that storage is not a hassle. Cooking in the dark? No problem. Our Weber Q Grill Light can help illuminate the entire cooking area of the grill so you can see the true color of your food.

With our Weber Grills, you are not just purchasing a high-quality product, but a premium warranty as well.
The 100% Weber Warranty guarantee individual components of your Weber Q Grills for up to 5 years while your Weber Charcoal Grills is covered for up to 10 years. So what are you waiting for? Get your new Weber grill today at Weber.com.
Related Posts