The Great Grill-a-thon of 1973
When my kids were little, we used to do a lot of camping with a group of friends. This was back before any of us had big backyards, so it was nice to get out to the rural spaces of southern Wisconsin and take a break from our busy lives.
My wife and I would take just a simple little Coleman tent (nothing fancy), a regulation Smokey Joe, and a Go-Anywhere charcoal grill.
With three small kids, our plan usually was to feed them simple fare like burgers and hot dogs, then make a real (grown-up) meal for us. One campground in particular offered a 1 ½-hour hayride for the kids, which was wonderful for us parents so we could enjoy our dinner. It quickly became our favorite spot and we visited often.
One night on one of our group outings, I grilled a 1 ½- pound pork roast that I had marinated with spices and herbs. I decked the picnic table with an honest-to-goodness tablecloth and served the roast with a fresh green salad. I had even brought real wooden salad bowls. Our friends noticed our little set-up and began making comments.
That's how the competition got started. I guess the situation must have sparked that natural male competitiveness in my friends, because every trip after that became a battle of one-upmanship.
Pretty soon we were dining on beef tenderloin with béarnaise sauce made up in a pot over a tabletop grill! Our friendly rivalry became somewhat of a spectator's sport. Other campers began stopping by to see what was cookin' in our corner of the campground.
Week after week, it escalated. Our wives got in on the fun by trying to get hints during the week about who would be grilling what that weekend. The competition lasted the whole summer, until the piece de resistance.
One night I prepped broiled lobster tails on our Smokey Joe and fresh steamed vegetables on our tabletop grill. Then I set the table with a real candelabra I had secreted into the campground in a duffel bag. Nobody ever topped that! 
Happy Grilling!
© 1997 Weber-Stephen Products LLC. Story from the Grill Out Times. Used with permission.
Related Posts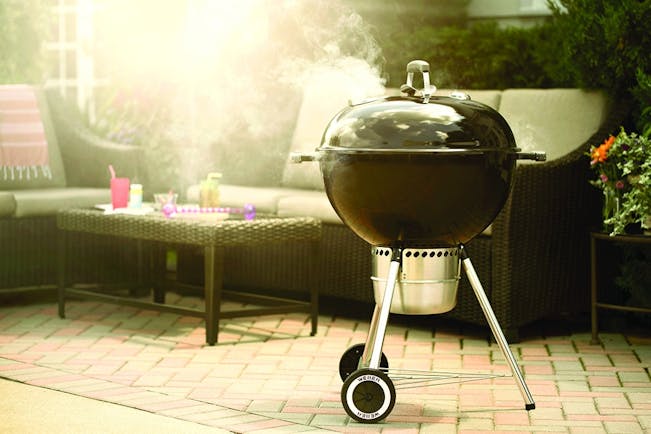 Behind the Grill
Q To Me
by: Mike Lang