How to Grill Prime Rib with a Fan Favorite Recipe
If you want me to get not only excited but really excited for a holiday dinner, mention the words grilled prime rib. Don't get me wrong, I'm still coming to dinner if the roast was prepared in the oven, but I'm going to start a two-week countdown if it's going on the grill.
This is one of my favorite meals not just to eat, but to prepare. I get a thrill prepping upwards of 7 pounds of meat and 3 huge rib bones for the kettle. It's like wrapping a gift and waiting for a loved one to open it.
The grill provides a fantastic transformation to what some consider a daunting cut of meat to prepare. Prime rib isn't cheap, but it IS easy to grill and the results better than most restaurants. I love larger cuts of meat around the holidays, as it gives me breathing room. I can get the meat on the grill and still have several hours to work on the sides and other parts of the meal. There is no need to rush and the only emotion I'm battling as the potatoes are mashed and the glasses are filled is anticipation.
If there was ever a time to go big for the holidays, this classic Jamie Purviance recipe is it. The peppercorn crust brushed by the wisps of smoldering oak is only improved on by a dip in the herb hazelnut pesto. It's a meal your guests, or your belly, will ever forget.
by Jamie Purviance
Pepper-Crusted Rib Roast with Three-Herb Hazelnut Pesto
People

Serves 6 to 8

Prep Time

30 min.

Grilling Time

2:15 h
the

Ingredients
coarsely crushed peppercorns
kosher salt
three-bone beef roast, about 3.3 kilograms
canola oil
Pesto
12 grams loosely packed fresh cilantro leaves
12 grams loosely packed fresh Italian parsley leaves
6 grams loosely packed fresh oregano leaves
30 grams hazelnuts, toasted and skins removed
60 milliliters sherry vinegar
medium garlic cloves, roughly chopped
crushed red pepper flakes
180 milliliters extra-virgin olive oil
Kosher salt
Freshly ground black pepper
Instructions
01

In a small bowl mix the peppercorns and salt. Coat the roast on all sides with the oil and season evenly with the peppercorn mixture. Allow the roast to stand at room temperature for 1 hour before grilling.

02

Soak the wood chips in water for at least 30 minutes.

03

In a food processor or blender process the pesto ingredients, except the oil. Then, with the motor running, slowly add the oil to make a thin paste. Season with salt and pepper. Pour into a serving bowl, cover, and let stand at room temperature while cooking the roast.

04

Prepare the grill for indirect cooking over medium-low heat (about 180ºC).

05

Brush the cooking grates clean. Drain and add one handful of the wood chips to the smoker box of a gas grill, following manufacturer's instructions, and close the lid. When the wood begins to smoke, cook the roast, bone side down, over indirect medium-low heat, with the lid closed, until the internal temperature reaches 51º to 54ºC for medium rare, about 2¼ hours. Drain and add the remaining wood chips to the smoker box after the first hour of cooking.

06

Remove the roast from the grill and let rest for about 20 minutes. Cut the roast into thick slices and serve warm with the pesto.
This is a carousel of various images or videos. Use Next and Previous buttons to navigate.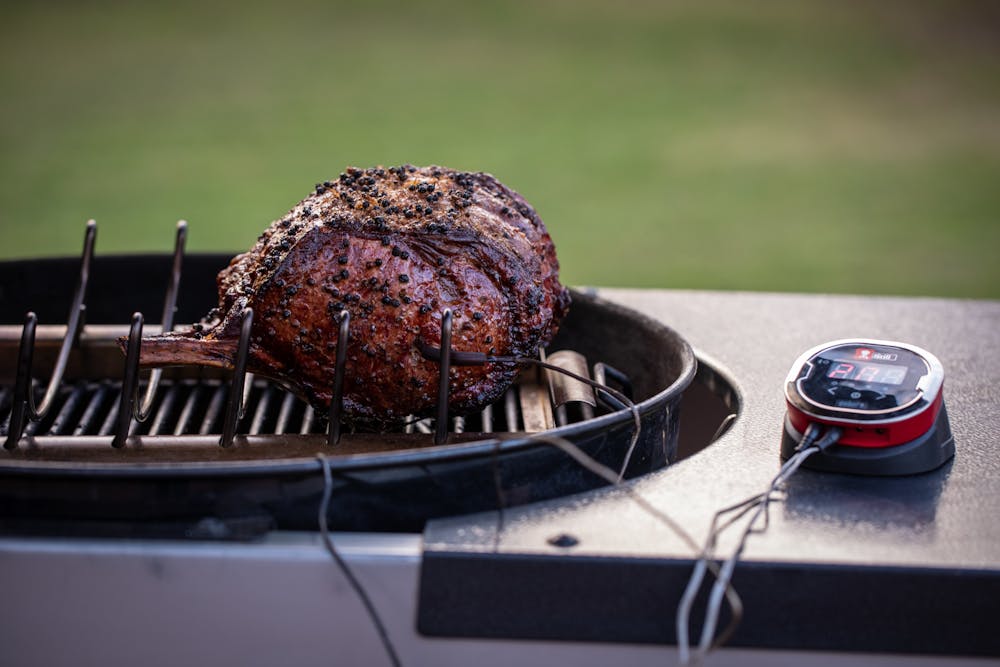 1. iGrill
Prime rib takes a long time to cook and with the colder weather that most of us have around the holidays, you are going to want your grill to stay nice and warm, so that means no peeking! This is where the iGrill comes in! The iGrill is an app-connected thermometer that will send alerts right to your phone about the internal doneness of the prime rib, so that you don't under or worse- over cook it.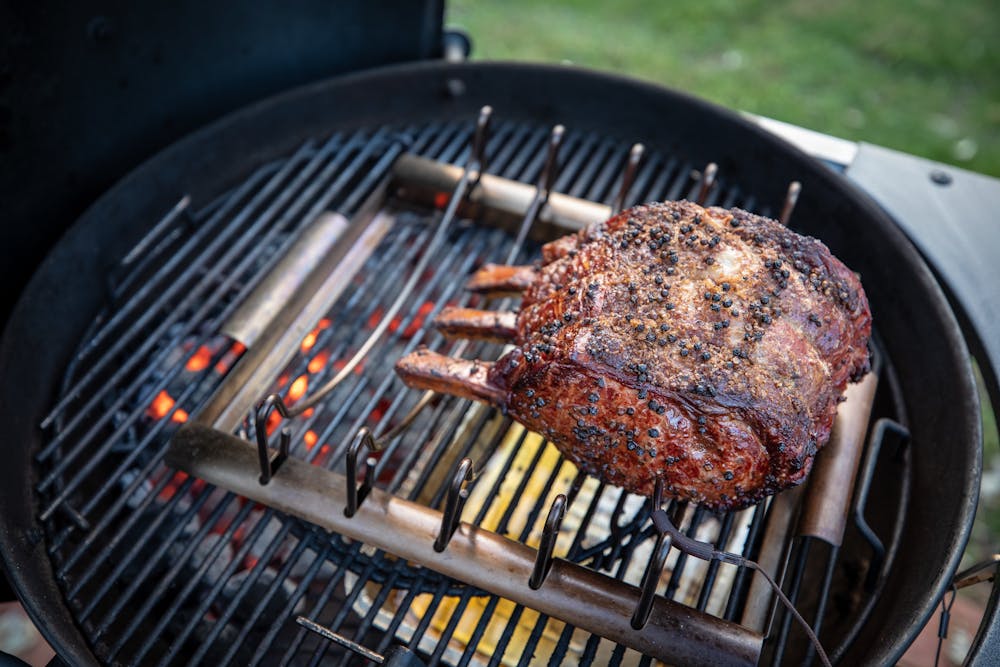 2. Roasting Rack
Use the 2-in-1 premium barbecue rack for your prime rib with a drip pan directly underneath to catch the drippings and keep the grill clean. Flip it over, and you can fit up to 5 racks of ribs.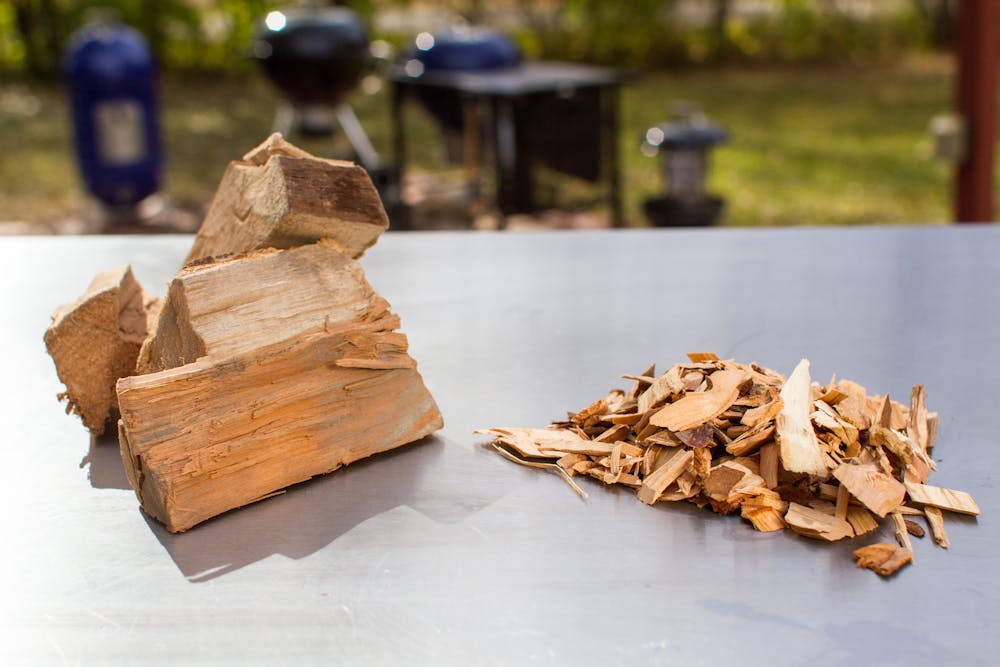 3. Apple Wood
This recipe calls for a little smoke flavor and apple is perfect! Use chips in your charcoal or gas grill, chunks in your smoker.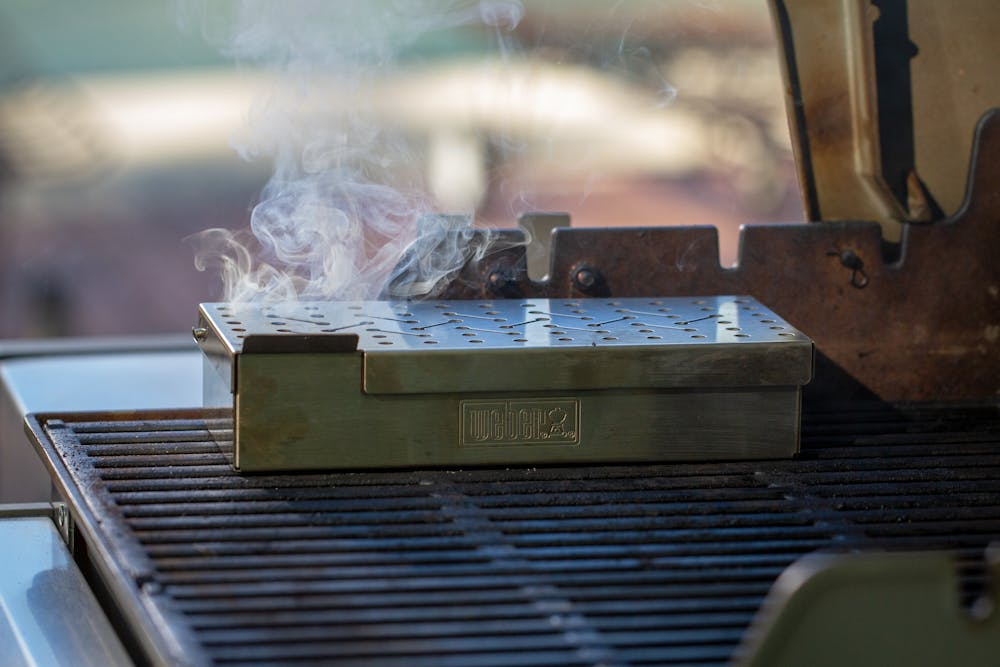 4. Smoker Box
Add a smoker box to any gas grill to turn your grill into a smoker. Soak the chips for 30 minutes in water and then add them to the box. Get more tips on smoking on your gas grill here.
Related Posts