A Tribute To Mom: Grilled Rack Of Lamb
My childhood memories consist of countless backyard barbeques on the classic 1985 red, Weber Genesis. Traditionally, many people would think back and envision their dad firing up the grill in the backyard, but memory is filled with images of my Mother mastering the grill at our backyard gatherings.
Throughout my entire life, my mom has instilled all her culinary knowledge into me and more importantly, she was my first grill master role model. As I started thinking of what I could do for my mom, I decided, why not celebrate her by grilling one of her favorite meals?
So in honor of my mom, today I'm going to talk about her favorite grilled food, lamb.
Recipe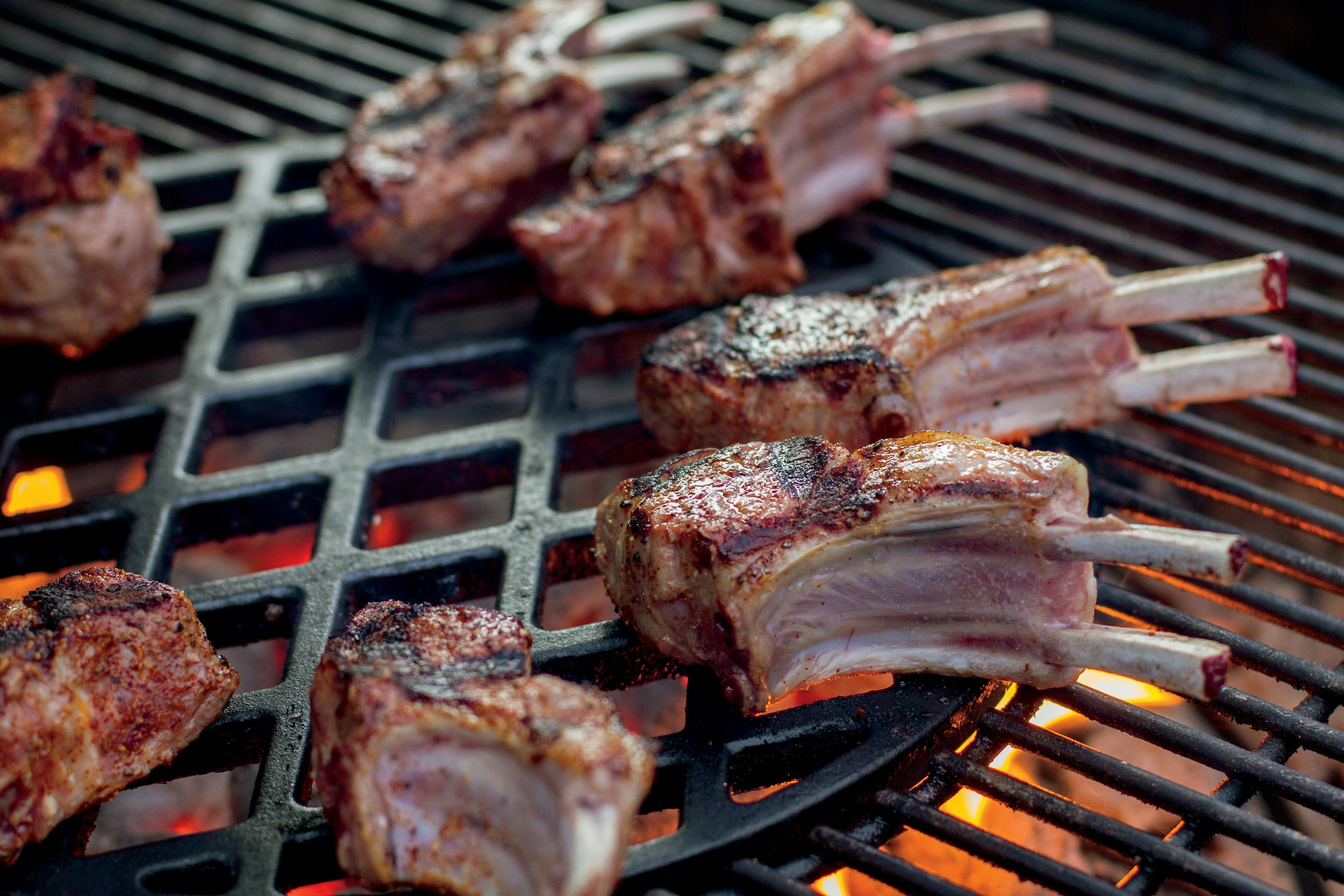 Lamb Chops with Harissa Rub and Tomato and Garbanzo Salad
By Jamie Purviance
Prep time: 25 minutes, plus 30 minutes standing time
Grilling time: 8 minutes
Special equipment: Gourmet BBQ System™ Sear Grate
Serves: 4
Ingredients
Rub
½ teaspoon whole coriander seeds
½ teaspoon whole cumin seeds
½ teaspoon whole caraway seeds
2 teaspoons pure chile powder
1 teaspoon kosher salt
½ teaspoon freshly ground black pepper
¼ teaspoon garlic powder
⅛ teaspoon cayenne pepper
2 racks of lamb, each 1⅓ to 1½ pounds, chine bones removed, trimmed of excess fat and silverskin
Extra virgin olive oil
Salad
3 tablespoons extra virgin olive oil
1½ tablespoons fresh lemon juice
1 can (15 ounces) garbanzo beans, drained and rinsed
1½ cups halved multicolored cherry tomatoes or grape tomatoes
2 tablespoons chopped fresh cilantro
½ teaspoon kosher salt
½ teaspoon freshly ground black pepper
Lemon wedges for serving

Instructions
1. Remove the circular Gourmet BBQ System™ grate insert, and prepare the grill for direct grilling over high heat (450° to 550°F).
2. In a small skillet, over medium heat, toast coriander, cumin, and caraway seeds until the aroma of the spices are apparent, about 3 to 5 minutes, stirring occasionally. Pulverize the spices in a spice mill or coffee grinder.
3. Mix the rub ingredients in a small bowl. Cut each rack into 4 chops, each about 1½ inches thick and including two rib bones. Lightly brush the lamb chops on both sides with oil and season all over with the rub, pressing slightly to adhere. Allow the chops to stand at room temperature for at least 30 minutes, or refrigerate up to 2 hours before grilling.
4. Whisk the oil and lemon juice together in a medium bowl. Add the garbanzo beans, tomato halves, and cilantro. Season with the salt and pepper and mix well. Let stand for 15 to 30 minutes before serving.

5. Place the sear grate in the cooking grate, close the lid, and heat for 5 minutes. Place the lamb chops around the outer perimeter of the grate, with the bones facing out, spoke-style. Grill the chops over direct high heat, with the lid closed, until cooked to your desired doneness, about 8 minutes for medium-rare, turning once or twice and maintaining the temperature between 450° and 475°F. If flare-ups occur, move the chops to indirect high heat. Remove from the grill and let rest for 3 to 5 minutes. Serve the chops warm with the salad and lemon wedges.
My mom loves her lamb on the rare end, so I took mine off at an internal temperature of 125 degrees. If you prefer medium-rare take off at 130 degrees. For a more medium doneness, take off at 135 degrees.
Rule of thumb always let your meat rest after taking it off the grill for 20 percent of the total cook time. During this time the internal temperature will rise a couple degrees. Simply tent it under a piece of aluminum foil for 5 minutes and then slice rack into individual lamb pops and serve.
Grilled potatoes always pair nicely with lamb and since my mom's favorite are sweet potatoes, that's what I decided to serve for mother's day. To top it off and add nice color and pop to your serving plate, serve a side dish of mint dipping sauce for your lamb!
At the end of the day, grilling your mom's favorite meal is the most honest gift you can give to her. So find out her favorite item, fire up your Weber, and I can guarantee you will put a smile on her face! Oh, and I must not forget, a glass of Champaign to toast to the most important woman in your life. Grill on!
Related Posts