Jumbo Joe Series
SAVOR THE MOMENT
Weber
Jumbo Joe Charcoal Grill 18"

Black
Image for capacity demonstration purposes only.
Actual product model and features may vary.
Get ready for a night of tailgating or pack the car for a beach party. All you need are friends, food, and the Jumbo Joe portable charcoal grill to kick it off.
Part #1211001

Free Shipping & Returns on Weber.com Orders $50+
Free Standard Ground shipping on small parcels and grills <70 lbs. via FedEx, with delivery within 5-8 business days, expedited options available. Free 30 day returns. Shipping Information & Return Policy
Dimensions - Lid Closed (inches)

19.7"H x 19.7"W x 20.5"D

Diameter (inches)

18

Primary cooking area (square inches)

240

Total cooking area (square inches)

240

Fuel type

Charcoal

Glass-reinforced nylon handles

1

Rust-resistant aluminum dampers

2

Features

Plated steel cooking grate

Heavy-gauge steel charcoal grate

Porcelain-enameled bowl and lid

Lid handle with heat shield

Aluminum Ash Catcher

Tuck-N-Carry lid lock

Bowl and lid

10 years, no rust through/burn through

One-Touch cleaning system

5 years, no rust through/burn through

Plastic components

5 years, excluding fading or discoloration

All remaining parts

2 years

Combustion by-products produced when using this product contain chemicals known to the State of California to cause cancer, birth defects, or other reproductive harm.



Image for capacity demonstration purposes only.
Actual product model and features may vary.
Lid handle with heat shield

Plated steel cooking grate

Removable, aluminum ash catcher
---
---
---
CAPACITY OF THEJUMBO JOE
Small enough to travel with you on your biggest adventures with the cooking area to grill up your favorite meals. The convenient lid lock carrying handle makes traveling from point A to point B seamless and convenient.
Image for capacity demonstration purposes only.
Actual product model and features may vary.

Serves 6 people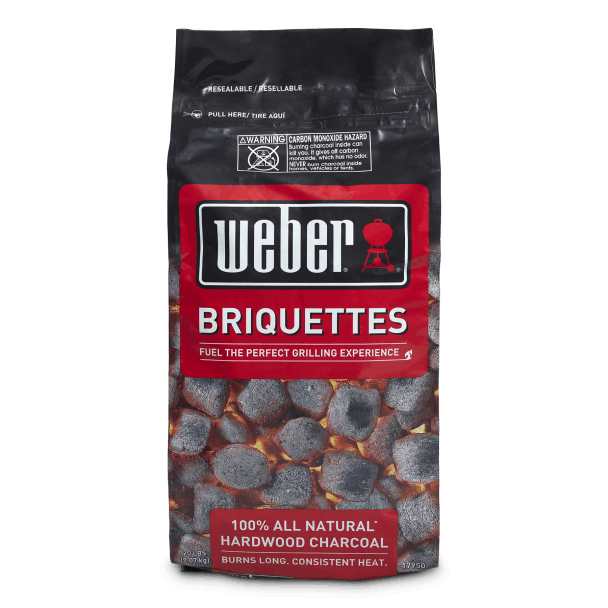 Don't forget
The most important ingredient
Grill longer and more confidently with Weber 100% natural briquettes. Made from all natural hardwood, the briquettes have no added chemicals to taint the taste of your delicately grilled salmon. Just focus on the warm ambiance that is charcoal grilling.
Explore Charcoal Accessories
Jumbo Joe Charcoal Grill 18" is rated out of 5 by 158.
Rated 5 out of 5
by
Jted
from
Great 18 inch grill
Being disabled I needed a grill that I could handle yet large enough to grill and smoke. These are shots of the last rack of ribs.
Date published: 2019-04-03
Rated 5 out of 5
by
jon916
from
Versitile grill
I absolutely love my Jumbo Joe. Even though I have the larger 26" Weber kettle and a large pellet grill, I find myself using my Jumbo Joe more often than the other larger grills. I've made everything from burgers, wings, whole chickens, ribeye steaks, short ribs, baby back ribs, and lobster tails. Once you figure out how much charcoal to use and how to adjust the vents to achieve the desired grill temp, this grill can run a consistent temperature for hours given it's smaller size. I can't recommend this grill enough.
Date published: 2018-11-14
Rated 1 out of 5
by
Matt73
from
disappointed
I purchased a Jumbo Joe that had obvious finish problems on the interior of the bowl where two of the legs connect. Basically exposed steel, the coating just wasn't there. I contacted customer service and they were very polite and promptly shipped out a new bottom bowl at no cost whatsoever. However the bowl I received had exactly the same problem as the one that came with my jumbo joe I originally purchased. So the customer service is great, for sure. But they have manufacturing and quality control issues. This is my third Weber and I was hooked, until this. Now I am just disappointed.
Date published: 2018-09-06
Rated 5 out of 5
by
Carmen82
from
Perfect size
Amazing grill perfect size with lump charcoal able to get to 600 degrees this has replaced my 22 kettle for primary grilling. Portable easy to assemble and rock solid heat retention. I highly recommend the cast iron grates by craycort. They cost as much as the grill but are worth every penny. Travel with grill is easy and puts out enough food for 2-4 people depending on type of food. Also uses a lot less charcoal than bigger grills. Outstanding product!!!!!!!
Date published: 2019-11-07
Rated 5 out of 5
by
WZYWG
from
Compact Perfection
Seriously you can do anything with this little guy. I definitely recommend using this with the charcoal baskets and chimney starter and you are good to go! I've been using one for years. I've grilled everything from burgs to kebabs, crab legs, steaks, pork chops, chicken, veg, tender loin, and many more items. Easy to control. I store it in the garage so it doesn't get weathered, and built a grill stand out of cement blocks for it. The lid holder is awesome for carrying it in/out. Add a remote thermometer like the iGrill 2 and you are ready to smoke. Reverse seared ribeyes using the cold grate method on this grill are second to none. Fuel consumption is extremely efficient! I am always amazed at how little fuel it takes to get smoking. One charcoal basket lasts a long time. I recommend smoking chips instead of chunks since there's not a lot of room between the grates. I just add more chips through the cooking grate as needed. Amazing results.
Date published: 2019-09-23
Rated 5 out of 5
by
Dame
from
Great take along with plenty of grill space!
I received this as a birthday gift from my wife to supplement our Performer Platinum kettle. It's a great take along for outings such as camping and going to the beach. We have a family of 6 and has plenty of space to cook on and easily feed us all. Packs up nice and easy for transport. I picked up one of Weber's smaller chimney starters to go with it and they go together perfectly. The Jumbo Joe always delivers and does an amazing job at whatever you cook on it!! Thanks again Weber for making such a great product, as always!!!
Date published: 2019-08-21
Rated 5 out of 5
by
Deerebuff
from
A Great Portable Charcoal Grill
I had an older version of the Jumbo Joe which I gave away to a friend years ago. Now that I am in need again of a portable charcoal grill, I looked at the new Jumbo Joe. Major improvements over my older one. Vents on the top and bottom like the bigger kettle grills instead of the sides gives great air control. I combined this grill with the ABC charcoal basket and now have a portable smoker. Made beef short ribs in it and they turned out awesome! This one was made in the USA, which might eventually be a collectors item. Only down side is the plated steel grates. Not a big fan of grates which will rust. I would have paid extra for stainless steel. A cover for it would have been nice feature.
Date published: 2018-09-15
Rated 5 out of 5
by
DieselDoug
from
The Portable Bomb!
Very glad to find Jumbo Joe back in the line up. We just moved near the beach in FL and Joe has jumped in getting the beach meals underway. Joe is just the right size to handle the needs of a few--and still remain portable. Assembly was easy and quality is good; anticipate many good outings!
Date published: 2018-05-21
Rated 4 out of 5
by
weber4ever
from
Good portable grill
This grill works for what I purchased it for, but isn't high quality like other Weber grills. My 18" WSM and 22" Premium kettle are better built. The 18" Jumbo Joe has thin and flimsy legs. When I received it, the lid was warped. But Weber's customer service is still the best in the world. When I contacted them they shipped out a replacement lid immediately. So although it isn't as well built as other Weber grills, it is still a Weber, which is superior to other charcoal grills. I would defintely buy another.
Date published: 2019-11-03
Rated 5 out of 5
by
Rick The Griller
from
Bigger Is Better!
I've been using my Smokey Joe for well over 30 years...if I could grill it I did it on the Smokey Joe...I even did a few Thanksgiving Birds on it...over the years and as my family grew my wife kept telling me I needed a bigger grill but I just kept grilling on the smaller Joe...until...I saw the new Jumbo Joe! I love having a LOT more real estate on the grill...I don't have to batch cook anymore...I also love that I can still take this grill with me and go to the tailgate or camping...I like the way the lid locks and also now has a lid holder and the removable ash catcher tray makes cleanup SO MUCH EASIER!!! I've been using Weber products for 30 (going on 40) years and would never look or think about buying any other grill...I would tell anyone who asks they should buy the Jumbo Joe...you'll get years of use and a lotta bang for your buck...now get outdoors and start grilling something!
Date published: 2019-09-28
Rated 5 out of 5
by
CharcoalAfficionado
from
Excellent Portable Grill
I purchased this as a replacement/upgrade from my 30+ year old Weber Go-Anywhere charcoal grill. Quality of materials and workmanship are excellent. Only wish an official Weber grill cover was available for it.
Date published: 2019-12-22
Rated 4 out of 5
by
Kyetta
from
I love it!!
But I'd love it more if I had the portable grill table too! Please bring the portable grill table back. Why'd you discontinue such a good product? It's necessary!
Date published: 2019-08-05
Rated 5 out of 5
by
Hood33
from
Weber quality- to go!
We've been RV camping as a family for several years. During that time, I've put many miles on a Weber Smokey Joe that has served up many delicious meals and reignited my passion for live-fire cooking. But sometimes, larger meals or bigger crowds called for more room on the grill. I added the Jumbo Joe to the family and I am sure glad I did. It is solidly built like all my Weber grills, but still portable enough to fit in the RV storage bin. It has enough capacity to provide perfectly grilled meals to even the hungriest group of friends and family at the campground. While the Jumbo Joe won't replace my One Touch Kettle at home, it does give me the ability to grill just like home- wherever "home" happens to be.
Date published: 2018-01-05
Rated 5 out of 5
by
J and A
from
Awesome Weber!
This is the perfect size Weber for the two of us!! We used to use one tailgating back in NY for years. Now we're retired and use the Jumbo Joe for cooking our dinners. Perfect size for cooking meat and veggies for the two of us! We purchased a new one as a backup for the day when our first one needs to be retired
Date published: 2019-08-25
Rated 1 out of 5
by
Anonymous
from
Horrible horrible service
Bought a Jumbo Joe. Scratched lid. The top vent is punched out and very abrasive. Long story short, three lids later still the same problem with the vent scratching to the metal. Weber did nothing to help besides sending the same problem. Will not buy Weber products after twenty years of purchasing many items.
Date published: 2019-09-30
Rated 5 out of 5
by
STLBBQ
from
Great portable kettle
Take all the greatness of a Weber kettle with you. Tailgates, camping and picnics are even better with food cooked on a Jumbo Joe. It's compact but still provides room for indirect cooks so you can get excellent results. You'll use very little charcoal too. I even use the Jumbo Joe at home if I'm just cooking a couple steaks, leg quarters or sausages instead of firing one of my larger Weber kettles. The Jumbo Joe is the best portable charcoal grill out there.
Date published: 2019-09-14
Rated 5 out of 5
by
Sugar 65
from
Great for Outdoor Functions
I bought this grill this past summer . Just the right size for an afternoon at beach or late dinner in the park . I loved using this grill , it is actually a very useful. I cook chicken, burgers , zucchini , corn on cob . Sometimes you just want a burger from good old charcoal grill . Well let me tell you , we had so much fun with this grill . Easy clean up and storage , fits right in the trunk with your bag of charcoal and beach chairs and your cooler !!
Date published: 2018-01-05
Rated 5 out of 5
by
Heavyfnd
from
The perfect portable grill
This is such a perfect size for portability and functionality!! It's big enough for cooking a meal for the wife, kid, and myself! If not, then we'll use the 22" kettle in tandem with the Jumbo Joe! You can't go wrong with Weber products!!
Date published: 2018-08-07
Rated 4 out of 5
by
Hawkman1950
from
One Great Smoker
This is the second Jumbo Joe that we have owned. Very nice grill. Just wish that they would make a stainless steel cooking grate for this model. Other than that it is a great grill.
Date published: 2018-07-03
Rated 4 out of 5
by
FIREHAWK 1264
from
GREAT GRILL, NEEDS ADDED FEATURES
GREAT GRILL, BUT THE ONLY PROBLEM IS THE GRILLING GRATE FINISH DOES NOT LAST LONG. WOULD LOVE TO SEE A STAINLESS STEEL COOKING GRATE. OTHER THAN THAT A GREAT GRILL.
Date published: 2019-11-18
Rated 4 out of 5
by
Anonymous
from
Love the mobility!
I enjoy the mobility of it, and the Weber portable table that keeps it off the ground and holds it steady. I was surprised to see Weber doesn't make a cover for it.
Date published: 2018-08-04
Rated 5 out of 5
by
W.G.
from
More Grill Than I Need, But Oh So Nice
I received this grill as a gift last summer, and it's extremely nice. I cooked for years with a 14" Smokey Joe and easily fed 4 people on the small grill, the 18" cooking surface of the Jumbo Joe feels like overkill in comparison. That said, the Jumbo Joe has a couple of features that feel like luxuries: a lid-holder and cooking grate handles. The ability to lock the lid for transport is a nice bonus as well.
Date published: 2019-02-24
Rated 5 out of 5
by
CaboKev
from
Perfect size!
I have owned Weber grills all my life. I'm a charcoal grilling guy. Bought the 14" portable Joe 10 years back for camping but too small when cooking for 4 people. So for years I put one of my 22" grills in the camper for our trips. Kind of a pain but it worked. THEN the 18" Joe came along! So much versatility, quick to clean up and easily fits in the camp trailer. Thank You Weber!
Date published: 2019-08-18
Rated 5 out of 5
by
Bobbb
from
Great little kettle
I received this for Father's Day of 2019. Took it camping every trip this summer and it was perfect. Such good flavor using charcoal vs gas that we got a 22" big kettle in the fall and put our old gas grill to bed. The size is perfect for taking on the road and the kettle design ensures great results ever time. And it's not just burgers this little dude is very versatile.
Date published: 2019-11-17
Rated 5 out of 5
by
Papa C
from
Best Portable Charcosl Grill!
Have had this for about a month now. Wish I had bought it earlier. Has become my go to grill when cooking just for my wife and I. I love my Weber Kettles and this Jumbo Joe will get used all winter long as well. Easy to keep and store on the deck. The bail handle lock makes it a breeze to transport to if you need to. Just love it!
Date published: 2019-10-26
Rated 5 out of 5
by
geoff
from
Awesome grill, wish I bought one sooner
I bought my Jumbo Joe before going camping last summer, since the previous time we did a family camping trip all our food was either boiled or cold. I figured with two Weber grills already (full size kettle and gas), my wife would give me grief about buying another Weber, but she thought the Jumbo Joe was the best thing we ever bought for camping. The size is amazing - physically small but big grate, and it cooks exactly like you would expect from a Weber kettle. Plus it has the quality you would expect from a Weber
Date published: 2018-01-12
Rated 5 out of 5
by
Beau
from
Awesome charcoal grill for small quick cooks!
I bought this last fall and have been impressed with its versatility. I love the Jumbo Joe for smaller cooks, and have also made some of the best steaks my wife has ever had doing the reverse sear method on it! And She is a catering manager for her profession. I also have taken it camping and it Never fails!
Date published: 2019-06-24
Rated 5 out of 5
by
iphranque
from
Works as expected
I wanted a small grills where I could cook with charcoal. Obviously this dos it. But, because of its small size, it's easy to store and it controls the temps very well. I smoke on this and use the snake method. For small items, it works great. Bigger items will incur hot spots.
Date published: 2019-08-18
Rated 3 out of 5
by
evega
from
Great portable charcoal grill (still room for impr
I bought this some months ago, and I'm in love with the product! still I think there are some tweaks that will create a rock solid product like enhancing the grill grade to allow as with masters to open to enter more charcoal, or have a basket for the ashes...
Date published: 2019-06-12
Rated 5 out of 5
by
RobbieH
from
Portable and functional
I bought this about a month ago. Added a thermometer. Did thick beef tenderloins for about 15 minutes, came out perfect. Used the jumbo joe at a tailgate party before an event last night, everyone loved the sausages. Great purchase. Highly recommend.
Date published: 2018-02-10
bvseo_sdk, dw_cartridge, 16.1.1, p_sdk_3.2.0
CLOUD, timer 137ms, 0ms
reviews, product
bvseo_sdk, dw_cartridge, 16.1.1, p_sdk_3.2.0
CLOUD, getContent, 0ms
reviews, product