EXCEED WHAT'S EXPECTED
Weber
Summit® S-670 Gas Grill

Stainless Steel
Image for capacity demonstration purposes only.
Actual product model and features may vary.
Become the envy of every backyard and go beyond what's expected. From burgers on the grate to crispy chicken on the rotisserie, or even adding a touch of smoke to any dish. The six burner Summit® S-670 gas grill will redefine your definition of the classic grill-out.
Part #7370001

$40 Shipping & Free Returns on Weber.com Orders
Grills 70+ lbs. ship by freight carrier with delivery by appointment within 2-5 business days. $40 Standard Delivery. Free 30 day returns. Shipping Information & Return Policy
Main burners: BTU-per-hour input

60,000

Sear Station burner: BTU-per-hour input

10,600

Stainless steel smoker box and smoker burner: BTU-per-hour input

6,800

Side burner: BTU-per-hour

12,000

Rear-mounted, infrared rotisserie burner: BTU-per-hour input

10,600

Dimensions - Lid Open (inches)

57.1"H x 74.1"W x 30"D

Dimensions - Lid Closed (inches)

50.5"H x 74.1"W x 26.5"D

Primary cooking area (square inches)

624

Warming rack area (square inches)

145

Total cooking area (square inches)

769

Stainless steel burners

6

Fuel type

Liquid Propane (20 lb. tank sold separately)

Side tables

2

Lighted control knobs

6

Handle lights

2

Swivel casters

2

Swivel locking casters

2

Tool hooks

6

Battery type

AAA, D

Batteries

9

Features

9mm diameter solid stainless steel rod cooking grates

Snap-Jet individual burner ignition system

Stainless steel Flavorizer bars

Stainless steel lid

Built-in lid thermometer

Stainless steel side tables

Grill cabinet

Stainless steel doors

LED fuel gauge - LP models only

Front access grease tray with catch pan

Infinite control burner valves

Tuck-Away rotisserie system with flip-up motor and separate spit and fork storage

All Parts

10 Years (excluding normal wear and tear and subject to additional terms and conditions in the warranty)

Proposition 65 Warning: Handling the brass material on this product exposes you to lead, a chemical known to the State of California to cause cancer, birth defects or other reproductive harm. (Wash hands after handling this product.)




Combustion by-products produced when using this product contain chemicals known to the State of California to cause cancer, birth defects, or other reproductive harm.



Image for capacity demonstration purposes only.
Actual product model and features may vary.
Tuck-Away rotisserie system with flip-up motor and separate spit and fork storage

LED fuel gauge - LP models only

Stainless steel Flavorizer bars

9mm diameter solid stainless steel rod cooking grates

Stainless steel side tables
---
---
---
CAPACITY OF THES-670
Built to exceed your grilling expectations with an enormous cooking area and six burners to feed the masses. Boasting an abundance of features, your culinary journey starts and ends here.
Image for capacity demonstration purposes only.
Actual product model and features may vary.

Serves 12 people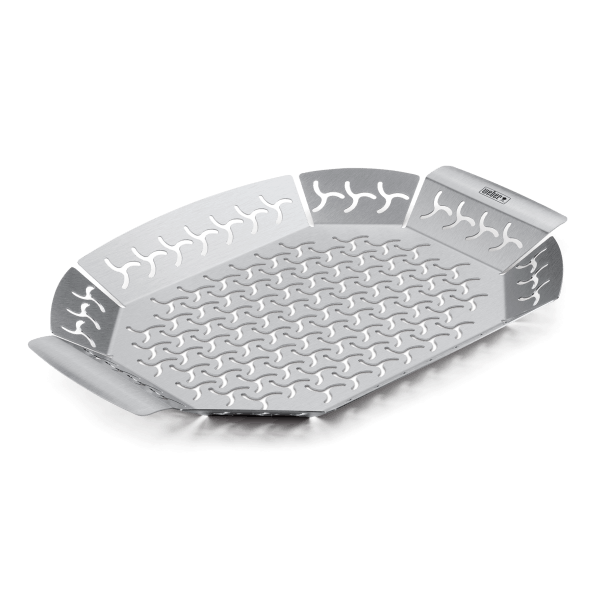 Live colorfully with
A GRILLING BASKET FULL OF VEGGIES
Add a side of grilled zucchini and squash to the feast. Or an array of vibrant vegetables to lighten up your mood. A grilling basket is an amazing way to grill sliced vegetables, or small pieces of meat, without worrying about them falling through the grate.
Summit® S-670 Gas Grill is rated out of 5 by 35.
Rated 5 out of 5
by
Omelio
from
All in one
Love that it is a smoker, rotisserie and grill with a sear sectiin all in one and when you add the Gourmet grill it takes it to another level. Have had the grill for two months now. I have made from smoke ribs to rotisserie chicken all cooks evenly and no flare ups. Another great job from weber and their customer service is amazing have owned a weber before for 16 years (Genesis gold). Every time you talk with anyone in their customer service department they were courteous and very professional. Also one reason I stayed with Weber that and their product.
Date published: 2018-03-09
Rated 2 out of 5
by
Disappointed Iowan
from
Disapointment
My family purchased this grill for me 5 years ago. It is always cleaned and covered. We use this grill 2 to 3 times a week and through the winter months. It was purchased to replace and older Weber that was beyond its time. I was disappointed to find that after 5 years the cabinet is rusting out, the stainless is rust stained, the control knobs and panel have lost their markings, and the control valve to turn the burners on and off is sticking. I am very disappointed in the overall finish and quality of this "Top of the Line Weber". I have owned Weber grills and products all of my life and never experienced this quality from a Weber product. For the price and Stainless finish it should out last any other Weber product I have owned.
Date published: 2018-12-11
Rated 3 out of 5
by
Benna
from
Good size and great for rotisserie.
I bought mine 5,65 years ago and it has been working good! The only warning I want to give is that it should be stored inside in a dry area when not in use and properly maintained.. Not all parts are Stainless and the paint on the side of the top cover does fall off, I have used a cover most of the time but some part has corroded badly anyhow. The handles on the doors have the same issue.
Date published: 2019-05-23
Rated 5 out of 5
by
Philpot
from
16 months of grilling
Purchased this in December of 2016 and it still works just fine. No issues to report, grill grates are in fantastic condition, flavorizer bars are still in good to better shape. I use the grill on average two to three times a week. Love the way you can heat up one side of the grill to cook small meals. Most use accessory has to be the elevations tier cooking system. I like to cook chicken low and slow and the elevations system allows me to get the chicken far away from the flame so I can baste with out much flare up. The grill cover is still in perfect condition, lover the material it is made of, just slides on and off the grill. Would say I would by this product again, but it looks like I will not have too!
Date published: 2018-04-30
Rated 5 out of 5
by
Philpot
from
Two years and going strong
Bought my S-670 in December of 2016 and its in great condition. Use it on average or 2-3 times a week. The Grill Cover is still in great shape also. Smoked 30 pounds of Boston Butt last weekend. I purchased a replacement grill grate so it could get some distance from the burners and get a drip pan under the meat. I use this same set up when I do large amounts of chicken. The elevations grilling system is still my favorite accessory. I use it often for chicken and rib night. Looking forward to doing a rotisserie turkey for Thanksgiving.
Date published: 2018-11-11
Rated 1 out of 5
by
John Pkg
from
Great grill but quality lacking on chassis!
I have had my grill for a few years now and the grill still works like it should! But unfortunately the quality is not built into the stand as the wheels failed, the chassis has rusted badly and the doors have rusted off.
Date published: 2019-11-14
Rated 3 out of 5
by
Brisket75
from
Caution not all parts are stainless steel
I bought this grill about 5 years ago. It is wonderful to cook on and use. It's looks however have not stood the test of time. A lot of the parts apparently aren't stainless steel as they are rusting. I would still recommend, but I'm going to have to dump some money in it to make it look good again.
Date published: 2019-03-02
Rated 5 out of 5
by
DrJ356
from
Excellent Large Grill
I have owned my Summit 670 for several (8 or 9) years and truly love the effectiveness and quality. One can only hope will it continues to perform as well as it has. It can easily get up to searing temps. The finish on mine is holding up better than expected. I keep it covered most of the time but it has spent a few nights in the rain. Still, I can't find any corrosion anywhere. Most of the time it's under a good quality cover - but I am negligent once in a while. My only complaint is about the cheapo casters. At this price point, it should have some serious feet. These appear to have come from KMart.
Date published: 2019-06-10
Rated 2 out of 5
by
Rick M
from
Not what i expected in a Weber Summit Grill
I've been long time Weber Customer however after 8 years my high end Summit Grill has a rusted frame work. The door fell off and the right front wheel has in operable so that I have a hard time moving it. After talking with customer service the only satisfaction I got was iI had to pay 300.00 of replacement parts and my labor to fix it. Very disapointing to spend this kind of money on what I though was high end product and have it rust the way it did.
Date published: 2019-01-10
Rated 2 out of 5
by
Loyal Weber griller.
from
The most disappointing Weber grill I have owned
I have exclusively purchased Weber gas grills for over 20 years. This summit grill is by far the most disappointing. The fire box is not a cast construction like the genesis and summit grills. Rusted out along with the frame and cabinet. And yes I kept it covered with a Webber grill cover the entire time Iowned it. Replaced it with a genesis 2 with a side burner which has a cast fire box. I am hoping to be as pleased with the replacement as I have been with all my Weber grills before the summit.
Date published: 2019-03-25
Rated 5 out of 5
by
Mike1212
from
Great cooking space and quality product
I bought my Weber S-670 grill back in 2016 and have had a great experience all the way. The grill has always been reliable and cooks evenly. I had a few cosmetic concerns and brought them to the manufactures attention. I received and quick response from the manufacture every time I contacted them. My concerns were addressed promptly and my overall experience has been very satisfactory. This is my 3rd Weber grill and I'll continue to recommend Weber grill's to all my friends and family. Thanks for the amazing warranty support and please keep building outstanding grills! Sincerely, A happy long time customer
Date published: 2020-02-09
Rated 5 out of 5
by
RonSacto
from
8 years and going strong!
Received the Summit as a Fathers Day gift 8 years ago (2011) and have given it heavy use every year (from May through October, averaging 3 times a week). It has performed very well, and with a little tender care, looks almost as good as the day I got it. Just a little rust starting to form on a non-stainless portion, but holding up fine. The back rotisserie fire burner needed a tune up once (not igniting). This has been an excellent grill and brought almost a decade of family outdoor enjoyment and finely grilled foods of every variety. I could see this Summit grill going for another decade!
Date published: 2019-04-02
Rated 5 out of 5
by
Pete C
from
It's an outdoor kitchen
I have my grill for 6-7 years now. The only think I replaced is the button to turn on the lighted handles. I've used the grill to smoke pork and chicken grilled everything and even baked cornbread in it. It maintains its temperature at low, medium and high levels with the lid closed. And the rotisserie is great.
Date published: 2018-09-03
Rated 5 out of 5
by
TritonJosh
from
You can do amazing things with this appliance
Simple example - Christmas dinner with 20 people. Some want and expect beef while others want and expect turkey. With this size and quality of appliance, I was able to prepare a whole beef tenderloin (thanks, Costco) and a whole stuffed turkey breast, at the same time and have both cooked to the perfect temperature and finish. Really amazing. Paella, pizza, fish, fruit, sausages, bread, kabobs, corn - just about everything you bake, roast or sear can be cooked on this tremendous BBQ. Great temperature control and it does a great job as a smoker too.
Date published: 2019-08-19
Rated 5 out of 5
by
69RoughRider
from
Best investment EVER
Have had it almost 2 years, and love this grill, best investment and best grilling I've ever done was on this grill so far...
Date published: 2018-05-28
Rated 5 out of 5
by
Cmcorton
from
Incredible durability
I purchased my summit 6 series grill in 2009 and my grill has never failed other than my thermometer which I died last week. I clean my grill before and after every use and my grill has been in like store bought shape. I only changed my grates becuz I wanted to buy shined new ones but was not needed. I am great full to the quality and workmanship that went into my grill.
Date published: 2018-06-09
Rated 5 out of 5
by
Ome4936
from
Amazing grill
Love the versatility of this grill, from rotisserie to smoking and even searing. The variety of meals you can make at the same time is incredible. The construction of the grill is great and let's you know you have a grill for a very long time even with the warranty and amazing customer service.
Date published: 2018-07-23
Rated 4 out of 5
by
wstrickland1
from
My Favorite Grill ever
Purchased in 2014 and have used it several times a week since. Very impressed with the heat, both amount and even distribution. Yes some areas are a little hotter than others but I've learned what's what and use it to my advantage. I can sear steaks (and leave grill marks) like a pro. The smoker box works pretty well for what it is (smallish). A few of the flavorer bars have just now started to corrode through but they were actually replaced under warranty. Honestly I'd have gladly bought them at this point but am grateful that I didn't have to. The rubber light switch is long gone, rotted away but I can live with that I suppose. Some of the smaller handles and tool hooks are starting to flake off and appear to be made of something fairly inferior but I can also live with this. The original cover lasted about 3 years, and the second one is holding up well. The caster wheels don't lock anymore and it doesn't really bother me. 2 big bricks behind it do the trick ;) Bottom line is it's an amazing cooking appliance with only a few minor shortcuts taken. I'd give it a 4 3/4 star rating!!
Date published: 2019-09-19
Rated 5 out of 5
by
Average Joe
from
Great Seaside Grilll!
I bought this grill after buying several grills at Lowes. I live on salt water and the cheap stainless that Lowes and Home Depot use rusts and rots away very fast living on the water (2 years max life). I bought the Weber 7 years ago. I use it at least 3 times a week for beach parties. I have not had to replace any parts yet. It being 7 years old my thermostat works, but, the zero is now on 400 degrees. Two of my burners nobs are difficult to turn. When I ordered mine I got it in natural gas, so, I never have to deal with propane. This grill cooks better than my stove inside my house. The best feature of this Weber is the sliding grease catch that's 3 feet long underneath. I yank it out and clean it all the time, this prevents lots of grease fires. This is the best grill I have found on the market!
Date published: 2019-10-20
Rated 5 out of 5
by
TimJ
from
I shoulda done it long time ago
Has everything I want from a gas grill. I don't need to wear a head light as the sun goes down. A full featured grill...awesome
Date published: 2018-08-15
Rated 1 out of 5
by
Andybur
from
Cant convert to Propane
I bought this grill and am now moving and want to convert the grill from Natural gas to propane but weber no longer has a kit.
Date published: 2019-05-10
Rated 5 out of 5
by
Stormin
from
Awesome Best Grill Ever
I now grill 90% of the time rather than use our stove. Love the searing station for steaks/ chops.
Date published: 2018-01-12
Rated 5 out of 5
by
jboy65
from
I found my grill: grilling nervana!
PREFACE – SHOPPING AND COMPARING OF THE GRILLING INANE: After selling my old grill, knowing I wanted this grill but wanting to do my due diligence, I shopped, compared, made spreadsheets, then shopped and compared somemore then just gave up. I mean, on one hand I'd be spending a fortune, or on the other, wasting hundreds of dollars on a grill sure to underperform and rust too soon. After about 8 mos, though, I made the same rounds yet again, only this time, after having given up yet again, all of a sudden in a last minute fit of compulsive insanity, hopped my happy butt right on down to get me one, and I've been happy as a clam ever since! So, take my advice – save the gray hairs, and keep those precious added years of life you'll save by not making the same mistake I made, and just, get, this, grill … I promise, you will be so-o-o very happy you did! REVIEW: * ASTHETICS (5.0) – looks absolutely amazing! Before buying I was miffed about it having painted gray on the lower sides (and back?), but on my patio, I could care less – the grill looks great! * OVERALL QUALITY (5.0) – it looks, and feels like quality should! I mean, every single component you see, touch, or operate screams quality, with no exceptions. The knobs both ignite and adjust the flame excellently, too. * HEAT (temp, quickness) (5.0) – Hits 400 in 4 minutes, and 500+ in 5 minutes – wow!! * COOKING (5.0) – I've thus far found no hot or cold spots, only even cooking, with great flexibility in having just the right cool or hot spot as desired by simply adjusting the knob. The searing station is a must-have feature! I was concerned at first because it's not infrared but I promise those 3 close-together flamers do the same thing, only better! * LIGHTS (5.0) – I heard some complain about these lights being cheesy, not lighting enough of the grill, etc, but I'm here to tell you these lights are fantastic – zero complaints here, plenty bright, and coverage is just fine. And lighted knobs? Not fluff but actually very functional when trying to see the dial temp at night! I do wish I could actually turn them off without having to leave the lid closed for 30 minutes, tough, causes me a little angst when wanting to leave lid up to cool before covering, but not a deal killer, I get why they do it – once activated, they go out and come on automatically when you close or open the lid, and that's WAY cool! * PROPANE GAUGE (5.0) – I say that, but then I've not yet gone thru a whole tank yet. Nonetheless, here again understanding the less than scientific weight method (truly the only way you 'could' measure it), I'm super happy to have it! * ROTISSERIE (?) – I have not used, and probably won't, was a feature I wish I didn't have to pay for, honestly, but our good friends at Weber saw fit to discontinue the S-620 before I could buy one :(
Date published: 2018-10-29
Rated 4 out of 5
by
Ed209
from
Great grill with minor issues
Great grill but some accessories don't last. The rubber light switch rots off every couple of years. The electric gauge for fuel is impossible to get to replace. While I've had this grill over 9 years and use it at least once a week, the price has gone up on the new ones to the point I would look at other brands.
Date published: 2019-05-17
Rated 5 out of 5
by
Philpot122
from
Year 3 check in
Bought this in December of 2016 and still going strong. I do keep my grill covered when not in use, and the cover is still looking good! So far only issue I have had is with the thermometer, which was a simple replacement. Excellent quality !
Date published: 2019-12-25
Rated 5 out of 5
by
MegaBassPro
from
Looks Good - Cooks Even Better
I've had my grill for a year now and each time I use it, the more I fall in love with it. An awesome grill with the griller in mind. Easy to use and to maintain. It will be the last grill you'll buy!!! Highly recommended!
Date published: 2019-06-10
Rated 1 out of 5
by
SlushyBob
from
Not as good as my 21 year old weber.
I bought this about a year ago and hoped I would grow to love it as I had the one I had for 21 years. Alas I do not. With only one level of flavor bars flare ups and fires is the new normal.
Date published: 2019-06-18
Rated 5 out of 5
by
AZ-GA Boy
from
Love my summit 670. Love the grease drain system.
I am extremely happy with purchase. Had issues with the on-line purchase company. But Weber came thru for me. Weber is Customer satisfaction # 1. They are wonderful!
Date published: 2018-11-21
Rated 4 out of 5
by
Rick57
from
Great purchase frcision
Looked at so-called premium/luxury grills but features and $ made the Summit the obvious choice. Only wish the rotisserie plug was longer as outlet on wrong side of grill
Date published: 2019-06-27
Rated 4 out of 5
by
micromezza
from
Great Grill and all its features
Love the Grill and Weber is the best/top of the line of Grills. This is my second one, as I gifted my previous Grill to my son.
Date published: 2019-06-12
bvseo_sdk, dw_cartridge, 16.1.1, p_sdk_3.2.0
CLOUD, timer 138ms, 0ms
reviews, product
bvseo_sdk, dw_cartridge, 16.1.1, p_sdk_3.2.0
CLOUD, getContent, 0ms
reviews, product
Keep Exploring
Summit® Series

Summit® E-470 Gas Grill

Summit® Series

Summit® E-470 Gas Grill (Natural Gas)

Summit® Series

Summit® S-470 Gas Grill

Summit® Series

Summit® S-470 Gas Grill (Natural Gas)

Summit® Series

Summit® E-670 Gas Grill

Summit® Series

Summit® E-670 Gas Grill (Natural Gas)

Summit® Series

Summit® S-670 Gas Grill (Natural Gas)

Summit® Series

Summit® S-460 Built-In Gas Grill

Summit® Series

Summit® S-460 Built-In Gas Grill (Natural Gas)

Summit® Series

Summit® S-660 Built-In Gas Grill

Summit® Series

Summit® S-660 Built-In Gas Grill (Natural Gas)

Summit® Series

Summit® Grill Center

Summit® Series

Summit® Grill Center (Natural Gas)

Summit® Series

Summit® Grill Center

Summit® Series

Summit® Grill Center (Natural Gas)