STRIVE FOR THE BEST
Weber
Summit® S-470 Gas Grill

Stainless Steel
Image for capacity demonstration purposes only.
Actual product model and features may vary.
Let your homemade BBQ sauce simmer on the side burner to compliment the golden brown rotisserie chicken under the lid. The four burners, large cooking area, and abundance of features in the Summit® S-470 gas grill is what every grill master strives for.
Part #7170001

$40 Shipping & Free Returns on Weber.com Orders
Grills 70+ lbs. ship by freight carrier with delivery by appointment within 2-5 business days. $40 Standard Delivery, $75 Upgraded Delivery. Free 30 day returns. Shipping Information & Return Policy
Main burners: BTU-per-hour input

48,800

Sear Station burner: BTU-per-hour input

10,600

Stainless steel smoker box and smoker burner: BTU-per-hour input

6,800

Side burner: BTU-per-hour

12,000

Rear-mounted, infrared rotisserie burner: BTU-per-hour input

10,600

Dimensions - Lid Open (inches)

57.1"H x 66"W x 30"D

Dimensions - Lid Closed (inches)

50.5"H x 66"W x 26.5"D

Primary cooking area (square inches)

468

Warming rack area (square inches)

112

Total cooking area (square inches)

580

Stainless steel burners

4

Fuel type

Liquid Propane (20 lb. tank sold separately)

Side tables

2

Lighted control knobs

4

Handle lights

1

Swivel casters

2

Swivel locking casters

2

Tool hooks

6

Battery type

AAA, D

Batteries

6

Features

9mm diameter solid stainless steel rod cooking grates

Snap-Jet individual burner ignition system

Stainless steel Flavorizer bars

Stainless steel lid

Built-in lid thermometer

Stainless steel side tables

Grill cabinet

Stainless steel doors

LED fuel gauge - LP models only

Front access grease tray with catch pan

Infinite control burner valves

Tuck-Away rotisserie system with flip-up motor and separate spit and fork storage

All Parts

10 Years (excluding normal wear and tear and subject to additional terms and conditions in the warranty)

Proposition 65 Warning: Handling the brass material on this product exposes you to lead, a chemical known to the State of California to cause cancer, birth defects or other reproductive harm. (Wash hands after handling this product.)




Combustion by-products produced when using this product contain chemicals known to the State of California to cause cancer, birth defects, or other reproductive harm.



Image for capacity demonstration purposes only.
Actual product model and features may vary.
Stainless steel Flavorizer bars

Tuck-Away rotisserie system with flip-up motor and separate spit and fork storage

9mm diameter solid stainless steel rod cooking grates

Stainless steel side tables
---
---
---
CAPACITY OF THES-470
The large cooking area and four burners are just the beginning. With the abundance of features and extras, the grilling opportunities are virtually endless. From rotisserie chicken to adding a touch of smoke to your fish, experiment all you want with your Summit.
Image for capacity demonstration purposes only.
Actual product model and features may vary.

Serves 8-10 people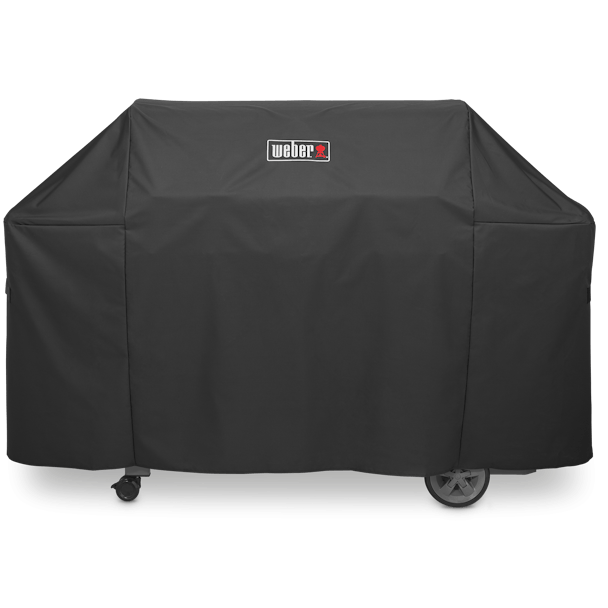 Embrace the elements
With a durable grill cover
Embrace the pouring rain, freezing snow, and scorching sun, knowing that whatever the weather, your grill is covered. A lightweight yet durable grill cover keeps your grill as shiny and new as the day you bought it.

Explore Grill Covers
Summit® S-470 Gas Grill is rated out of 5 by 28.
Rated 2 out of 5
by
Chris S.
from
Weber Summit S-470 Gas Grill
My wife bought me the Weber S-470 gas grill 2 years ago for my Birthday. I had a Weber gas grill for 18 years prior and it was the best. Really did not have to do any thing and it work like a tank. My S-470 stainless steel grill is failing. The trim around the knobs is pealing and cracking. 4 of the igniters are not working and been cleaned several times but now they are all rusted and fell out, So I need to use a lighter to get the grill light. Last is the gas meter doesn't work. If I press the button to see how much gas is left 3 lights light up, Full, Half way and then . empty. I use the grill a couple times a week and also keep the grill covered when I'm not using it. My other weber that I had for 18 years I never covered and only had to do very little maintenance for the upkeep.
Date published: 2018-09-10
Rated 5 out of 5
by
Ghgggggggghgggg
from
Best Grill I Have Ever Owned!
I just bought another Weber 470 grill but this time for propane instead of natural gas because I had moved to an area without natural gas. There was no doubt in m mind with regard to buying another Weber grill. The quality is there and parts should you need to replace anything such as grill grids flavor bars are readily available. Absolutely love the searing burners for perfect grill marks on my steaks and pork chops.The smoker box is awesome especially with its own burner and the rotisserie works great for grilling chickens and pork loins. Great grill - will never own any other.
Date published: 2018-12-26
Rated 5 out of 5
by
rengster
from
Surprised
I am surprised at some of the negative reviews. We have had several Webers which has spanned over 30 years, this one is great. We have owned the Summit 470 for one year and have used it on average 4 times per week, winter and summer. It has held up just fine and looks as good as new.Of course, I am responsible to keep it cleaned and covered, but that is it. I have had two issues with it, at no fault of the unit. When I called Weber, they have been more than helpful to make sure that I am satisfied - even when the issues were with the dealer and not them. I could attach a photo, but it looks just like new.
Date published: 2019-07-11
Rated 3 out of 5
by
Lights
from
Control knob lights
I purchased by Weber Summit S-470 a few months at and have used it three times now. Every time I've used it it's been daylight and I have not used the control knob lights. However, after I turn the gas off and come inside the control knob lights come on automatically after an hour or so. I go out and push the black button on the left and turn the lights out and then an hour or two later the lights come back on. I turned them off again before going to bed and when I get up the next morning the lights are on again. So, what am I doing wrong in turning the lights off that I never turned on in the first place.
Date published: 2019-03-09
Rated 4 out of 5
by
Wesleyo
from
Love the rotisserie feature
Bought four years ago for my 50th birthday present to myself. The first grill came in damaged and Weber and Amazon sent new replacement parts. I love the rotisserie feature. Ive cooked ducks, turkey and chicken and it's so easy with the inferred cooking. Overall the grill area is enough for a large family gathering. I especially like the lighted nobs, very handy. The upper assembly is easy to clean with soap and water but the lower cabinet is low grade stainless steal and painted steal and are rusting. The door handles and the handles on the sides of the lower cabinet are made of aluminum chrome plaiting and they need replacing. This is still the best long lasting gas grill I've ever owned.
Date published: 2019-03-11
Rated 3 out of 5
by
Tdog in EC
from
Great Grill with mediocre rotisserie
I have had my S-470 for about a year and love the even heating and especially the smoker and sear station, which I feared would be a "gimmick" but have turned out to be two features I use all the time. The smoker in particular provides just enough heat and smoke to make the best pulled pork ever! The one thing about this grill that is substandard is the rotisserie element, the motor is held to the grill using cheap, thin stainless steel, so if you grill a bird larger than about 12 pounds, the rod can come off as the motor flexes during the rotation. I have had to develop a fix using clamps to hold the rod onto the grill motor. When you pay almost $2K for a grill, you don't expect to have to "McGiver" some sort of fix to overcome poor design. But the rest of the grill system works great.
Date published: 2019-04-09
Rated 1 out of 5
by
Peter f
from
Door literally fell off
4 years old and the side panels and doors rusted so bad the door fell off! Called in warranty and was told to spend $400 in replace parts, that's insane . Then I was told this happened because we used a cover?? The cover Weber sold me. I have a smoker and a$2,000 summit grill. Based on this experience I will go out of my way to not recommend this product
Date published: 2019-06-15
Rated 3 out of 5
by
rpaul54
from
great BBQ - lousy base cabinet
The actual BBQ is great, as it should be for $3000. However, after five years, the bottom cabinet (thin painted steel) rusted out completely. Why the frame and sides are not also stainless is a mystery. Replacement cost is 1/2 the cost of a new BBQ. Last Weber I'll ever buy.
Date published: 2019-04-23
Rated 5 out of 5
by
Corbin
from
The BEST EVER Natural Gas Grill
I I have had my natural Gas 470 grill for over a year now. This is my 4th Weber, not because they wore out, I just kept upgrading, sold the previous ones which are still working. I still have my Q series for tailgating. There is nothing I can't do with this grill including smoking. I live in Indiana and use it all year round. Definitely worth the money and have suggested Weber to Friends who are also happy with theirs." Best Grill Known to Mankind"
Date published: 2018-07-11
Rated 5 out of 5
by
I dont have one
from
Great product
I bought this grill six months ago and it was well worth money. I will have this for years to come. There grill does not flame up on my food like my past grills. I love the fact that it is stainless steel and it will not rust.
Date published: 2018-02-22
Rated 1 out of 5
by
NickyG
from
Poor quality
Called for parts today for my grill that is under a covered outdoor patio with a grill cover and after 3 years items are showing signs of rust and plastic knobs have also already been replaced.
Date published: 2018-09-20
Rated 5 out of 5
by
JnGalt52
from
Gives Me Lots of Grilling and Cooking Options
I've had the S-470 two years now. I have used every feature more than once. I have used to the rotisserie to cook chicken and smoke pork loins and Tri-Tip. The "Sear Station" heats hot and fast and sears my steaks to perfection. After searing, I use the outside burners and then grill the steak to a perfect medium rare. I find it odd that others have complained about the quality. They have posted pictures of rust and pits in the chrome, etc. Then they add... "I keep it covered". Well, I keep my covered and mean still looks great. Yes... I have some discoloring around the edges but when you smoke Tri-Tip and other cuts... it can cause some discoloring. But overall, the grill looks great.
Date published: 2019-09-04
Rated 5 out of 5
by
Loranimal
from
reviewing a S-420 after many years, super unit...
I purchased the S-420 sometime between 2008 /2010 and have used it continuously since. It has performed without a hitch, grille looks brand new, of course I clean it after each use and every other time wipe it down (on the outside) with WD-40 ... the only problem after all these years is the starter for the side burner, which is no real problem ... why would I send in a review after all these years, well, it's because I read the reviews tonight for the Weber S-470 and wanted to let Weber and it's customers know that my grille is still doing it's job and looks almost new. I was going to get another grille but I think I'll keep this one, it's been faithful and keeps our family happy. V/R submitted
Date published: 2019-12-01
Rated 5 out of 5
by
ejr1953
from
This Grill is Awesome!
Since purchasing this grill, each and every meal I've made has been as good as grilling gets. My guests seem to think I'm a great chef, but it's the grill! I really enjoy the smoker box, the ruggedness of the stainless steel grill, the great control of the temperature and the way this unit looks. If you are in the market for the "best of the best", I would recommend this grill!
Date published: 2018-07-14
Rated 1 out of 5
by
Meatlover
from
looking for quality
Well, after much research I am backing out on my Summit S-470 purchase. I wa pretty excited to finally get a grill that would meet up to its expectations and I will be honest, for this price I would expect a lot. I ordered to have it assembled and delivered by my favorite hardware store. After scouring the internet to gain tips on usage and tricks for the best grilling, I have found nothing but ugly pictures of poor quality and design after only 1 year of use and this is with a grill cover. As a product designer and engineer, I totally understand material selection. Appears that they are selecting the incorrect type of SS and not properly testing it. If it is true that Webers use to last 15+ years, then they should go back to old designs. My biggest disappointment are all of these painted knobs that wear out. Again, think abut the use case, where the customer touches and where the wear occurs. Sorry Weber, you have lost my interest.
Date published: 2019-09-14
Rated 4 out of 5
by
jay dutt
from
Rottesrie Motor pops or back out of shaft
I have a issue with my Summit S470. The Motor keeps backing off from the shaft . i have burned my Chickern Twice already . I have to use A twine to tie the motor in place
Date published: 2019-06-16
Rated 3 out of 5
by
India
from
Shoddy Manufacture
After a bit more than a year, two of the burner knobs have shattered. The rest of the grill is beginning to disintegrate.
Date published: 2019-06-05
Rated 5 out of 5
by
drew
from
best grill ever
I bought this grill 3 years ago and I absolutely love it.
Date published: 2018-04-25
Rated 5 out of 5
by
Easy grill master
from
WOW... makes even me a grill master!
Have owned this gem for three years and LOVE IT! It makes fantastic grilling sooo easy even though I had not grilled much at all before. What do I like? First, the smoker box easily infuses flavor in the foods. I just place wood chips in the box, light the dedicated burner below and in a few minutes smoke pours out at which time I lower the burner level a bit. Second, all the burners allow me to control the temperature. They provide GREAT heat control. Third, the lid thermometer lets me know the inside temperature so I can increase or decrease temps as desired. Fourth, the infrared burner helps me convince my wife that THIS grilling is safe. She read articles a couple months ago about the evils of grilling foods. With the infrared, I can dial down the heat below, still create grill marks, and yet cook the food safely. I also use the burners away from the meat to increase the ambient temperature to "bake" without blackening. Fifth, the rotisserie lets me safely cook two organic chickens at once. We do this to avoid the salt and junk they inject into store roasted birds. I could go on, but you get the idea. Oh, night grilling is fun with the lighted knobs and handle lights which turn on automatically when the lid is raised. It would be nice if they were just a little brighter, but they do the job. I better stop now and get stuff done. Hope you get one and join the club. They are AMAZING! PS: last night I grilled eight turkey burgers, from frozen pack to table in about 18 minutes. My wife wanted to welcome a new neighbor with a meal. You can't make this stuff up, they just texted me... "Thank you again for the amazing dinner last night. It was all delicious and the turkey burgers with onions and mushrooms were incredible!" I'm not joking... I just received this text today. Oh, two minor issues, 1) the grill cover Velcro fasteners stopped working after the second winter and, 2) the grill hanger posts don't work with my grill tools. I think I will live.
Date published: 2018-06-21
Rated 4 out of 5
by
Harry123
from
Beautifull Grill
We've had our grill for almost 7 years and love it
Date published: 2019-05-04
Rated 1 out of 5
by
glbealemd
from
Cheaply made ripoff.
This grill is not made as well as grills at Lowe's or Home Depot that are less than half the price. Assembly instructions are small poorly drawn cartoons with no written instructions. There is not even a picture of a completed grills. Don't waste your money on this grill. Would not recommend to an enemy much less a friend.
Date published: 2018-07-04
Rated 5 out of 5
by
Toothdoc1
from
Fantastic Grill
I have had this grill for over 10 years. I love the smoke box within the grill, I use it often when cooking ribs. Heats evenly on the surface. The side burner is a nice feature. However, I think you should be able to control the temperature better on that burner. We use the grill year round, I shovel a path in the snow to get to the grill.
Date published: 2018-07-01
Rated 5 out of 5
by
SteveP.
from
Had mine two years now and could not be happier!
In short this is far and away the best gas grill I have ever owned. I worried a bit over the cost of it but once I started cooking I never had a second of buyer's remorse. It is very even and constant. The rotisserie is such a nice addition, I use it at least once or twice a month. The smoke box is great too.
Date published: 2018-08-13
Rated 5 out of 5
by
Nifty
from
Great support
I have owned this grill for some time. The support for warranty items is the best I have ever come across. My grill is near a pool in the back yard and had some wear. The online method for selecting the parts and customer service I received from John was immediate.
Date published: 2019-01-27
Rated 5 out of 5
by
Tjay
from
We purchased this great grill 7 yrs ago and it loo
Purchased over 7 yrs ago and is looks great and works flawlessly !
Date published: 2018-06-25
bvseo_sdk, dw_cartridge, 16.1.1, p_sdk_3.2.0
CLOUD, timer 142ms, 0ms
reviews, product
bvseo_sdk, dw_cartridge, 16.1.1, p_sdk_3.2.0
CLOUD, getContent, 0ms
reviews, product
Keep Exploring
Summit® Series

Summit® E-470 Gas Grill

Summit® Series

Summit® E-470 Gas Grill (Natural Gas)

Summit® Series

Summit® S-470 Gas Grill (Natural Gas)

Summit® Series

Summit® E-670 Gas Grill

Summit® Series

Summit® E-670 Gas Grill (Natural Gas)

Summit® Series

Summit® S-670 Gas Grill

Summit® Series

Summit® S-670 Gas Grill (Natural Gas)

Summit® Series

Summit® S-460 Built-In Gas Grill

Summit® Series

Summit® S-460 Built-In Gas Grill (Natural Gas)

Summit® Series

Summit® S-660 Built-In Gas Grill

Summit® Series

Summit® S-660 Built-In Gas Grill (Natural Gas)

Summit® Series

Summit® Grill Center

Summit® Series

Summit® Grill Center (Natural Gas)

Summit® Series

Summit® Grill Center

Summit® Series

Summit® Grill Center (Natural Gas)