Spirit Series
BECAUSE GRILLING IS EASY, LIFE CAN BE TOO
Weber
Spirit E-310 Gas Grill (Natural Gas)

Black
Image for capacity demonstration purposes only.
Actual product model and features may vary.
Add flavor to the menu and spark to your life. The Spirit E-310 gas grill is ideal for entertaining a small crowd or a perfect solution to any family meal. Place serving trays and spices on the side tables so that everything you need is where you are, when you need it.
Part #47510001

$40 Shipping & Free Returns on Weber.com Orders
Grills 70+ lbs. ship by freight carrier with delivery by appointment within 2-5 business days. $40 Standard Delivery. Free 30 day returns. Shipping Information & Return Policy
Main burners: BTU-per-hour input

32,000

Dimensions - Lid Open (inches)

63"H x 52"W x 32"D

Dimensions - Lid Closed (inches)

45.5"H x 52"W x 24"D

Primary cooking area (square inches)

424

Warming rack area (square inches)

105

Total cooking area (square inches)

529

Stainless steel burners

3

Fuel type

Natural Gas (gas supply hose included)

Side tables

2

Swivel casters

2

Swivel locking casters

2

Tool hooks

6

Battery type

AA

Batteries

1

Features

Porcelain-enameled, cast-iron cooking grates

Electronic Crossover ignition system

Porcelain-enameled Flavorizer bars

Porcelain-enameled lid

Built-in lid thermometer

Stainless steel side tables

Grill cabinet

Painted steel door

Front access grease tray with catch pan

Infinite control burner valves

10-foot flexible hose (NG model)

Cookbox

10 years, no rust through/burn through (2 years paint excluding fading or discoloration)

Lid assembly

10 years, no rust through/burn through (2 years paint excluding fading or discoloration)

Stainless steel burner tubes

10 years, no rust through/burn through

Stainless steel cooking grates

5 years, no rust through/burn through

Stainless steel Flavorizer bars

5 years, no rust through/burn through

Porcelain-enameled cast iron cooking grates

5 years, no rust through/burn through

All remaining parts

2 years

Proposition 65 Warning: Handling the brass material on this product exposes you to lead, a chemical known to the State of California to cause cancer, birth defects or other reproductive harm. (Wash hands after handling this product.)




Combustion by-products produced when using this product contain chemicals known to the State of California to cause cancer, birth defects, or other reproductive harm.



Image for capacity demonstration purposes only.
Actual product model and features may vary.
Porcelain-enameled Flavorizer bars

Porcelain-enameled, cast-iron cooking grates

Electronic Crossover ignition system
---
---
---
CAPACITY OF THEE-310
The perfect size to grill up a couple of burgers for everyone in the family, or switch it up with chicken and steaks. With side tables for placing serving trays and spices, the Spirit adds convenience and simplicity to everyday life, and nobody left hungry.
Image for capacity demonstration purposes only.
Actual product model and features may vary.

Serves 5-7 people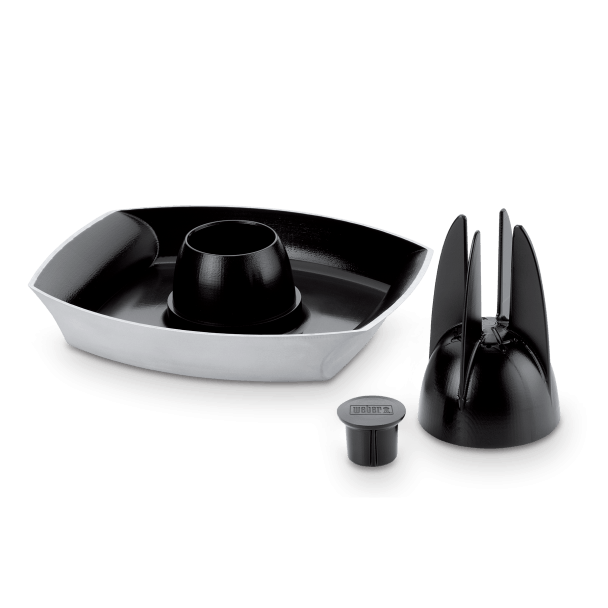 Think beyond the name
NOT YOUR AVERAGE POULTRY ROASTER
Create mouth-watering chicken enhanced with flavors only produced in a grill, or take this accessory to the next level. Prepare anything from nachos, chocolate fondue, or even a luscious cake. We'll leave it up to you, your imagination, and midday craving.
EXPLORE POULTRY ROASTERS
Spirit E-310 Gas Grill (Natural Gas) is rated out of 5 by 141.
Rated 2 out of 5
by
LVSR
from
Not What They Use to Be
I bought the E-310 mainly because of the geometry to fit my built-in space on the patio. The E-310 unit is unstable, rattles around when you scrape the grill top and rocks on the locked wheels. I had to insert wedges between the grill and my built-in patio setting to secure it. The drip grates do not sit snugly inside the grill. The burners continually pop and crackle. Weber, surprisingly, says that is normal for a new grill. The door, back and sides panels are lightweight sheet metal. The control knobs are plastic you could break off with your hand. Yet, it seems to grill fine and light easily.
Date published: 2019-07-28
Rated 5 out of 5
by
Brian44
from
I Switch to Natural gas and LOVE IT!
I've been using Weber grills for a few decades now but I always had LP models with the propane tanks. We use Natural gas for our home appliances (i.e. Stove, Water heater, etc.) When we added a new laundry room upstairs I decided to drop a gas line down to the patio. What a great idea! I use to always kept two propane tanks so I wouldn't get stuck running out of gas halfway through a meal. I really didn't have a convenient place to store the extra tank, so the ugly thing sent in the front vestibule for everyone to see when they came through the front door. Plus it was always a pain to load the tanks in the car and go get them refilled, you guys all know the drill. Now it's all a thing of the past! No worries about running out of gas, no ugly tanks sitting around and I have all that extra room in the cabinet to store grilling essentials like wood chips and cleaning utensils, etc. I thought the gas line to the grill would be stiff but it's not. It's nice and long and very flexible, making it so easy to move the grill around. I'm very happy with the decision to switch to Natural gas and the Weber grill itself. It gets just as hot and cooks just as well as propane.
Date published: 2019-07-12
Rated 5 out of 5
by
David 2019
from
Ease of set up and the results are great.
I decided I was upgrading from electric and wanted the convenience of natural gas. What impressed me straight away was the assembly instructions as they were clear and easy to understand with pictures which made putting it together enjoyable. Once I had the gas line installed I was off to grilling which only makes me think I should have done this years ago. Controlling the temperature and using the suggested times and temp guide made me look like a grill master instantly. I incorporated the iGrill and it takes all the guess work out of it and the results are indisputable.
Date published: 2019-06-12
Rated 5 out of 5
by
joulesverne
from
Weber Spirit Grill Natural Gas.
I purchased the downrev spirit (not spirit 2) grill because I liked the closed frame with door below the grill. The four castering wheels make it much easier to move than my genesis silver grill that I bought during the first year of Amazon's business. The ignition system works great, and I like the new cast iron grates. It can get up to 550 F and regulate down to about 300 F. The lid is thinner than the one on my prior grill. We'll see how that works out. Assembly took a while, but it was straightforward. Id recommend it.
Date published: 2020-03-13
Rated 5 out of 5
by
MB Rich
from
Durable product/ Excellent Customer Service
I purchased this Spirit over 7 years ago for our beach home. I can't even begin to enumerate the number of parties and events that this workhorse has BBQ'd for throughout those years. After all those years of beach weather, I realized I needed a few minor replacement parts to keep the Spirit lighting process up to snuff. The call to Weber Customer Service was as simple as could be AND they promptly sent me all that I needed ( along with some maintenance info ) for free! If you're looking for a durable grill, Weber is it.
Date published: 2019-12-09
Rated 5 out of 5
by
Joeybee
from
Grills to Perfection
I set up this grill about a month ago and have been totally satisfied with its performance thus far. It heats evenly and the built in temperature gauge is a plus and quite accurate. The drip pans are easily accessible and clean up is a breeze. The set up instructions were easy to follow and putting it together took less than an hour. The three burners allow for cooking using indirect heat which will allow for doing roasts, ham and possibly even some smoked meats. I could not have asked for more for the price.
Date published: 2019-11-19
Rated 3 out of 5
by
MiketheGriller
from
Good Machine, Questionable Customer Service
I'm pleased with the Weber Spirit E-310 Natural Gas Grill that I purchased. It's more expensive than competitor units of the same size, but I like how simple it is to operate, how easy it is to build, and the fact that it's a "Weber" and I know that replacement parts will always be available. I also like how 'even' it's heat is, and how well the heat can be controlled. However, the unit was shipped with a defective quick-disconnect gas valve. It's a pretty simple unit, and I've worked with a lot of these units over the years. It's also pretty clear when they don't work. The quick disconnect shipped with the unit was low quality, and defective. So, I called the Weber Customer Service, and all the lady did was argue with me, saying that I simply did not now how to connect and use the quick-disconnect valve. I've used many of these valves, and they're easy to use - when they work. I got tired of arguing with her, and I simply used the old quick-disconnect valve that I had connected to my previous BBQ grill unit. It hooked right up the way a quality valve should, and I was done. I'm still not pleased that Weber Customer Service is below-par. Stars Rating: I would have given the Weber Spirit E-310 Natural Gas Grill 4 Stars if the Customer Service wasn't so poor.
Date published: 2019-06-20
Rated 3 out of 5
by
B-40 Redhead
from
Grills great, but......
Grills great. It is our 6th Weber grill. But now we live on a windy hill and it blew off our patio down onto a pile of large landscaping boulders. The grill appears to be so top-heavy that the 2 small lockable casters can't hold it. Two more lockable casters would probably help in most situations. I fixed our problem by putting 2 12" x 12" cement pavers totaling 42 pounds in the bottom of the cabinet. So far, so good after 1-month.
Date published: 2019-06-12
Rated 5 out of 5
by
Garo
from
Awesome
Extremely satisfied with my new Weber Spirit E-310 natural gas grill. I highly recommend this product. Performance is outstanding. Preheating is quick and temperature control is very efficient. I enjoy grilling 4 to 5 times per week and this grill has definitely added to my pleasure, I only wish that I had switched to Weber sooner. I also selected the Weber brand cover and it was a great choice. It slides on and off with ease.
Date published: 2020-02-23
Rated 4 out of 5
by
Chris W22
from
Nice grill, really enjoy it.
I purchased the Weber grill last fall after my old Ducane grill bit the dust. I did a lot of research on the grill, the best size for us, the best cost, where to buy it and much more. This grill overall was the best deal for us and I purchased it and really enjoy it. It's small enough to fit in the corner of the deck but big enough when we have people over to put many burgers, steaks, chickens on to fed everyone. We grill a lot winter and summer and love the natural gas hookup so we don't have to keep refilling the tank. The only reason I gave it 4 stars is cause when I cook a roasted chicken on the rotisserie you have to take the grates out. Which I really don't like as we put a pan of water under the rotisserie to keep the food moist and this many lays on the flames. Not sure that I like that option. Overall it's a great selection and works perfect. I do like the thermostat on the cover so I can keep track of the temperature.
Date published: 2020-03-24
Rated 5 out of 5
by
Dave 46
from
General information
We have owned several Weber grills over the years and have enjoyed them. We have found that the auto start usually last 1 year or so and what usually fails first is the metal frame rusting out. We have a natural gas unit and my only suggestion is that the hole in the back where the hose feeds out should have a rubber or plastic lining to prevent excess wear on the hose and a gas leak. Otherwise, very pleased with the unit.
Date published: 2019-09-28
Rated 5 out of 5
by
Rooster2
from
Excellent quality
I've had this grill for about one month and use it almost every day. I've only had one other gas grill that was superior to this one, but I didn't buy it. It came with a house we had purchased. This grill is great and it cooks exceptionally well. I chose it because of one review I had read. Basically the reviewer was commenting on another brand and ended his comment with this phrase, "I should have bought a Weber".
Date published: 2019-08-01
Rated 5 out of 5
by
Yann
from
Best bbq ever!!!
I have had this bbq for a month and from the first trial, it was clearly the best bbq I had ever had. The grates get super hot quick, allowing to mark food right away and lower the heat to cook slowly. Heat is even throughout. Plus, I loved the natural gaz part... I will never run out of propane again! I had a damaged part when I inboxed it. Customer service took care of it within less than a week.
Date published: 2019-08-15
Rated 5 out of 5
by
Boppy
from
Great Grill
I purchased this natural gas grill a couple of weeks ago and have only used it three times, but I am delighted so far. Specifically: 1. I ordered from Ace Hardware and their special included assembly and delivery. It arrived at the store within three business days and was assembled and delivered to me the next day. It "fired up" on the first try; everything worked as expected. 2. I thought I would have to get used to the new grill but with recipes and cooking instructions from the Weber internet site the entrees I cooked were perfect. 3. The Weber grill cover (ordered separately) is lightweight, weather resistant and folds and fits neatly in the space beneath the grill elements It also stays in place in the wind because of the straps. In short, I'm totally satisfied. The E-310 lights instantly, preheats quickly, and cooks evenly. What more could one ask of a barbecue grill !!
Date published: 2019-07-31
Rated 5 out of 5
by
Rickb
from
Great Grill
I purchased this grill 2 months ago, looked high and low for the Spirit E310, the older model. I wanted the enclosed cabinet and 4 wheels that all rotated and I am so glad I did. I love this grill, it is perfect for me. I realize there is a newer version, but last years was much more appealing to me than the newer model of the same grill. I glad I found it. Nicest grill I ever had.
Date published: 2019-06-12
Rated 5 out of 5
by
Jeff14
from
Excellent Grill - Great Company
Purchased the E-310 3 weeks ago after having my prior Weber grill for 18 years. works well, easy to lite with the starter/igniter mechanism. Also like the instruction manual for cleaning the unit. Lastly, one KEY reason why I bought another Weber grill was the excellent customer service (coached me through installing a new igniter to the complex of changing the manifold).
Date published: 2019-06-12
Rated 5 out of 5
by
Marty22
from
Excellent purchase and perfect for small family
I purchased from a local small business, Wayside Furniture, assembly included. We're empty nesters, this is a perfect size for us and/ or a small party. Heats quickly, holds temperature, and I won't be afraid to smoke our annual pork shoulder at low temp. I had a Genesis several years ago, it lasted 15 years, but replaced it with a somewhat lesser quality unit that lasted about 7 years, with some replacement parts. The only "con" is that the lid handle gets pretty warm, but not unbearably so. I really like this grill; it's a good size and the warranty is great. I also like the reversible grates; nice touch Weber We grill 3-4 times a week year round; it sits on a covered deck, so we'll cover it in the winter on the off days. I'm 64 and I feel sure it will last longer than I will.lol Confession, we still grill on a tiny charcoal Hibachi once or twice a year. Reminds us of just starting out, and I recommend it.
Date published: 2019-07-16
Rated 4 out of 5
by
happy islander
from
Cooks a great burger or steak
Easy to assemble and most of packaging is recyclable. I can now actually cook a decent piece of meat now which I could never seem to do with previous cheaper barbecues. Meat doesn't stick to the smooth cast iron grill and it heats fairly evenly. Two drawbacks - it would be nice if the side trays folded down for storage and cheap plastic lid handle gets quite hot.
Date published: 2019-06-16
Rated 5 out of 5
by
Spiceboy
from
Best Grill Ever!
Grill came in a big box well packed with no shipping damage. Everything was there to assemble the grill. All the pieces fit and every hole lined up. The assembly instructions were easy to follow. Then, the best part - the grill performs amazingly well. It holes temperature with only one burner. Amazing! This is the best grill I have ever owned.
Date published: 2019-07-23
Rated 5 out of 5
by
CincinnatiRick
from
Excellent Grill!
I bought this grill about two months ago and am very pleased with it. The heat is even and responds to adjustments quickly. Following the grilling guide that comes with the grill has produced chicken, pork, beef seared perfectly and done to perfection. Clean up is easy, and having a natural gas connection means I never have to refill a tank!
Date published: 2020-01-09
Rated 2 out of 5
by
Louie1234
from
Not as nice as I thought!
We purchased this grill this past Memorial Day, so it has been about four months. The stainless and the grates on this grill are starting to rust. I am so surprised on how old the grill looks in four months. I've used sos pads and stainless cleaner, just so I can keep it presentable when my guest come over. Not sure what to do.
Date published: 2019-10-12
Rated 5 out of 5
by
WillyB
from
Worth The $$$
Didn't just purchase a new Weber E310 Nat Gas ( did that approx 3 yrs ago). We grill at least 5Xs weekly, so our grill gets a workout...needed to replace Flavorizer Bars (no prob). Other grills that we've had in the past,were trash or Flower pots by now. Doesn't matter which model you get...they all do a great job FOREVER!!!
Date published: 2019-09-17
Rated 5 out of 5
by
MondoBach22
from
Just What I Needed!
We live in a condo that has a natural gas hook-up on the deck. The deck is not too large but the Weber has a lot of features packed into a grill with a not too large footprint. I was anxious that the hose connection might not be long enough but I need not have worried...I have feet to spare. I real pleasure to cook on!
Date published: 2019-07-13
Rated 5 out of 5
by
Dan M
from
Second Spirit grill
I had an earlier model for about 8-10 years and simply wore it out cooking year-round. When it was time to replace it, there was no questions about the replacement - it had to be another Weber Spirit. Got an excellent assembled/delivered deal from my local ACE hardware store. It's working better than anticipated.
Date published: 2019-06-12
Rated 5 out of 5
by
Knottjt
from
Great grill and greater warranty
I bought this grill 3 years ago to replace a Genesis which was simply too large. It has received a lot of use with some parts wearing out. I called customer service and they sent me free of charge new grates, flavorizer bars and thermometer. I cleaned the body, replaced the parts and it is ready for a few mor years.
Date published: 2019-10-26
Rated 5 out of 5
by
Good customer
from
Can't beat a Weber!
As an owner of over a dozen rental properties for which we provided bbq grills, Weber stands up the best against hard use and abuse. My personal Weber lasted 15 yeRs and the new owner is glad to have it. This new one is just as good. Cooked a butterflied leg of lamb for a party on Saturday and the guests loved it!
Date published: 2019-09-30
Rated 4 out of 5
by
STL Johnnie
from
My 1st gas grill
I was very excited to get this grill. I was disappointed that the gas hose had a hole in it so I had to get a new one. Weber was great about replacing the hose but it was a hassle to change the hoses out. The grill was easy to put together and I'm enjoying cooking on it using Weber's app for tips and recipes.
Date published: 2019-08-08
Rated 5 out of 5
by
Cmegrill
from
Works great!
Obviously the name Weber is well known, but I bought this about a month ago based on a review on America's Test Kitchen. They purchased about a half dozen gas grills under $500 and did some extensive testing. The Weber came out on top. It was easy to assemble and I really like the cast iron grates.
Date published: 2019-08-04
Rated 5 out of 5
by
bluebird55
from
Free From LP
This grill heats up fast and cooks well. For the first time, I'm free of LP Gas cylinders, which have a nasty way of running out in the middle of steak grilling. It's good to finally get to that point with my BBQ. This grill also fits well on the back patio, which has limited seating.
Date published: 2020-03-20
Rated 5 out of 5
by
Cedar Mike
from
Great Grill!!!!
This is the first natural gas grill that I have owned and I doubt that I would ever go back. The grill heats fast and has a very even heat distribution over the entire grilling surface. Every grill takes a little getting used to, but from the beginning, there have been no surprises.
Date published: 2019-06-12
bvseo_sdk, dw_cartridge, 16.1.1, p_sdk_3.2.0
CLOUD, timer 193ms, 0ms
reviews, product
bvseo_sdk, dw_cartridge, 16.1.1, p_sdk_3.2.0
CLOUD, getContent, 0ms
reviews, product
Keep Exploring
Spirit Series

Spirit E-210 Gas Grill

Spirit Series

Spirit E-310 Gas Grill

Spirit II Series

Spirit II E-210 Gas Grill

Spirit II Series

Spirit II E-310 Gas Grill (Natural Gas)

Spirit Series

Spirit E-330 Gas Grill

Spirit Series

Spirit S-315 Gas Grill

Spirit II Series

Spirit II E-310 Gas Grill

Spirit Series

Spirit S-315 Gas Grill (Natural Gas)

Spirit Series

Spirit SP-335 Gas Grill