Spirit Series
ENTER THE WORLD OF GRILLING
Weber
Spirit E-210 Gas Grill

Black
Image for capacity demonstration purposes only.
Actual product model and features may vary.
Taste the difference a Spirit will make in your life. Designed to fit on a small patio or balcony, the Spirit E-210 gas grill brings the simplicity of grilling to most any home.
Part #46110001
Main burners: BTU-per-hour input

26,500

Dimensions - Lid Open (inches)

63"H x 50"W x 32"D

Dimensions - Lid Closed (inches)

45.5"H x 50"W x 24"D

Primary cooking area (square inches)

360

Warming rack area (square inches)

90

Total cooking area (square inches)

450

Stainless steel burners

2

Fuel type

Liquid Propane (20 lb. tank sold separately)

Side tables

2

Swivel casters

2

Swivel locking casters

2

Tool hooks

6

Battery type

AA

Batteries

1

Features

Porcelain-enameled, cast-iron cooking grates

Electronic Crossover ignition system

Porcelain-enameled Flavorizer bars

Porcelain-enameled lid

Built-in lid thermometer

Stainless steel fold-down side tables

Grill cabinet

Painted steel door

Fuel gauge - LP models only

Front access grease tray with catch pan

Infinite control burner valves

Tables down width - 29.5 inches

Cookbox

10 years, no rust through/burn through (2 years paint excluding fading or discoloration)

Lid assembly

10 years, no rust through/burn through (2 years paint excluding fading or discoloration)

Stainless steel burner tubes

10 years, no rust through/burn through

Stainless steel cooking grates

5 years, no rust through/burn through

Stainless steel Flavorizer bars

5 years, no rust through/burn through

Porcelain-enameled cast iron cooking grates

5 years, no rust through/burn through

All remaining parts

2 years

Proposition 65 Warning: Handling the brass material on this product exposes you to lead, a chemical known to the State of California to cause cancer, birth defects or other reproductive harm. (Wash hands after handling this product.)




Combustion by-products produced when using this product contain chemicals known to the State of California to cause cancer, birth defects, or other reproductive harm.



Image for capacity demonstration purposes only.
Actual product model and features may vary.
Porcelain-enameled Flavorizer bars

Porcelain-enameled, cast-iron cooking grate

Electronic Crossover ignition system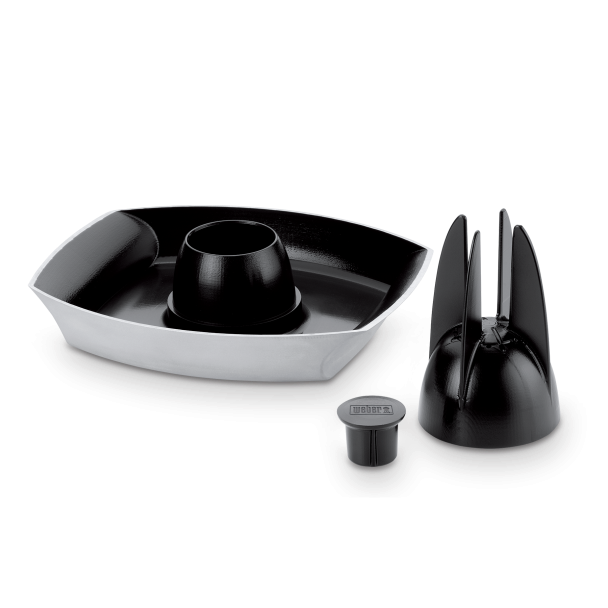 Think beyond the name
NOT YOUR AVERAGE POULTRY ROASTER
Create mouth-watering chicken enhanced with flavors only produced in a grill, or take this accessory to the next level. Prepare anything from nachos, chocolate fondue, or even a luscious cake. We'll leave it up to you, your imagination, and midday craving.
EXPLORE POULTRY ROASTERS
Spirit E-210 Gas Grill
is rated out of
5
by
734
.
Rated

5

out of

5
by
Dogonit
from
High Quality Materials.
I went all of last year using my "portable Weber Grill" that I have had forever, because my full size four burner (not Weber) grill finally bit the dust after 7 years. My wife surprised me and bought me the Spirit E-210 and although it has only been a couple of weeks I am very impressed with the ease of use, functionality, and quality of materials at a reasonable price. Let's hope that my perceptions of the quality hold up over time, but nevertheless it is a nice size, heats up quick, holds the heat, and looks good too. I purchased the Griddle separately (which I felt was a bit expensive), but it has been a great addition. Overall, very happy with it.
Date published: 2019-07-05
Rated

4

out of

5
by
RagMan55
from
Great Warranty
Temperature exceed 400 degrees within minutes. Burner box and every thing inside of it is quality...burners, igniter, grates, etc are superior to any grill in this price range that I have ever owned. That said, the lower section of the grill needs improvement. Loading a full tank of gas onto the tank gauge is at best VERY difficult. What concerned me more is how fast the lower section began to rust and chip. Within a year, I prepared the lower section and spray painted it with a rust resistant spray paint and it appears to be holding up. I wish that I had done this sooner as I hope to have this grill for years to come.
Date published: 2019-06-13
Rated

5

out of

5
by
bobber 911
from
ideal features....particularly the CLOSEd IN tank
This is the 2nd E-210 that we've owned. The first one, a long time wonderful partner in many an grilling experience. Simply died, it was 11 years old....It still worked but the bottom had rusted where the sides meet, and was no longer safe. Weber makes all the parts available to make it right, but it was time for a replacement. Off to Lowe's and purchased this new one, and it's working just like the other. In fact I've decided to hook it up to my whole house propane gas system tank and never have to go fetch another tank refill. We love this grill and use it year round, even cooking our traditional Steaks on Christmas Day, regardless of weather.
Date published: 2019-07-19
Rated

5

out of

5
by
JeffreyS
from
Perfect Choice Without Going Overboard
For just the two of us this is the perfect size grill. After comparing it with the Spirit II it became apparent the small savings versus having an enclosed cabinet allowing hiding of the propane container and collapsing of the right side shelf was the right choice. Their support team is very knowledgeable and full of information. Don't overlook calling if your have questions. If purchasing the rotisserie make sure you get the model for this grill as opposed to the one which fits both the Spirit II and this one. This avoids having the motor AC cord coming at you from the front left side. The correct model placed motor on right side with AC cord facing the back.
Date published: 2019-08-21
Rated

5

out of

5
by
Mears
from
Excellent Grill
I purchased this grill at Home Depot in May. It was very easy to put together, since the instructions were well written. I always wanted a Weber grill and finally decided to spring for the expense. What sold me on the E-210 was it quality and the fact that it was the only Weber grill I found with fold down side supports for accessories and plates. Weber needs to rethink its decision to not include the fold down feature on its other grills. I have used the grill twice and find that it heats ups quickly and is able to maintain the temperature I set unlike previous grills I have owned. I highly recommend the Weber Spirit E-210 propane grill.
Date published: 2019-07-10
Rated

5

out of

5
by
fv12
from
Good Grill
I was a little concerned reading some of the reviews that described the grill not getting hot enough. My grill heats up to 590 degrees, if the temp guage is correct. I like the coating on the cooking grates that makes it easy to clean. I also like the foil disposable drip pan. Though it is not filling up as quickly as I thought. The electric starter works well. I've only had it a few months and so far I think this is a very good grill. One reason for purchasing this model is the lower potion of the grill is enclosed. So the gas tank & any tools are stored out of sight. I think this is a pretty good grill for the price.
Date published: 2019-06-21
Rated

4

out of

5
by
Travesty
from
Perfect size for our needs
We have had this grill for about three months now. We were originally looking at the 310 but the smaller 210 is perfect for our needs. We are a family of five but the two burners and surface area fit everything we cook including London broil, chicken, burgers, and steaks. The grill went together easily. The instructions are easy if you build or assemble things regularly. I can see how they are a little confusing for some that don't usually assemble things. My only complaint would be that the drip pan builds up quite a bit and only the juices slide into the drip pan collector. Overall it's a great grill and we thoroughly enjoy having it.
Date published: 2019-08-29
Rated

5

out of

5
by
Wubis
from
So much better to cook outside
I think food tastes so much better on the gas grill than on my stove or oven. Potatoes and corn have such a great taste and all the meats cook to perfection. I bought the vegetable basket and everything tastes wonderful. The meats don't dry out. They come out perfectly. I just love sitting on my patio cooking a meal. It makes cooking fun and relaxing. I've owned 4 Weber charcoal grills, but we now have spare the air days, so gas grilling is much less harmful to air quality. I highly recommend this grill. I was lucky to have it delivered and assembled and had the gas tank thrown in for free by the local hardware store I bought it from.
Date published: 2019-09-15
Rated

5

out of

5
by
Mike43NC
from
Great grill & even better customer service!
I bought this grill a couple of years ago and enjoyed it tremendously. Works great and is very compact for storage on the deck. Recently I had the propane tank filled at a local company and reconnected it to the grill. It froze the regulator immediately when I turned it on. I contacted Weber to buy a new hose with the regulator and they informed me that the tank was overfilled and that's what caused the damage to the regulator. They mailed me one for free even though I was out of warranty! Hooked up the new one and it works like a charm! Make sure your propane supplier weighs the tank to assure it's filled appropriately
Date published: 2019-08-29
Rated

1

out of

5
by
Terr
from
Looks nice, but very poor for grilling
I bought this grill 2 summers ago, wanted a smaller grill to use at the cottage. It does not retain heat. You have to get it to 500 F, then put the meats on the grill, and do it quickly. As soon as you open the cover, the temperature of the grill drops fast to 300-350 or lower. I have never had a gril this poor for staying hot. As a result, you put your steaks or burgers, or whatever else on the grill, but you can only get them seared on one side. It tkes forever to heat up again. Weber usually makes great grills like the Genesis, but this one is terrible.
Date published: 2019-04-03
Rated

4

out of

5
by
surfer53
from
consistant results in cooking ,But .
I have owned Weber grills for 25 years . i'm also a retailer of weber grills in the hamptons for 25 years . It was a no brainer to buy one from another retailer since moving to N.C. I find out that you have changed the gas valves . Using new ones that have much thinner stems that the knobs go onto . The problem is that when someone does not push the knob in all the way, the knob strips right away. ( my wife will not use the grill any more. she says its a stupid grill.) I've tried to call and discuss the issue with Weber customer service but it fell on deaf ears. Too bad , little things like this can kill a good reputation. Remember , Im a retailer . regards Bob.
Date published: 2019-06-13
Rated

5

out of

5
by
Philly Griller
from
Excellent quality. Terrific customer service.
We have enjoyed using this grill. The cooking power is strong and even. It starts effortlessly. All the hardware (casters, handles, hinges, etc.) are very nice quality. The tank gauge is a much appreciated feature, although we're on the first tank since we got the grill so I can't attest to it's precision yet. We discovered one damaged part when we were assembling the grill. When we called the customer service number, on a Sunday, someone picked up within three rings and began the procedure to provide a replacement part. She was really friendly and helpful. That part was delivered free of charge within the week.
Date published: 2019-09-30
Rated

5

out of

5
by
JKGraham
from
Great features!
I bought this 2 months and once I figured it is pretty awesome. At first I could not get it up tp 500 degrees. I feel stupid I thought all the way to the right was high nope. It is on high. I love it and now I get a very good char on what I am cooking. A repair man from Weber came to my house just to find out what was wrong. It was the user (me) nothing else. He cleaned my grill even we visited some and he was a awesome man.
Date published: 2019-10-15
Rated

4

out of

5
by
Vegas Bob
from
Good Quality
I bought the enclosed model rather than the cart style due to looks and the four sided enclosed tank compartment. Works well so far decided to buy a Weber after years of using basic big box stores cheaper quality grills. Had the features I was looking for for use on a wooden deck condo in Michigan. Seems to be sturdy and fires up and heats up quickly. Remember its a grill not a BBQ or smoker. Good for quick things steaks chops brats Tri-tip etc.Had to order it from a local hardware store none in stock only cart style plus it was 50 bucks more for the cabinet style . Maybe my last grill time will tell. Cover fits ok that was extra 60 bucks no better than a generic style.Worth a look if its in your price point.
Date published: 2019-07-10
Rated

4

out of

5
by
LeeW
from
Mixed feelings about my new Weber Grill
My Spirit E-210 was purchased to replace an old Genesis that died. Things I like: 1. Heats quickly and burns efficient - it doesn't use much gas to keep the temperature up. 2. Controls on the front, leaving the right side surface free for use. Things I miss or don't like about the Spirit: 1. Tank mounts inside the cabinet, which makes it harder to mount. 2. No second swinging upper warming rack, even though are mounts for one inside the cover where one could hang. 3. No tray for holding things like marinade bottles or packaging when you are putting meat on the grill.
Date published: 2019-07-09
Rated

5

out of

5
by
echannell
from
Worth the money
Went to store to buy Spirit 2 but also looked at the original Spirit model also on display. Spirit 2 felt flimsy and looked ugly compared to the original. Even though Spirit 2 was on sale for $350 I ended up paying $400 for the original Spirit model because it felt more solid, looked sleeker, and allowed both shelves to fold. (The sales guy said Weber screwed up with the design of the new model and they probably will discontinue it. He also said the original Spirit model was outselling Spirit 2 significantly and I can understand why). After a month of grilling, I'm very happy with the performance of the grill.
Date published: 2019-07-23
Rated

5

out of

5
by
LBin AK
from
Love my Weber E-210
This is my first Weber product and I bought this little Weber for it's size and ease of cleaning with the removable drip tray and pan and also it's great warranty. I have used it 4-5 x week this past month and love it. It has wheels so it moves around on my porch with ease and it has great even heat on each burner. The only thing I would change is the tank weighing hook for the propane. It is not easy to be lifting a full tank while bending over to set it in the slot for the scale that tells you if the tank is full or empty. I think a platform under the tank would have been easier to use for us over 60 crowd. Other than that I wouldn't change a thing and look forward to many years of use with a great Weber Product.
Date published: 2019-08-03
Rated

3

out of

5
by
beachmom561
from
Meh
I bought this to replace a Kenmore grill I had for 14 yrs. The kids are gone so we decided on a smaller grill. Weber has a great reputation so we went with the Spirit E-210. I must say, I am pretty disappointed. It doesn't get hot enough to sear a steak. I have to cook with the cover closed if I want any sort of heat. Right now, for example, I have had my cast iron pan on the grill on high for about 20 minutes with bacon in the pan. The bacon isn't cooking. The fat isn't even begun to melt. If I hadn't had this for as long as I have, a month or so, I'd return it.
Date published: 2019-07-07
Rated

4

out of

5
by
Daddy Cool
from
Great Features
We bought this BBQ because we were downsizing and it seemed to have all the bells and whistles in a compact package, including rotisserie possibility. The two fold down side trays are a space saver. We also like the fact that it has a mostly closed in lower cupboard for the gas tank so that it is pleasing to the eye and takes up little space. Two nice features are brakes on the wheels (which for us is a bonus because of wind problems on our deck and the fact that it is a comparatively light BBQ) as well as having a gauge which measures the fullness of the gas tank.
Date published: 2019-06-10
Rated

4

out of

5
by
Forget about it
from
Good so far
So far I'm very pleased with the grill. It was packaged well and assembly was easy as all the pictures correlated with the parts and hardware. Assembly took only about 2 hours. The grill works great but we have only used it about 10 times at this point. It lights with ease and responds well to adjustment. The real test will be when it's January and 10 degrees and I'm trying to grill a steak. I especially like the fact that the side shelves drop down out of the way. This makes storing the grill in my small garage easier. I prefer to keep it inside out of the weather than on the back patio even with a cover.
Date published: 2019-08-01
Rated

3

out of

5
by
BillinWB55
from
Works OK. Could stand improvements.
I bought this E 210 to down-size from a 6 burner beast. the size is more than adequate for 2 people. Cooks OK. Ergonomics are OK. I like the fact that the tank is inside the cabinet; not off to the side, like newer models. Both the side shelves fold down, also. Not so with newer models. I wish there were a Stainless Steel option for the cooking grates, though. And 4 smaller grids, instead of 2 large ones. If the cooking grids were SS, and smaller, I could wash them in the sink after using them. Much more preferable to scraping dried crud off of Cast iron. I'm a PK fan, so I'm not impressed easily.
Date published: 2019-08-11
Rated

5

out of

5
by
IL Grilling
from
Buy a Weber Today!!
We have not grilled for years because we did not enjoy the quality of the food that came from our grill. For years we were sure my husband was jinxed with an inept grilling gene. Recently we decided to give grilling one more try and this time we decided to not buy the grill that was on sale or the more economically priced one. We had been told for years about Weber grills and their quality so before we went shopping we did some research and found that the Weber Spirit got very high reviews and . . . well the rest is history. Now we can't get enough, we want to grill every evening. It is amazing how good food tastes when the grill does not flare up and turn it in to a hockey puck. I have to go now and cook some hamburgers!
Date published: 2019-07-23
Rated

5

out of

5
by
1689man
from
Weber Excellence Shines
I already have a four burner Weber Genesis II which is great. My wife and I use it for rotisserie and indirect cooking but it is too much grill for just a couple pieces of meat. We've added the Spirit E-210. What can I say. We love grilling. This grill is fantastic. It heats quickly and evenly and the heat is easy to control. Its the perfect grill for a quick burger, steak, or chicken breast. The quality of this grill is superb. I highly recommend it. We still love our four burner but this grill is a great addition, heats quicker, and uses less propane.
Date published: 2019-06-20
Rated

5

out of

5
by
Luvtheoutdoors
from
Long Lasting!!
We have had Weber grills since the 1990s. This is our second Weber grill. These grills may be a bit more expensive but they are worth it! They last for years!! We are ready to purchase some replacement parts, but only because we do not maintain the grill. Our grill is 6 years old and was left out this winter with no cover. Still lit right up! Once we spend about $200.00 for the parts, I am sure it will last another few years! No real problems with grilling. Wish we had purchased the model with the gas gauge that lets you know when to refill the tank.
Date published: 2019-05-04
Rated

5

out of

5
by
patrick84
from
Perfect Grill!
Bought this 5 years ago, if something happened to it I would get a new one immediately! We cook on it almost everyday year round, we live in Florida so we can do that. We cook boneless skinless chicken breasts and thighs on it all the time and they come out perfect. with a little practice I got steak grilling down to a science, grill has held up very well and the warranty service has been great. I have recommended this grill to friends and they have been very pleased with theirs.
Date published: 2019-05-08
Rated

3

out of

5
by
rick12
from
Nice size
Easy to work on but I find the turndown ratio is not enough. I find I do not have the control that I would Like .Example, The right hand element does not seem to turn down when you adjust it.. I find I am burning more items now than I used to on my old Cheap Broil mate from the TSN store. I bought this unit because of its size and but I am a little disapointed with with the control.
Date published: 2019-04-02
Rated

3

out of

5
by
Johnster
from
Not hot enough
I bought this for our trailer, so I thought the 2 burner model would be sufficient for our needs, and while it is a solidly built grill, there just isn't enough heat generated by the two burners. Even on a warm summer day, I couldn't get it hot enough to decently sear a couple of steaks. I'm sure it will last a long time and perform well enough for what it is, but after one season of use, I'm already thinking about upgrading to at least a 3 burner model.
Date published: 2019-04-02
Rated

4

out of

5
by
Musicmaker
from
Built to last
I debated whether to buy a lessor priced grill or go with the Weber. I wanted a two burner due to just two in the family. After talking to multiple employees at Lowe's they said how many grills at this price have a 10 year warranty? Bottom line, Weber grills are more sturdy. The materials used are stronger and should last longer. The only issue I have is the base for the gas tank could be a better design instead of a plastic base. Without the separate base the tank has to be removed to move the grill. I highly recommend this grill
Date published: 2019-06-15
Rated

5

out of

5
by
RogerL
from
Great Grill & Rib Smoker
I've owned my Weber E-210 Gas Grill for 3 years. It's the best grill I have owned. Last year I was going to buy a smoker for smoking ribs. I'm glad I tried smoking them in my Weber grill first because it does a great job. I wrap dry Hickory Chips in aluminum foil and poke holes in it for smoking and us the 3,2,1 rib recipe and us just one burner at 225 Degrees and they turn out as good if not better than any smoker could do. I love this Grill.
Date published: 2019-04-03
Rated

5

out of

5
by
Gracie 68
from
Heats up fast and cooks evenly!
I love this grill ...! I love that it gets to 600 degrees in about 5 min ...saves on propane and can eat alot faster....Very roomy too....I've bought many grills through out my lifetime and this is by far a very strong , durable, consistant, and reliable grill...ive had it about 1 and half years now. The only issue im having is with the push button...it seems to have lost its spunk...i have to push in about 3x before it ignites..other than that it is quite Awesome...cooks great even in the middle of cold N.E.weather.. .
Date published: 2019-06-29
bvseo_sdk, dw_cartridge, 16.1.1, p_sdk_3.2.0
CLOUD, timer 225ms, 0ms
reviews, product
bvseo_sdk, dw_cartridge, 16.1.1, p_sdk_3.2.0
CLOUD, getContent, 0ms
reviews, product
Keep

Exploring
Spirit Series

Spirit E-310 Gas Grill

Spirit Series

Spirit E-310 Gas Grill (Natural Gas)

Spirit Series

Spirit E-330 Gas Grill