HERE'S TO YOUR FIRST UPGRADE
Weber
Spirit II E-310 Gas Grill

Black
Image for capacity demonstration purposes only.
Actual product model and features may vary.
Step up your grilling game with the Spirit II E-310 gas grill. This three burner grill has a spacious grilling area and convenient side tables for placing serving trays, and tool hooks for hanging your tongs and spatula. With the powerful GS4 grilling system and iGrill capability, you're already set up for BBQ success.
Part #45010001
Main burners: BTU-per-hour input

30,000

Dimensions - Lid Open (inches)

57"H x 52"W x 26"D

Dimensions - Lid Closed (inches)

44.5"H x 52"W x 27"D

Primary cooking area (square inches)

424

Warming rack area (square inches)

105

Total cooking area (square inches)

529

Weight (pounds)

114

Stainless steel burners

3

Fuel type

Liquid Propane (20 lb. tank sold separately)

Side tables

2

Durable all-weather wheels

2

Tool hooks

6

Battery type

AA

Batteries

1

GS4 Grilling System

Infinity ignition

Stainless steel burners

Porcelain-enameled Flavorizer bars

Grease Management System

Features

Porcelain-enameled, cast-iron cooking grates

Porcelain-enameled lid

iGrill 3 compatible (accessory sold separately, not included)

Built-in lid thermometer

Fold-down left side table

Open cart design

Fuel gauge - LP models only

Stainless steel heat deflector

Panel frame

Left table down width - 42 inches

All Parts

10 Years (excluding normal wear and tear and subject to additional terms and conditions in the warranty)

Proposition 65 Warning: Handling the brass material on this product exposes you to lead, a chemical known to the State of California to cause cancer, birth defects or other reproductive harm. (Wash hands after handling this product.)




Combustion by-products produced when using this product contain chemicals known to the State of California to cause cancer, birth defects, or other reproductive harm.



Image for capacity demonstration purposes only.
Actual product model and features may vary.
Durable all-weather wheels

Porcelain-enameled, cast-iron cooking grates
---
---
---
CAPACITY OF THEE-310
The perfect size to grill up a couple of burgers for everyone in the family, or switch it up with chicken and steaks. With side tables for placing serving trays and spices, the Spirit II adds convenience and simplicity to everyday life, and nobody left hungry.
Image for capacity demonstration purposes only.
Actual product model and features may vary.

Serves 5-7 people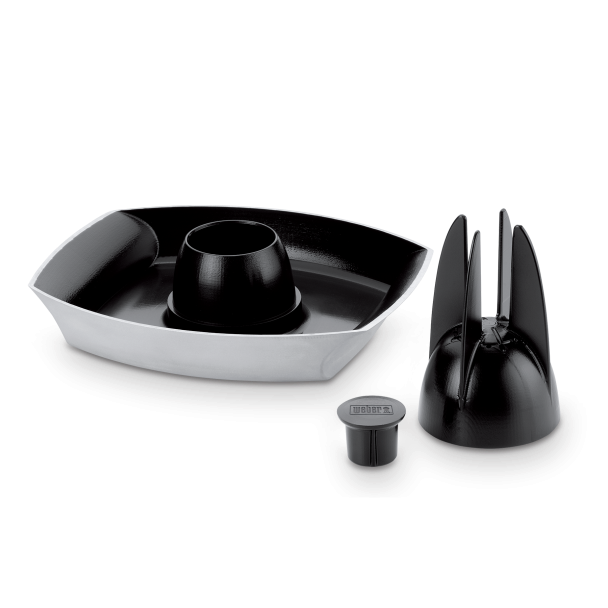 Think beyond the name
NOT YOUR AVERAGE POULTRY ROASTER
Create mouth-watering chicken enhanced with flavors only produced in a grill, or take this accessory to the next level. Prepare anything from nachos, chocolate fondue, or even a luscious cake. We'll leave it up to you, your imagination, and midday craving.
EXPLORE POULTRY ROASTERS
Spirit II E-310 Gas Grill is rated out of 5 by 3547.
Rated 5 out of 5
by
O YC
from
Nice and hot!!
This grill gets nice and hot at all surface areas.
Date published: 2019-08-15
Rated 4 out of 5
by
Rufus4
from
Not what we are used to with Weber quality
Our old Genesis silver lasted us almost 20 years. We decided to stay with a similar model for our new Weber. Quality is not there compared to the old Weber. Though we do enjoy the new grill it is almost impossible to move around - and yes - we did assemble it correctly! Why didn't you put a handle on it - instead of the flimsy shelves??? Also the new cover is no where near the quality of our old one. We'll stay with Weber as long as we continue to grill - but it's not the grill it was 15-20 years ago.
Date published: 2018-05-20
Rated 5 out of 5
by
Trust me, buy this grill
from
Amazing grill
I finally bought the grill that I should have bought years ago. After my latest inferior grill kicked it I realized that I wasted money over the years buying the cheaper grills. You really do get what you pay for. The quality of a Weber cannot be beat. I use my grill on average three times a week. I have had 23 pork chops on this grill with zero flare ups and zero hot spots vs cold spots. Even cooking over the entire grill. Wind no longer matters as I have grilled on blustery days and the Weber stayed lit. I can also get rid of my grill mat as no grease drips out of the grill. Great product and we'll worth it.
Date published: 2018-06-16
Rated 1 out of 5
by
Jimmny
from
Huge disappointment
Compared to the previous spirit line of grills, the lack of the coaster wheels makes this new grill close to impossible to move around my patio for a senior citizen with any lifting restrictions, and my wife can not move it either. With the limited display of grills at Lowes, it was my mistake to do my shopping on the web. If there were handles to lift the grill on the stationary end, this might make the grill more usable. After 20-30 years of fantastic Weber products, this one needs to go back for redesign. People buying this product should see it and try to move it around BEFORE purchasing this product to see if it is the right product for them.
Date published: 2018-09-27
Rated 4 out of 5
by
Capt Joe
from
B+ but fix that flimsy folding table
Great grill. Holds temperature very well. Good grease drain so no flare ups or fires. But do not attempt to move this grill especially on a grass or dirt surface. It seems there was no thought whatsoever how to secure the folding table so one may safely roll the grill in and out of a garage for instance. The grill has no handles or anywhere to grab, and the folding table is way too flimsy to safely roll the grill on its wheels. Too bad. Because of this, I would not consider another
Date published: 2018-04-14
Rated 2 out of 5
by
Jdubya
from
Over priced
Returning this grill today after 3 weeks. The value is just not there, no features, very bare bones, hardly worth the $500 it cost. And...the $60 "weatherproof" cover does not keep out the weather, pulled the cover off after a little rainfall and the grill was soaked. I also spent almost $100 on the proprietary rotisserie, you cannot put anything larger than a 3 lb chicken on it or it hits the flavorizer bars, so you need to remove them as well as the grates which means there is no where to place the foil catch pan. I'm not anti Weber, I have 2 WSMs and a 22 1/2 kettle, but the features you get in their $500 gas grill are just not worth it...
Date published: 2018-06-13
Rated 5 out of 5
by
DavidB
from
Great purchase
After years of buying the cheapest grills I could find (Walmart, Home Depot, etc) and then tossing them after 2-3 years - I finally decided to move up to something with more quality ... I bought my new Weber at the beginning of summer and it is working great - quality heat and cooking ... no flare ups/burning grill issues. My only negative comment is that it can be difficult to move it around on the patio - the folding shelf doubles as a handles to roll the grill - but it feels pretty flimsy when there is any resistance on the wheels. Not a huge issue - but something to note. Otherwise, very happy with this purchase.
Date published: 2018-07-12
Rated 5 out of 5
by
TimboSlice
from
Worth the money
Weber's reputation as high quality is widely known. Most of my buddies who are serious about grilling own Webers. I finally broke down and spent the money for a Weber. Really glad I did. Quality of the materials is excellent. Grills great. Fairly easy to clean up. Good looking grill. I also splurged for a Weber cover, while over priced, it too is a quality product. One complaint: it is very difficult to move the grill. The collosaple shelf is also how you lift the grill to wheel it around. It is awkward to get a good grip to move the grill. Poor design, in my opinion. If you always wanted to own a Weber - buy it, you will be glad you did.
Date published: 2019-07-08
Rated 4 out of 5
by
DiDi
from
It's a Weber!
Purchased to replace a 9 year old Genesis model. I picked this Spirit II model, it's a bit smaller. The grill works great. The only negative I have: it's very difficult to move! The grill is very heavy and there is no dedicated handle or spot to lift up on the left side of the grill, to be able to roll the wheels on the right side. I find that I can only pull up on the underside of the left work table and it's not very comfortable. Also, the Weber BBQ cover made for this model is the most haphazard piece of plastic, like it was made to just throw onto several different models? Way too many Velcro fasteners. It just doesn't fit right.
Date published: 2019-07-19
Rated 4 out of 5
by
Mililani griller
from
Grills great but need wheels (4 instead of 2)
Bought E-310 couple months ago based on reviews and Weber's reputation. My old grill literally fell apart and always wanted a Weber for its durability and even heat distribution. So far so good but had issues with the left fold down tray slipping off the pin while moving grill. The bracket didn't line up properly, tried several times removing and re-assembling tray...it looked like parts were misaligned. Weber service was excellent as we emailed back and forth. A new tray with brackets were sent and so far no slippage...I'm happy. However, I would suggest the next model have 4 wheels instead of two. My old grill was bigger but much easier to move around.
Date published: 2018-07-25
Rated 4 out of 5
by
Burger Bob
from
Cooks better then any grill I have ever owned!
I have had a lot of grills in my time and I have to say, this grill cooks better then anyone that I have own. We have used it a half dozen times within the last month and every meal has turned out great. There is only one thing that I would like to see changed. The wheels are on the right side of the grill, so you have to pick up the left side to move it. Well the fold down shelve is on the left, so when you want to move the grill, the shelve pops loose and wants to fold down while you are trying to move it. I suggest some kind of lock on the shelve so it can't fold down till the lock is released. Then I would have to give it a 5 star.
Date published: 2019-01-18
Rated 4 out of 5
by
A Davis
from
Even heat
I've owned this gas grill for about a year now and it performs very well. My only complaint, and it's a big one, is that the folding table on the left side has broken. This grill is moved by lifting up on the folding table while the table is locked in position. Apparently it's not a sturdy design and while moving the grill the bolts that the table locks on pulled through their holes. Now the table won't fold up and stay so it's useless. I have a great grill but can only use the small table on the right side when grilling. It's very frustrating. Anyway, I hope product development reads this and considers this when designing the next version.
Date published: 2019-06-12
Rated 4 out of 5
by
The "Baked Bean Master"
from
No title
I'm not "thrilled" with your new system of weighing propane volume. It constantly has to be physically moved before it indicates the weight of the remaining propane and it never shows the "Red" indicator in the same place as the prior shaking effort. In addition; the two buffer pads that kept the tank from dragging on or scratching the unit had to be removed because they kept catching on the tank weld seam. My old barbecue's visual ( Green, Yellow, Red ) indicator was clearly more accurate. Other than that "little" issue, it does cook food faster and more uniformly than our old one so I guess we'll keep it
Date published: 2018-07-11
Rated 5 out of 5
by
Hkearns
from
Off to a good start!
This was our first gas grill purchase. We had used small charcoal grills in the past for cooking outside. Recently we decided to purchase a gas grill. One of our sons had a Weber grill and was very satisfied with its durability and performance. In the few months that we have had the grill, I can only write positive comments. I should also mention that I had a concern about the grill hot heating up as high as I thought it should during my initial use of the grill. I called customer support and I was quickly helped with the issue and given links to web sites for recipes and instruction on the use of our new grill. We are off to a productive start.
Date published: 2018-09-24
Rated 5 out of 5
by
ODD62
from
Outstanding design & construction
Great design & construction features! This grill was very easy to assemble. All of the parts fit together like they are suppose to without having to force any of them into place. Specific features worthy of highlighting include the independent starting system which is easy to install and remove if needed; outside mounting & access of the propane tank; easy to read weight scale of propane tank; all of the heating & cooking parts are very assessable for cleaning and it's a very compact, sleek looking grill. We bought one to give as a Christmas present and after putting it together, went right back to the store to buy one got ourselves.
Date published: 2018-12-29
Rated 5 out of 5
by
Webhead66
from
Built well, great customer service
Ordered from home depot. When I unpacked the parts to assemble it, the two main pieces of the frame were bent. I called customer service. I had the grill registered and replacement parts ordered within a half hour or so. It took a couple of days to get the parts and about an hour and forty five minutes to assemble. It went together well and I could tell the difference in quality from other grills I have assembled. Cooking in it is a dream. When I preheated it for the first time. It only took five minutes to get to 550 degrees. I had two t bones seared and resting in ten minutes. Well worth the extra investment to buy a Weber. Love it!
Date published: 2019-07-29
Rated 5 out of 5
by
Castguard
from
Graduation Present
I have wanted this grill for 3 years. I sometimes would go to Home Depot just to look at at but I couldn't afford it. But my mother in law surprised me with a Home Depot gift card as a graduation and there was no hesitation what I wanted to get. Funny thing is that my daughter wanted to put it together so we went from store to store until we could find one still in the box. She is 8 years old but she did it in 3hrs. Armed with my new grill and my little engineer we set out to conquer what was left of the summer and grill away our fears and concerns and just enjoy food the way it was meant to be. This grill did not disappoint! I absolutely love it!
Date published: 2019-07-16
Rated 5 out of 5
by
MattH
from
First gas grill. This got me back into grilling!
I bought the grill about a month ago and have used it about ten times already. I've only owned charcoal grills and still love them but once my son was born 4 years ago, I just never had time to go tend the grill for meals. This summer when I saw the Spirit II at the store, I knew this was my intro gas grill. A great price for a grill with plenty of capacity and a reputable name to back up its performance, this was a perfect grill for me. The burners are incredible. After the first cook on it, I went back out that night in the dark just to light them again and admire their precision. Great job on this grill that will get over 1000 cooks on it!
Date published: 2019-07-14
Rated 4 out of 5
by
Ryan87
from
Good bbq. Had propane leak within a month
I have had this bbq for almost 2 months now and used it a dozen times. After about a month, I noticed a hiss coming from the hose that connects to the coupling that attaches to the propane tank (from where the hose connects to the coupling, not the coupling to the propane tank). I called Weber and they were very helpful but said the hose I needed was on backorder. They were unable to tell me if it was on backorder because a lot of people were having this same issue but seems related. So i has to buy the part from a third party and wasn't able to bbq for a couple weeks. Besides that, I am very happy with the bbq. Cooks even and gets hot.
Date published: 2019-08-03
Rated 2 out of 5
by
mmcg54
from
Very Uneven Heating
After reading the reviews and hearing about the warranty, I decided to purchase the Spirit II E-310. The grill I purchased seems constructed from quality materials, but it has the most uneven heating I've ever seen. It's terribly frustrating. The left front portion just doesn't seem to work. I don't know what the deal is. I had an expert come in and install it. I've been grilling for over 10 years. I've used all sorts of grills. I paid more money to get a Weber because of the warranty and the supposed quality of the product. I definitely regret the purchase, and I wouldn't recommend it to my friends. I dexpected more from a Weber grill.
Date published: 2019-07-08
Rated 2 out of 5
by
Grilling Bill
from
Less Is More
This is my 4th Weber (we move a lot and I leave my old one behind) and my biggest disappointment. I paid virtually the same price as my previous models but this model has the least to offer. No cabinet doors for storage. The grill "lid" is constructed of light material and not as solid as previous models. The propane tank visibly hangs out under the right shelf making the grill look cheap as well as making your grill deck look cheap too. The wheels are fixed so turning the grill is difficult. Thankfully it still cooks great. Finally, to move up to the next model was like a $400 upcharge which is rediculous. This could be my last Weber.
Date published: 2019-01-17
Rated 4 out of 5
by
HR Griller
from
Very efficient heat and cooking
I owned a Weber grill for many years and it was extremely dependable. This summer, I treated myself to a new one and chose the Spirit II E-310 Gas Grill. I am impressed with the grilling experience. The heat is accurate and efficient. But... there is a design flaw in that it is not easy to wheel in and out of the garage because there is no way to easily hold onto the side without the wheels to roll it and move it. The drop down shelf is not a suitable "handle" when it is in he up position. (Don't want to damage the lock mechanism.) Reaching below it results in holding onto sharp edges (I wear work gloves) and having to crouch down while wheeling it.
Date published: 2018-08-19
Rated 5 out of 5
by
Shawk79
from
Fantastic Grill
This is my first gas grill, I have ever used. I have always been a charcoal guy and never thought anything of a gas grill. That changed with this beautiful Weber grill. Things are made so easily and they come out surprisingly like the food I used to make on my charcoal grill minus the smokiness. There is a trick to getting a smoke flavor in your meat and that is light a small coal and throw a couple drops of oil on it. The smoke that comes out from the oil and coal will flavor your food to your liking. Overall thank you so much Weber for making such a awesome grill. I actually made some rib eye steaks on it and they came out melting in your mouth. Here are a couple of pictures!
Date published: 2019-07-29
Rated 5 out of 5
by
jon b 1@3
from
THE BEST GRILL
This is my third weber grill. The first two are still working but have been given to relatives. My new grill works very well. It heats up quickly. The cooking grates are very sturdy and easy to clean. The body is sturdy and all of the components work well. I keep it inside my garage so it should last for many years. I know from experience that replacement parts are easy obtained if necessary. My only complaint is that set up for wheeling it from place to place is a little less sturdy than I would like but it is passable. I have owned other grills and I would never consider anything but a weber.
Date published: 2018-03-29
Rated 5 out of 5
by
Born
from
Perfect for grilling!
I got this gas grill about 2 months ago and so far I am enjoying it very much. I grill all kinds of meat: chicken breasts and wings, steaks, burgers, and even use it along my cast iron pan to make steak sauce. Overall it is easy to use and the heat is very uniform, there is definetely a hot spot on the right, where the temperature differs, but that actually gives you flexibility for the heat gradient. The tank meter, in my opinion, is not very accurate and I would just get rid of it as most propane tanks come with a built-in meter. I have iGrill3 ready feature, but again that's too fancy for me and I use a regular instant thermometer.
Date published: 2019-06-15
Rated 5 out of 5
by
Hanko
from
Excellant grilling
I replaced an older model, 1100 I think, that I had for 25 years. This makes my 6th Weber that I have owned. I still have three others. I like the heat controls and the ability to control the heat. I have not used this grill but a few times due to weather and travel. I purchased the red lid model and am disappointed in the presences of the black specks in the finish. Weber did send me a replacement but that too has the black specks. A customer service rep explained to me that they could not get the specks out of the finish for red and pearl white but it did not affect the performance, which I agree but I am disappointed it the specks appearance.
Date published: 2019-07-19
Rated 5 out of 5
by
TennisGal
from
Love this grill
Great grill for a reasonable price. Perfect size for a family of 4 or 5 but enough room for guest portions. We cooked for 8 on the 4th of July. The first time we grilled our chicken stuck badly. We did preheat the grill but forgot to brush the grates with a bristle brush as recommended. Not sure if that would have made a difference. Food has not stuck since. Tray on the left can be lowered but the tray on the right is stationary. No side burner but not something we ever used even when we had it. Delivered installed so do not know about ease of installation. Have owned Weber previously and it is a good quality grill. Highly recommend.
Date published: 2019-07-11
Rated 4 out of 5
by
Rschett
from
Cooks evenly
I am replacing an earlier spirit model that I have owned it for 10 years. That spirit was still going strong except the grates had corroded through for the second time and I decided to start with a new one. My new spirit starts easily and cooks nicely. My only complaints are that the open shelf below does not allow me To store the grill brush because it will be exposed to rain. I wish there was an enclosed cabinet with doors. I also don't love the stainless steel. Everything from rain to splattered grease leaves spots. I thought the enamel and plastic surfaces on my old grill held up better. I love that the burners run front to back, unlike my old one where they ran side to side.
Date published: 2018-07-15
Rated 5 out of 5
by
Beekeeper Bob
from
Perfect size, cooks evenly
I love this grill ! We came very close to buying another "disposable" grill that would last only 2 years or so. Fortunately we decided to step up and purchase this Weber Spirit II. It is solid, cooks all meats evenly, even in the corners (unlike the disposable grills we have had in the past where there are hot spots and cold spots). Because it cooks evenly, I can actually put more meat on at a time. The infinate temperature controls allow for more precise cooking and much more flavorful dinners! It is also looks great on our deck. We special ordered the Red color, well worth the wait. Hopefully it makes it more than 2 years, like all the others.
Date published: 2019-06-27
Rated 4 out of 5
by
T John
from
Nice looking grill
$400.00 + for grill seemed high but it was well built. I like the cast metal fire pit which will last a long time. Assembly went well. Plastic washers was a good detail to fend off rust is an advanced technique which I appreciate. I've used it only a few times so I'm getting used to it. Started without any problems. I like the tank hook up and gauge. Hopefully it'll last like my small table top gas Weber Grill that's 11 years old and growing strong. Well packaged and clearly marked parts bags. I would recommend a couple extra bolts, washers and nuts. Be careful where you assemble. Dropped Parts can slip through the cracks.
Date published: 2019-06-29
bvseo_sdk, dw_cartridge, 16.1.1, p_sdk_3.2.0
CLOUD, timer 183ms, 0ms
reviews, product
bvseo_sdk, dw_cartridge, 16.1.1, p_sdk_3.2.0
CLOUD, getContent, 0ms
reviews, product
Keep Exploring
Spirit II Series

Spirit II E-210 Gas Grill

Spirit II Series

Spirit II E-210 Gas Grill (Natural Gas)

Spirit II Series

Spirit II E-310 Gas Grill (Natural Gas)