FOR A LOOK AS BOLD AS THE FOOD
Weber
Spirit II E-210 Gas Grill

Mocha
Image for capacity demonstration purposes only.
Actual product model and features may vary.
Open your door to the world of grilling with the sleek Spirit II E-210 gas grill. This two burner grill is built to fit small spaces, and packed with features such as the powerful GS4 grilling system, iGrill capability, and convenient side tables for placing serving trays. Welcome to the Weber family.
Part #44070001
Main burners: BTU-per-hour input

26,500

Dimensions - Lid Open (inches)

57"H x 48"W x 26"D

Dimensions - Lid Closed (inches)

44.5"H x 48"W x 27"D

Primary cooking area (square inches)

360

Warming rack area (square inches)

90

Total cooking area (square inches)

450

Weight (pounds)

103

Stainless steel burners

2

Fuel type

Liquid Propane (20 lb. tank sold separately)

Side tables

2

Durable all-weather wheels

2

Tool hooks

6

Battery type

AA

Batteries

1

GS4 Grilling System

Infinity ignition

Stainless steel burners

Porcelain-enameled Flavorizer bars

Grease Management System

Features

Porcelain-enameled, cast-iron cooking grates

Porcelain-enameled lid

iGrill 3 compatible (accessory sold separately, not included)

Built-in lid thermometer

Fold-down left side table

Open cart design

Fuel gauge - LP models only

Stainless steel heat deflector

Panel frame

Left table down width - 38 inches

All Parts

10 Years (excluding normal wear and tear and subject to additional terms and conditions in the warranty)

Proposition 65 Warning: Handling the brass material on this product exposes you to lead, a chemical known to the State of California to cause cancer, birth defects or other reproductive harm. (Wash hands after handling this product.)




Combustion by-products produced when using this product contain chemicals known to the State of California to cause cancer, birth defects, or other reproductive harm.



Image for capacity demonstration purposes only.
Actual product model and features may vary.
Porcelain-enameled Flavorizer bars

Durable all-weather wheels

Porcelain-enameled, cast-iron cooking grates
---
---
---
CAPACITY OF THEE-210
The perfect size to grill up a couple of burgers for everyone in the family, or switch it up with chicken and steaks. With side tables for placing serving trays and spices, the Spirit II adds convenience and simplicity to everyday life, and nobody left hungry.
Image for capacity demonstration purposes only.
Actual product model and features may vary.

Serves 3-4 people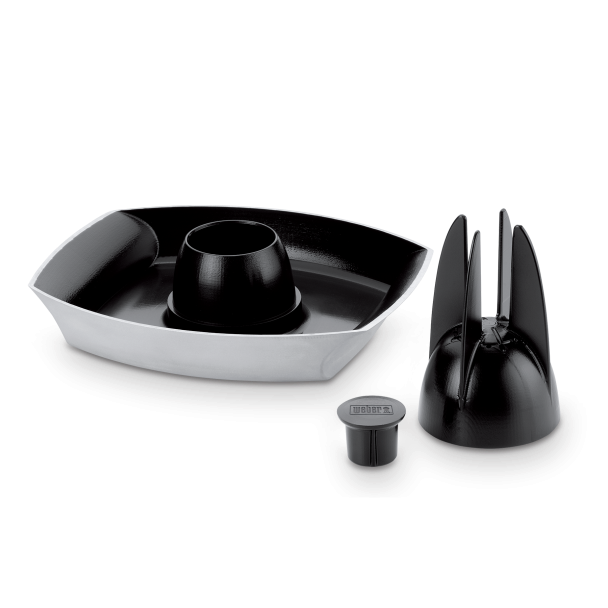 Think beyond the name
NOT YOUR AVERAGE POULTRY ROASTER
Create mouth-watering chicken enhanced with flavors only produced in a grill, or take this accessory to the next level. Prepare anything from nachos, chocolate fondue, or even a luscious cake. We'll leave it up to you, your imagination, and midday craving.
EXPLORE POULTRY ROASTERS
Spirit II E-210 Gas Grill is rated out of 5 by 4120.
Rated 4 out of 5
by
Rickster in NC
from
Solid working small grill
Bought from Lowes and shipped to my home address. Assembled it by myself on a brutally hot afternoon in my garage over the course four+ hours with lots of breaks due to the excessive heat. Directions were fine though I wish they would provide only what I purchased as the three-burner illustrations just make for confusion. Had to use force to bend the legs on and was short one washer. As for cooking, it worked fine. Have used it the last four Sundays. Easy lighting and no flare-ups. Two-burners is a good choice when cooking for 2-3 routinely. Bought a Weber grill cover, too, and it fits fine. What I don't like about is the lack of mobility and flimsy shelf when trying to wheelbarrow it around. It should have castors or wheels with locks!. This is just Weber being cheap. The drip pan was a pain to fit in place, too. I had read someone cut their hand badly doing this, and I can see how. The grill edges down low are quite sharp, so I wore gloves while trying to fit. Only thing remaining to be see is how long this will last. I'm hoping 10 years and more.
Date published: 2019-10-14
Rated 3 out of 5
by
Mgriller
from
No More Beer/Soda Can Chicken?
The grill works great (as we would expect from Weber-Great quality, lasts for years-we never purchase any other brand!). HOWEVER, with the shorter lids on your grills now we're no longer able to cook beer/soda can chicken as there isn't enough room between the grates and the lid. With beer/soda can chicken being such a staple in our house-we cook a few a month-we're so disappointed! We need to purchase another grill for another one of our residences-is there an option to purchase the grill with a higher lid? Yes, I would recommend this grill to a friend with a disclaimer regarding the beer/soda can chicken.
Date published: 2018-04-24
Rated 5 out of 5
by
JCK2019
from
Great Grill!
We bought this at the end of the summer and are very happy with it. Looks slick and clean. We got the blue, which is a nice change of pace.
Date published: 2019-10-14
Rated 5 out of 5
by
rlh45014
from
Perfect size and great performanace
I bought the small E-210 due to my deck size. I have found that the Spirit E-210 is large enough to handle the grilling needs of my family of 3 and small gatherings. I love the color choices and the performance of the grill has been awesome. I have not used the enhanced temperature monitoring feature yet, so no comment on the performance of this feature. Back to the size of this grill, in the past I have always owned large capacity grills. This grill is not huge but it is big enough to handle a lot of food. I cooked 12 burgers to perfection a couple weekends ago then 4 16 oz bone in steaks the next weekend. No problem, plenty of room. I am very happy with this purchase.
Date published: 2018-06-04
Rated 2 out of 5
by
Brownies6
from
Quality control could use some help
Weber has a great reputation but I'm wondering how it got it. We bought a brand new grill primarily on the basis of that reputation, and spent more money on the grill because of that. When it arrived there was a chip in the enamel on the lid exposing bare metal, a broken plastic bracket, scrapes and and scratches on its side. I would like to think this is rare, but other reviews on Amazon said similar things. When I called Weber they said there is nothing they would do. Seems sloppy and Weber didn't "stand behind their product" as I was told. The grill seems to function well, but Weber quality control and customer service wasn't there for me or my grill.
Date published: 2018-06-02
Rated 5 out of 5
by
Double Deuce
from
Better than I expected
Having had a four burner grill with 39,000 btu before I was concerned that this may lack the power needed to cook our food, but boy was I wrong. This grill heats up quickly and remains hot that often I need to turn down the temperature. So far I am very pleased with this grill. The cooking grates are easy to clean and I like that you can turn them over for wider or narrower ribs depending on what you're cooking. The tank gauge is a big help so you're not guessing how much time you have before the tank is empty. All in all very pleased, it's too soon to tell how it will hold up over time but Weber has a good reputation so I'm hoping it last a long time.
Date published: 2018-09-01
Rated 5 out of 5
by
Jenney18
from
Great for small spaces
I bought this as a replacement for a different brand of gas grill. Even though it is perfect size for my deck, there is a lot of room to cook anything I may want. The grates seem to clean well so far, but I've only had this for a short time and haven't really started grilling a lot. I love the tank holder feature that lets me know when to approximately have a second tank ready, my previous grill did not have this and that grill was more expensive. My fiancee, who hates gas grills, has even used this, and he was a major factor in choosing this grill, as he will only use weber charcoal grills.
Date published: 2018-04-16
Rated 5 out of 5
by
GED57
from
Just an awesome grill
Received this grill as a Father's day gift. It is well constructed and was simple to put together. Could have gotten it assembled but I just didn't want to trust as much care would go into the assembly as I would personally put in. Love the gas level indicator. The grill lite up on the first attempt and worked great. Bought the cover for it and several accessories. Highly recommend it.
Date published: 2018-07-03
Rated 4 out of 5
by
SpDyWiN
from
Awesome heat! Fantastic igniter!
I like the rapid heating and maintaining of high temperature of this grill. Easy grill marks on our steaks, chicken & burgers. The igniter is a dream! Easy lighting of the grill every time! A huge improvement over our previous Brinkmann grill. The only thing we have found we do not like is the flimsy side shelves. The function but detract from the overall sturdiness of an otherwise fantastic grill.
Date published: 2018-04-07
Rated 5 out of 5
by
Bear Grills
from
THIS IS A COOKING MACHINE
I'm the BBQ Specialist at LOWE'S Hunt Club in Ottawa and own 4 Weber BBQ 's. Mint condition 17 year old Genesis Silver, 2 Kettles and Q 1200. All of theses produce great meals. When customers come in looking to purchase a New BBQ I recommend Weber Products and show them pictures of my meals I cook. My biggest seller is the 2 burner Spirit II E-210. I decided to buy one myself and add it to my collection. I'm so impressed with this BBQ! In 12 minutes it reaches 550 degrees and After 15 minutes I'm at over 600 degrees great for perfect searing.
Date published: 2019-04-28
Rated 2 out of 5
by
Dorothy
from
Weber E-210 Gas Grill
So sorry I picked this grill. I should have went with the Weber grill I had before. My people that live next door to me bought this same grill and we are not happy about these grills. When you cook on it no matter if it is small or large the grill is so badly needs a scrubbing from top to bottom. If I would have known this I would have returned it the first time I used it. There was a debate should I buy the one I had for years or try this one, which the sales person said it has 10 yrs weber would stand by this grill. I never had problems with Weber with my last grill. I cooked everyday on my last one and had it for years. And they were both the same price.
Date published: 2018-08-20
Rated 2 out of 5
by
grill no more
from
Design seems very flawed
I bought this grill a few months ago. store assembled and delivered. I keep it stored in my garage. In order to grill I should be able to roll out and fire it up. Not so. As directions state: lift up side shelf & roll on its wheels. My shelf pops off every time. I talked with a rep at Weber and she checked out the model and told me it was doing the same for her. Like it was a normal situation.There are no wheels on the other side so you can't use the stationary shelf. It is a hassle for me as I cannot lift it to get it out to cook. Therefore I cannot use unless I have help. Big disappointment.
Date published: 2018-07-04
Rated 5 out of 5
by
SwanSailor
from
Great upgrade!
I decided, after MANY years to treat myself to an upgrade from my ancient Baby Q. I really wanted more than 1 burner but my deck is very small so size was a major consideration. I also love the reversible grates - thick side up for larger items & the thinner side for smaller/delicate pieces. The thermometer in the lid is great so I know when thoroughly preheated & for controlling temps during cooking. The propane tank hanger/scale is a nice touch but can be a bit tricky to hang a full tank as you have to reach under the shelf. If there was a way to fold that shelf up out of the way, it would make the process much easier.
Date published: 2018-06-03
Rated 5 out of 5
by
JUDI2
from
No complaints here!!!
I bought my grill almost a month ago. It was already put together at a big box chain store. I got 10% discount for military which is nice. The grill is wonderful; I gotta say everything I have cooked has been wonderful. Chicken doesn't flair and burn, in fct I think there is someone under the lid watching everything I cook as everything has turned out perfect. Love the size and even a 2 burner is able to cook plenty as you are not moving your food around trying to find a spot where it cooks properly. Every inch cooks the same. I'm going to try my favorite grilled pizza on it tonight. If that cooks perfect, I'll be buying my daughter a WEBER for Christmas!!!
Date published: 2018-08-30
Rated 5 out of 5
by
kaaap
from
First Weber
After a long string of $99 bbqs, we decided to take the plunge and go for a Weber. So far, so great. Fun to put together. Unique lighting system. Very versatile heating options. Food comes out great.
Date published: 2018-07-23
Rated 5 out of 5
by
Blade
from
Fantastic Grill!
We purchased this grill a month ago and have used it almost every evening! We'd stopped using our previous grill (different maker) because of "new" technology that was a complete joke and made the old grill really unusable fairly quickly. Rather than rig a way around the old grill, we decided the cost it would take should go towards a new grill. Boy did we make the best decision! The Spirit II is the perfect size for us, is easy to use, and most importantly to me, the easiest grill I've owned to maintain and clean. The construction is excellent--I wished I'd purchased a Webber before. Great product for us.
Date published: 2018-07-27
Rated 4 out of 5
by
Skullman
from
Nice Grill, easy to assemble, but . . .
Overall, a good purchase and great grill. Easily fits on a crowded elevated outdoor deck. Generates more than enough heat for grilling. Assembly was easy, except Weber had an addendum page on assembly that they FAILED to include in the assembly booklet. After finishing, found I had two extra screws, so I began looking back through the booklet to no avail. Then, by pure happenstance, I found it folded in half at the back of another booklet. When I looked at the page, it became clear where they go. Unfortunately, I had to disassemble part of the grill to install. (Note: These two screws secured the upper grill assembly to the frame). A lot of extra work for nothing.
Date published: 2019-06-13
Rated 5 out of 5
by
Dwoo726
from
Awesome grill for a compact size!
I've bought this to replace my Weber Q and absolutely love it. It heats up hotter and faster than my previous Weber. However the only downfall is that my wife keeps grilling on it so now so I can barely get a chance to use it. I let her pick out the color and she wanted the sapphire. I wanted black but was overruled....oh well. The blue looks awesome though. Only time that I get to use it is for my skewers which is fantastic. Highly recommend the Spirit for the price and warranty. Guess my next grill will be another 10 years from now just like my Weber Q. Anyways go and get a Weber because they last forever....
Date published: 2018-09-29
Rated 5 out of 5
by
Marci H.
from
Excellent Grill for home
I bought this grill over a month ago and it has not disappointed me one bit. I normally buy cheaper grills only to have to replace heat shields, racks and igniters. This grill was out of my normal price range but already I can see the difference in quality. My 14 year old son built this out of the box, which was nice since the instructions and parts were all easy to work with. The construction of the entire grill ensures that I will not have to replace heat shields and racks any time soon, if ever. I am so impressed with this grill. I also love the gas level feature that I didn't even realize was part of the grill. I am going to try the igrill feature and app next.....
Date published: 2018-07-14
Rated 5 out of 5
by
Anonymous
from
Feel the quality!
Second Weber grill, minimum propane usage, sound construction, easy to cook, and easy to clean! We grill five nights out of the week, between household chores, homework, and dinner, the evenings fly by quickly so it is great to have everyone served and so satisfied in little time. We have stocked up on accessories as well. From covers, wire brushes, scewers, veggie baskets, rotisserie, and my favorite-the igrill3 thermometer. Everything with the Weber name on it is a quality product.
Date published: 2018-08-26
Rated 5 out of 5
by
New Grandma!
from
Quite an Upgrade!
My former grill was some supposedly elaborate system involving brining and had a metal plate with pinholes (fun to clean each with a paper clip!!!) between the grates and the flame. No grill flavor at all either. Enough rehashing the past......So many features to enjoy now! The flavorizer bars do just what they're named, and the scale attachment for the tank keeps me unafraid of running out of propane during a party. I love the red enamel lid. The brush and the grill grate cleaner you sell make cleanup faster and more efficient. A well-known consumer magazine rates this grill very highly and so do I. PS Thanks for the recipes.
Date published: 2019-06-12
Rated 4 out of 5
by
Pipe
from
A sturdy, good looking propane grill
I bought this grill a few weeks ago and have used it about three times since the purchase. Overall I am impressed with the quality of the grill. It is, however, a bit difficult to assemble.There are many screws that must be screwed into threaded nuts that are welded onto the frame. Many of these screws are impossible to either start into the threaded nut or if started will not go fully in and therefore would remain only partially tight. The reason appears to be that the nuts are painted, even on the threads. I have a 6 millimeter tap tool that I was able to use to clean out the paint but how many have such a tool handy? Other than that a fine grill.
Date published: 2018-05-31
Rated 4 out of 5
by
Buckeyegene
from
Nice grill. Missing parts.
This is the first Weber grill I have had. The instructions fit assembling it were the best I've ever seen from any manufacturer. It took a while but went together very easy. I didn't like that it was missing 5 washers and a cotter key. I had to go to Lowe's and buy those in order to finish the job. Very disappointed in that. The grill heats up quickly. The first time I used it was grilling two 2" porterhouse steaks. The grill pattern was exceptional. The steaks were nice and tender. I would recommend purchasing this grill and I would also recommend that Weber take a closer look at their quality control.
Date published: 2018-08-09
Rated 4 out of 5
by
Go Grill Dad
from
Easy to build, easy to use
Grill went together easy and instructions easy to follow. Starts up with the push button every time. Light enough to maneuver and the tank attachment works very nice. There are inside panels over the flames that allow you to cook without the direct flame. Can cook my marinated flank steak without having to constantly move it around and keep the flame from burning it. Temperature gage on the cover is easy to read and grill heats up quick. Usually use my Weber charcoal grill but in the cold winter, I use the Weber Spirit grill. Quicker to start, and I don't have to stand out in the cold watching to make sure I'm not burning anything. Nice product Weber!
Date published: 2019-01-21
Rated 5 out of 5
by
Anonymous
from
Amazingly Wonderful!
It all starts with the packaging. Weber builds great products, and they packaged this BBQ to perfection. Every piece was there, carefully wrapped, easily identified. It made the drudgery of assembly very fun! And as each piece went together, I could tell that this Weber will last a very long time. as have my others. Once assembled, I connected the propane tank and fired it up. One button push was all it took. Flawless assembly, flawless operation. And the salmon I cooked on this grill the first night was perfection! When buying a Weber be sure to select the size and model you'll want five years from now, because their products last forever.
Date published: 2019-07-08
Rated 5 out of 5
by
GreggNTexas
from
Awesome grill!
Bought this grill at Lowe's. Used it a couple of times, then a week after buying, a major storm came thru. Either straight line winds or a small tornado threw the grill 15 ft. across our deck. I almost cried. LOL BUT, the only thing damaged was one of the side tables! Bent and was able to repair it. That's it! I let it dry for a few hours, and it started right up. AMAZING. The thing I probably like best is how fast it heats up. Within minutes it's easily over 400 degrees and still climbing. Steak? check. Chicken? check. Salmon, pork, etc..... good to go. I've had other grills, most very good. But none compares to this one. Just can't beat a Weber!
Date published: 2019-08-19
Rated 5 out of 5
by
Junior Clouseau
from
So Far, So Good
Since this is the first grill I've ever owned, I wasn't sure what to look for. Quality & space were my main considerations. After some preliminary research, it was important to find something that wouldn't need to be replaced after just a few years. Then, since I'm single with limited space, it had to be relatively small. With these 2 factors in mind, I went to Home Depot and looked at dozens and dozens of grills. The more I looked, the more I kept coming back to Weber. The overall quality of the burners, etc. as well as the overall appearance were head and shoulders above every other grill I saw for not a whole lot more money.
Date published: 2018-07-08
Rated 4 out of 5
by
Opa47
from
Cooks great
I bought this for our second home because I had a similar grill at our primary This grill is small but perfect for a couple with sometimes a few more. Lights easily, and cooks very consistently. Build quality is good and it should last longer than some of the lower cost options I have experience with. Assembly was not too bad but one of the side panels was bent and required some "persuasion". This model does not have lower doors and only one of the side tables fold down which is disappointing and not so obvious online, requires a much larger cover and foot print when not in use, but this the entry level model and relatively inexpensive for a Weber
Date published: 2019-06-29
Rated 4 out of 5
by
Burger Drop
from
Great Grill... but not perfect
This is a great grill, but not perfect. Two issues of note, first is movement. As you know there is no secure place to grasp the grill for movement on the Left side. The folding tray, while convenient, is not sturdy for moving the grill and distance. There are two vertical bolts available on the rear frame just begging for a handle to be added. Second, there is a cold spot on the Left Front grate just above the burner igniter. Any food placed on the Left Front grate cooks unevenly and at a much less temperature. Serious cooking compensations are required with any foods placed in this location.
Date published: 2019-06-19
Rated 5 out of 5
by
pennstater2005
from
Buy Once Cry Once!
This is my 3rd Weber grill and it did not disappoint. I have the Weber Performer Deluxe (charcoal) and the Weber Smoky Mountain Smoker as well. I wanted gas for quicker meals for when I may get home late and this fit that need perfectly. The 10 year warranty is unmatched and gives me peace of mind. Super easy to clean and obviously well thought out design overall. I can't wait to try newer things on it as I've done the standards of chicken, hot dogs, and burgers....all of which came out delicious. The only thing I need now is the griddle covers so I can do breakfast on this bad boy! The old adage is true.....you get what you pay for and with Weber that gets you the best!
Date published: 2019-06-13
bvseo_sdk, dw_cartridge, 16.1.1, p_sdk_3.2.0
CLOUD, timer 218ms, 0ms
reviews, product
bvseo_sdk, dw_cartridge, 16.1.1, p_sdk_3.2.0
CLOUD, getContent, 0ms
reviews, product
Keep Exploring
Spirit II Series

Spirit II E-310 Gas Grill

Spirit II Series

Spirit II E-210 Gas Grill (Natural Gas)

Spirit II Series

Spirit II E-310 Gas Grill (Natural Gas)