Q Series
EXPLORE YOUR OPTIONS
Weber
Weber® Q 3200 Gas Grill

Titanium
Image for capacity demonstration purposes only.
Actual product model and features may vary.
Discover the best of all worlds. A modern gas grill that sits pretty on your patio, with the power of two burners. Small enough to fit in a smaller yard yet big enough to grill an entire roast. Explore your options with the Q 3200 gas grill.
Part #57060001
Main burners: BTU-per-hour input

21,700

Dimensions - Lid Open and Tables Out (inches)

55.5"H x 50.2"W x 30"D

Dimensions - Lid Closed and Tables Out (inches)

43.5"H x 50.2"W x 21"D

Primary cooking area (square inches)

393

Warming rack area (square inches)

75

Total cooking area (square inches)

468

Stainless steel burners

2

Fuel type

Liquid Propane (20 lb. tank sold separately)

Side tables

2

Handle lights

1

Durable all-weather wheels

2

Tool hooks

3

Battery type

AAA

Batteries

4

Features

Porcelain-enameled, cast-iron cooking grates

Electronic ignition

Cast aluminum lid and body

Built-in lid thermometer

Removable folding side tables

Open cart design

Glass-reinforced nylon frame

Bottom shelf

Removable catch pan

Infinite control burner valves

Tank holder

Cookbox

5 years, no rust through/burn through (2 years paint excluding fading or discoloration)

Lid assembly

5 years, no rust through/burn through (2 years paint excluding fading or discoloration)

Stainless steel burner tubes

5 years, no rust through/burn through

Porcelain-enameled cast iron cooking grates

5 years, no rust through/burn through

Plastic components

5 years (excluding fading or discoloration)

All remaining parts

2 years

Proposition 65 Warning: Handling the brass material on this product exposes you to lead, a chemical known to the State of California to cause cancer, birth defects or other reproductive harm. (Wash hands after handling this product.)




Combustion by-products produced when using this product contain chemicals known to the State of California to cause cancer, birth defects, or other reproductive harm.



Image for capacity demonstration purposes only.
Actual product model and features may vary.
Cast aluminum lid and body

Removable folding side tables

Infinite control burner valve

Glass-reinforced nylon frame

Porcelain-enameled, cast-iron cooking grates
---
---
---
CAPACITY OF THEQ 3200
Don't let the size fool you. Small enough to fit on just about any patio with the power of two burners to grill up a full meal. With convenient side tables to place spices and light in weight for easy portability, the Q will be your new backyard sidekick.
Image for capacity demonstration purposes only.
Actual product model and features may vary.

Serves 4-6 people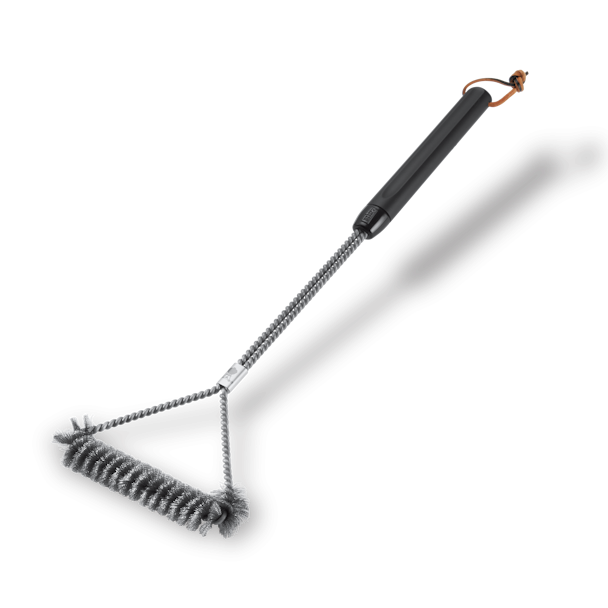 Never forget the importance of
A nice grill brush
Make sure that each meal is as delicious as the next by cleaning your cooking grate before every use. Choose from one of our many durable grill brushes to do the trick.
Explore Grill Brushes
Weber® Q 3200 Gas Grill is rated out of 5 by 298.
Rated 3 out of 5
by
EB from RI
from
Q3200 ... quality so far is disappointing
The grill looks great. However I find a few of the designs inferior. The ignition assembly does not fit solidly in the compartment. Also, the light snapped off and broke. I expect to start grilling soon when the weather warms up. I hope the operation works as expected.
Date published: 2018-03-31
Rated 5 out of 5
by
Linda62
from
we own 2 weber Q's
We had previously purchased the Weber Q1000 and used it for home and camping. We love it so much we decided to buy the larger 3200 for when family comes over. We love the design of no flame shields which rot out. The grill is super easy to clean and the drip tray is convenient to get rid of grease that drips down. We use cooking sheets and will cook bacon and vegies on the bbq. I don't think we've ever experienced flare ups while cooking either which means no charred food. LOve love this product.
Date published: 2019-07-11
Rated 5 out of 5
by
Horns
from
The perfect grill for the empty nesters!
I have had the big fancy gas grill and the best charcoal grill but for my empty nester needs this grill fits my needs perfectly. I am a bit of a control freak and this grill gives me all of the control I need to cook the perfect meal.
Date published: 2018-06-28
Rated 5 out of 5
by
Greg1951
from
Weber 3200
My wife and I purchased our Weber Grill for our winter home. We wanted a grill that required little to no maintenance, was small and light weight for storage, offered ample cooking space to cook for small groups and good temperature controll. Our Weber 3200 met all these criteria's. Easy clean up, the light weight frame, the dual burner controls make this the perfect grill for our home. In fact we like our grill so much we are purchasing a 3200 for our daughter and son in laws anniversary gift.
Date published: 2018-01-12
Rated 5 out of 5
by
ozziperch
from
The new Weber Q 3200
I owned the first Q3200 for 9 years. We liked it so much we bought the new Q3200. We are very pleased with the redesign of this grill. It is a great gas grill for smaller outdoor areas. This grill cooks perfectly when used according to the manufactures instructions. The only thing I would change about the newer design is the tool holder. The older one had the tool holder on the pull out table on the right whereas this grill has it out in front. Minor issue for an overall outstanding grill!
Date published: 2018-07-24
Rated 3 out of 5
by
Marta I
from
Poor design for indirect heating
If you're looking for a grill to handle food while monitoring this grill is great. However if you want indirect heat one one side you won't get it with this grill. The indirect heat is in the center of the overall element. Sure wish I could move food to one side n heat the other....not with this one! It's overall construction is solid but then they put this black flexible covering for the front...cheap looking and not stable. For what I paid, I'm a very disappointed customer! D = grade
Date published: 2019-01-17
Rated 5 out of 5
by
Regular guy
from
Great grill
I purchase this Grill about 3 weeks ago I've used it several times.. have you cook hamburgers chicken fish vegetables on it. I like it's not a large Grill. It heats up quickly have good control of the temperature. It does what I need it to do. I have not tried ribs yet Perhaps I will on the 4th. It was fairly easy to assemble it just has plastic. Doesn't seem to be a problem nice looking girl I paid 199 at Home Depot. List price was 399. So that when 199. It was a great value.
Date published: 2018-06-09
Rated 5 out of 5
by
Hellcat62
from
Indestructible
I bought this grill four years ago in Illinois. The reason I bought it was my two previous grills rusted out. I loooked at this and did not see anything that would rust out. I did buy new grill grates for the q3200 and periodically cleaned the burners. Twice this grill was blown across Street and neighbors yard due to tornado like weather and it still worked. I am buying a q2200 because we now live in Florida and wanted something we can use at home and take to the beach.
Date published: 2019-04-06
Rated 5 out of 5
by
fheidecke91
from
Weber Q3200
Since purchasing this grill approximately three months ago, I have enjoyed it thoroughly. Some features I really appreciate include the efficiency and accuracy of the stainless burners, which allow me to sear a steak at 650 degrees or to cook a 5 lb chicken or pork butt low and slow at 225 degrees. It's cooking capacity is big enough to do these things very well but the size of the grill on its cart is not obtrusive. The easy-to-change foil drip pan is outstanding.
Date published: 2019-06-12
Rated 5 out of 5
by
Ellen
from
Never Anything but Weber!
I have owned Weber grills since the 1980's. When I moved around, I often sold the one I had or gave it to a scouting org and bought a new one in my next location. My longest possession was from 1994 to 2006. It was in perfect running condition when I gave it to the scouts. The starter never failed in any Weber I had. The only parts I ever had to replace were the grill tops and, once, the flavorizer bars. Dealing with the Weber staff was always a good experience.
Date published: 2018-01-12
Rated 3 out of 5
by
PaJoe
from
Q3200
We bought the Q3200 a couple of months ago and have used it a few times. It was easy to assemble and took about an hour and a half.........I took my time to make sure I was doing it correctly. We like the grill, it cooks nice and we are still learning after have a Weber Spirit 3 burner grill for 7 years. I guess we just miss the 'flavorizing bars' over the burners, even though the grill grates are wider over the burners, and we miss the catch pan for easy cleaning.
Date published: 2019-06-12
Rated 4 out of 5
by
The Q
from
Almost there
Thisi is a very good tooL However, I believe this grill is unique compared to the traditional propane grill. The cast iron feature changes the cooking proces" it took sometime to understand how quickly food is prepared. I searched hi and low to find specific instructions on using tha tool. All all I found was a general set of procedures to use with any grill. This grill is unique enough and different enough to warrant its own Instruction Manual
Date published: 2018-01-12
Rated 4 out of 5
by
Honest review
from
Good grill
Smaller size fits better on the deck. Color is nice. Starts easily and heats up fast. It takes practice to figure out the burner configuration and exactly where to place food for best results. It's hard to reach the propane tank valve without moving the grill. We turn our tank off each time. Con- the grease drip catch is a cheaply made aluminum foil tray. It fills w rain water, so don't leave the grease in there after cooking. Smelly grease filled water fills the tray and sloshes out onto the floor when you move the grill- which you need to do to remove it. And when you do remove it, it spills due to the poor design. Weber cut costs here definitely. Overall it's a very nice grill. I just don't like the grease tray design. It tears easily and won't hold the grease it's designed to catch. Sorry Weber- you could've done better there.
Date published: 2019-07-09
Rated 5 out of 5
by
Jon898
from
Great on Bulk Propane
Bought this to replace an old natural gas fueled Ducane when we moved to a LPG home. Bought and installed the bulk propane conversion (easy!) Was a little hesitant going from a ceramic-type grill to a direct flame grill, but this is working well and heats up much faster. Only hesitation is that the handle is hotter than I'd like, but using a silicone glove it's not an issue. Corrosion resistance of the aluminum body was important to me.
Date published: 2018-07-21
Rated 5 out of 5
by
erporsche
from
Great Grill
Our family have been using the grill for 9 months, performs great, has even coverage and high items to sear foods as required. Only issues I have had are with light not properly working when lid is elevated and the lower plastic panel that covers the view of the propane tank is not designed properly and is very flimsy and falls off when grill is moved. I ordered another one and it was no better. Bad design that needs to be corrected.
Date published: 2018-01-13
Rated 5 out of 5
by
Sam in AZ
from
Great Grill
Just the right size for two people. I would make two suggestions, 1 Some way to keep a disposable pan in the alumin drip shelf. If it is windy I have had the disposabl drip pan blow out of the grill. 2 Make a cover that only covers the grill not to the ground. After I put the grii togather, installed a full tank of propane and covered it a major gust of wind0 blew the grill over. I have since left the cover off with it blowoning over
Date published: 2018-01-13
Rated 5 out of 5
by
joe5543
from
Best grill I ever owned!
I have (2) Q3200 grills, one at home and one at our camper trailer. Also my son-in-law and daughter bought one before I got my two. The Q3200 is easy to move on the patio, easy to change the gas bottle, and most important, I haven't burned anything I have grilled on my Q3200's!!! My sister-in-law bought a Q3200 this past summer because of my recommendation. I can't say enough about how great the Q3200 grill has been for me.
Date published: 2018-01-12
Rated 5 out of 5
by
Wavy906
from
Great service
I purchased my grill from Amazon. When it arrived it had a broken starter. I called Weber, and the issue was resolved immediately with a new part. I didn't have to call a foreign place, just Illinois. Since my purchase I have used it as much as weather allowed. Shrimp, steaks, and brats have all come out perfectly. I made my mom NY strip for Mother's Day, and she said they were the best steaks she had ever eaten.
Date published: 2018-05-22
Rated 4 out of 5
by
Dooley
from
COOKS WELL
I had this grille over a year now. It cooks well but it is hard to move around. I have it in my garage during the winter so I can wheel it out and grille. The plastic end trays cannot be used as handles and when you flip them down the 'handles' are so short you have to shuffle or your feet are banging into the grille frame. Also, if left out and it rains, the drip pan fills with water. Poor design there.
Date published: 2018-01-12
Rated 5 out of 5
by
ripsaw55
from
Simple Elegance!!!!
I just love my Weber grill. I previously owned a similar gas grill, but gave it to my daughter when i bought a new home, gas grill included. It was nothing but trouble and I missed my Weber so much. Finally, I became disgusted with the new, so-called better grill and gave it to charity. My Weber Q grill performs flawlessly, and I can have a meal ready in minutes. I highly recommend this grill to everyone.
Date published: 2018-04-08
Rated 5 out of 5
by
Anonymous
from
Excellent Product
Excellent product especially for one that has to sit outside its entire life....no Metal to rust My wife found this one by accident as it is not very well advertised One Issue The control Knobs are not well identified as to which was is HOT and which way is COLD ......The Picture-ology is not clear.... I had o call Weber...girl said we sell everywhere....need clearer Knobs Grill heats works flawlessly..
Date published: 2018-01-12
Rated 5 out of 5
by
Happy Grilling
from
Amazing Grill
I purchased this grill around Christmas time and LOVE it!!!!!!! I own a smaller weber that we take with our RV for camping and have been using it for 7-8 yrs. We purchased this one to replace our home grill which only lasted 2 yrs. I had a couple of parts that were broken in shipping but the people at Weber were extremely helpful and got my parts to me quickly. I love this grill and you will too.
Date published: 2018-06-03
Rated 5 out of 5
by
BUFF52
from
Great Grill
I was already familiar and happy with the Weber Q series and so when the model was enhanced with better temp control and depth I was all in. I can store this Q3200 in my garage and roll it out when using. I find this grill easy to cook on and retain the moisture in all meats. Grilling with the Q is not a chore; it is a true delight. My smaller Q grill? I kept it for tailgating. Win win in a big way.
Date published: 2019-01-17
Rated 5 out of 5
by
Nina84
from
Great Grill!!
I have this grill for a month and I've used it couple times. Like any Weber grill, this one is amazing!! Grilling power is excellent. I had Baby Weber, then I had Genesis. Since we were downsizing, in the move I gave Genesis away. I love this one, it's easy to store it in garage, light enough that I can pull it on the driveway. Love the new design. Everything about this grill is fantastic:)
Date published: 2018-07-11
Rated 5 out of 5
by
Shawng
from
Love the Q3200
Had one of these at a vacation home we stayed at. Liked it so much, bought one for myself to use at home. The cooking area is a lot bigger than it looks in any picture. Able to put at least 8 full size steaks on the grill. I believe the vents at the side of the top cover really set this off from traditional back vented grills, allowing better air flow and eliminates flare-ups..
Date published: 2018-06-21
Rated 4 out of 5
by
jduffyb
from
Grill Great, Plastic Stand Not So Much
The grill itself is exceptional. I have a portable Weber Q that I have owned for tailgating ever since it was first introduced by Weber. It does a great job grilling. I purchased the Q 3200 because of my previous experience withe the Q line. The only issue I have is the plastic stand. It seems to be OK, but I wonder how it will stand up to prolonged heat from the grill. Second, the plastic screen in the front is thin and flimsy. Don't see that lasting very long and how it attaches is also not good. Finally, the grill shipping box was damaged because the tape they use to seal it is not sealed across the sides; only the middle of the box. The tape remained across the middle, but detached (broke) from the sides allowing loose flaps. This allowed to contents to come loose and one of the parts was damaged requiring a replacement which Weber did at no charge. One other item, the grill was VERY easy to assemble
Date published: 2019-08-30
Rated 5 out of 5
by
Mds2020
from
I did think I would like it!
I was a bit reluctant about the Q at first, it has a large enough cooking space for me, Inlike it better than I thought I would and it looks nice plus the smaller size lf I I need to size down in the future. I wanted a grill like the Weber I bought back in 2001, I don't feel the quality is the same as is was back then in the larger grills unless you buy the top of the line.
Date published: 2019-02-07
Rated 5 out of 5
by
Skipper454
from
Compact but big
Purchased my Q February 2016 and use it weekly if not daily. I have a Weber 26" kettle for grilling and smoking and a 37" Ranch kettle for rib get-togethers so my Q is my "gas grill" for steaks, dogs, burgers, etc. I purchased a Q griddle and cook my breakfast (bacon, sausage, eggs, pancakes, etc.) using my Q regularly. I live in a warm climate and love cooking outside.
Date published: 2018-01-05
Rated 5 out of 5
by
The Taylors
from
Unbelievable
I bought this grill about 4 years ago and have left it outside, without a cover, in full exposure to the elements and it still looks like new. The plastic piece that covers the bottom storage section has broken off, but that was probably from wind/weather exposure and it doesn't effect the functionality of the grill at all. Also, I am having to order a new igniter, but it stopped working when I was cleaning the grill. I am pretty sure I sprayed way too much water on the igniter and caused it to stop working because it was fine before then (so don't spray the igniter - duh). It cooks very thourghouly and evenly and my favorite part is that after 4 years, the grates have never warped or bent. They are very solid and heavy. It's an extremely durable grill that if properly cared for, will last you a long time and it cooks all types of food very well. It is also a decent grilling size and holds a good amount of food.
Date published: 2019-04-24
Rated 5 out of 5
by
Chicken Under a Brick
from
The Perfect Backyard Grill
I tried one of these out while on vacation a couple of years ago and had lusted after one ever since. It's got plenty of grill space (added to by the rack inside, which is perfect for grilling buns and bread), cleans up easily and has so many great features (the light is perfect since I tend to grill at night sometimes), that I'm very satisfied with it.
Date published: 2018-05-19
bvseo_sdk, dw_cartridge, 16.1.1, p_sdk_3.2.0
CLOUD, timer 168ms, 0ms
reviews, product
bvseo_sdk, dw_cartridge, 16.1.1, p_sdk_3.2.0
CLOUD, getContent, 0ms
reviews, product
Keep Exploring
Q Series

Weber® Q 1000 Gas Grill

Q Series

Weber® Q 1200 Gas Grill

Q Series

Weber® Q 2000 Gas Grill

Q Series

Weber® Q 2200 Gas Grill

Q Series

Weber® Q 3200 Gas Grill (Natural Gas)