Q Series
EXPLORE YOUR OPTIONS
Weber
Weber® Q 3200 Gas Grill

Titanium
Image for capacity demonstration purposes only.
Actual product model and features may vary.
Discover the best of all worlds. A modern gas grill that sits pretty on your patio, with the power of two burners. Small enough to fit in a smaller yard yet big enough to grill an entire roast. Explore your options with the Q 3200 gas grill.
Part #57060001

$40 Shipping & Free Returns on Weber.com Orders
Grills 70+ lbs. ship by freight carrier with delivery by appointment within 2-5 business days. $40 Standard Delivery. Free 30 day returns. Shipping Information & Return Policy
Main burners: BTU-per-hour input

21,700

Dimensions - Lid Open and Tables Out (inches)

55.5"H x 50.2"W x 30"D

Dimensions - Lid Closed and Tables Out (inches)

43.5"H x 50.2"W x 21"D

Primary cooking area (square inches)

393

Warming rack area (square inches)

75

Total cooking area (square inches)

468

Stainless steel burners

2

Fuel type

Liquid Propane (20 lb. tank sold separately)

Side tables

2

Handle lights

1

Durable all-weather wheels

2

Tool hooks

3

Battery type

AAA

Batteries

4

Features

Porcelain-enameled, cast-iron cooking grates

Electronic ignition

Cast aluminum lid and body

Built-in lid thermometer

Removable folding side tables

Open cart design

Glass-reinforced nylon frame

Bottom shelf

Removable catch pan

Infinite control burner valves

Tank holder

Cookbox

5 years, no rust through/burn through (2 years paint excluding fading or discoloration)

Lid assembly

5 years, no rust through/burn through (2 years paint excluding fading or discoloration)

Stainless steel burner tubes

5 years, no rust through/burn through

Porcelain-enameled cast iron cooking grates

5 years, no rust through/burn through

Plastic components

5 years (excluding fading or discoloration)

All remaining parts

2 years

Proposition 65 Warning: Handling the brass material on this product exposes you to lead, a chemical known to the State of California to cause cancer, birth defects or other reproductive harm. (Wash hands after handling this product.)




Combustion by-products produced when using this product contain chemicals known to the State of California to cause cancer, birth defects, or other reproductive harm.



Image for capacity demonstration purposes only.
Actual product model and features may vary.
Cast aluminum lid and body

Removable folding side tables

Infinite control burner valve

Glass-reinforced nylon frame

Porcelain-enameled, cast-iron cooking grates
---
---
---
CAPACITY OF THEQ 3200
Don't let the size fool you. Small enough to fit on just about any patio with the power of two burners to grill up a full meal. With convenient side tables to place spices and light in weight for easy portability, the Q will be your new backyard sidekick.
Image for capacity demonstration purposes only.
Actual product model and features may vary.

Serves 4-6 people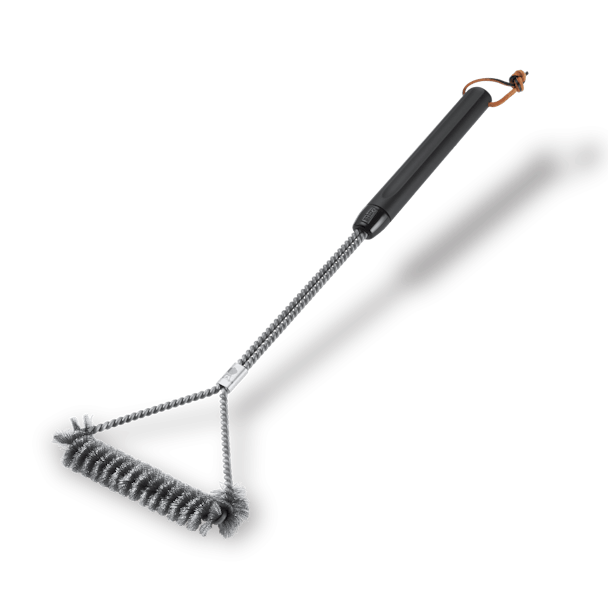 Never forget the importance of
A nice grill brush
Make sure that each meal is as delicious as the next by cleaning your cooking grate before every use. Choose from one of our many durable grill brushes to do the trick.
Explore Grill Brushes
Weber® Q 3200 Gas Grill is rated out of 5 by 328.
Rated 5 out of 5
by
Humbert
from
Simply...the best
After 30 years grilling, after thousands of dollars invested, is not that easy to have to recognize: the Q3200 is simply, the best. Why? You may spend a lot of money in a grill and end up with maybe flavor and looks or even a couple of thousands and get a lot btu's and square inches, even a couple of hundreds in something that others may call a "grill" but is nothing more than a piece of cheap metal in your backyard. For 400 you get: quality, looks, flavor, ease of use, easy to clean, practical design, fuel efficient, temperature control, and more. Get it! Follow the manufacturers instructions and You'll enjoy "grilling" as much as "eating" HH
Date published: 2019-08-12
Rated 5 out of 5
by
JK332
from
Great Grill
I bought this grill after reading multiple reviews and after owning several other brands that only last a few years. Set up was easy and the first grilling experience was terrific. Let the grill heat up and slapped on some steaks which came out perfect. The grill has a nice flame to it and you can tell it is a quality unit the first time you fire it up. Thank you Weber for making such a great product. My family and I are Weber fans for life. Yes, it may be a little more than other grills, but once you get one you will see that the cost is well worth it. Go get one an you won't be disappointed.
Date published: 2018-05-19
Rated 3 out of 5
by
Ed13
from
great Grill, BUT.
Like cooking on the grill and assembly was real easy. However after using the grill for about 18 months the lid started to show rust or discoloration. Grill is used year round and is covered when not in use. Contacted support about rust on lid and sent them pictures of the problem, They answered back with suggestion to look in paper work on how to clean the grill. I'm kind of upset because if you look at the picture you can tell the grill has been cleaned and I clean it often. This is my only complaint about the grill. But if the condition deteriorates worse my next grill will not be a weber.
Date published: 2019-06-18
Rated 5 out of 5
by
Artemis
from
Awesome Small Grill
I have never owned a Weber before. I have always felt they were pricey. My boyfriend owned this grill and his father liked it so much, he took it. So, when shopping for a new grill, he recommended this one. The design is atypical with the clam shell style, but it is amazing! It heats up fast and gets hotter than my old grill ever could. I don't know what it is about the cast iron grates, but I can't ruin food, at all. My steaks are delicious. Steaks have always been intimidating. Not anymore. We have made grilled pizza. There is plenty of grilling surface. I think I will have this grill for a very long time. I am so glad I listened and chose this grill.
Date published: 2019-06-29
Rated 4 out of 5
by
Jillybean
from
Great design!
I purchased my new grill about a month ago and love the design, the smooth startup, the fast cooking, and even the temperature gauge on the front. My only "complaint" (and why I did not give it 5 stars) is that installing/changing out the gas tank is very awkward and somewhat difficult. For such a great looking grill, so surprised that something more clever/easy wasn't designed for the tank. Something like a slide-out/pivoting base where you could swap the tanks while not underneath the grill would be a nice feature (but you would also need a longer hose connection), then just slide it back into place. Just a thought...
Date published: 2019-06-12
Rated 4 out of 5
by
Maxboo
from
Best grill I have owned so far
Bought this grill last spring and I really enjoy using it. Pros: Assembly was not difficult and the plastic stand means it will hold up and not fall apart like metal frames. Very sturdy and easy to move about. Fast to preheat and heats even. Cooks food fast. Easy to clean. Cons: Noticed rust on the grill where the coating has cracked already. I do not use wire or abrasive cleaning brushes. Tends to give off a yellow flame that can char your food if not paying attention. Temperature regulation is touchy. It can climb quick while cooking even on low. Could be a bit easier on propane for the size. Regardless of the cons it is still the best BBQ I have ever owned.
Date published: 2019-04-03
Rated 4 out of 5
by
bondon
from
Light and easy to move
We love our grill. I purchased it because we live in a Hurricane prone area and we need to move anything outside of our home to the inside. This grill is easy enough for me to move inside without help and with the sides that collapse down, it doesn't take up much room! The only reason I gave it 4 instead of 5 starts are the grates. There is a section of the grates on each side that collect a lot of debris. If the had spaces in between like the rest of the grates this wouldn't be an issue. Only thing I don't like about it.
Date published: 2018-08-10
Rated 5 out of 5
by
Grill'nStephen
from
Love this grill
My father had bought this grill for me, for my birthday. There is a bit of a learning curve, but nothing that can't be handled. Grill gets very hot, very quick! Easy to clean! Just an all around great grill. My only complaint would be the lack of colors for the model. Would have really liked an all black one, as the corners of the "titanium" painted lid discolor and turn brown after a couple of uses. I've tried cleaning it up, with no luck (used Weber's cleaner). Purely cosmetic and doesn't affect function at all. All in all, I would buy it again and recommend it to a friend.
Date published: 2018-01-07
Rated 5 out of 5
by
CEO of our Household
from
Great grill overall but needs a few tweaks
Now in third year of using my red-topped Q3200. As long as you know the basics of grilling / searing / heating, and as long as you don't need the size and power of one of Weber's larger stainless steel units, this is an excellent deck/patio grill. Recently bought a pizza stone; first use in my "Q" resulted in perfect pizza! Note to Weber: yes, two more wheels would make a world of difference in moving this unit. Most cumbersome feature is the muscle power required to snap the side tables in and out of position. Surely you can design a more user-friendly operation!
Date published: 2018-05-25
Rated 5 out of 5
by
dellevan3
from
Perfect Grill for The Old Couple
As retirees we have lots of time to plan both personal meals for ourselves and small feasts for friends and family. Our Weber Q3200 serves both purposes perfectly. Its compact design allows us to cook just for ourselves with ease but has adequate grill space including the warming rack to feed gatherings of up to 6 or 8 people. In the first couple of months of service the grill has performed perfectly. The ignition has been flawless. The thermometer is easy to read even when I forget my glasses. The grill cleans up easily although its not my favorite duty associated with grilling. The best thing about the grill is its sleek contemporary design. It looks cool on our patio.
Date published: 2019-08-03
Rated 4 out of 5
by
KJP315
from
Great for urban grillers
I live in Queens, and I needed a grill that is easy to move around. This grill fits the bill. It has a nice sized grilling surface and the two folding shelves on the sides provide sufficient space for holding food as it comes off the grill. When you're finished grilling, it folds up nicely and can be put out of the way without taking up too much space. The only criticism I have for it is temperature control. If you're looking to do slow cooking (like for ribs), this is not the grill for you. But it does all the other grilling well and had nice features like the thermometer in the cover. Like most Weber grills, it costs more than other similar grills. But it's worth it because of the quality of the materials and the outstanding customer service Weber provides.
Date published: 2018-01-12
Rated 4 out of 5
by
purtyokjac
from
2nd one that I have owned
Had a natural gas one for 5 years. Loved it. Moved to Fl. Had to purchase a propane one. Really like it. However the new updated style light has water leakage issues---the last one did, as well. Weber is replacing the light but I have expectation that it will stand the test of time. Still love the grill and an installed floodlamp really makes the Weber lamp pretty unimportant. Also there is a design problem not previously experienced. Rain water somehow fills the drippings collection pan and my patio is getting stained. Did not previously have this problem with thenatural gas Q3200!
Date published: 2019-01-14
Rated 4 out of 5
by
Lalo
from
Mixed feelings
I have had Weber grils for many years, and would not buy another brand. I needed a new grill that was compact for a condo. Size is perfect including the grill which is large enough for my needs. I like the burner disrtibution as it produces an even heat. But, I must say that I was suprised with the quality of the stand it is very very plasticy not what I would expect from Weber or for the high price of this model. My last Weber grill lasted for 15 years of constant use, we will see how long this one lasts.
Date published: 2018-04-18
Rated 2 out of 5
by
ntaylor09
from
not as expected
purchased this grill roughly 6 years ago and use it several times a week on average for a family of three. When first purchased it was not useable out of the box and needed a replacement connection from the gas tank to the unit which was very frustrating, weber did send replacement parts at no additional charge but still disappointed in my first gas grill. This grill is difficult to clean because of the curved grates and finding replacements are difficult, the cooking space is relatively small and now the heating element is not lighting completely so it takes longer to get to temperature and cook but does a mediocre job and I've learned to live with it...in retrospect I should have not bought this lower end grill and bought a different model. Overall, disappointed in my experience.
Date published: 2018-05-02
Rated 5 out of 5
by
Pr123
from
Awesome grill!
The best grill ever! No frills here, frills not needed. If all you want to do is have a grill that heats up quick, ignites every time, cooks perfect to your timing, and plenty of cooking area this grill is for you. My dad has had one for years, love it. I myself kept looking for a less expensive grill ever time I would go to big box stores and just couldn't pick one knowing it wasn't going to be as awesome as the q3200. Finally broke down and ordered one from big box Orange store, they don't stock them. You will not be disappointed with this beast of a grill.
Date published: 2018-08-11
Rated 5 out of 5
by
Krempep
from
It was Free!
Found it on the side of the road. Its about 2 years old, still in good condition. If I clean it up it should be good for a few more years. Many people laugh at me, but one mans trash is another mans treasure. Who care what you think.
Date published: 2018-04-27
Rated 5 out of 5
by
mariot7414
from
Best Grill I have ever owned!
I bought this grill because we just moved into a nice town home and we were pressed for space, i knew i wanted a Q but i was not sure which model to go with so i went with my gut and bought the biggest one Weber offers, and let me say it was the best decision i have ever made! i have found my p[passion for cooking again because i have cooked some of the best steaks i have ever cooked on this grill, you get an even burning surface and the amount of cooking space is perfect for a family of four. I would highly recommended a Weber Q to anyone who would ask me.
Date published: 2018-06-29
Rated 4 out of 5
by
Nannie St. Louis
from
Love the amount of cooking space on this grill
Very efficient heat with temperature control. Just wish there could be a way to attach a rotisserie component. Would give it 5 stars if it had rotisserie component.
Date published: 2018-01-25
Rated 1 out of 5
by
mhisherwood
from
Started Out Great But Then
When I first got this grill, I was in heaven. It heated up quickly to a really high heat. Everything I grilled was superb. Then, one day it just didn't heat up passed 425 at the most. I emailed Weber about this and was told the grill isn't supposed to get past 425.
Date published: 2018-11-05
Rated 5 out of 5
by
TeamTimmy
from
So far-exceeds expectations.
We grill outside all the time-all year long, so just had to replace an older, large unit that was a lesser brand name. The Weber Q 3200 seemed so small compared to the others on the showroom floor, but we're getting ready to downsize, so when we needed to replace our grill we decided to go with a smaller model. This great little Weber performs so well, it's actually more usable than the big home-store model it replaced. Heat and cooking seems to be very even across the entire surface. It gets up to temperture quickly and the gauge seems accurate.
Date published: 2018-04-01
Rated 5 out of 5
by
Casey49
from
It even does a pizza beautifully
I have grilled some steaks on it and it worked perfectly. So I grilled some large shrimp and again they were fantastic. I held off on doing the review until I cooked a pizza on it. I figured if it would work with my pizza stone for a thin crust pizza then I would have the best grill I have ever had. The crust was just right with no burned areas so the heat is uniformly dispersed and I am in grill heaven.
Date published: 2018-07-20
Rated 2 out of 5
by
Old user GA
from
Potability
I was thoroughly please with this grill apart from the difficulty in movement. With only two wheels then the grill has to be picked up at one end and rolled. Ok for a year ar so but last time the support handle snapped. So far i don't see anyway to replace or repair on Weber website. So although the grill still functions, it is now rendered useless just like cheaper grills because of structural failure.
Date published: 2018-05-27
Rated 5 out of 5
by
Slinger
from
Smaller yet Competitive!
We had a Weber Q 1000 or 1200 that lasted for about 9 years parked out on the patio in all weather with just a cover on it. It was still functional when we replaced it with a "good deal" grill for our expanding backyard. That lasted almost 5 years. Just got this Q-32 and so far, it worked out great. Afraid of not having a sear station anymore but the burgers (first operational check) were seared well after letting the grill heat up to about 550 degrees in only about 10 mins on a 60 degree day. Impressed as we were with the first one.
Date published: 2018-04-23
Rated 4 out of 5
by
jsmjr
from
Easy to assemble - easy to use
Downsized from Summits; Q is perfect for 2-4 servings, but grill pad management is a consideration for ex-Summiteers. Instructions and assembly are smooth. Burners well positioned. Igniters quick and pretty fast preheat. Smaller cooking shell heats and cooks faster, so requires early attention to temp controls. Easy to use and functional - a worthy purchase for small quantity grilling.
Date published: 2018-08-27
Rated 5 out of 5
by
Boxermom
from
Great grill!
Purchased this little beauty to replace another Weber grill that I'd used to pieces. I can't begin to say how much I love this grill. The only thing I'm shocked about is how heavy it is ~ and I don't mean that in a negative way! The other, portable Q grills that are shaped this way may be lighter in weight to make transport easier. I was able to put it together in about an hour with no help from my husband. I actually enjoyed seeing how it went together and was delighted at how easy it was. Overall, I am thrilled with this grill!
Date published: 2019-10-01
Rated 2 out of 5
by
Grillin Jimmy Jo
from
Disappointed
I purchased this grill because we already own the Weber Q 1000, which is great. We purchased it about 10 years ago and have only had to replace the igniter. Our Q 3200, which we purchased about 1 year ago, hasn't lived up to the quality of the 1000. We have had to replace the grates and the thermometer. The grill has uneven heat with hot spots. The burner openings have burned larger than they were and there doesn't appear to be much gas control of the temperature as the flame on high isn't a great deal different than the flame on low.
Date published: 2019-09-24
Rated 4 out of 5
by
MKS64
from
Almost Great
The grill does a nice job but--- The hardware used, screws and pins and such are rusting. Should have invested a dollar more and used a high grade of stainless steel. The grill gets nice and hot but is too hot at its lowest setting. the plastic cover with the Weber logo falls off easily. Heat distribution seems good. All in all not a bad grill but could be a great one
Date published: 2018-01-29
Rated 1 out of 5
by
hoff 805221
from
Needs a better design
I purchased this grill exactly two years ago to the day and now I am having to replace it! It is only my wife and I and we grill out about once every two weeks and it has not been abused or used in any manner to which it was not designed, it has been kept covered up and sits on it's own wooden stand, has no contact with the ground! This was the first Weber grill that we owned ( and it was the shortest time of functioning of all the grills we've had in the years we have owned grills)!
Date published: 2018-05-31
Rated 3 out of 5
by
Suzi
from
I love my grill but...
I bought my grill late last season so have only used it a few times. We also have the table top version for travel so I knew it was a great grill. I have had a couple of issues with the Q3200. The electric start has never worked even though I have changed the battery. I bought the cove which was overpriced for the quality of the item it is very thin. The biggest issue is that the grill blows over all the time unless I keep it tucked up against the house. I have given up trying to keep the piece of plastic sheeting that goes on the lower part of the table with Weber stamped on it to hide the gas tank. The last time it blew over it bent the stainless steel rack that fits inside the grill. It is too bad the design is so bad because the grill itself is great.
Date published: 2019-04-02
Rated 5 out of 5
by
Happy Old Guy
from
Best I ever had
I won this grill for a 5 dollar raffle ticket at a 99 Restaurant. When this thing finally quits, I will invest the 400+ bucks for a new one. I've owned many others in the past but none compare to this unit. MY ONLY NEGATIVE... I cannot find a replacement for the red hood which I ruined by leaving on all night at FULL BURN :-(
Date published: 2019-11-04
bvseo_sdk, dw_cartridge, 16.1.1, p_sdk_3.2.0
CLOUD, timer 99ms, 0ms
reviews, product
bvseo_sdk, dw_cartridge, 16.1.1, p_sdk_3.2.0
CLOUD, getContent, 0ms
reviews, product
Keep Exploring
Q Series

Weber® Q 1000 Gas Grill

Q Series

Weber® Q 1200 Gas Grill

Q Series

Weber® Q 2000 Gas Grill

Q Series

Weber® Q 2200 Gas Grill

Q Series

Weber® Q 3200 Gas Grill (Natural Gas)