Q Series
EXPLORE YOUR OPTIONS
Weber® Q 3200 Gas Grill

Titanium
Discover the best of all worlds. A modern gas grill that sits pretty on your patio, with the power of two burners. Small enough to fit in a smaller yard yet big enough to grill an entire roast. Explore your options with the Q 3200 gas grill.
Part #57060001
Main burners: BTU-per-hour input

21,700

Dimensions - Lid Open and Tables Out (inches)

55.5"H x 50.2"W x 30"D

Dimensions - Lid Closed and Tables Out (inches)

43.5"H x 50.2"W x 21"D

Primary cooking area (square inches)

393

Warming rack area (square inches)

75

Total cooking area (square inches)

468

Stainless steel burners

2

Fuel type

Liquid Propane (20 lb. tank sold separately)

Side tables

2

Handle lights

1

Durable all-weather wheels

2

Tool hooks

3

Battery type

AAA

Batteries

4

Features

Porcelain-enameled, cast-iron cooking grates

Electronic ignition

Cast aluminum lid and body

Built-in lid thermometer

Removable folding side tables

Open cart design

Glass-reinforced nylon frame

Bottom shelf

Removable catch pan

Infinite control burner valves

Tank holder

Cookbox

5 years, no rust through/burn through (2 years paint excluding fading or discoloration)

Lid assembly

5 years, no rust through/burn through (2 years paint excluding fading or discoloration)

Stainless steel burner tubes

5 years, no rust through/burn through

Porcelain-enameled cast iron cooking grates

5 years, no rust through/burn through

Plastic components

5 years (excluding fading or discoloration)

All remaining parts

2 years

Proposition 65 Warning: Handling the brass material on this product exposes you to lead, a chemical known to the State of California to cause cancer, birth defects or other reproductive harm. (Wash hands after handling this product.)




Combustion by-products produced when using this product contain chemicals known to the State of California to cause cancer, birth defects, or other reproductive harm.



Cast aluminum lid and body

Removable folding side tables

Infinite control burner valve

Glass-reinforced nylon frame

Porcelain-enameled, cast-iron cooking grates
---
---
---
CAPACITY OF THE
Q 3200
Don't let the size fool you. Small enough to fit on just about any patio with the power of two burners to grill up a full meal. With convenient side tables to place spices and light in weight for easy portability, the Q will be your new backyard sidekick.
Image for capacity demonstration purposes only.
Actual product model and features may vary.

Serves 4-6 people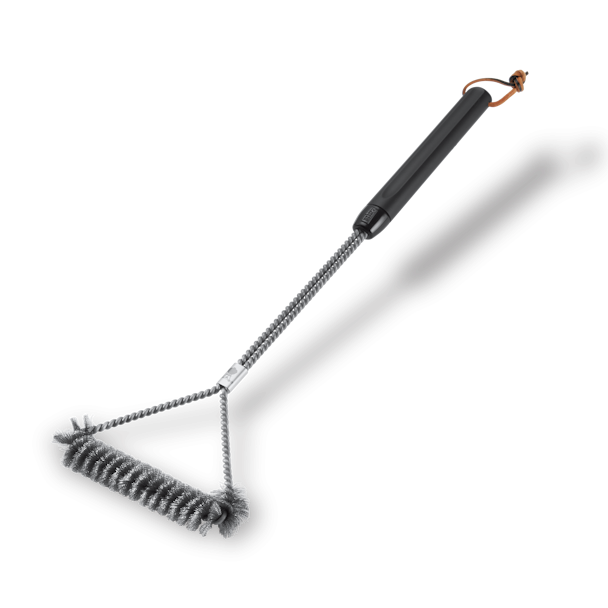 Never forget the importance of
A nice grill brush
Make sure that each meal is as delicious as the next by cleaning your cooking grate before every use. Choose from one of our many durable grill brushes to do the trick.
Explore Grill Brushes
Weber® Q 3200 Gas Grill is rated out of 5 by 177.
Rated 4 out of 5
by
bondon
from
Light and easy to move
We love our grill. I purchased it because we live in a Hurricane prone area and we need to move anything outside of our home to the inside. This grill is easy enough for me to move inside without help and with the sides that collapse down, it doesn't take up much room! The only reason I gave it 4 instead of 5 starts are the grates. There is a section of the grates on each side that collect a lot of debris. If the had spaces in between like the rest of the grates this wouldn't be an issue. Only thing I don't like about it.
Date published: 2018-08-10
Rated 4 out of 5
by
KJP315
from
Great for urban grillers
I live in Queens, and I needed a grill that is easy to move around. This grill fits the bill. It has a nice sized grilling surface and the two folding shelves on the sides provide sufficient space for holding food as it comes off the grill. When you're finished grilling, it folds up nicely and can be put out of the way without taking up too much space. The only criticism I have for it is temperature control. If you're looking to do slow cooking (like for ribs), this is not the grill for you. But it does all the other grilling well and had nice features like the thermometer in the cover. Like most Weber grills, it costs more than other similar grills. But it's worth it because of the quality of the materials and the outstanding customer service Weber provides.
Date published: 2018-01-12
Rated 2 out of 5
by
ntaylor09
from
not as expected
purchased this grill roughly 6 years ago and use it several times a week on average for a family of three. When first purchased it was not useable out of the box and needed a replacement connection from the gas tank to the unit which was very frustrating, weber did send replacement parts at no additional charge but still disappointed in my first gas grill. This grill is difficult to clean because of the curved grates and finding replacements are difficult, the cooking space is relatively small and now the heating element is not lighting completely so it takes longer to get to temperature and cook but does a mediocre job and I've learned to live with it...in retrospect I should have not bought this lower end grill and bought a different model. Overall, disappointed in my experience.
Date published: 2018-05-02
Rated 4 out of 5
by
Lalo
from
Mixed feelings
I have had Weber grils for many years, and would not buy another brand. I needed a new grill that was compact for a condo. Size is perfect including the grill which is large enough for my needs. I like the burner disrtibution as it produces an even heat. But, I must say that I was suprised with the quality of the stand it is very very plasticy not what I would expect from Weber or for the high price of this model. My last Weber grill lasted for 15 years of constant use, we will see how long this one lasts.
Date published: 2018-04-18
Rated 5 out of 5
by
Grill'nStephen
from
Love this grill
My father had bought this grill for me, for my birthday. There is a bit of a learning curve, but nothing that can't be handled. Grill gets very hot, very quick! Easy to clean! Just an all around great grill. My only complaint would be the lack of colors for the model. Would have really liked an all black one, as the corners of the "titanium" painted lid discolor and turn brown after a couple of uses. I've tried cleaning it up, with no luck (used Weber's cleaner). Purely cosmetic and doesn't affect function at all. All in all, I would buy it again and recommend it to a friend.
Date published: 2018-01-07
Rated 5 out of 5
by
CEO of our Household
from
Great grill overall but needs a few tweaks
Now in third year of using my red-topped Q3200. As long as you know the basics of grilling / searing / heating, and as long as you don't need the size and power of one of Weber's larger stainless steel units, this is an excellent deck/patio grill. Recently bought a pizza stone; first use in my "Q" resulted in perfect pizza! Note to Weber: yes, two more wheels would make a world of difference in moving this unit. Most cumbersome feature is the muscle power required to snap the side tables in and out of position. Surely you can design a more user-friendly operation!
Date published: 2018-05-25
Rated 5 out of 5
by
Pr123
from
Awesome grill!
The best grill ever! No frills here, frills not needed. If all you want to do is have a grill that heats up quick, ignites every time, cooks perfect to your timing, and plenty of cooking area this grill is for you. My dad has had one for years, love it. I myself kept looking for a less expensive grill ever time I would go to big box stores and just couldn't pick one knowing it wasn't going to be as awesome as the q3200. Finally broke down and ordered one from big box Orange store, they don't stock them. You will not be disappointed with this beast of a grill.
Date published: 2018-08-11
Rated 5 out of 5
by
Krempep
from
It was Free!
Found it on the side of the road. Its about 2 years old, still in good condition. If I clean it up it should be good for a few more years. Many people laugh at me, but one mans trash is another mans treasure. Who care what you think.
Date published: 2018-04-27
Rated 5 out of 5
by
mariot7414
from
Best Grill I have ever owned!
I bought this grill because we just moved into a nice town home and we were pressed for space, i knew i wanted a Q but i was not sure which model to go with so i went with my gut and bought the biggest one Weber offers, and let me say it was the best decision i have ever made! i have found my p[passion for cooking again because i have cooked some of the best steaks i have ever cooked on this grill, you get an even burning surface and the amount of cooking space is perfect for a family of four. I would highly recommended a Weber Q to anyone who would ask me.
Date published: 2018-06-29
Rated 4 out of 5
by
Nannie St. Louis
from
Love the amount of cooking space on this grill
Very efficient heat with temperature control. Just wish there could be a way to attach a rotisserie component. Would give it 5 stars if it had rotisserie component.
Date published: 2018-01-25
Rated 5 out of 5
by
TeamTimmy
from
So far-exceeds expectations.
We grill outside all the time-all year long, so just had to replace an older, large unit that was a lesser brand name. The Weber Q 3200 seemed so small compared to the others on the showroom floor, but we're getting ready to downsize, so when we needed to replace our grill we decided to go with a smaller model. This great little Weber performs so well, it's actually more usable than the big home-store model it replaced. Heat and cooking seems to be very even across the entire surface. It gets up to temperture quickly and the gauge seems accurate.
Date published: 2018-04-01
Rated 5 out of 5
by
Casey49
from
It even does a pizza beautifully
I have grilled some steaks on it and it worked perfectly. So I grilled some large shrimp and again they were fantastic. I held off on doing the review until I cooked a pizza on it. I figured if it would work with my pizza stone for a thin crust pizza then I would have the best grill I have ever had. The crust was just right with no burned areas so the heat is uniformly dispersed and I am in grill heaven.
Date published: 2018-07-20
Rated 2 out of 5
by
Old user GA
from
Potability
I was thoroughly please with this grill apart from the difficulty in movement. With only two wheels then the grill has to be picked up at one end and rolled. Ok for a year ar so but last time the support handle snapped. So far i don't see anyway to replace or repair on Weber website. So although the grill still functions, it is now rendered useless just like cheaper grills because of structural failure.
Date published: 2018-05-27
Rated 5 out of 5
by
Slinger
from
Smaller yet Competitive!
We had a Weber Q 1000 or 1200 that lasted for about 9 years parked out on the patio in all weather with just a cover on it. It was still functional when we replaced it with a "good deal" grill for our expanding backyard. That lasted almost 5 years. Just got this Q-32 and so far, it worked out great. Afraid of not having a sear station anymore but the burgers (first operational check) were seared well after letting the grill heat up to about 550 degrees in only about 10 mins on a 60 degree day. Impressed as we were with the first one.
Date published: 2018-04-23
Rated 4 out of 5
by
jsmjr
from
Easy to assemble - easy to use
Downsized from Summits; Q is perfect for 2-4 servings, but grill pad management is a consideration for ex-Summiteers. Instructions and assembly are smooth. Burners well positioned. Igniters quick and pretty fast preheat. Smaller cooking shell heats and cooks faster, so requires early attention to temp controls. Easy to use and functional - a worthy purchase for small quantity grilling.
Date published: 2018-08-27
Rated 4 out of 5
by
MKS64
from
Almost Great
The grill does a nice job but--- The hardware used, screws and pins and such are rusting. Should have invested a dollar more and used a high grade of stainless steel. The grill gets nice and hot but is too hot at its lowest setting. the plastic cover with the Weber logo falls off easily. Heat distribution seems good. All in all not a bad grill but could be a great one
Date published: 2018-01-29
Rated 3 out of 5
by
MikeMSan Jose
from
The Q for outside
We have a Webber Q 3200 as our outside grill for about four years now. It was an excellent grill in the beginning. Started easily and got to the right temp quickly. After about a year the porcelain on the iron grate cooking surfaces started to crack. I followed some Ruth Chris cooking methods of searing steaks at 500 degrees and I guess it was too much for the surface to handle. Now the surfaces are rusted out. Everything else is running fine. But the surfaces are unusable now. We have to cook at low temps and on foil.
Date published: 2018-06-04
Rated 3 out of 5
by
EB from RI
from
Q3200 ... quality so far is disappointing
The grill looks great. However I find a few of the designs inferior. The ignition assembly does not fit solidly in the compartment. Also, the light snapped off and broke. I expect to start grilling soon when the weather warms up. I hope the operation works as expected.
Date published: 2018-03-31
Rated 5 out of 5
by
Horns
from
The perfect grill for the empty nesters!
I have had the big fancy gas grill and the best charcoal grill but for my empty nester needs this grill fits my needs perfectly. I am a bit of a control freak and this grill gives me all of the control I need to cook the perfect meal.
Date published: 2018-06-28
Rated 5 out of 5
by
Greg1951
from
Weber 3200
My wife and I purchased our Weber Grill for our winter home. We wanted a grill that required little to no maintenance, was small and light weight for storage, offered ample cooking space to cook for small groups and good temperature controll. Our Weber 3200 met all these criteria's. Easy clean up, the light weight frame, the dual burner controls make this the perfect grill for our home. In fact we like our grill so much we are purchasing a 3200 for our daughter and son in laws anniversary gift.
Date published: 2018-01-12
Rated 5 out of 5
by
ozziperch
from
The new Weber Q 3200
I owned the first Q3200 for 9 years. We liked it so much we bought the new Q3200. We are very pleased with the redesign of this grill. It is a great gas grill for smaller outdoor areas. This grill cooks perfectly when used according to the manufactures instructions. The only thing I would change about the newer design is the tool holder. The older one had the tool holder on the pull out table on the right whereas this grill has it out in front. Minor issue for an overall outstanding grill!
Date published: 2018-07-24
Rated 1 out of 5
by
hoff 805221
from
Needs a better design
I purchased this grill exactly two years ago to the day and now I am having to replace it! It is only my wife and I and we grill out about once every two weeks and it has not been abused or used in any manner to which it was not designed, it has been kept covered up and sits on it's own wooden stand, has no contact with the ground! This was the first Weber grill that we owned ( and it was the shortest time of functioning of all the grills we've had in the years we have owned grills)!
Date published: 2018-05-31
Rated 5 out of 5
by
Regular guy
from
Great grill
I purchase this Grill about 3 weeks ago I've used it several times.. have you cook hamburgers chicken fish vegetables on it. I like it's not a large Grill. It heats up quickly have good control of the temperature. It does what I need it to do. I have not tried ribs yet Perhaps I will on the 4th. It was fairly easy to assemble it just has plastic. Doesn't seem to be a problem nice looking girl I paid 199 at Home Depot. List price was 399. So that when 199. It was a great value.
Date published: 2018-06-09
Rated 5 out of 5
by
Ellen
from
Never Anything but Weber!
I have owned Weber grills since the 1980's. When I moved around, I often sold the one I had or gave it to a scouting org and bought a new one in my next location. My longest possession was from 1994 to 2006. It was in perfect running condition when I gave it to the scouts. The starter never failed in any Weber I had. The only parts I ever had to replace were the grill tops and, once, the flavorizer bars. Dealing with the Weber staff was always a good experience.
Date published: 2018-01-12
Rated 4 out of 5
by
The Q
from
Almost there
Thisi is a very good tooL However, I believe this grill is unique compared to the traditional propane grill. The cast iron feature changes the cooking proces" it took sometime to understand how quickly food is prepared. I searched hi and low to find specific instructions on using tha tool. All all I found was a general set of procedures to use with any grill. This grill is unique enough and different enough to warrant its own Instruction Manual
Date published: 2018-01-12
Rated 5 out of 5
by
Jon898
from
Great on Bulk Propane
Bought this to replace an old natural gas fueled Ducane when we moved to a LPG home. Bought and installed the bulk propane conversion (easy!) Was a little hesitant going from a ceramic-type grill to a direct flame grill, but this is working well and heats up much faster. Only hesitation is that the handle is hotter than I'd like, but using a silicone glove it's not an issue. Corrosion resistance of the aluminum body was important to me.
Date published: 2018-07-21
Rated 5 out of 5
by
erporsche
from
Great Grill
Our family have been using the grill for 9 months, performs great, has even coverage and high items to sear foods as required. Only issues I have had are with light not properly working when lid is elevated and the lower plastic panel that covers the view of the propane tank is not designed properly and is very flimsy and falls off when grill is moved. I ordered another one and it was no better. Bad design that needs to be corrected.
Date published: 2018-01-13
Rated 5 out of 5
by
Sam in AZ
from
Great Grill
Just the right size for two people. I would make two suggestions, 1 Some way to keep a disposable pan in the alumin drip shelf. If it is windy I have had the disposabl drip pan blow out of the grill. 2 Make a cover that only covers the grill not to the ground. After I put the grii togather, installed a full tank of propane and covered it a major gust of wind0 blew the grill over. I have since left the cover off with it blowoning over
Date published: 2018-01-13
Rated 5 out of 5
by
joe5543
from
Best grill I ever owned!
I have (2) Q3200 grills, one at home and one at our camper trailer. Also my son-in-law and daughter bought one before I got my two. The Q3200 is easy to move on the patio, easy to change the gas bottle, and most important, I haven't burned anything I have grilled on my Q3200's!!! My sister-in-law bought a Q3200 this past summer because of my recommendation. I can't say enough about how great the Q3200 grill has been for me.
Date published: 2018-01-12
Rated 5 out of 5
by
Wavy906
from
Great service
I purchased my grill from Amazon. When it arrived it had a broken starter. I called Weber, and the issue was resolved immediately with a new part. I didn't have to call a foreign place, just Illinois. Since my purchase I have used it as much as weather allowed. Shrimp, steaks, and brats have all come out perfectly. I made my mom NY strip for Mother's Day, and she said they were the best steaks she had ever eaten.
Date published: 2018-05-22
bvseo_sdk, dw_cartridge, 16.1.1, p_sdk_3.2.0
CLOUD, getContent, 169ms
reviews, product