Q Series
THE HEART OF EVERY MEAL
Weber
Weber® Q 2200 Gas Grill

Titanium
Image for capacity demonstration purposes only.
Actual product model and features may vary.
It's the little things that make life feel big. Grill a quick afternoon lunch of burgers and hotdogs, or a fish fillet for family dinner. The Q 2200 gas grill is an easy solution for any meal.
Part #54060001

Free Shipping & Returns on Weber.com Orders $50+
Free Standard Ground shipping on small parcels and grills <70 lbs. via FedEx, with delivery within 5-8 business days, expedited options available. Free 30 day returns. Shipping Information & Return Policy
Main burners: BTU-per-hour input

12,000

Dimensions - Lid Open and Tables Out (inches)

26"H x 51.4"W x 25.1"D

Dimensions - Lid Closed and Tables Out (inches)

15.5"H x 51.4"W x 19.5"D

Primary cooking area (square inches)

280

Total cooking area (square inches)

280

Stainless steel burners

1

Fuel type

Liquid Propane (disposable cylinder sold separately)

Side tables

2

Battery type

AAA

Batteries

1

Features

Porcelain-enameled, cast-iron cooking grates

Electronic ignition

Cast aluminum lid and body

Built-in lid thermometer

Folding side tables

Glass-reinforced nylon frame

Removable catch pan

Infinite control burner valve

Cookbox

5 years, no rust through/burn through (2 years paint excluding fading or discoloration)

Lid assembly

5 years, no rust through/burn through (2 years paint excluding fading or discoloration)

Stainless steel burner tubes

5 years, no rust through/burn through

Porcelain-enameled cast iron cooking grates

5 years, no rust through/burn through

Plastic components

5 years (excluding fading or discoloration)

All remaining parts

2 years

Proposition 65 Warning: Handling the brass material on this product exposes you to lead, a chemical known to the State of California to cause cancer, birth defects or other reproductive harm. (Wash hands after handling this product.)




Combustion by-products produced when using this product contain chemicals known to the State of California to cause cancer, birth defects, or other reproductive harm.



Image for capacity demonstration purposes only.
Actual product model and features may vary.
Infinite control burner valve

Porcelain-enameled, cast-iron cooking grates

Stainless steel burner tube
---
---
---
CAPACITY OF THEQ 2200
Don't let the size fool you. Small enough to fit on just about any patio with the power to grill up a full meal. With convenient side tables to place spices and light in weight for easy portability, the Q will be your new favorite sidekick.
Image for capacity demonstration purposes only.
Actual product model and features may vary.

Serves 3-4 people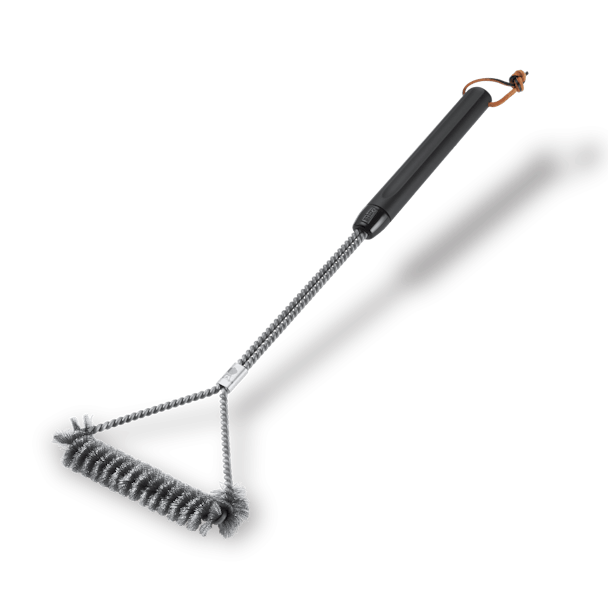 Never forget the importance of
A nice grill brush
Make sure that each meal is as delicious as the next by cleaning your cooking grate before every use. Choose from one of our many durable grill brushes to do the trick.
Explore Grill Brushes
Weber® Q 2200 Gas Grill is rated out of 5 by 511.
Rated 4 out of 5
by
Keross1
from
RV Grill
I purchased the Q2200 because it had been a hassle to make sure I had charcoal, lighter fuel, and matches. I was set to buy the Q1200 but my wife and thought that the Q2200 would give us more room to cook more items at once. Turned out she was right! We are learning how to adjust the heat to grill and bake. We've done burgers, brots, and baked a pasta dish. Biscuits weren't that good! I'm liking it the more I use it! We are going to purchase a Q1200 and donate it for our American Cancer Society's relay for life auction. Loving it so far!
Date published: 2018-04-01
Rated 5 out of 5
by
Papa
from
Just right for a retired couple - all year round
We had an old Weber this size that we wore out. That one didn't have the wings - so I forgot to take them out when I lit the burner - now we have grilled wings and I don't put them under the hood when I put the cover on. We grill 4-5 times a week. We got the propane adjuster hose (recommended for heavy users), a cover (our grill sits out in the weather all year), the flat iron grill (don't use that much), and the fold up cart (haven't used it because we had an old one that will be replaced in the spring). Recommend without hesitation.
Date published: 2018-01-05
Rated 5 out of 5
by
Jane the ozzie
from
Bigger than you think!
I had this BBQ in Australia and loved it so when I needed a BBQ for my deck here in the USA I didn't hesitate to purchase the same unit. I was not disappointed. I have easily fed nine adults and five children with this gem, longer cooking items go on first (like thick steak or whole chicken) and while meat is resting you can cook other items such as fish and prawns. The US website says this cooks for 3-4 people, the Australian site says 8-10 lol. Depends how smart you cook, but this unit can cook for a crowd and is compact without being small. Great for a deck. Love it!
Date published: 2018-07-18
Rated 5 out of 5
by
LadyJ
from
Great grill for RVers
Bought this grill about 3 weeks ago and have used it about 8 times. We are on the road and find the grill easy to set-up and very easy to clean. I bought a plastic putty knife and scrape the food drippings into the foil pan after the grill has cooled. So easy. We love the large surface area on the grill and the domed lid. We cooked a whole chicken and it did a perfect job. You can find a cheaper grill but with Weber you have a quality grill with a 5-year warranty and you'll be able to get parts when needed. Highly recommend.
Date published: 2018-04-18
Rated 5 out of 5
by
meinmass
from
perfect for us
I gave this grill to my husband for our anniversary. Living in the country has many benefits and with that are drawbacks. Mice. On our full size grills we would get mouse nests in the grill year round. My husband would clean it with oven cleaner then dish soap. Soaking the grates to also rid them of potential disease. Gross! Time consuming. A week later they were back even with organic mouse repellent in grill. Missing grilling, I purchased this portable grill so we could store it indoors. So glad I did! We love it! Follow the directions to preheat and use the cooking guidelines provided. Thrilled with results! Flavor, cooking speed, and the heat distribution are perfect! Well worth the money.
Date published: 2019-07-11
Rated 5 out of 5
by
Streetrod
from
It's just a grill...NOT!
I purchased my WEBER because of the salesman's personal experiences with HIS Weber! I just needed a grill! I looked at the big, stainless, "macho" units, but my salesman insisted that, if I wanted the BEST grill out there, I needed a Weber....quick to heat, efficient, rugged, easy to clean, and dependable! I am thrilled that I followed his lead! Grilling is a year-round event for our family, and our WEBER absolutely rocks-it! THANK YOU for such a QUALITY product! Now we have purchased a smaller one to take on camping trips!
Date published: 2018-01-12
Rated 5 out of 5
by
AndyBrown
from
Absolute best grill!
I have owned many Weber products and the Q2200 maybe the best one so far. It is the perfect combination of portability and performance. I can take it with me and have all of the great features of that Weber puts in all of their grills! Great for RV'ers, campers, tailgaters and anyone who wants the benefots of a big grill in a smaller package. One of the best features is the ability to maintain a consistent temperature when cooking. After heating up the grill I can set it at medium and it stays a perfect 350 degrees. The Q2200 might be the best grill I have owned so far!
Date published: 2019-09-22
Rated 3 out of 5
by
Zachery
from
It's o.k.
This grill is well made and sturdy. The heat distribution is good. When you heat the grill up with the lid closed and then you throw your steaks on it is hot enough to sear the steak but even after 5-7 minutes, depending on how thick the steaks are, and you flip the steaks it doesn't stay hot enough to sear the other side in the same amount of time. Not good for short cooking times because you lose a lot of heat in minutes after opening the grill. Otherwise, plenty of room for cooking, nice heaving duty grills, and easy to clean. I had to replace the Valve/regulator assembly w/brass nut after only 2 months of use. The stand is worth the money and easy to assemble.
Date published: 2019-07-02
Rated 5 out of 5
by
jess
from
Best grill I have owned
I have had this grill awhile and still love it. I read reviews before I buy and I am glad to give feedback good or bad. I was the guy that thought a bigger grill was always better but I was wrong. they are just more work. I use this at home have handled birthday parties but yet have thrown it in the truck and went camping with it. love the sizes. It cooks more even than anything I have ever used. prefect evenly cooked food no matter where you place it. The cooking chart that came with it changed how I grill. no more burn brats and burgers and chicken come out perfect evertime. It is not a smoker or slow indirect grill. Get a charcoal or smoker if that's what you want. If you want to preheat it and throw supper on short notice or if the mood strikes it is more than perfect for that.
Date published: 2018-01-05
Rated 3 out of 5
by
Nesto
from
Q 2200 Cook's well
I purchased a Q2200 a short time ago and used it about ten times now. I have a very good barbecue and pellet grill at my residence and I'm no stranger to grilling. I bought this Q 2200 for travelling and have to say it Crooks well, however I do cook at a low temperature to avoid Charing. Upon purchase of my Q2200 I received it with a q2000 lid without the thermostat for placement for it. I also have a problem with the paint flaking off the lower body. I do have to say the warranty side of Weber is very good, of course I have pictures of the issues and they have replaced the parts needed to fix it.
Date published: 2019-09-03
Rated 1 out of 5
by
Deb15
from
Would never buy again!
Grill worked "OK" when first purchased. Never great, but over time it has gotten worse. The grill does not heat, the coil inside sometimes lights all the way around and sometimes it only lights part of the way. Customer Service told us to clean the coil and we have done that several times, but you are not going to take your grill apart every time you want to use it. They did send us a new regulator which seemed to help for a little while. I recently told my husband to go buy a new grill, this one is not dependable.
Date published: 2018-01-15
Rated 1 out of 5
by
Tony M
from
Not a good BBQ & Worse Tech Support
This is my 3rd Q2200 in 4 years years, but it will be my last ever. I just spent 299.00 on one 3 weeks ago and it did the same thing that the others did. Half of the front burner stops working. And after contacting their tech support and talking to the lady there I am convinced they do not care. She tells me to brush the burner. REALLY!!! Like I won't try that first, then try to unplug the holes. It is a poor design and they have issues with the burner system. SO I am returning it to the store on Saturday and buying a different brand.
Date published: 2018-07-03
Rated 3 out of 5
by
orionreplay
from
Decent Grill but troubles with flame
We got this Q2200 last summer and used it about once a week until winter truly set in. I love the smaller footprint and purchased the matching rolling cart for it as well. It is light weight and easily maneuvered for use. My biggest heartburn with it I find is that the flame tube that encircles the unit below the grill surface seems to get clogged easily from the previous BBQ session. Even though I keep my grilling surface clean and tidy, the grease and oils from earlier BBQs seeps into the open holes and blocks the flame. The next time I go to grill I might find that only half the burner is lit. I then have to cool the grill to remove the grates in order to free the burner holes. I find a toothpick does this easily enough. I then check my flame and reinstall the grates. On my old Weber the flame tubes were protected by the flavorizer bars. This Q2200's burner is out and exposed to dripping fats, grease, and oil.
Date published: 2018-01-12
Rated 5 out of 5
by
valerietoo
from
very versatile and sturdy
This is the second Weber 2200 grill I've owned. The first was at a mountain cabin that saw a lot of use. And was great! Then a bear damaged it so I bought a second one for my house. It stood up to constant use during my recent family reunion and also my daughter's wedding crowd. Easy to grill veggies, fish, or beef. Easy to clean and maintain. It will last years with simple maintenance. Small enough to take to the beach or cabin. Big enough to cook for a crowd. I strongly recommend it.
Date published: 2018-01-05
Rated 4 out of 5
by
thomda01
from
Nice portable grill
This is my second Weber Q after having owned the first for about 5 years. I love the portable weight and simple features. It lights faithfully every time (except when my first grill stopped lighting due to a regulator that gave out), and it cooks fast and strong. What I dislike about the grill is that the burner tube holes get clogged quickly and must be cleaned regularly in order for the whole burner to function. And the regulator, although it appears to adjust the flame to various levels, really does not allow much adjustment. The temperature is almost always high and hot, especially with the lid closed. This may be due to the grill box being small. Overall it works well for my small household and small deck.
Date published: 2019-07-04
Rated 5 out of 5
by
njmobile
from
Great Little RV Grill
We needed a small gas grill to pack RVing and always enjoyed our big Weber and gave this Q2200 a try. The temp gauge was a must have and proved it's worth when timed cooking chicken or hamburgers. I replaced the right grill with a griddle and cooked veggies to serve with our meals, perfect each time. I love this little grill after 1 trip and it'll always be included in our must pack items. I also purchased the portable stand and it too was worth while for me. This grill has too much height (yes, with out the stand) to store in the camper's outdoor locker (basement) so it rides in the back of the truck. Overall it was a great purchase and I highly recommend the Q Series grills if you're needed a portable grill.
Date published: 2019-05-06
Rated 4 out of 5
by
jdn1986
from
Excellent grill for the size
I purchased this grill to take camping and to use on my deck at home. This grill has a tremendous amount of cooking space for the size and very simple to clean. I gave it four stars because I had difficulty keeping the grill lit at the beginning using an adapter and 20 lb lp tank. After researching the problem online I learned that when attaching and detaching the lp tank, the tank valve must be turned on extremely slow the first time after attaching the hose otherwise the regulator on the grill automatically shuts off. The other minor problem I have is the grill runs slightly hotter than I prefer in the lowest setting. Other than these two factors it is a great grill and is made to a high standard of quality.
Date published: 2019-08-07
Rated 5 out of 5
by
cjcj
from
Stronger than you'd think!
We've had this grill for over a year and love it. It's mounted on the stern of our boat, and we use it all the time. Yesterday, our 1000-pound 13' Boston Whaler fell off our top deck when the cable supporting its bow broke. It bounced off the grill, slid over to the side of the boat, and came to rest on the side of the boat hanging off the crane by its stem cables. There was a little damage to the dinghy but the grill was completely unscathed! That thing is strong!
Date published: 2018-04-22
Rated 5 out of 5
by
Gracieann
from
LOV
We had a larger Weber grill that did a great job but it required that we move it around to use. We are seniors and having to move some furniture to use was becoming a bit cumbersome for us. LSS we sold our larger grill and bought this grill with the stand and cover. We purchased from amazon. We love it and we use it almost daily. It performs great. The grill surface is much bigger than it looks and grilling is every bit as fast and tasty as our larger grill was! We also bought an adapter so we use a regular sized propane tank and no the small canisters. Perfect!!!!
Date published: 2019-08-27
Rated 4 out of 5
by
djzolin56
from
Nice little grill for the camper
I bought this grill after much research. It grills fine but i also bought the solid plate to do breakfast stuff on like eggs ,hash browns and bacon. There it does so-so. Hash browns and tend to stick and bacon takes much loner then normal. Also the side lip could be higher to maintain the food on the grill. The cart is very flimsy and a plastic tab broke the first time I set it up. Weber did send out a new one right away but the design needs to be looked at. It fires up quickly and has adequate heat for my grilling needs. I use it for camping exclusively.
Date published: 2018-10-05
Rated 5 out of 5
by
KennyW
from
Love the Q 2200 grill. Excellent customer service.
I have been using this Weber Q 2200 a lot and it works great. At home I use it with a cart but I recently put it in the truck and took it to a family cookout. The portability is a real plus for me. I recently had some damage to the grill that was probably my "user error". Although I am within the warranty period I was ready to purchase replacement parts but Weber sent everything I needed at no cost to me, even though the damage was likely my fault. I am so glad I purchased a Weber. I have cooked on other types of grills but Weber quality is far superior.
Date published: 2019-06-27
Rated 5 out of 5
by
jeson
from
More easy barbecue dishes.
OriginMore convenient than Original Kettle Charcoal Grill.al Kettle Premium Limited Edition Charcoal Grill 22" - Easy temperature control. - Convenience of movement. - Easy to use.
Date published: 2018-04-09
Rated 1 out of 5
by
Amber
from
Wouldn't recommend
I used it maybe a month and the regulator has already went out. Guess I'm having the same problem as a lot of people are with this grill. Is there any way I can get help with this problem or possibly a new part??
Date published: 2018-05-05
Rated 5 out of 5
by
Reellegend01
from
Awsome grill
Bought 2 months ago...best grill I have had!!!!!!!!
Date published: 2019-01-22
Rated 4 out of 5
by
RFrench
from
Great Grill, Except for Temperature Control
This is a great little grill for our RV. It's a good size and easy to clean. The only issue that keeps me from giving it 5 stars is the temperature control. This little grill runs really hot, even on the lowest setting, it's nearly impossible to get the grill below 375º, which for searing is ok, but too high for almost everything else, and on high this grill will push 650-700º. These high temperatures also burn through propane rather quickly. A redesign of the regulator or the burner orifice size would likely improve the situation.
Date published: 2019-11-20
Rated 4 out of 5
by
JohnSD
from
A Little Disappointed
Having happily used a Q1000 for nearly 10 years, I find (unlike the Q1000) the Q2200 burner immediately ignites halfway, then takes several seconds more to ignite around the entire burner. This occurs even with the valve on the 20lb tank is fully open and all the burner holes are clean. I would also like to remove the side-trays. The grill has to be allowed to cool down before they can be folded in and closed, whereas the Q1000 could be closed immediately after cooking. I like that the Q2200 is bigger, but it seems to be much less efficient than the Q1000. Bigger may not always be better, and using the thermometer to "pre-heat" the grill wastes a lot of gas. Perhaps food cooks better watching the time and temperature, but it is a lot less fun.
Date published: 2019-11-17
Rated 5 out of 5
by
Eric03
from
Cooks great!
I use this BBQ for my 5th wheel. I need compact but large cooking area. Bought two other travel size grills that didn't meet the needs. I ended up getting rid of them and bought this weber. Cooks even, gets really hot, doesn't spill grease all over when stowing it. Only down is the plastic fold out trays, more my own personal mistake. Light the grill with them still folded in, caught it in time not to do to much damage. Need to made out of something more melt resistant. Its a great grill for travel, should have been my first purchase.
Date published: 2019-02-04
Rated 5 out of 5
by
09 Harley
from
Great quality at an affordable price
Bought about a month ago to take with us in our RV. Typical great Weber quality. Used several times during our last trip. The evenness of temperature across the grill surface is exceptional. The only downside I've noticed is that when using it with the lid raised it could use some more power. I compare it to my new Ford truck. I purchased a new F250 rather than an a F150 for the same reason. More power and capability when I need it. Anyone in the market for a grill should seriously consider this excellent offering from Weber.
Date published: 2018-07-07
Rated 5 out of 5
by
NJDan
from
Weber Q 2200 Gas Grill
Weber Q 2200 Gas Grill - Quality Well Made Portable Weber Grill at a reasonable price with Excellent support Quality well-made portable grill at a reasonable price with excellent support. Recently cooked 10 hamburgers at one time with no problem at all. You will use this grill so often I highly recommend the propane tank converter OR the Weber 6525 Q Cart which come with the propane tank adapter. Unlike my previous grill, which was so big it had to be left outside on the porch in the winter, this grill will be stored INSIDE.
Date published: 2018-08-26
Rated 4 out of 5
by
Duelin
from
Compact , portable and a money saver on the road !
I'm a trans America pipeliner ...the 2200 is small enough to transport easily and does not consume much space ...we work in some what desolate areas at times ....paired with RTIC 110 cooler and a 20# propane tank ....I have cold beer ....and grilled steak or seafood from my tailgate every night .... Literally the true definition of tailgating
Date published: 2018-07-16
bvseo_sdk, dw_cartridge, 16.1.1, p_sdk_3.2.0
CLOUD, timer 209ms, 0ms
reviews, product
bvseo_sdk, dw_cartridge, 16.1.1, p_sdk_3.2.0
CLOUD, getContent, 0ms
reviews, product
Keep Exploring
Q Series

Weber® Q 1000 Gas Grill

Q Series

Weber® Q 1200 Gas Grill

Q Series

Weber® Q 2000 Gas Grill

Q Series

Weber® Q 3200 Gas Grill

Q Series

Weber® Q 3200 Gas Grill (Natural Gas)