Q Series
ADD COLOR TO THE JOURNEY
Weber
Weber® Q 1200 Gas Grill

Titanium
Image for capacity demonstration purposes only.
Actual product model and features may vary.
Go hiking in nature with a grill as vibrant as the scenery. Travel on or off the beaten path, camp in the woods or near the shore. Explore the world with big taste and your Q 1200 portable gas grill by your side.
Part #51060001

Free Shipping & Returns on Weber.com Orders $50+
Free Standard Ground shipping on small parcels and grills <70 lbs. via FedEx, with delivery within 5-8 business days, expedited options available. Free 30 day returns. Shipping Information & Return Policy
Main burners: BTU-per-hour input

8,500

Dimensions - Lid Open and Tables Out (inches)

24.6"H x 40.9"W x 20.5"D

Dimensions - Lid Closed and Tables Out (inches)

15.5"H x 40.9"W x 16.5"D

Primary cooking area (square inches)

189

Total cooking area (square inches)

189

Stainless steel burners

1

Fuel type

Liquid Propane (disposable cylinder sold separately)

Side tables

2

Battery type

AAA

Batteries

1

Features

Porcelain-enameled, cast-iron cooking grates

Electronic ignition

Cast aluminum lid and body

Built-in lid thermometer

Folding side tables

Glass-reinforced nylon frame

Removable catch pan

Infinite control burner valve

Cookbox

5 years, no rust through/burn through (2 years paint excluding fading or discoloration)

Lid assembly

5 years, no rust through/burn through (2 years paint excluding fading or discoloration)

Stainless steel burner tubes

5 years, no rust through/burn through

Porcelain-enameled cast iron cooking grates

5 years, no rust through/burn through

Plastic components

5 years (excluding fading or discoloration)

All remaining parts

2 years

Proposition 65 Warning: Handling the brass material on this product exposes you to lead, a chemical known to the State of California to cause cancer, birth defects or other reproductive harm. (Wash hands after handling this product.)




Combustion by-products produced when using this product contain chemicals known to the State of California to cause cancer, birth defects, or other reproductive harm.



Image for capacity demonstration purposes only.
Actual product model and features may vary.
Porcelain-enameled, cast-iron cooking grates

Infinite control burner valve

Stainless steel burner tube

Cast aluminum lid and body
---
---
---
Capacity of theQ 1200
Don't let the size of this colorful grill fool you. Small enough to fit on a city balcony, large enough to execute an entire meal, with convenient side tables to place spices and marinades.
Image for capacity demonstration purposes only.
Actual product model and features may vary.

Serves 2-3 people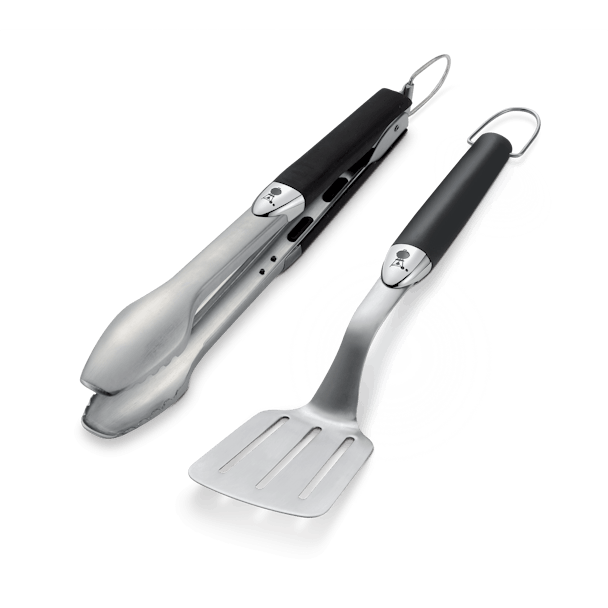 Grill on the go with
A TRAVEL SIZED TOOL SET
The travel size Premium Tool Set fits perfectly in your backpack and can go with you on any adventure. Whether flipping burgers in the deep woods or turning salmon on the shore, be equipped with the best tools.
Explore the tool set
Weber® Q 1200 Gas Grill is rated out of 5 by 1233.
Rated 2 out of 5
by
Flytyinglady
from
Darn thing keeps breaking
Well, I usually love Weber grills. But this one, not so much. Had it about 6 months now. I've had to replace 2 broken parts on it already, so I'm not too impressed with how it's made. We only use it when camping, so it stays in the trailer. I bought it so I could bake with in using the "indirect heat" method with that wonderful high dome lid. Yeah, that doesn't work either. So it's great to throw a burger or steak on. Lots of grills out there that will do that for a fraction of the price of this one. On the upside their customer service is great, and ship parts out to you quickly.
Date published: 2018-01-12
Rated 5 out of 5
by
- EdW -
from
Easy to use and no smoke for everyone
After 2 weeks of purchase the Q1200 and installing on my apartment balcony I just used it few times. The first 3 points I would like to say is: - No smoke, for those that live in apartments with some balcony, this is the best way to have a barbacue without smoking your neighbours.. - Easy to use / clean: Just open the gas valve, push the ignitor and in 20 minutes is ready to use. The non-stick grill surface makes the Q1200 easy to clean. - Small size: Enough for 2 to 4 persons that like to enjoy a barbacue at home, even if you leave in a flat in a big city. I am vey happy with the grill. EdW
Date published: 2018-06-12
Rated 3 out of 5
by
Gramcracker
from
Love the size... if only
I love my little BBQ but sadly must go through multitudes of little propane bottles since it can't be converted for natural gas. I use it every night for dinner so a canister doesn't even last a week. They're not expensive but it's a hassle and a waste. Plus I have to discard the bottles at a hazardous waste center. I wanted something small but regret buying it now for that reason alone. Also igniter went out on me and although Weber sent me a free replacement, the "simple" install instructions, although not complicated, are anything but simple as they require a complete dismantle and reassembly.
Date published: 2018-06-03
Rated 5 out of 5
by
adanfon
from
Great portable grill!
Fits perfect in the bed of my truck with all my gear. Cooks nice and even and is complimented by my 5lb propane tank. Love it and will now be replacing my cheap off brand home grill with a Weber. Well worth the money!
Date published: 2018-01-16
Rated 1 out of 5
by
Anonymous
from
Worst grill I ever owned. I want to return it.
The worst grill I ever owned. I would very much like to return it. I already did an exchange with the store (Lands End in Provincetown)...they won't take it back, The gnition is awful...it takes up to a half a can of fuel to get it started (and two store employees had the same problem when they visited here with the second grill). And even when ignoted...it will not heat past 375 degrees. The Grill is a lemon! I have owned other Weber grill's in the past. NEVER a problem. This one should not even have your name on it.
Date published: 2019-06-12
Rated 5 out of 5
by
KC Don
from
Great Camping Grill !
After reading the reviews for the Weber Q1200 I decided to purchase one to use while camping. The size was perfect for packing around with us. The grill does cook fast and hot. Hamburgers were cooked thru and very juicy. My wife said I cooked some of the best steaks I've ever cooked. The steaks seared very fast and left the steaks cooked perfect and juicy. We have also cooked bacon wrapped jalapeño peppers , Chicken Grillers, Baked potatoes, and Corn on the cob ! Clean up was fast and easy with the replaceable drip tray in the bottom of the grill. Very well made ! Well worth the investment.
Date published: 2019-06-13
Rated 4 out of 5
by
Travel & cooking
from
Great heat control & cooking area.
Bought for the summer camping season so I have only used once in the cold winter air. The grill heated up quickly and the control responded well to reduce or increase the flame. The cooking area is the right size for cooking for 2 - 4 people. Lighter in weight, so easy to move & travel with. The propane attachment is very close to the handle and a "fat" propane tank was tricky to install (need more practice) and rubs against the handle. I wonder if this will wear the handle over time. The side tables fold in over the grill and I may have to protect the table from grease while on the trips.
Date published: 2019-01-27
Rated 5 out of 5
by
DAT in Texas
from
Great Grill!!!!
We bought this grill to travel in our RV. It replaces another brand that is RV specific, and the Weber is superior in every way. The cooking grates are sturdy, and when preheated they are excellent. The temp gauge is a must for us, as we tend to slow cook on the grill. The ability to control the flame is not a gimmick, as it really works well. The shape of the burner allows you to get food off the flame if you need to. Lastly, the grease tray that uses standard Weber foil liners is outstanding. One of the main reasons we switched to Weber. We own 4 Weber grills. Nothing compares.
Date published: 2019-07-12
Rated 5 out of 5
by
Johnny Taxpayer
from
Best small grill made today!
I have owned two of these grills. This one was bought after I sold my older model in a moment of insanity. Regretted it immediatly and ordered this one to correct my mistake. I cook for two so this is perfect. Also the ability to use the small camping propane bottles is a key feature. The grill heats up fast and cooks evenly. Weber has included a thermometer into the lid that is accurate and very thoughtful. The ceramic coated grates are easy to remove and clean. Built very sturdy and have nothing negative to reveal.
Date published: 2019-10-06
Rated 5 out of 5
by
Kgraham63
from
Compact yet has pro features
My WEBER Q1200 rocks! It's green, It's compact and easy to take anywhere and it Ben's like It's a much more expensive grill. Do not be fooled by the small footprint. The design allows for complete control which means you will bbq like a pro. Highly recommend and the availability of WEBER accessories will keep you happy. Get one!
Date published: 2018-01-05
Rated 5 out of 5
by
Gene T.
from
Great small grill
I bought the Q wanting a quick way to grill a couple of pieces of chicken or burgers or steaks or veggies without firing up the big charcoal grill. This little grill is great! It does a wonderful job as is but sometimes I add a small smoke box with hickory to add extra flavor. The small portable bottle of propane lasts a long time too and they are relatively inexpensive. I get 3 bottles at the local outdoor/camping store for less than $10.00. Now I am looking for excuses to load the Q up in the car and take it on a picnic. Really nice product. I should have bought this years ago.
Date published: 2018-06-10
Rated 4 out of 5
by
Jlucas40
from
A GREAT BBQ
I actually won this bbq in a contest and due to size extra I thought about giving it a way to a friend. With a very easy and straight forward assembly, I thought I would give it a chance. I did have an issue attaching a large LP fuel tank; tank was full, a new gas line but no fire! Found out there was an issue with the old tank. I replaced it with a new one and I was now in business! I went to the local butcher shop, picked out a beautiful ribeye, cooked it as instructed: BEST STEAK I'VE EVERE HAD! My only complaint would be the Weber Stand I purchased, a like wobbly for me!
Date published: 2018-03-23
Rated 5 out of 5
by
tuchrist50
from
Just what we needed
We have a townhouse on the beach in Destin FL that we rent out most of the year. We love to grill all year round back home in Minnesota. So we missed not having the ability to grill when we were at the Florida place; but having a full size grill was not an option there. We purchased a Weber Q1200 grill and have been very happy with it. It does an excellent job grilling shrimp, steaks, scallops, hamburgers and pretty much everything else we have tried. Yet is small and light weight enough to use on our patio table and store in a small storage closet when we are not there. Perfect!
Date published: 2018-05-21
Rated 5 out of 5
by
Geaux Tigers
from
Very good small grill
Have older Spirit 310 in good shape that I have replaced ignitor, flavorizer bars, and grill grates to stainless steel but that is it. Mostly cook for 2 or 3 people so smaller works for us. Picked up q1200 at Target on clearence for $105 so got great price. Very easy to setup and store. Does take about 15-20 mins to warm up to 500 deg but cooks very well. Coated cast iron grates take getting use to but am learning. No easy way to cook using indirect heat with design but knew that before buying. Uses disposable propane bottles but I bought adapter to use my full size propane tank with 5 ft hose and save bottles. Highly recommend if you need smaller and/or portable grill that looks good and cooks great.
Date published: 2019-12-15
Rated 5 out of 5
by
MR.H
from
Love the Weber Q
I limit my reviews to things that is worth purchasing and warrants the consideration of others to purchase. Their are two things that I initially looked for: 1. Quality in the small details 2. Performance. Both have met or exceeded my expectations. I am currently using my Weber Q1200 with the 20lb tank attachment with the rolling cart. The quality of how the Weber Q is built along with the ese of putting it together is a big win. Performance wise, the little grill will stand up to the bigger grills offered by other companies. The only draw back is not with the grill, but with the rolling cart which could have been engineered better and made more sturdy. Otherwise, very happy with the overall purchase.
Date published: 2018-08-01
Rated 5 out of 5
by
Johnny 57
from
Excellent engineering top quality
Form and function is everything I expected. Built to last with high quality components and looks to match. Worth the money spent and should last for years. Cast iron grates for grill marks on meats are easy to remove and clean, keep drippings off of the burners-porcelain coated also. Portable cart was a good addition for securely attaching grill and putting it at the right height to cook and wheel around with security, or simply put on a picnic table. Fat.drippings collected in disposable aluminum pan are very affordable and available everywhere. Very happy with this grill!
Date published: 2019-06-16
Rated 2 out of 5
by
Love to BBQ
from
Not what I expected
I have to weigh on Weber gas grills, I have bought one because I have heard they are excellent quality. Great heat distribution being one of the best features. I have had it maybe a year and every time I use it I am unhappy with the results. Honestly my last Propane BBQ of similar size was a lot less expensive and the results where the same but I could of saved lots of $$. I also have many problems trying to screw in the small propane canisters as the fit is so tight I feel like it will break the valve on the BBQ. It takes me forever to get it to screw in. I did get an gas line extension to hook up to my large main tank to make it easier but I hate to drag that large tank around everywhere. Not satisfied.
Date published: 2018-09-26
Rated 1 out of 5
by
Hawk1
from
Very disappointed
I was very disappointed with the grill and returned it to Lowes. The construction was good and what I would expect from Weber. The temperature control was absolutely useless. It didn't matter where you set the adjustment it would not change from a very high temp. I called the help line and was told it would work well for burgers and steaks at that temp. I was sent a replacement valve and it was even worse. I have had cheaper grills that worked better. Not what I would expect from Weber.
Date published: 2019-06-27
Rated 5 out of 5
by
Joe The Plumber
from
great grill
Bought this grill after much research, and the recommendation of a friend who owns the 2200 series. Very high quality. even cooking and temp control. i line the inside of mine with aluminum foil makes cleanup a breeze! Only down side is even though it says it accepts 16.4 oz. propane bottles (which i cant find anywhere) i had a bunch of 16 oz. coleman bottles that wont fit! So, no big deal, the 14 oz skinny propane bottles fit fine and i always keep one extra when we are traveling with the grill. works well in windy conditions, unlike many other cheaper grills ive owned.
Date published: 2018-08-19
Rated 5 out of 5
by
DelrayDoll
from
Small but Mighty
This is our 4th or 5th Weber over the years! Replaced another brand working larger grill that we had to move whenever there's a hurricane so decided to get something smaller. This suits our needs perfectly. Large enough grill space, fold up side shelves, and I love my lavender lid! Separately, we actually purchased a copper grill sheet so we don't have to clean the grill every time. We did have to buy a piece to convert the tank to the grill (and a cover for inclement weather) as well as the stand (which needed an engineer to put together!). All in all, very pleased.
Date published: 2019-01-17
Rated 5 out of 5
by
BobbFromDenver
from
Awesome Grill
I bought the Q1200 last month for cooking out on my balcony and I love it! Since it is a gas grill I just use a tinfoil pan to put wood chips in so that my food still gets that Smoky taste. I have cooked steaks, burgers, fish, and chicken on it and it does a great job. The Weber Grilling Guide that comes with the grill is really helpful too!
Date published: 2018-07-25
Rated 5 out of 5
by
bfisher003
from
Great Grill!!!
We've had our Q1200 for three years and carry it in our RV on all our trips. It's even been to Alaska. It has been trouble free. Cooks great! In fact, I would rather grill on it instead of our big stainless steel three-burner Weber grill. I put quick disconnects on ours so we could hook it directly to our trailer's propane supply instead of those little green bottles that always run out right in the middle of things it seems. I modified the Q1200's regulator with quick disconnects also, so when I need to I can still use the little green bottles. The Q1200 rocks!!!
Date published: 2019-08-22
Rated 1 out of 5
by
kwebbtx
from
Disappointed
I received this as a gift from my son. It was delivered quickly and easy to assemble. The first few times I used it, per the instructions, I expected it to run hot and it did...but I've never managed to actually control the temp with the gauge, it always is hot. I was a caterer for many years, never had that issue with a gas grill before. But the real problem is that the button to ignite the grill came off and when I finally found it, it doesn't go back into place and I cannot light the grill. I'm going to mess with it some this weekend as I have guests coming on Memorial Day but I'm guessing we won't be having grilled chicken for our holiday dinner. My son lives out of town, he said he'd look at it when he comes and see about returning it. I'm really disappointed, it seemed the perfect answer for small grill for a single person to use frequently. But it does look nice sitting there in its lovely cover....
Date published: 2018-05-25
Rated 3 out of 5
by
Rich714
from
Step above an average grill
Still new to cooking on this grill, the problems i have found so far is if its windy very hard to keep the temperature a the correct level, also takes a very long time to heat up to clean when first being used. I have only used on a small tank, have not bought the stand and larger tank yet. This might relieve these concerns, but I am unsure. Definitely well built just cant give it 5 stars due to its issues I have had out of the box.
Date published: 2020-01-18
Rated 5 out of 5
by
Chari
from
Weber Q 1200 the best portable EVER!!
This is my second Q series. I was in panic that this one would start up, so after talking to a very wise reprsentative, a new regulator was sent out. I was able to make my annual ritual to the waterfront in Tacoma Washington for July 4th! I was interviewed by local TV stations with my grill!!
Date published: 2018-07-05
Rated 5 out of 5
by
Tommylyhne
from
Awesome little bar bq
Bought this little purple WEBER portable gas bar bq for our RV camper,used it this weekend and did not let my expectations of WEBER BAR BQ down as I have a Silver Series natural gas at the house which I bought 15 years ago and has not cost me a dime other than getting new grills and flavor bars,that is why I purchased this little guy,2 T bones potatoes and vegetables were done in no time as this little guy got up to over 450 F. Keep up the great work WEBER.
Date published: 2019-05-20
Rated 5 out of 5
by
Bayb
from
Easy and compact
Love , love this mighty tiny Weber gas grill. It rolls easily on the cart , cooks our steaks to perfection ! Why did I wait so long to buy this ?! Great price for an outstanding product. Folds up for camping travel. Can't say enough about this grill , it's great !!
Date published: 2018-01-12
Rated 5 out of 5
by
White Rhino
from
The little big grill-griddle
This is a quality grill. I added the griddle replacing one grill and now I can fry up eggs, onions on one side and burgers on the other. Plus toast the buns for that extra crunch. I'm now using it more than my new Weber genesis II which I also purchased this spring.
Date published: 2018-09-24
Rated 4 out of 5
by
kerstenak
from
Grill #2
I bought this second grill a month ago, because the identical model I had purchased two years ago no longer would start. Strangely enough, the start button on this newest grill would not start the grill. Strangely enough, I was able to pull the start button from the old grill and it worked like a charm. Go figure! So far, all has worked well with this new model. I like to grill once a week, or so. I wish that grill brush and the hose that connects grill to gas would come in the box. Happy with the product, but we'll see how long the lifespan is on this one.
Date published: 2019-06-30
Rated 5 out of 5
by
Toni
from
Best Small Gas Grill with Big Features
I was searching for a small gas grill that was easy to use and had upgraded features like an electric start, thermostat, and heavy iron grates. The Weber Q1200 fits all of these requirements, and more. Because it uses a gas canister, I don't have to lug around a huge gas tank to get refilled. It heats up fast and cooks everything evenly. It's perfect in every way. The Weber design team did an outstanding job. The choice of colors is awesome. Mine is purple. I, also, purchased the 6557 Portable Cart. I just wish it was sturdier, but it does the job.
Date published: 2018-01-12
bvseo_sdk, dw_cartridge, 16.1.1, p_sdk_3.2.0
CLOUD, timer 156ms, 0ms
reviews, product
bvseo_sdk, dw_cartridge, 16.1.1, p_sdk_3.2.0
CLOUD, getContent, 0ms
reviews, product
Keep Exploring
Q Series

Weber® Q 1000 Gas Grill

Q Series

Weber® Q 2000 Gas Grill

Q Series

Weber® Q 2200 Gas Grill

Q Series

Weber® Q 3200 Gas Grill

Q Series

Weber® Q 3200 Gas Grill (Natural Gas)