Q Series
ADD COLOR TO THE JOURNEY
Weber
Weber® Q 1200 Gas Grill

Titanium
Image for capacity demonstration purposes only.
Actual product model and features may vary.
Go hiking in nature with a grill as vibrant as the scenery. Travel on or off the beaten path, camp in the woods or near the shore. Explore the world with big taste and your Q 1200 portable gas grill by your side.
Part #51060001

Free Shipping & Returns on Weber.com Orders $50+
Free Standard Ground shipping on small parcels and grills <70 lbs. via FedEx, with delivery within 5-8 business days, expedited options available. Free 30 day returns. Shipping Information & Return Policy
Main burners: BTU-per-hour input

8,500

Dimensions - Lid Open and Tables Out (inches)

24.6"H x 40.9"W x 20.5"D

Dimensions - Lid Closed and Tables Out (inches)

15.5"H x 40.9"W x 16.5"D

Primary cooking area (square inches)

189

Total cooking area (square inches)

189

Stainless steel burners

1

Fuel type

Liquid Propane (disposable cylinder sold separately)

Side tables

2

Battery type

AAA

Batteries

1

Features

Porcelain-enameled, cast-iron cooking grates

Electronic ignition

Cast aluminum lid and body

Built-in lid thermometer

Folding side tables

Glass-reinforced nylon frame

Removable catch pan

Infinite control burner valve

Cookbox

5 years, no rust through/burn through (2 years paint excluding fading or discoloration)

Lid assembly

5 years, no rust through/burn through (2 years paint excluding fading or discoloration)

Stainless steel burner tubes

5 years, no rust through/burn through

Porcelain-enameled cast iron cooking grates

5 years, no rust through/burn through

Plastic components

5 years (excluding fading or discoloration)

All remaining parts

2 years

Proposition 65 Warning: Handling the brass material on this product exposes you to lead, a chemical known to the State of California to cause cancer, birth defects or other reproductive harm. (Wash hands after handling this product.)




Combustion by-products produced when using this product contain chemicals known to the State of California to cause cancer, birth defects, or other reproductive harm.



Image for capacity demonstration purposes only.
Actual product model and features may vary.
Porcelain-enameled, cast-iron cooking grates

Infinite control burner valve

Stainless steel burner tube

Cast aluminum lid and body
---
---
---
Capacity of theQ 1200
Don't let the size of this colorful grill fool you. Small enough to fit on a city balcony, large enough to execute an entire meal, with convenient side tables to place spices and marinades.
Image for capacity demonstration purposes only.
Actual product model and features may vary.

Serves 2-3 people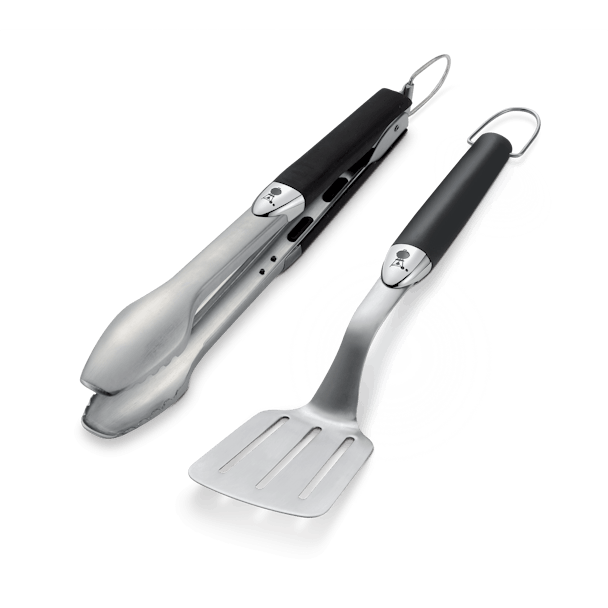 Grill on the go with
A TRAVEL SIZED TOOL SET
The travel size Premium Tool Set fits perfectly in your backpack and can go with you on any adventure. Whether flipping burgers in the deep woods or turning salmon on the shore, be equipped with the best tools.
Explore the tool set
Weber® Q 1200 Gas Grill is rated out of 5 by 1281.
Rated 5 out of 5
by
Big Jim
from
Perfect grill for me!
I've been using my Weber Q 1200 several times a week since I got it. It has been the best purchase ever for my grilling needs. I was hesitant to buy the grill at first because of the relatively small burner output (7500 btu) and the fact it is very small compared to the grills I have used in the past. I now consider those features to be big plusses! It sips propane, while providing lots of heat to get great char marks on steaks and chops. I can grill plenty of food for my wife and I with room left over for a guest if needed. I also like the small size as it makes it easy to pack up and take along for camping in my travel trailer. I only regret not buying this grill sooner!
Date published: 2018-01-12
Rated 4 out of 5
by
Spartan
from
Made to last!
I can cook on a variety of grills and get good results. What I liked about the Weber is the heavy construction and the fact it came with a built in thermometer that makes it easier to get great results every time. This grill is worth a repair if something wears out. Love the grill. I do wish they didn't coat the cooking grates with porcelain. Food sticks to that surface badly. Stainless or straight cast iron would make this grill even better. Still it's worth the money for a grill that could easily last 20 years. Even following strict guidelines on how to cook on porcelain doesn't keep food from sticking. The grates are why it doesn't get 5 stars.
Date published: 2018-01-07
Rated 5 out of 5
by
LouS
from
Turtle Green Grill
I bought a 'turtle green' Q1200 this summer to replace a Q1000 I have been using since 2005-it was time for the little Q1000 to retire like me! Our new Q1200 is working flawlessly so far. The new Q1200 has several improvements over our retired, senior Q1000: it has the handy folding shelves on each side and the electronic igniter works easily and quickly to start the grill. The small, compact size is just perfect for the wife and I for our frequent grilling efforts. Plus, both my wife and I love the looks of our little green turtle looking grill. If our new Q1200 lasts as long as our previous Weber, then we will be very, very happy.
Date published: 2018-06-12
Rated 5 out of 5
by
einna
from
Joy to clean
I purchased this grill earlier in the summer. I wanted something that was not too large and would be portable. This grill is just perfect! We can take it camping or use it at home. Four steaks will fit easily when one of our kids comes over, or we can do a whole meal for my husband and myself. The grill grate us made of cast iron with enamel. While still warm, it can be cleaned with only a cloth. There is a removable grease tray that is also easily cleaned. The only problem we see is the plastic fold up side trays. The grill could be lit while they are still folded inside. That could create a big mess. Overall we are enjoying this grill very much.
Date published: 2018-07-31
Rated 5 out of 5
by
Snavely
from
Perfect grill for this retired couple...
I have been reviewing small grills for my wife and me for some time and, because of my good past experience with Weber, they were at the top of my list. We normally grill only for the two of us. When I ordered the Q1200 I was concerned that it would be large enough for us a maybe a few guests. Now that we've used it the first few times, I'm very pleased. It easily grills enough steaks and burgers for six with room left over. The grilling time recommended in the instructions is spot on for medium-rare. It's easy to clean and is small and light enough to move into our garage when not in use, freeing space on our small patio. I would definitely buy this grill again.
Date published: 2018-06-28
Rated 4 out of 5
by
TomB
from
I have had my Weber 1200 bbq for two months now.
First of all I like to bbq. We are full time RVers, being able to cook outside helps to add to our kitchen space. I like the ease of removal for cleaning grills, they fit in a dish pan or bucket and the shell is easy to wipe down, not a lot internal parts to clean around . The handy flip out side trays make for great side tables. I also purchased the griddle which I fix bacon and eggs, pancakes, etc. The Weber stores away when we are on the road. One added feature that would be helpful is a locking lid/top. I bought the cover which solved the problem. I wish I had more control over the heat distribution but I am able to make it work.
Date published: 2018-01-12
Rated 5 out of 5
by
LeeB
from
Great lttile grill
I've previously only owned charcoal Weber kettle grills and loved them. I didn't think I'd ever buy a gas grill (I'm 70 so that's saying something) but we bought a condo in Florida that doesn't have much space to store a grill let alone the supplies you need for a charcoal grill. I think this little propane grill is great! I doesn't take up much space in the garage, it's easy to use and the foods taste great when cooked on it. The propane tanks last a lot longer than I expected, too. So far I've only been cooking for the two of us. Time will tell how it works for larger groups.
Date published: 2018-01-12
Rated 1 out of 5
by
Mgmd
from
Stopped working after minimal use
This grill stopped working after minimal use. I called customer service who advised me it was under warranty and needed a valve/regulator This was sent to me. There were six pages of instructions about how to replace this part, very complicated and requiring considerable disassembly of the grill. Six different tools were required for this job. I have only one of the required six tools. I called back to customer service and was told there really wasn't anything they could do. The woman hung up on me because it was " the end of [her] shift and the supervisor was walking out the door." Don't expect much from this grill or customer service.
Date published: 2018-08-09
Rated 3 out of 5
by
Melven18
from
Weber built
I purchased this unit solely for tailgating and have used it about 3 times. The build quality is excellent and heavy duty as one would come to expect from Weber( this is an addition to my genesis, smoky joe, and full size kettle) if you're familiar with their products. With that said I held back the stars due to one down side and that's inability to cook at a lower temperature, these grills seem to sit at 450 or higher no matter where you set the controls. This translates to searing that is borderline on burnt, I love the quality but this is one product that could benefit from some fine tuning.
Date published: 2018-10-01
Rated 4 out of 5
by
Steve & Jacqueline
from
Great Little Grill
After a lot of research we purchased the Q-1200 gas grill in May , 2018. My wife and I were looking for a small grill for our camper and one that would be great for sport activities. We have used it 4-5 times already. The cooking surface is large enough to cook up to 16 hot dogs or 6 large burgers or 4 steaks at a time. The grill takes about 10 minutes to heat up to 550 Degrees. But then it cooks our 3/4 inch steaks perfectly in about 6-7 minutes - medium rare. We also purchased the cart which at first seemed a little expensive but works great for sport activities and Charity events with our church. We love our grill and would recommend it to our family and friends.
Date published: 2018-06-09
Rated 5 out of 5
by
Mfp133
from
My favorite grill
Been wanting to get one of these little Weber Q for a long time. So glad I finally did it. It heats up quickly, and cooks with even heat all across the grill surface. The grids are easy to clean and I really like the removable drip pan feature at the bottom. Very well thought out design. Happy Customer!
Date published: 2019-02-02
Rated 5 out of 5
by
Joel
from
It's greatly improved over early gas grills.
I got this as a gift last summer. It is very easy to set up and it lights instantly. The flame is easy to control, it heats evenly and flare ups are minimal. I've done steaks, chicken, pork chops, hamburgers and hot dogs. It does a good job, no matter what I am grilling. It is also easy to clean and the grease catcher on the bottom works very well. I've had a couple other portable gas grills. I used them for picnics when I needed them to be ready quickly and cool down fast was I was done, but they didn't do a good job. I just used them for hot dogs and I used charcoal for real meat. Now I'll never use charcoal again. This is just as good.
Date published: 2018-01-12
Rated 5 out of 5
by
Maizy
from
"Fantastic" Q1200
I did a lot of research before buying a grill for my small back porch. Based on reviews, Weber reputation,Customer Service, and Warranty, I purchased a Weber Q1200, cart, and many accessories. my next purchase will be a iGrill2. I am 76 years old and only cook for one person so the Q1200 is perfect for me. I have had some great meals cooked on my Q1200 and look forward to many more. GREAT GRILL!!
Date published: 2018-11-10
Rated 5 out of 5
by
old splinter
from
Just what we need
This is my third Q series gas grill. I could have rebuilt my last one, however I liked the new 1200 series features over the old 100 . It is just my wife and I so the Q size is perfect for us, but I have grilled for five a time or two. I have a Weber kettle charcoal that I can use for larger crowds or to do smoking or large Bar-B-Q s in, not to mention it stores easy in a two car garage that doubles as a work shop. As I am months away from 80 years old, this might be the last one I will have to buy. They are fantastic little grills so don't let size fool you, the are truly a work horse of grills.
Date published: 2018-06-13
Rated 5 out of 5
by
4yanks
from
Great portable grill
In preparation for retirement we sold our home of 15 years. We had not yet found our retirement home so we moved into an apartment while we looked for one. I grill out 3-4 times a week. So we had to get an interim solution. Rather than buy a junky grill that we would throw away when we moved we bought the Weber Q1200 so we could use it as a portable when we got to our new home. I t has more than exceeded our expectations. It can cook nearly as well as my old Genesis. The only limitation is the size. It is easy to clean and store. I use it with an adapter for a full size LP tank. Highly recommend.
Date published: 2019-06-21
Rated 3 out of 5
by
Grill master Fat blob Bob
from
Not hot enough, unbalanced, sticky grates.
Regulator is not adjustable and the grill is not hot enough to sear food. The lid will flip the whole unit over on its back if you flip it up and don't support it to the stop, especially when empty. Don't forget to close the lid, rain will fill up the grease tray and ruin whatever you set the grill on (My deck railing). Side tables are plastic and before too long they will get closed in the hot grill and melt. Gage is stupid. Any setting will max it out with the lid closed. Grates are far from non stick, if it got hot enough this wouldn't be a problem as you could burn off the leav'ins, but it does not. ....but it looks pretty and it does work every time.
Date published: 2018-08-27
Rated 4 out of 5
by
Csbuffs
from
Easy To Use
Very easy to assemble and use. The only cons are the small tanks that attach at 1/2 too big so I'd recommend an attachment. You should also buy a gauge. I bought the cart, although it's perfect for it, the handle and wheel system are poorly designed because you need to hold the grill too as it becomes too heavy. Registration was "easy" enough (they system couldn't find the serial number so I had to email customer service. 24-48 hour turn around and they completed it for me) and made sense. The only disappointment was I asked for a follow up phone call/email about the registration issue and never heard back, it's been 3+ weeks.
Date published: 2018-11-29
Rated 5 out of 5
by
ChrisM
from
Great Features for Diminutive Sized Grill
I have purchased several large charcoal and propane gas grills in the past and the Weber Q 1200 is my favorite. It has ample space for grilling and doesn't take up a lot of space. My wife calls it her cutie pie"! With the portable stand, I can easily lug the grill around. On my initial grilling, the lid developed a hairline cracked so I called Weber's excellent customer service and they immediately sent me a replacement lid at no cost. I've heard a lot about Weber's legendary customer service and I've experienced it first hand! I am now a loyal Weber customer! Chris M Spring, Texas
Date published: 2018-11-20
Rated 4 out of 5
by
Nascarfan43
from
Wish the cooking grate was better
This is the only gas grill in my Weber fleet. Original kettle, Performer, Smokey Joe GOLD, Smokey Mountain, and now the Q1200. I did get the optional stand for the Q which is a great help. Being able to hook up a full size propane tank is very helpful as well. The electronic ignition is flawless and I like it way better than the old "push button clicker". The only fault I have is with the cooking grate - sprayed with oil but everything seems to stick to it. It's very hard to clean off unlike the wire grates. Heat, scrub, heat, scrub - nothing really gets it clean like all of my other Weber's. All in all, Weber quality is spot on and have had no issues with it.
Date published: 2018-01-29
Rated 5 out of 5
by
igibby
from
Simple, Easy, Well-Made Grill
I bought the Q1200 this summer to use eventually for travel/camping etc. However, I've found that for a quick meal I've already been using it in the backyard for some quick burgers or hot dogs. My go to is a Charcoal Weber Performer Deluxe Kettle...but when short on time, especially during the week, this thing gets it done and well. Tables ford in for storage. Ignites instantly. Gets very hot, very fast. Love the sear marks of the porceilin coated cast iron grates. Personally i think the drip tray and clean up is pretty easy compared to the old Gas grill i had when i was younger.
Date published: 2019-07-16
Rated 5 out of 5
by
Henry N.
from
Small and powerful grill
I bought this grill in apple green last month and I am really happy with it. It has a decent cooking area and because it is a smaller grill, food cooks very quickly. There are virtually no "cold" spots on the grill to cause uneven cooking. I cleaned the grill pates easily with a wire brush and got them nearly spotless. I would clean the inside and outside of the grill after cooking right away to minimize residue build-up I also purchased the attachment hose for 20L propane tanks and the Weber grill cart/caddy. It makes for a great back yard bbq and I would consider throwing this one in the car for tailgating..
Date published: 2018-07-23
Rated 4 out of 5
by
Dan 1.0.0
from
Compact, light weight, easy to use, easy to clean.
The Q grill was a Christmas gift to ourselves to use while RVing. We were looking for something that we could set up on a folding table and grill under the RV awning when necessary. We needed something small, light, and reliable that grilled reasonably well. We found the Q grill to be compact, light weight, a snap to use and easy to clean. Thoughtfully designed. Under breezy conditions it can be hard to control temperature, but it was way better than the hanging grill that came with the RV. At home, I use the Q grill in tandem with a Genesis grill to concurrently grill items that have dissimilar cooking requirements.
Date published: 2019-06-27
Rated 2 out of 5
by
TomS44
from
Disappointed issues
I purchased my Weber Grill based on an experience with use of her friends identical grill. On my unit, there is almost no control of the temperature. I purchased my weber grill based on an experience with use of her friends identical grill. On my unit, there is almost no control of the temperature. at the very lowest setting, my thermometer indicates a temperature of 460°. I spoke with customer service about this. They told me this situation would eventually correct itself. So much for slow cooking anything until maybe that happens. Meanwhile, I guess I need to figure a way to prop up the lid to manage the temperature.
Date published: 2018-09-05
Rated 5 out of 5
by
Bob124
from
Everything the two of us need in a grill
The Q1200 is replacing a 25 year old Weber Genesis Silver grill that needed about $150 worth of parts if I was to continue to use it. Given that most of my grilling is just for my wife and me I decided on the Q1200. The Q actually performs better than the grill it is replacing. It heats up faster and to a higher temperature, which means it sears steaks and burgers better. It is also easier to clean and maintain. And on occasion, I can throw it in the car and take it to a picnic. I do have it hooked up to a large propane tank (20 pounder I think) which helps it perform better as it is never fuel starved. I wouldn't change a thing if I had it to do over again.
Date published: 2018-05-20
Rated 5 out of 5
by
George P
from
Very efficient and convenient
I have a Weber Performer that I love but my wife was not comfortable starting the charcoal even though it's easy as could be and thought it took too long to get a fire ready. With it just being the two of us now I thought about it and it made sense to get something she'd be happy with and had a smaller footprint. So after some research I settled on the Q1200 and moved my performer off the deck to a concrete slab below the deck and put the Q on a shelf freeing up floor space. This little grill performs great and efficiently and is good looking. We love it and couldn't be happier with the purchase. The only drawback is things will stick if you don't use Weber grill spray.
Date published: 2019-06-27
Rated 4 out of 5
by
eyefisher
from
good product but
bought the Q1200 and the negatives so far are1. propane bottle is hard to screw in because the handle is in the way. you have to apply pressure to the handle to allow the threads to line up. 2. the temp control is lacking. In all of the 4 uses, the temp dial was at its lowest and the temp would only go down to 375 or 450 and varied each time it was used, unless one propped open the lid. max will go over 500, but one should be able to get a lower temp out of it. A standard small bottle of propane was used. Otherwise cleanup was good, the size is good for camping, just wish temp could be adjusted to 200/250 degrees
Date published: 2019-06-22
Rated 4 out of 5
by
harkintj
from
Meets Expectations
Received this unit for X-mas as an alternative to firing up my Weber Spirit 3 burner grill for preparing meals for just a couple of people; overall, it is serving this purpose. Pros: Ignites instantly, uses less propane, good construction and materials, Weber quality. Cons: No "factory" provision for adjusting fuel/air ratio for grilling at higher (Colorado) elevation, so hard to get the grill to 500 degree temperature; low(est) temperature setting still too hot to slow cook items such as ribs without burning; folding side tables, while well designed, more of a nuisance than providing utility. I ended up removing them; should have asked for the Q1000 model instead.
Date published: 2019-01-21
Rated 5 out of 5
by
Gus53
from
GREAT GRILL!
I couldn't be more pleased than with my choice to purchase the Weber Q 1200 gas grill. I had difficulty finding it locally so I considered purchasing one of 3 other brands. I'm glad I stuck with my search and bought the Weber. We use it every day to grill all types of quality meats, poultry and fish. I'm 65 years old and i've never had a grill that provides such consistent results. It is a quality grill that is easy to light, preheats quickly, capable of very high temperatures when needed and, easy to clean. It has "big grill" features in a compact size. We've used it for cooking for guests without a problem. It takes up a very small footprint on our patio. I love this Weber!
Date published: 2019-06-14
Rated 5 out of 5
by
Snowbird in Yuma
from
Great Small Grill!
We purchased this grill for our motorhome. We've had it several months now and use multiple times each week. It works very well and is easy to clean. Love that we're not seeing any rust which seems to be a common problem with many small grills that use cheap sheet metal. Obviously wish it had more surface area but that's the trade-off for having something portable. I suggest getting the optional stand (which stores nicely) and LP tank hose. If you rarely use the small LP canisters are OK but for as often as we use, an external LP tank is a must.
Date published: 2018-01-12
Rated 2 out of 5
by
Flytyinglady
from
Darn thing keeps breaking
Well, I usually love Weber grills. But this one, not so much. Had it about 6 months now. I've had to replace 2 broken parts on it already, so I'm not too impressed with how it's made. We only use it when camping, so it stays in the trailer. I bought it so I could bake with in using the "indirect heat" method with that wonderful high dome lid. Yeah, that doesn't work either. So it's great to throw a burger or steak on. Lots of grills out there that will do that for a fraction of the price of this one. On the upside their customer service is great, and ship parts out to you quickly.
Date published: 2018-01-12
bvseo_sdk, dw_cartridge, 16.1.1, p_sdk_3.2.0
CLOUD, timer 164ms, 0ms
reviews, product
bvseo_sdk, dw_cartridge, 16.1.1, p_sdk_3.2.0
CLOUD, getContent, 0ms
reviews, product
Keep Exploring
Q Series

Weber® Q 1000 Gas Grill

Q Series

Weber® Q 2000 Gas Grill

Q Series

Weber® Q 2200 Gas Grill

Q Series

Weber® Q 3200 Gas Grill

Q Series

Weber® Q 3200 Gas Grill (Natural Gas)